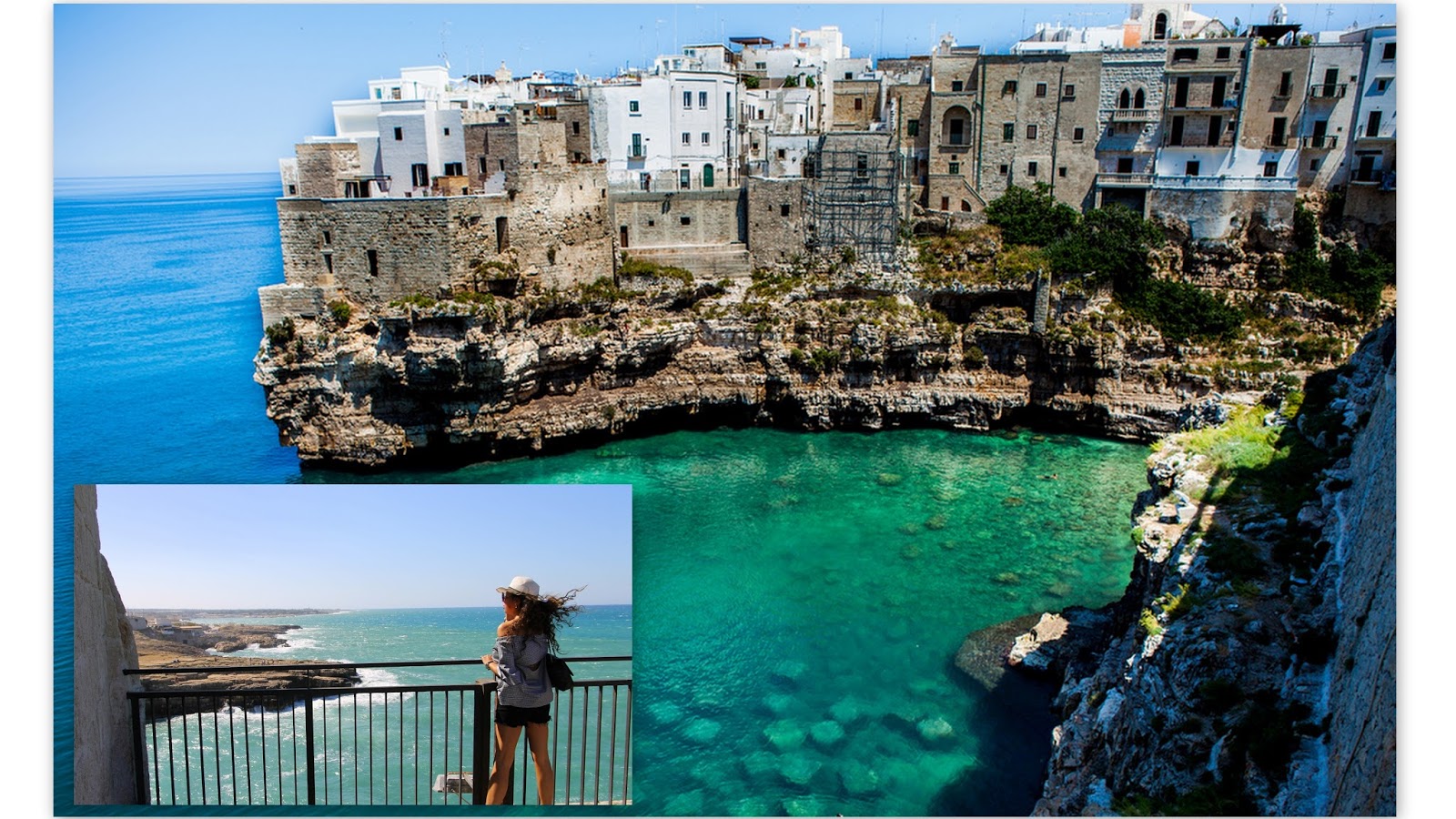 Ci sono luoghi in cui sembra che le lancette dell'orologio siano ferme da anni, luoghi in cui nonostante il turismo si respira ancora l'aria semplice degli abitanti del posto.
Polignano a Mare è uno di questi siti fuori dal tempo.
Un mare cristallino e la roccia ricamata da cavità impressionanti
scavate dal mare, sono i segni distintivi di Polignano, ragionevolmente considerata la "Perla dell'Adriatico"
.
Dall'Arco Marchesale, unica porta d'accesso al borgo
medievale, ci si inoltra in un luogo magico, con la forte sensazione di protezione, quasi come in un
abbraccio.
Poco distante dalla
porta di ingresso c'è la
duecentesca chiesa Matrice, dedicata alla Madonna dell'Assunta,
rimaneggiata più volte durante i secoli, prevalentemente
rinascimentale.
Polignano affascina con il suo centro storico ricco di tracce arabe, bizantine, spagnole e normanne, che si snoda attraverso un dedalo di viuzze, tra case e cortili imbiancati di calce, per poi giungere, quasi inaspettatamente, su terrazze a strapiombo sul mare, con
panorami mozzafiato.
Sono estasiata dalla bellezza di questo sperone roccioso proteso sul mare blu, dal fascino del suo antico borgo con le sue balconate, le
nicchie votive, i fiori colorati e le viuzze dagli scorci unici, dai suggestivi affacci panoramici, sono letteralmente rapita dalla veridicità e genuinità dei suoi abitanti.
Indosso un outfit in B&W, un top "off the shoulder" come dettano le ultime tendenze moda, un paio di shorts e un blazer, mentre mi soffermo a leggere le citazioni di Dickinson, Benjamin, Euripite, Twain, riportate sui gradini delle scale e sui portoni, lungo le stradine del borgo di questo piccolo paese che abbraccia uno scorcio di mare, tra magia e poesia.
(Clicca
qui
per vedere un mio diverso outfit dove indosso un maxi dress con scollo alla "Bardot").
(Clicca
qui
,
qui
e
qui
per saperne di più sulla scollatura più trendy e femminile di stagione).
(Per tutti i miei lettori, solo fino al 31 agosto, la possibilità di
acquistare un elegante orologio
Daniel Wellington
usufruendo di uno sconto del 15%,
utilizzando il codice "Expressyou").
There are places where the hands of the clock seem to stay firm for years,
places where, despite tourism, the simple air of the locals is still
breathing.
Polignano a Mare is one of these locations out of time.
A crystalline sea and the embroidered rock by impressive cavities dug
out of the sea, are the distinctive signs of Polignano, reasonably
considered the "Pearl of the Adriatic".
From the Arch of Marchesale, the only gateway to the medieval village,
you come forward in a magical place, with a strong sense of protection,
almost like in a hug.
Not far from the entrance door is the 13th-century Matrix church,
dedicated to the Madonna dell'Assunta, which has been restored several
times throughout the centuries.
Polignano
fascinates with its historical center full of Arabic, Byzantine,
Spanish and Norman traces, which winds through little streets, between
houses and whitewashed courtyards, and then arriving, almost
unexpectedly, on terraces overhanging the sea, with
breathtaking views.
I
am ecstatic by the beauty of this rocky spur over the blue sea, the
charm of its ancient village with its balconies, the votive niches, the
colorful flowers and the alleys with unique corners, the breathtaking
panoramic views, I'm literally abducted by the truthfulness and
genuineness
of its inhabitants.
I'm
wearing a B&W outfit, an "off the shoulder" top, as dictate the
latest fashion trends, with shorts and blazer, as I read the
citations of Dickinson, Benjamin, Euripite, Twain on the steps of the
stairs
on
the doors, along the narrow streets of the village of this small town
that embraces a glimpse of the sea, between magic and poetry.
(Click here to see nother look where I was wearing an off the shoulder maxi dress).
(
For
all my followers, only until August 31, the opportunity to buy an elegant
Daniel Wellington watch using a 15% discount, entering "Expressyou" code on the official
website).
Location: Polignano a Mare – Puglia – Italy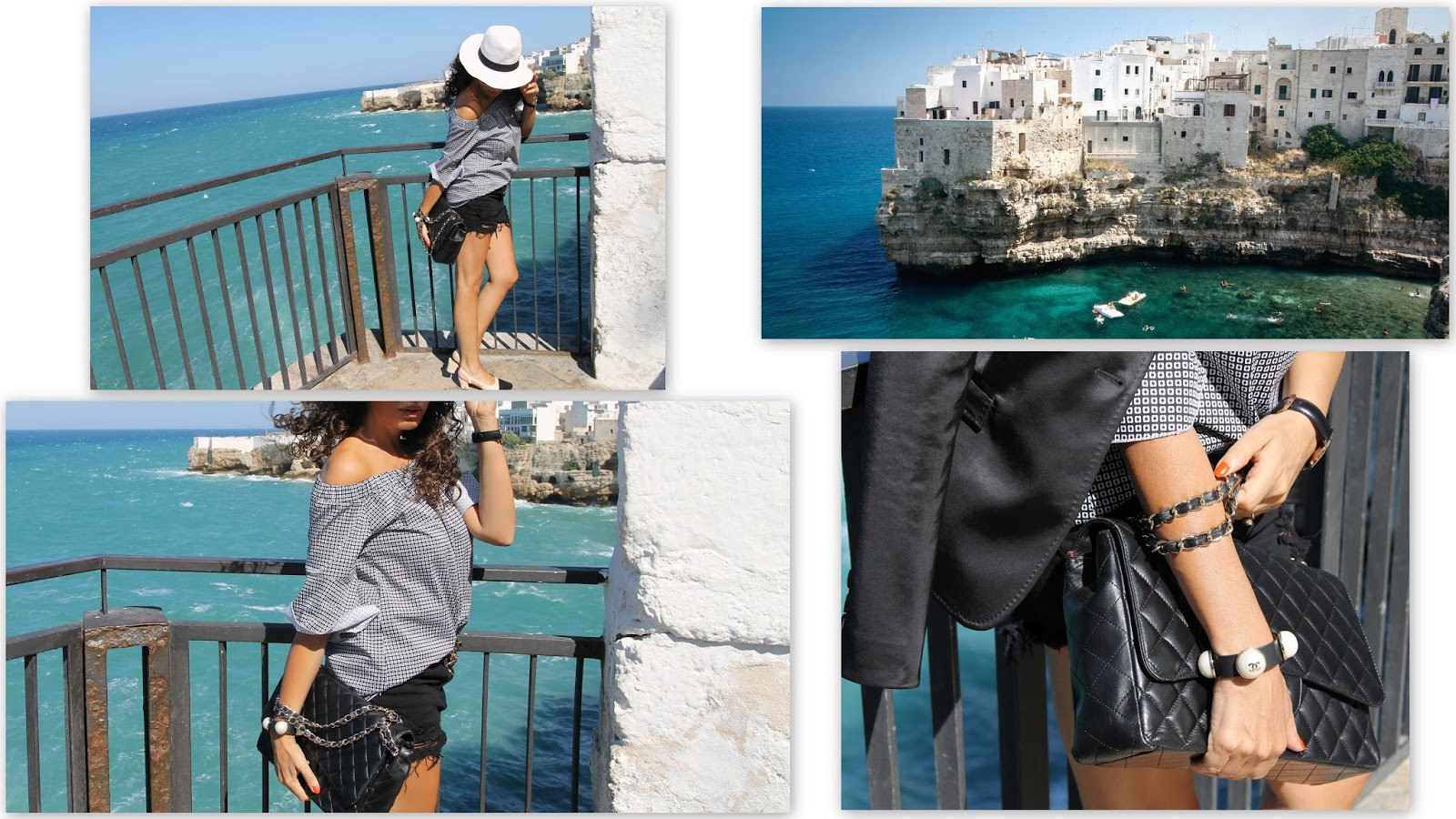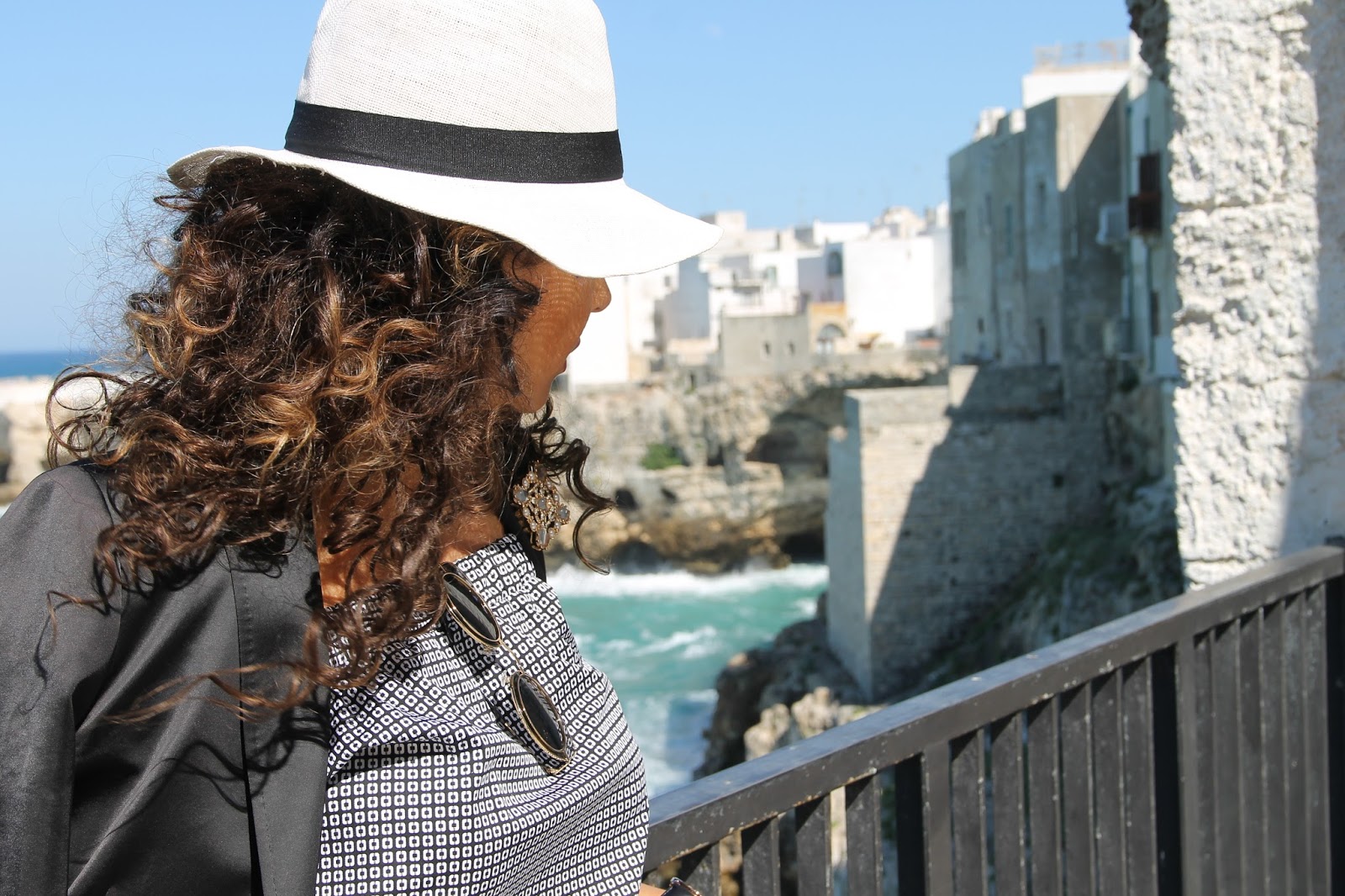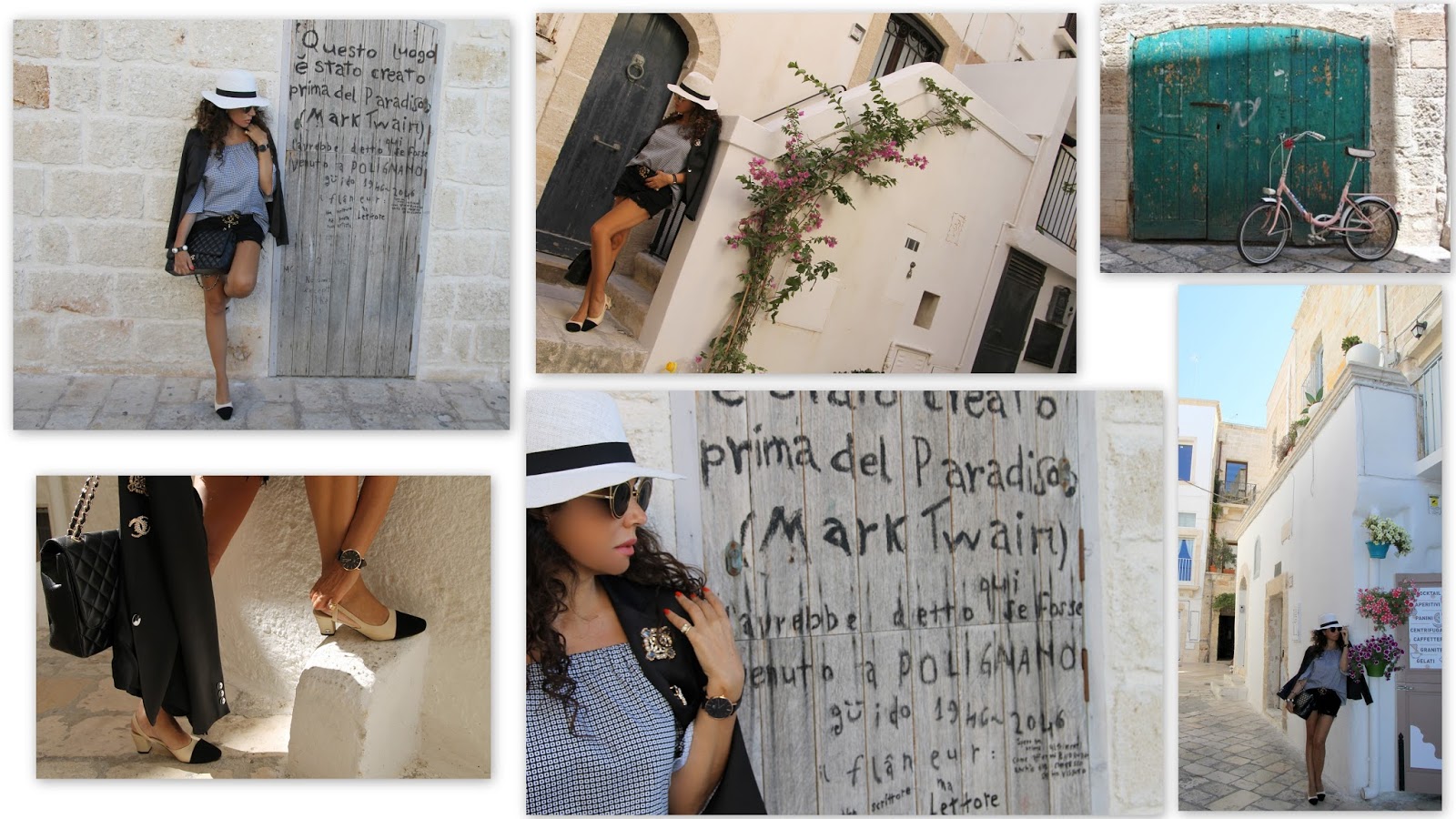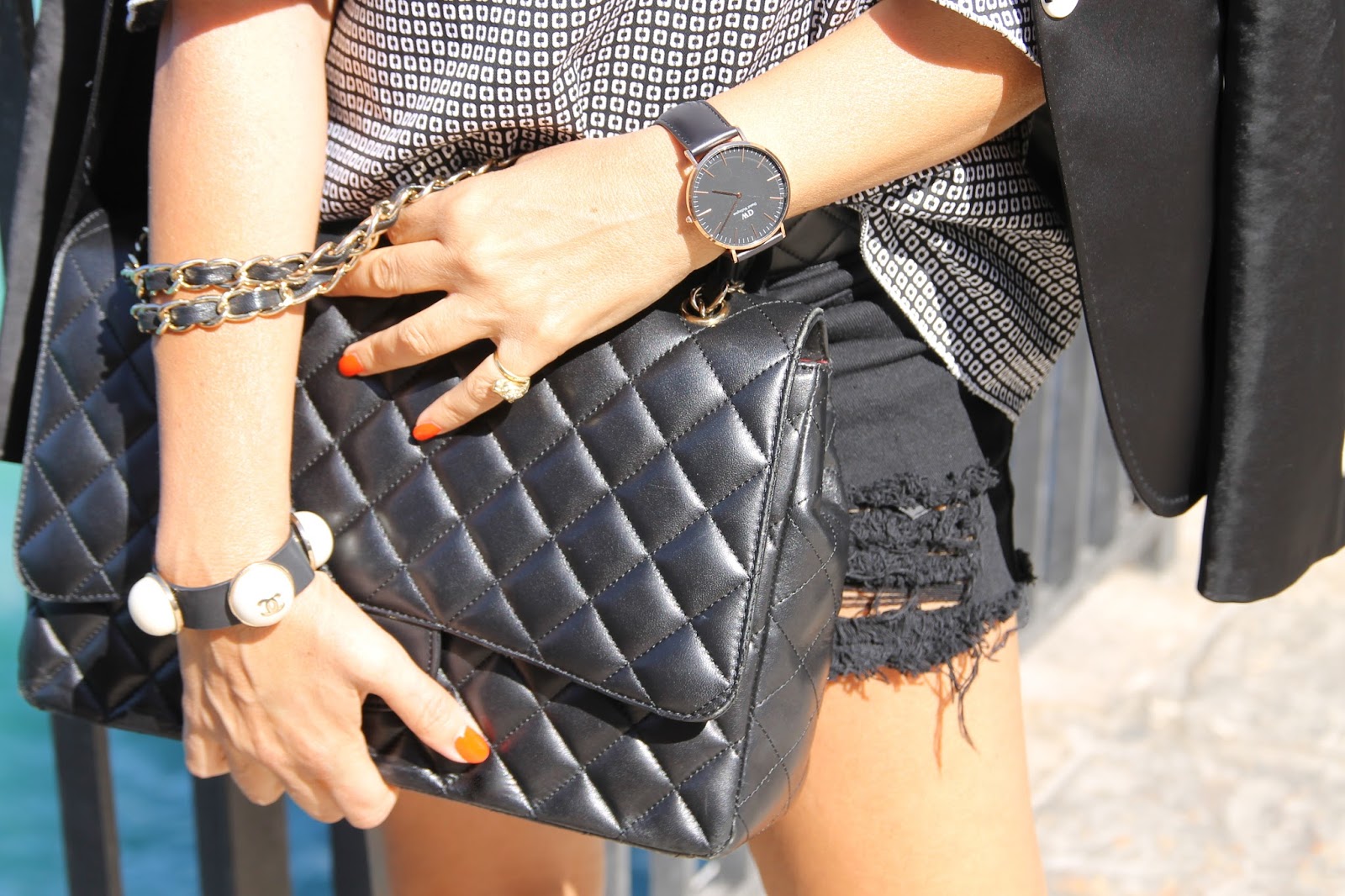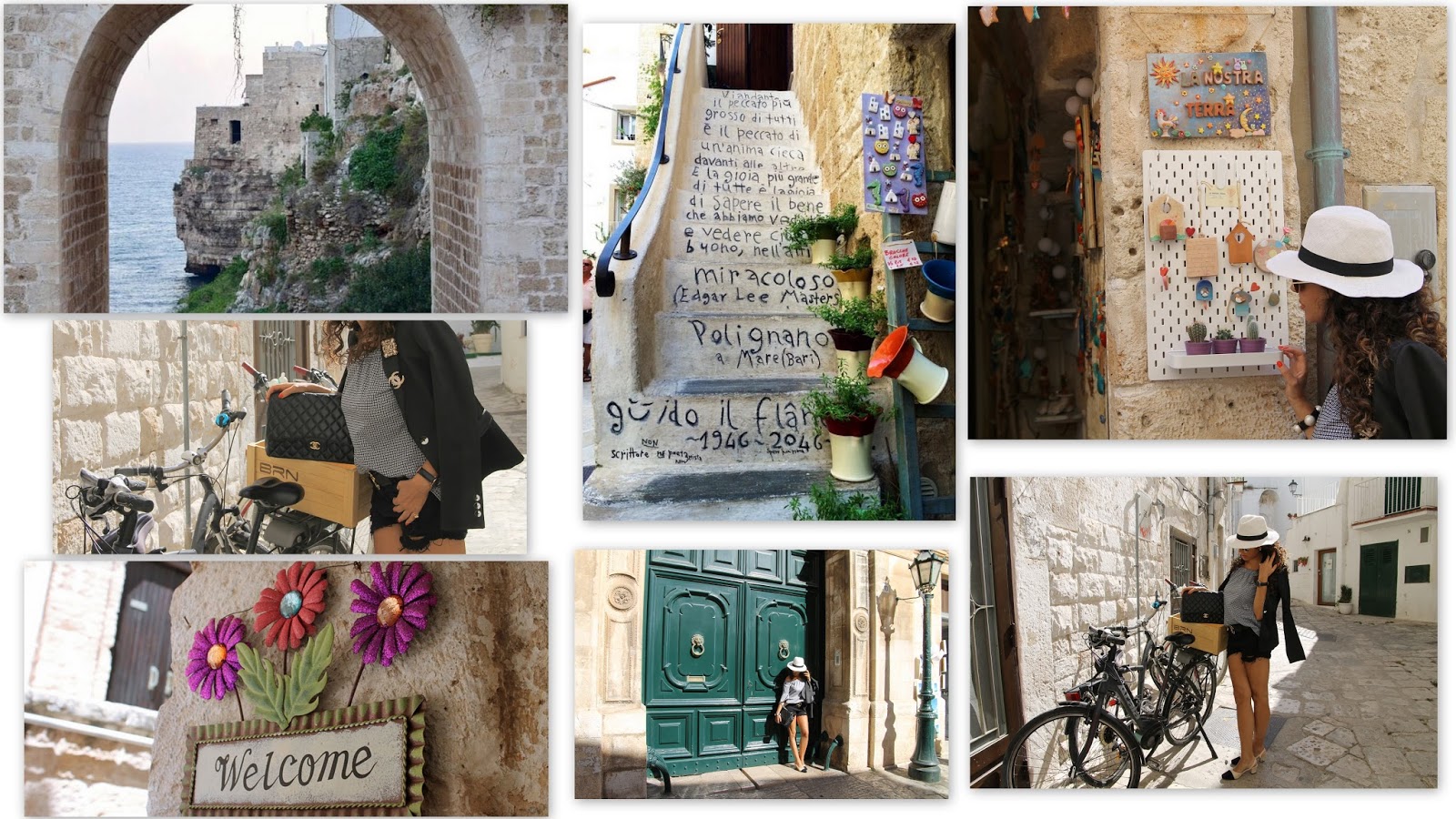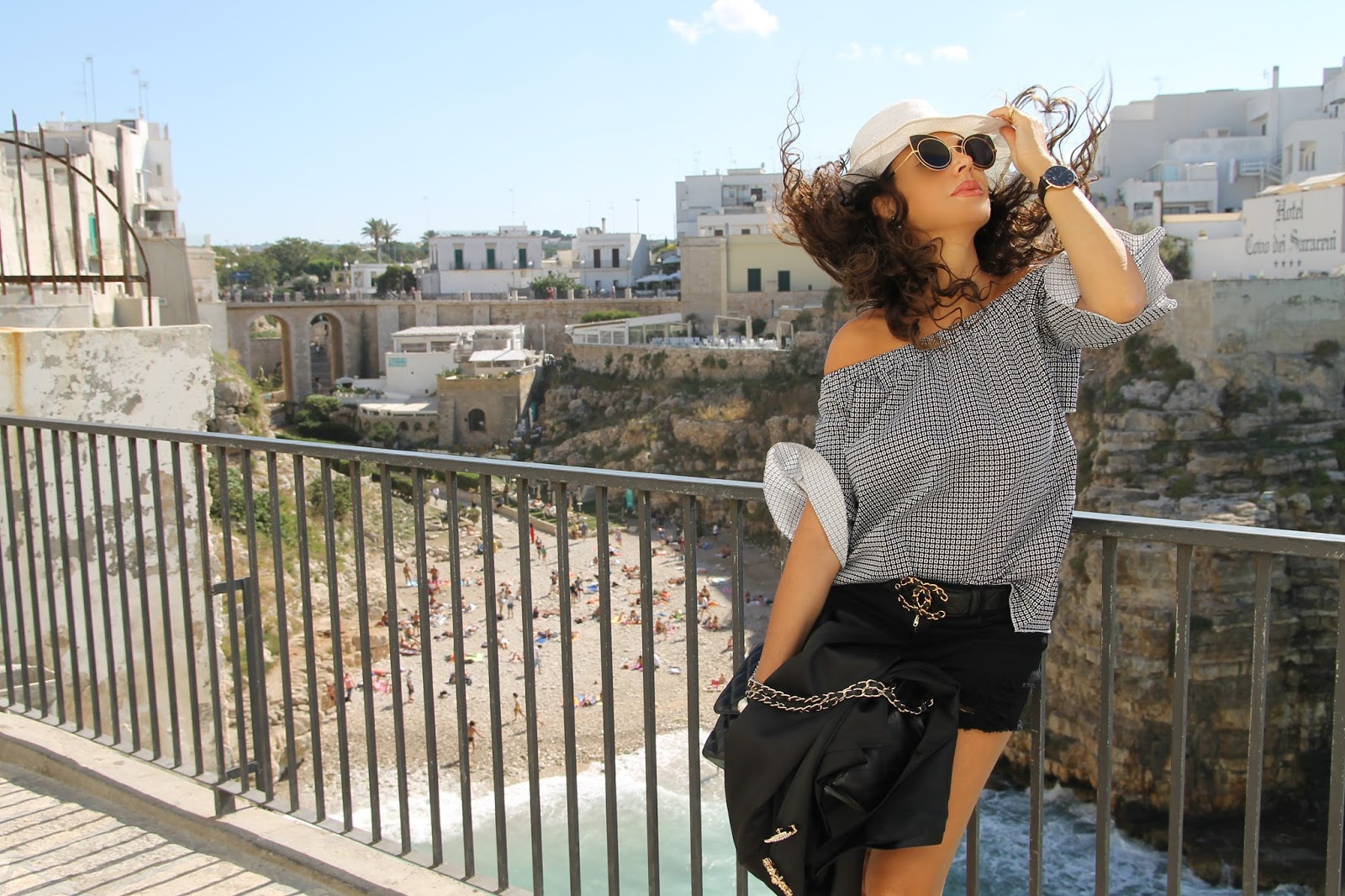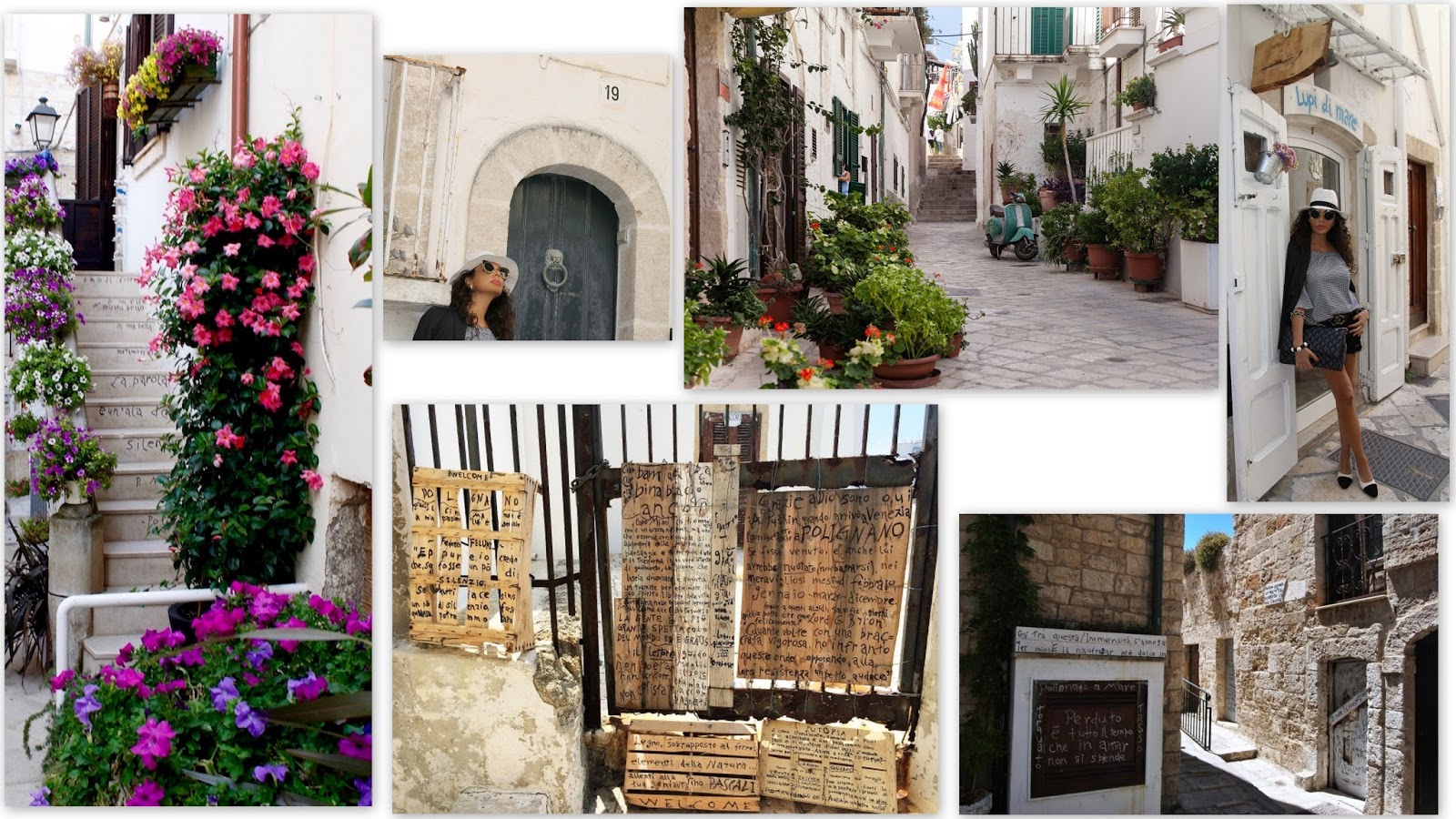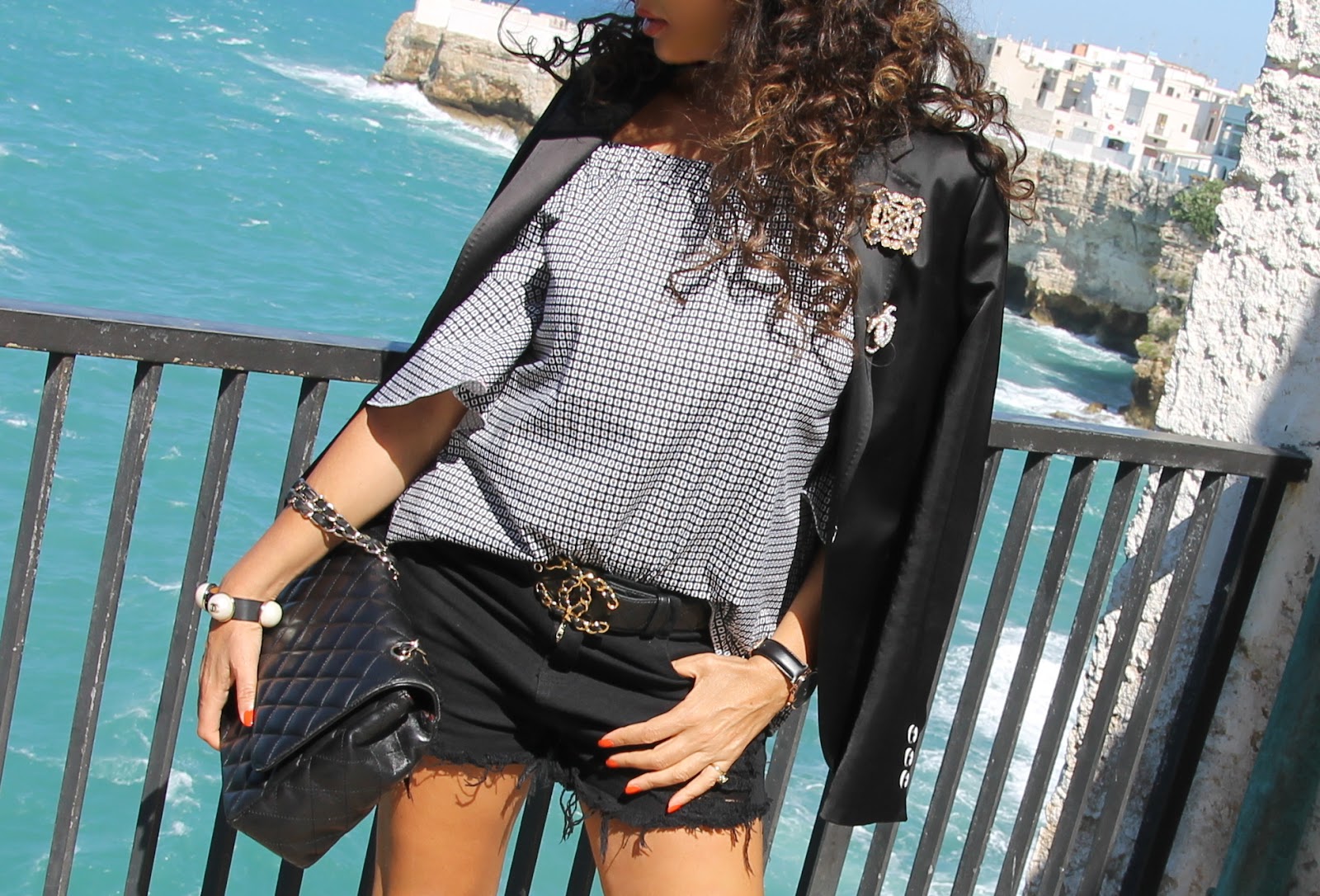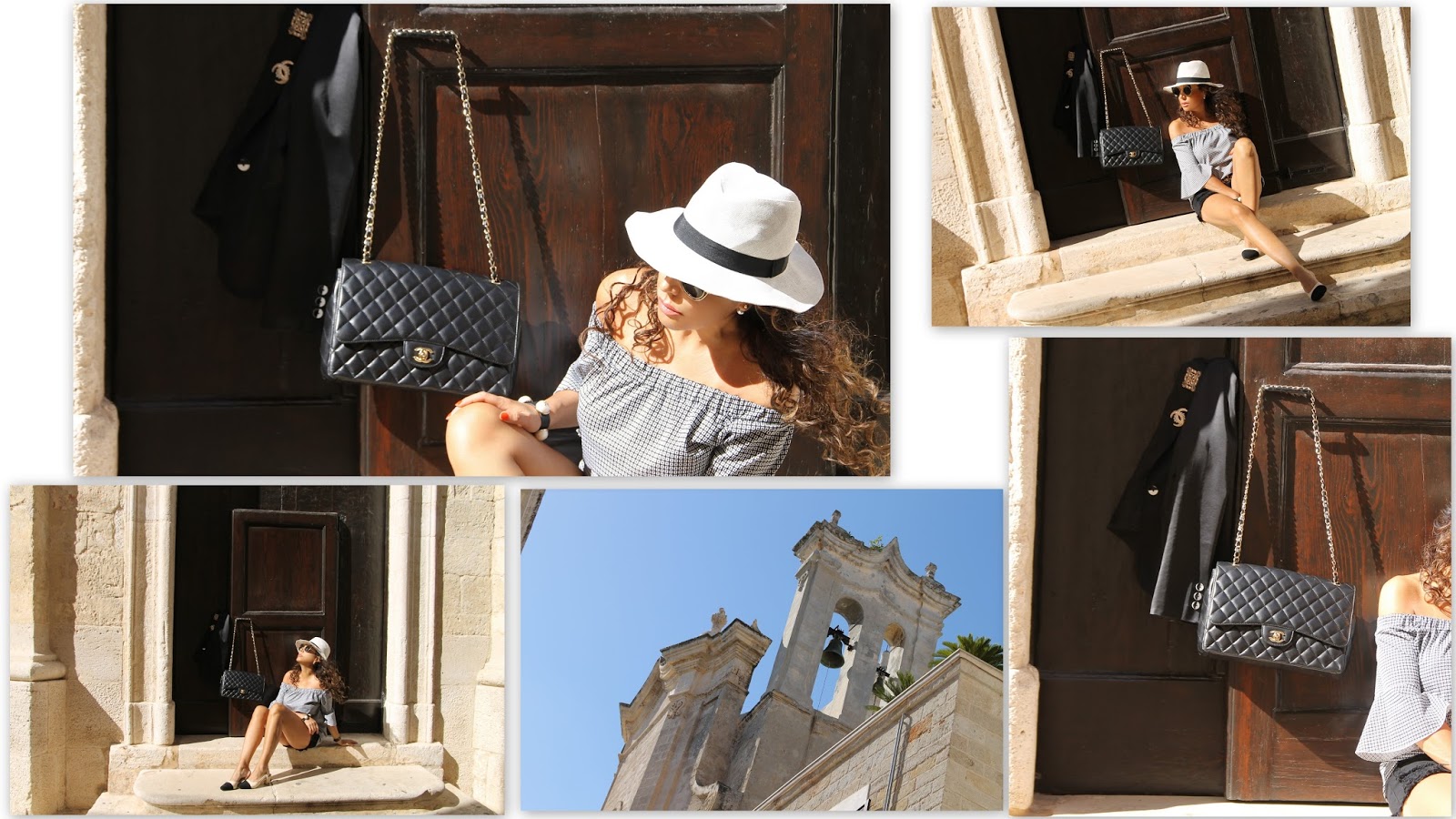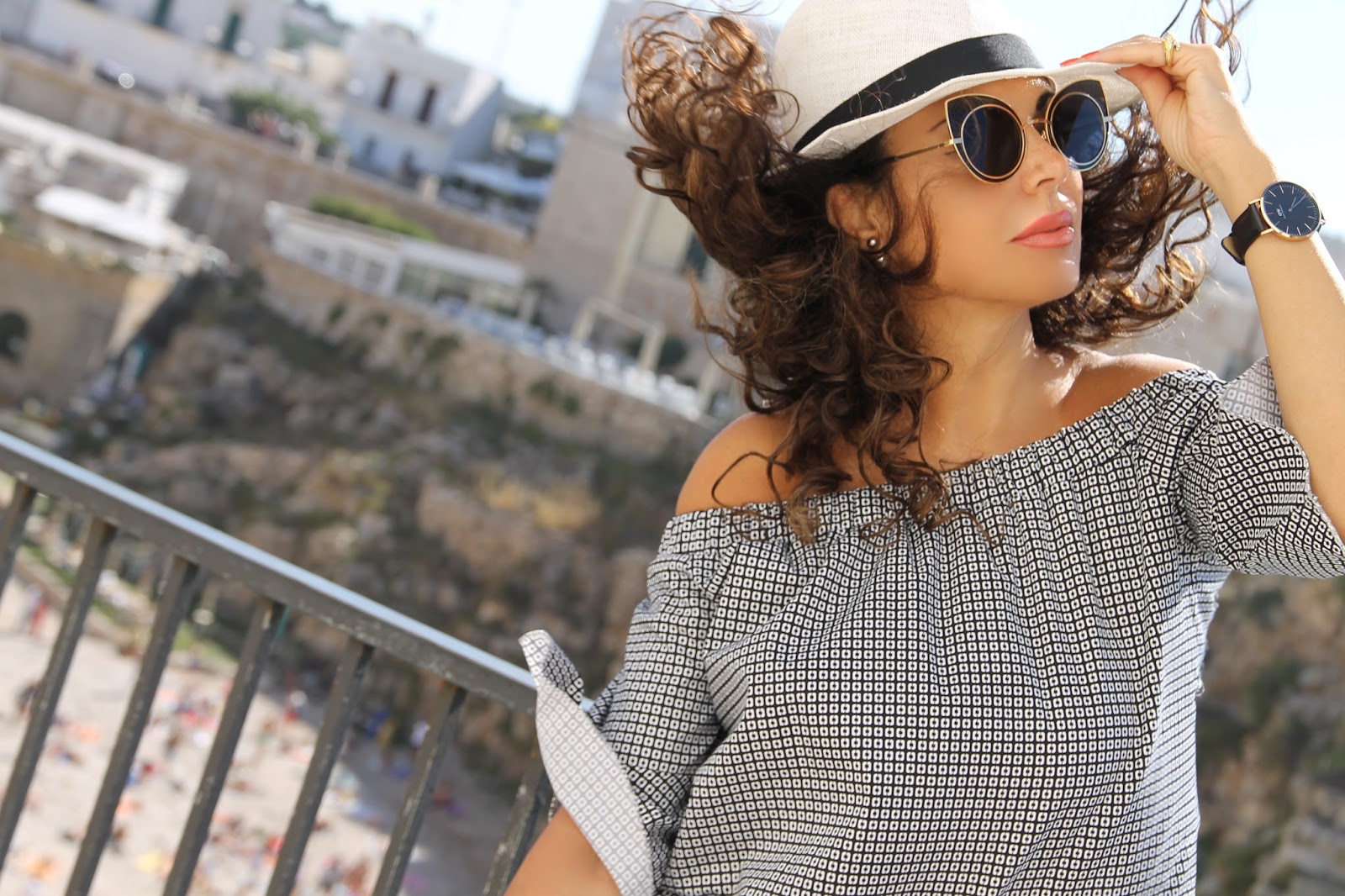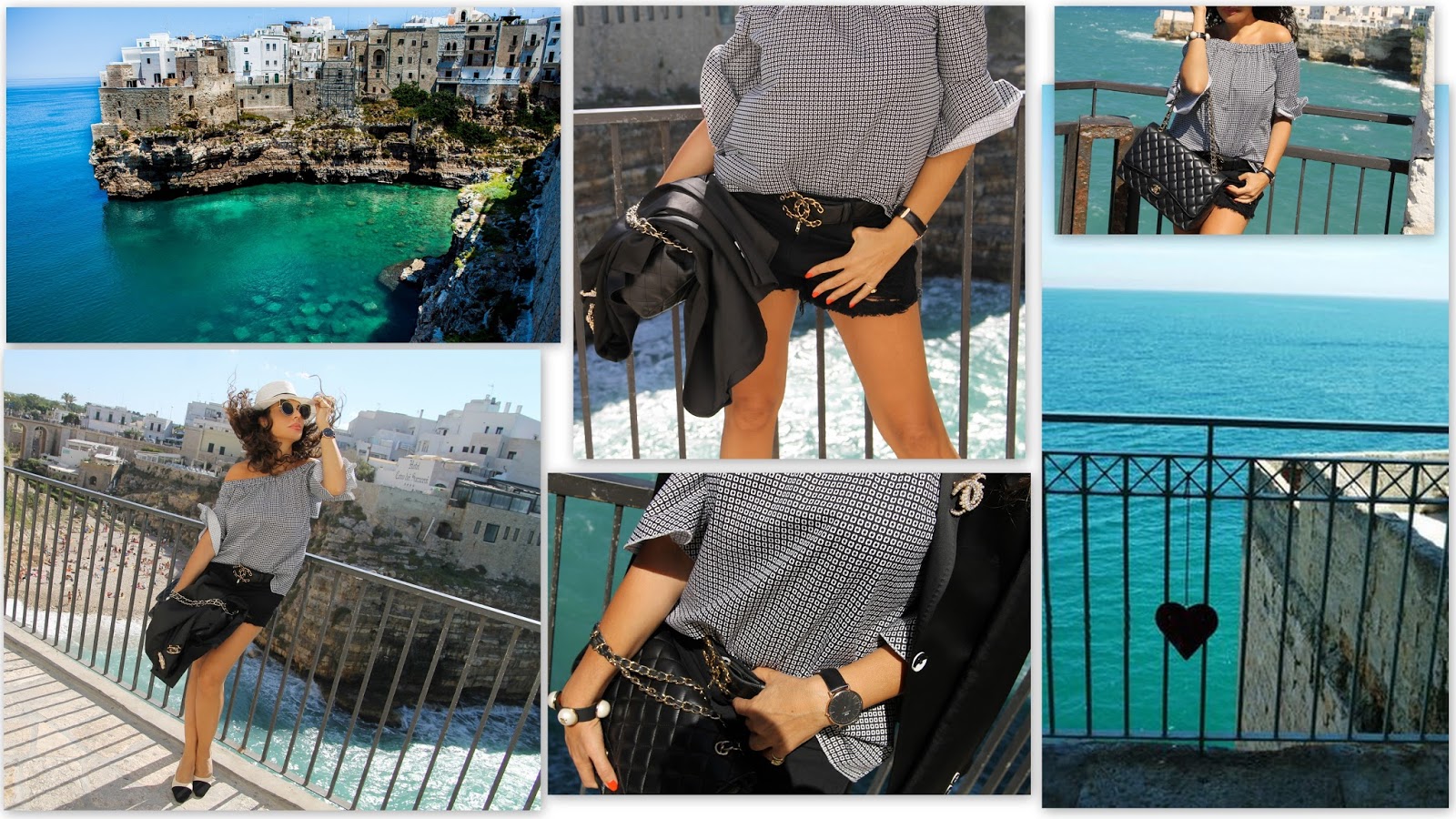 Photos: Jacopo Maria Barile
I was wearing:
Zuiki off the shoulder top