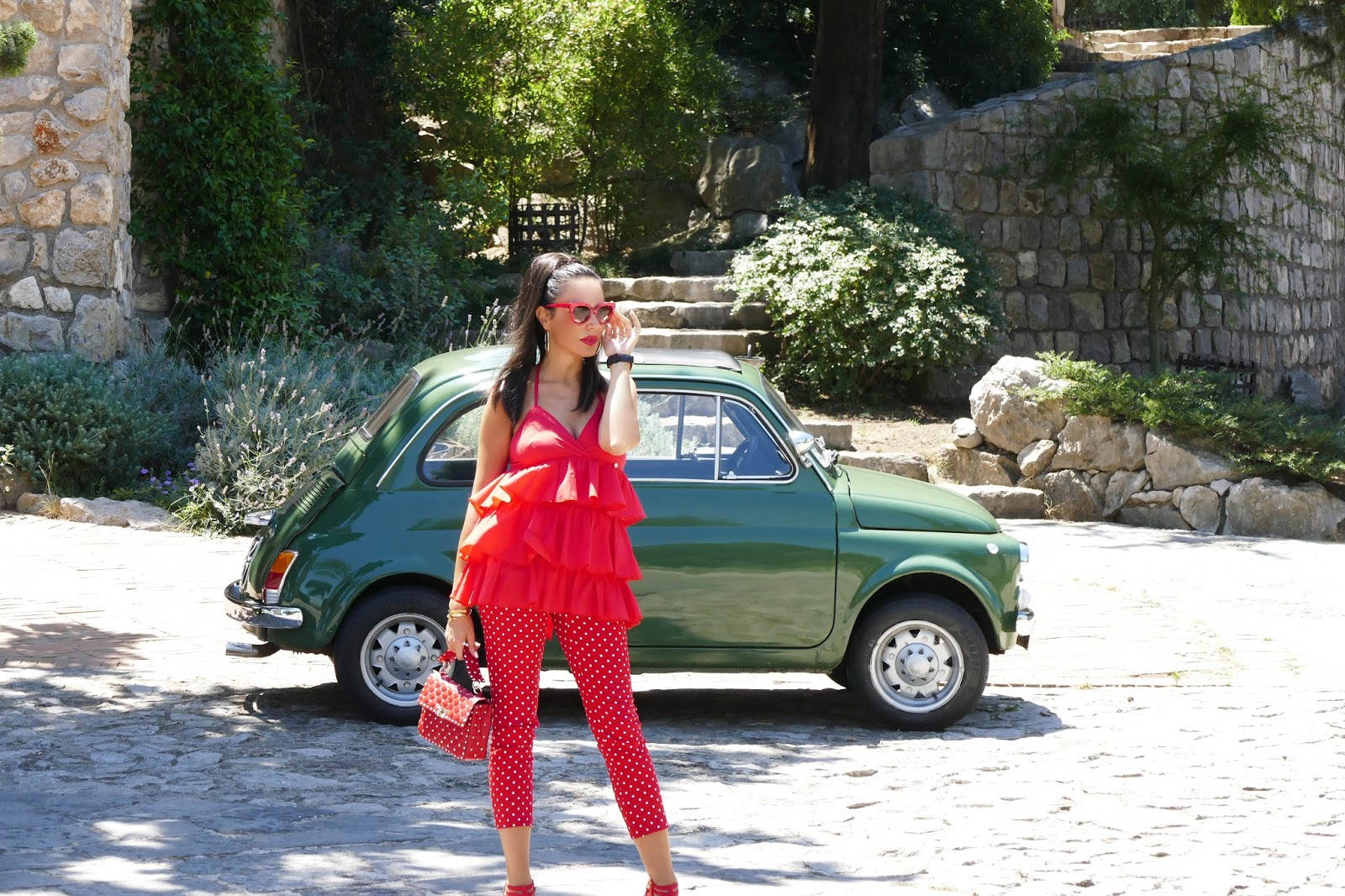 Sulle verdeggianti colline campane, nel cuore dell'antico Sannio, presso le terme sulfuree di Telese sorge
l'Aquapetra Resort & Spa, lì dove le bellezze naturali incontrano il benessere acquatico più lussuoso.
In quella terra verde e intatta che ancora pochi conoscono, tra filari di vite e uliveti centenari, dove piccoli borghi in pietra, castelli e rocche
medievali raccontano una storia antica e custodiscono tradizioni
millenarie.
Un resort speciale per una vacanza di vero relax, in quello che originariamente era un borgo del 1858, un antico villaggio magnificamente ristrutturato, un originale campanile in pietra, una piscina all'aperto incastonata nelle
rocce, tra querce secolari e un intenso profumo di lavanda, una Spa situata nel vecchio
fienile del borgo, e un ristorante gourmet ricavato da una cantina… un posto speciale, unico.
Indosso un total look in rosso, un paio di skinny pants a pois e un romantico top con volants, dettagli capaci di regalare il tocco vezzoso ai capi più trendy di questa calda estate 2017.
E per lo styling dei miei capelli, naturalmente ricci, mi sono affidata all'esperienza Philips.
Oggi mi andava di cambiare, desideravo che i miei capelli fossero lisci e setosi, ho scelto una
piastra per capelli
di Philips per lisciarli senza aggredirli, ne danneggiarli e, soprattutto, per un risultato perfetto tutta la giornata.
What was originally the ruins of a neglected
mid-19th-century village has been masterfully restored to create
Aquapetra Resort & Spa, an enchanting, small hamlet near Telese
Terme with a pampering spa, an outdoor pool embedded in the rocks, a
gourmet restaurant in the old wine cellar and a renovated bell tower.
Set in the beautiful countryside of Campania, the resort feels just
like a small village with rooms in former cottages.
Relax in brilliant sunshine by the pool surrounded by century-old oak
trees and the scent of lavender wafting through the air. Then, head to
the spa,
located in an ancient barn, surrounded by olive trees

, for a beauty treatment.
In the evening, dine in the restaurant on recipes that capture the sunshine on your plate.
A great
opportunity for wellness and relax in a magical and unique location.
I'm wearing a total red look, dots skinny pants and a romantic ruffled top,
details which give the feminine touch to the trendiest pieces of
this hot summer 2017.
And for the styling of my hair, naturally curly, I have been entrusted with Philips experience.
Today
I was going to change, I wanted my hair to be straight, I chose
a professional Philips
hair straighteners to straighten them without attacking or damaging them and, above all, to obtain a perfect result all day.
Location: Aquapetra Resort & Spa – Telese – Italy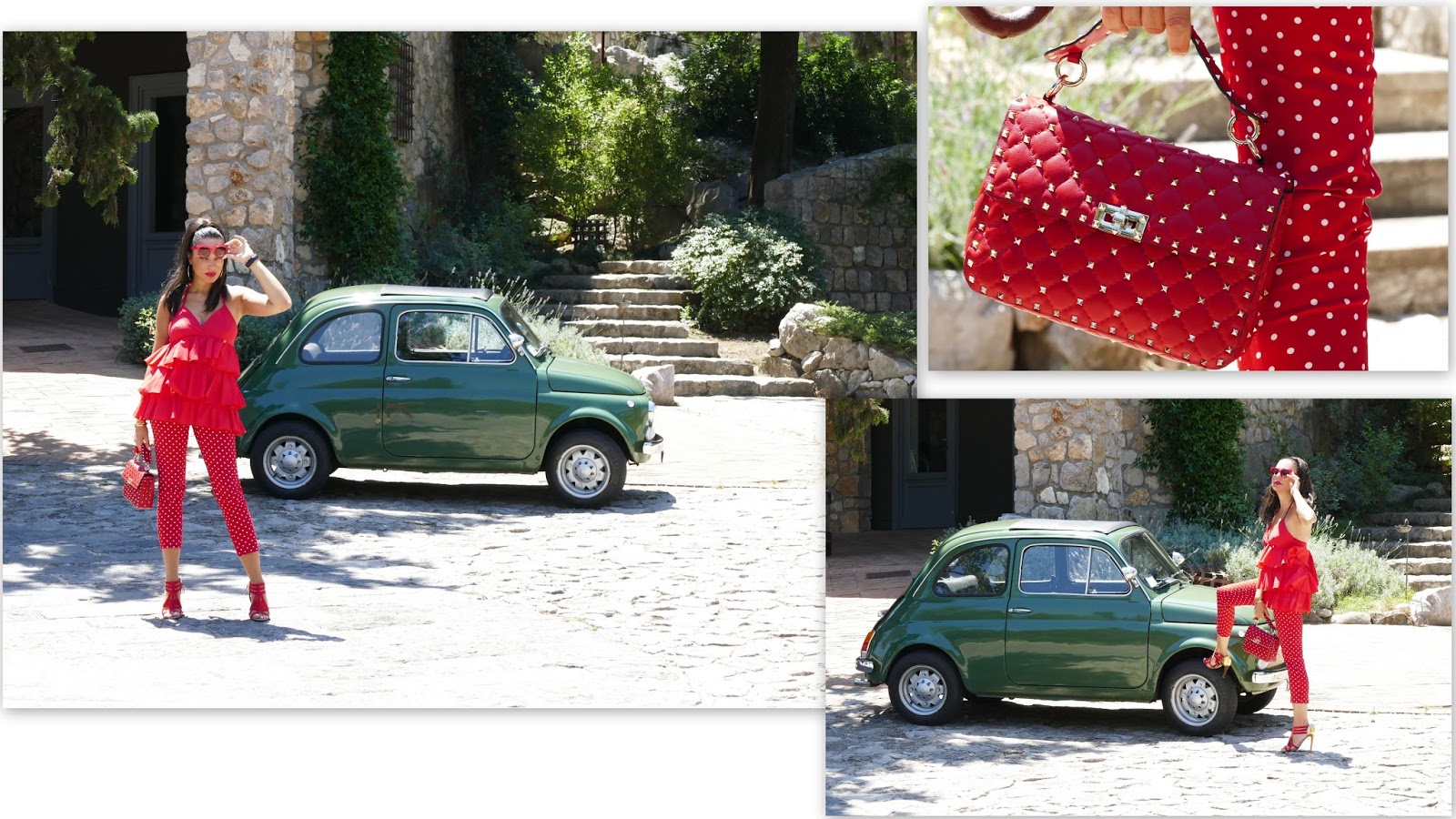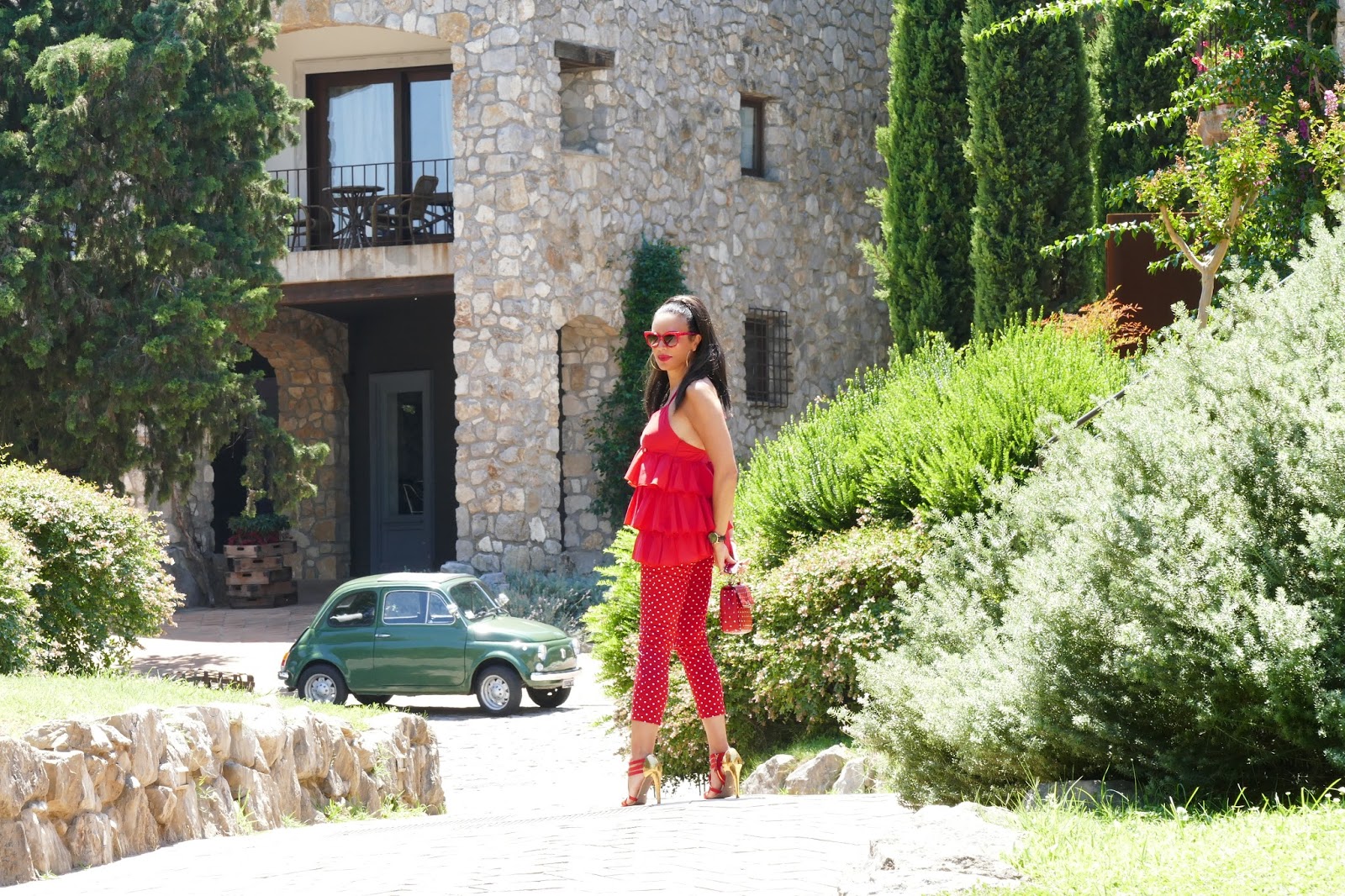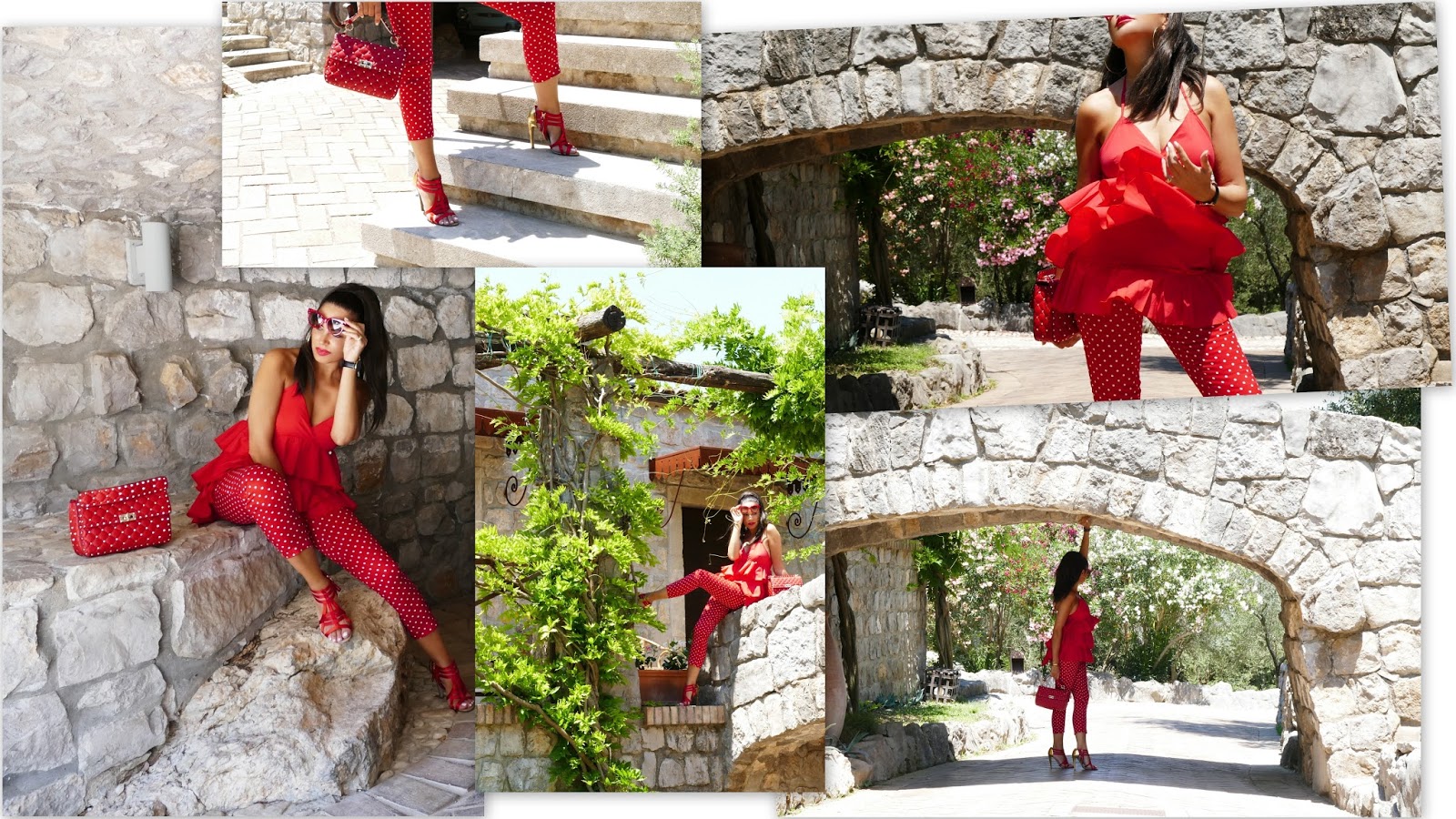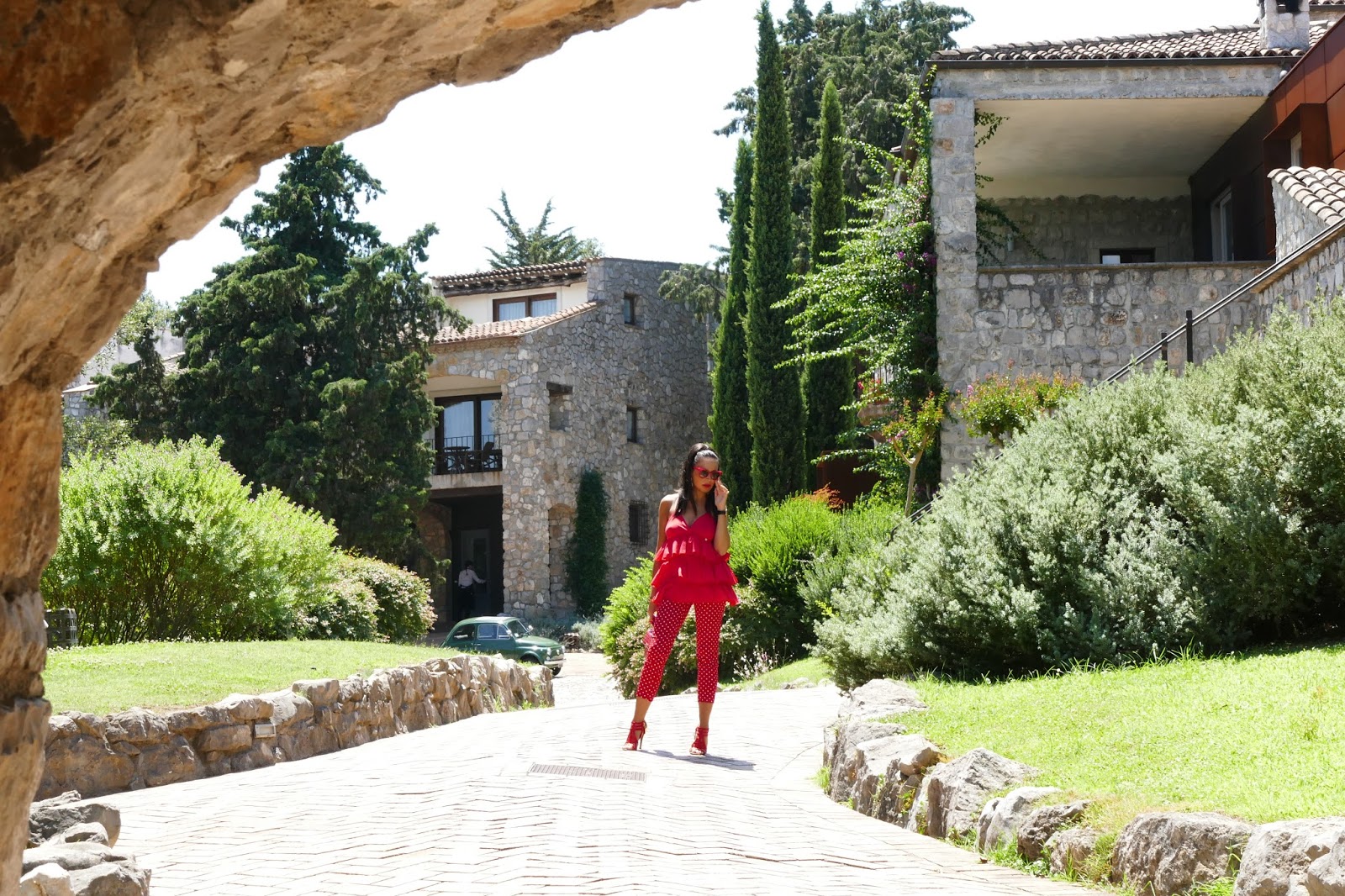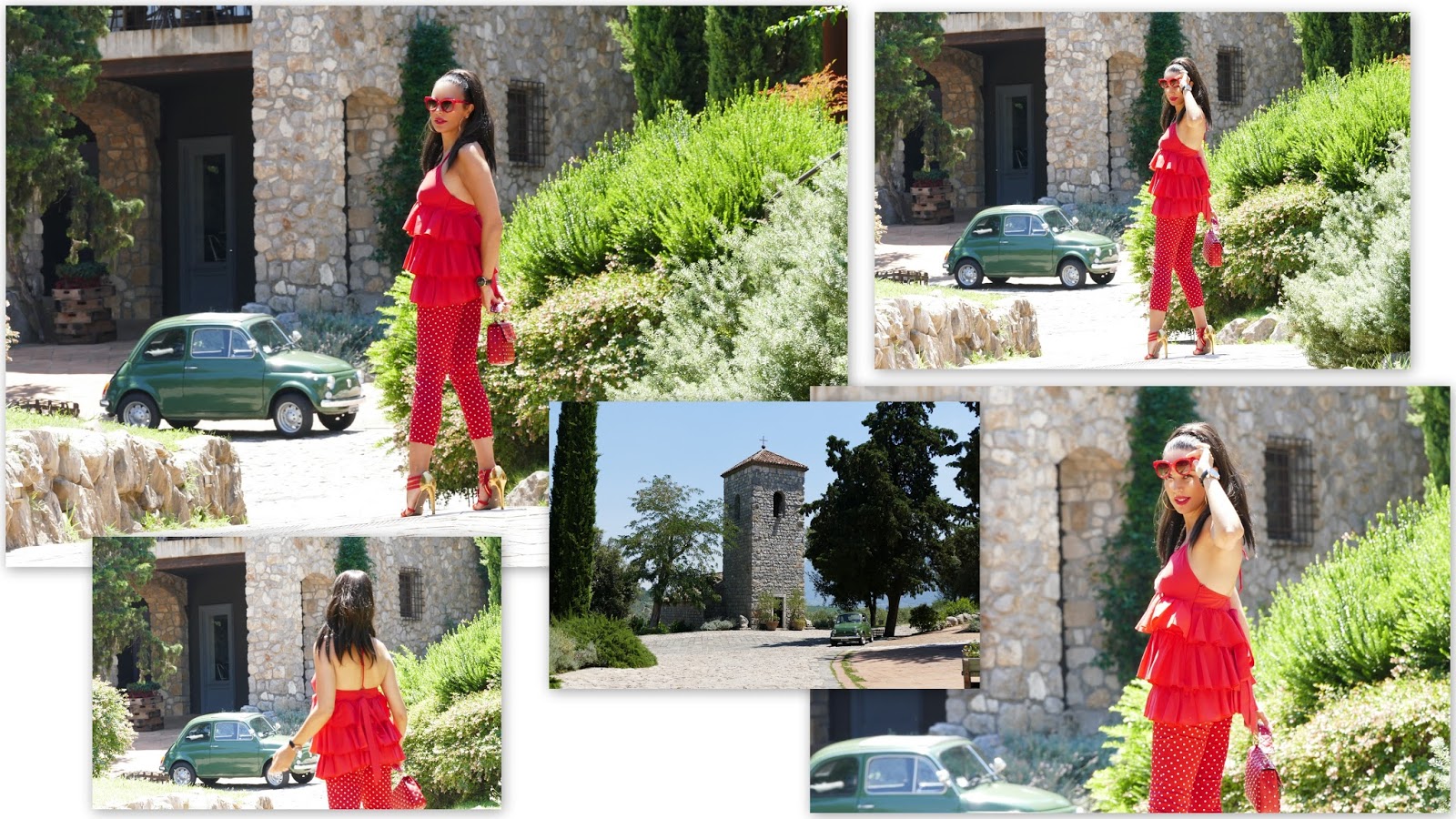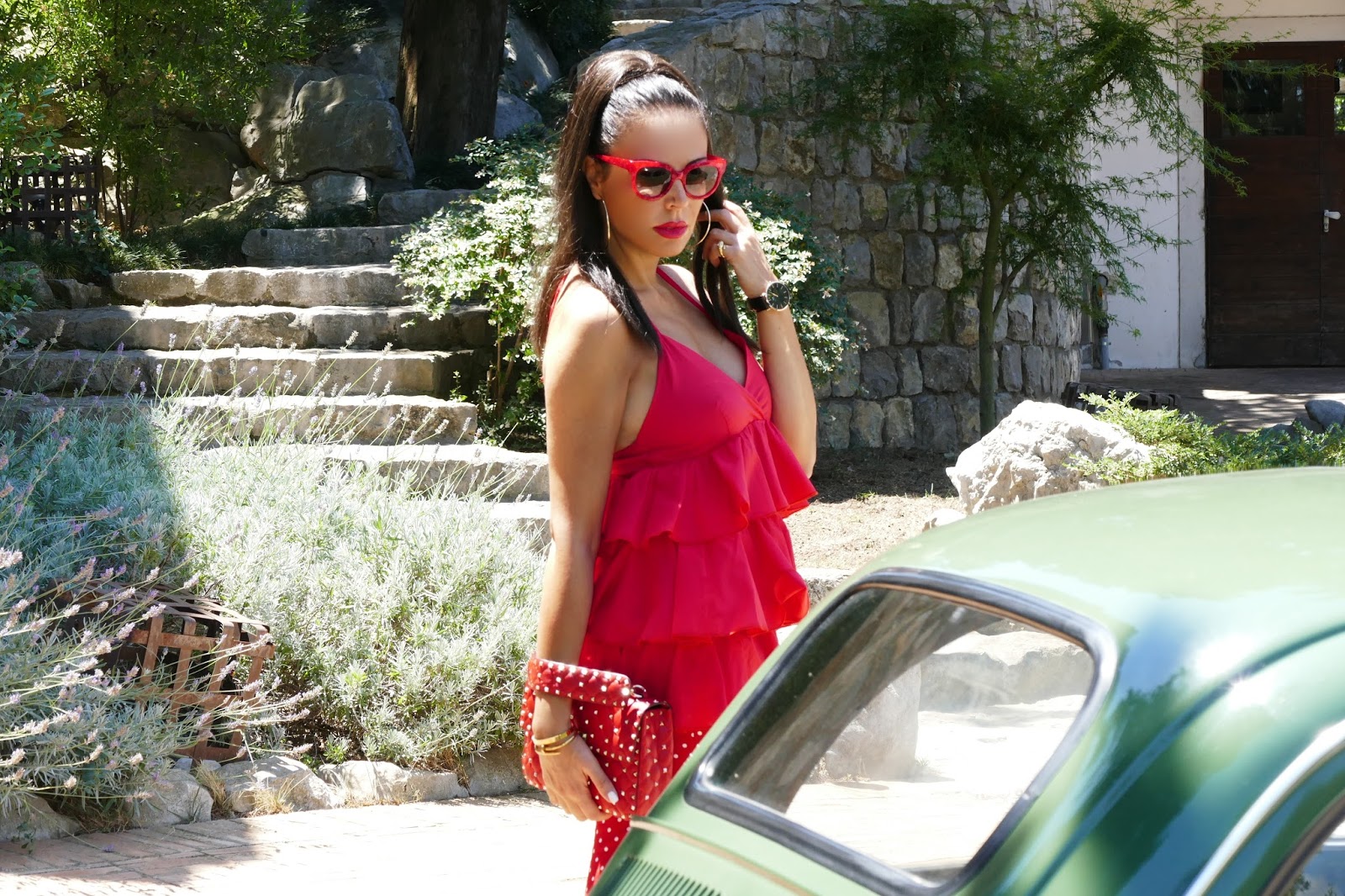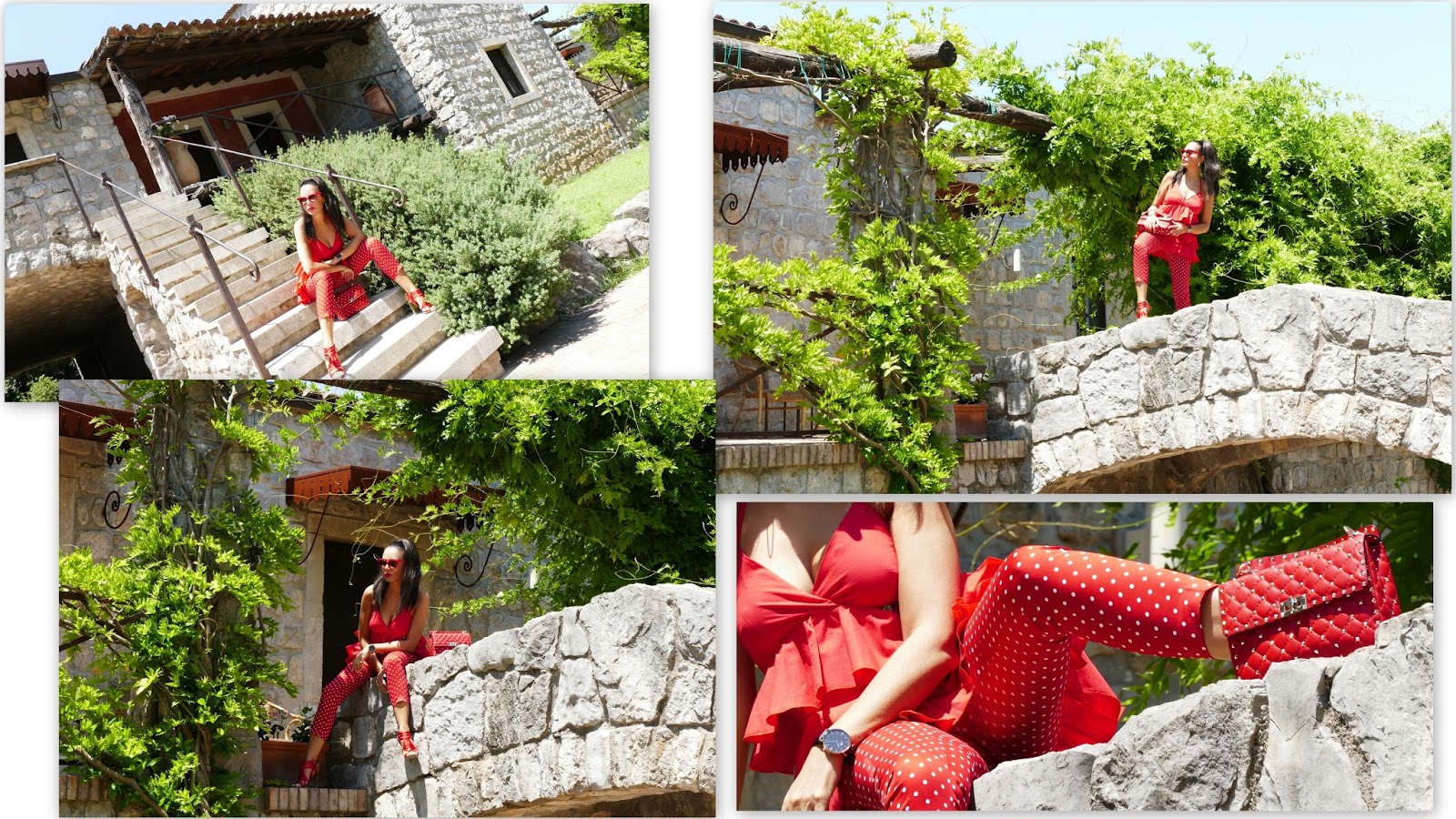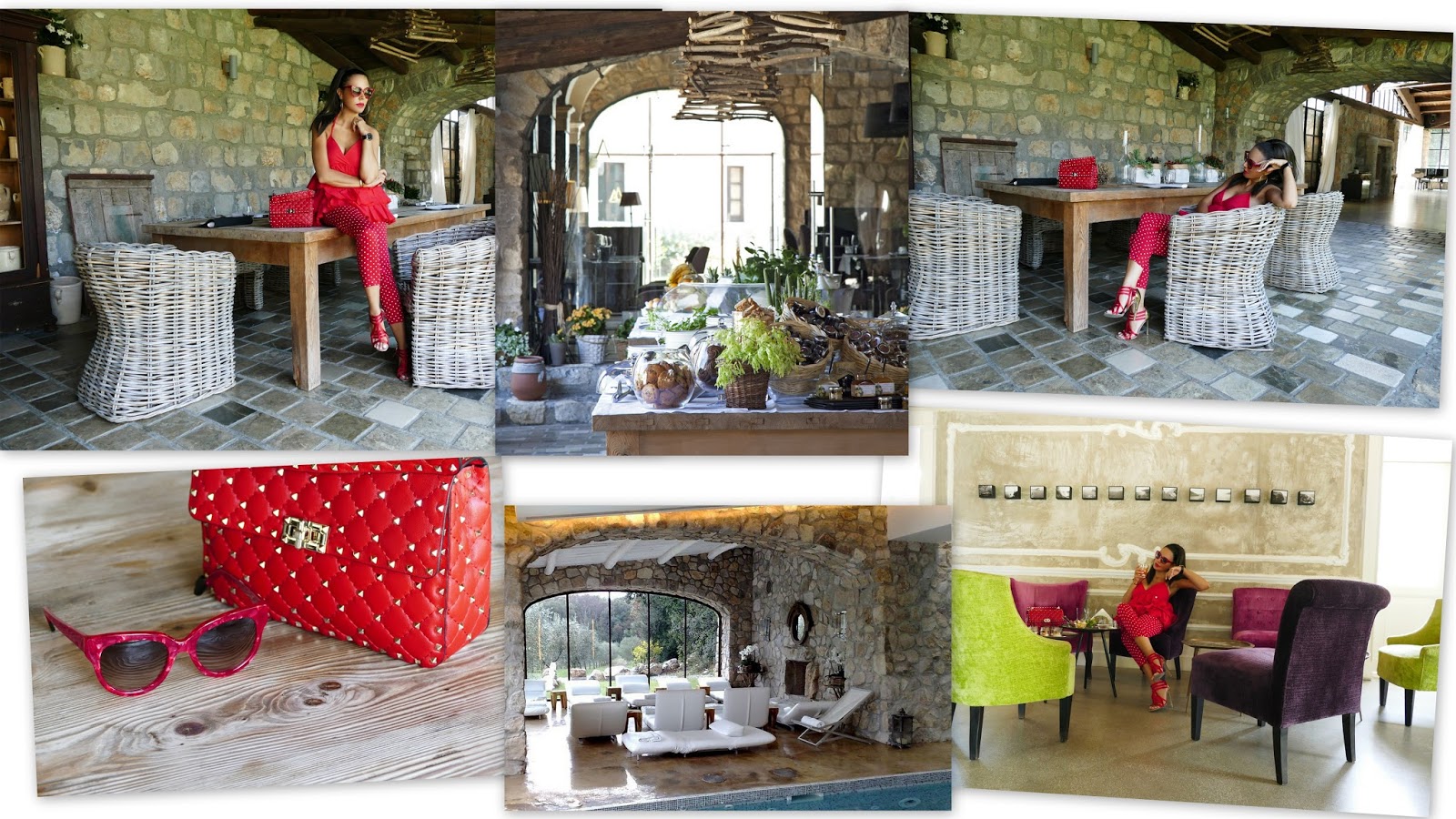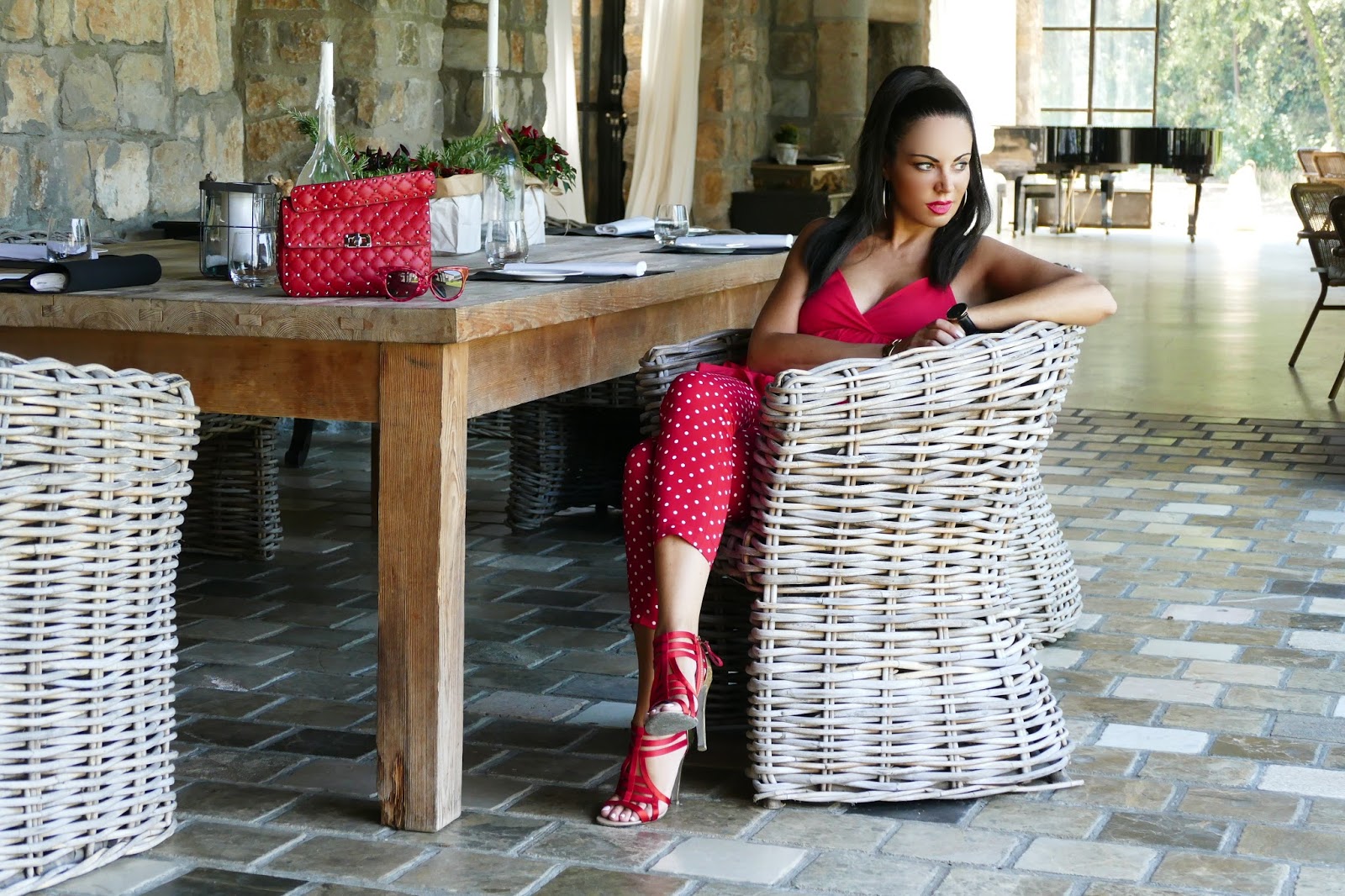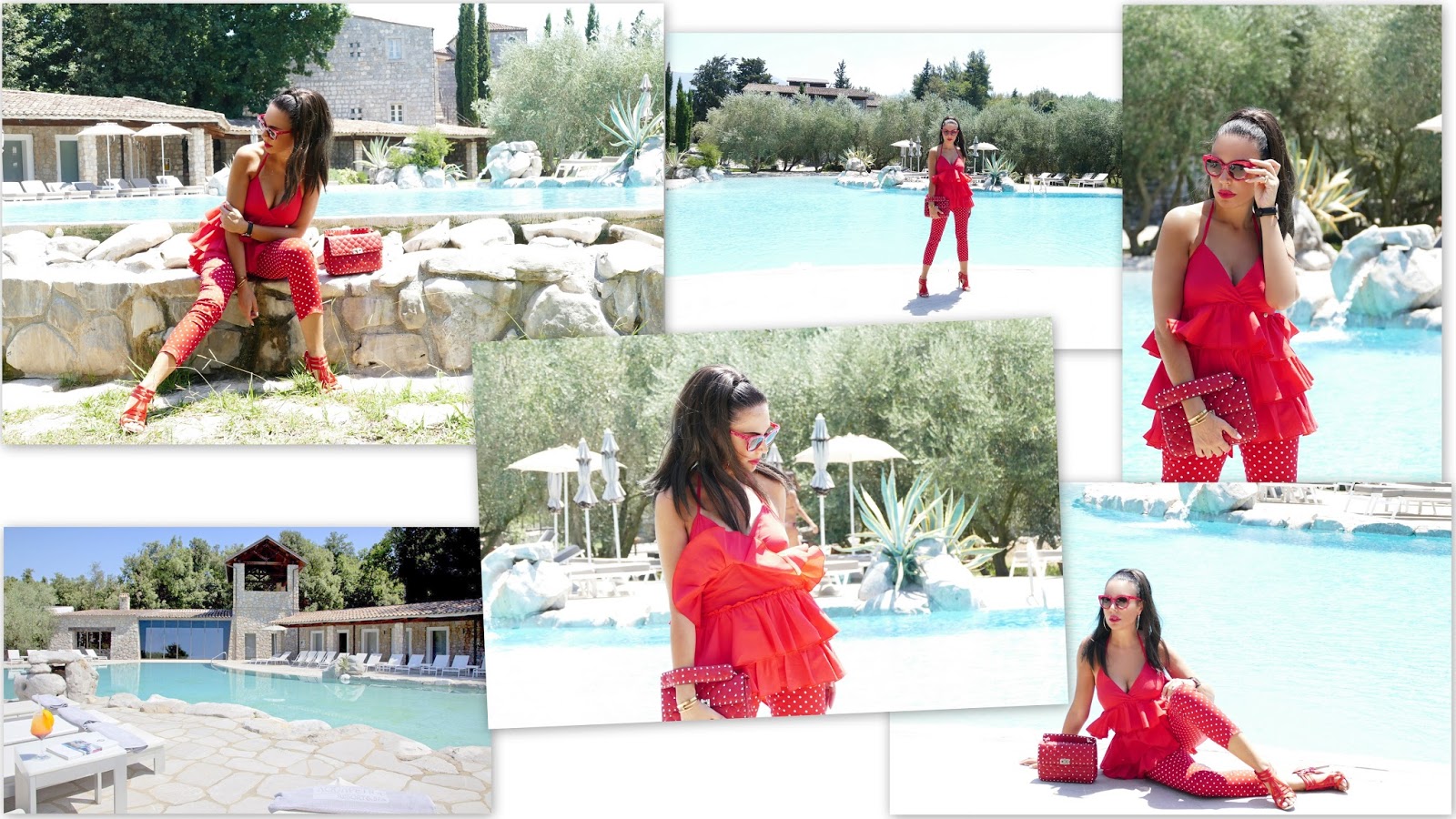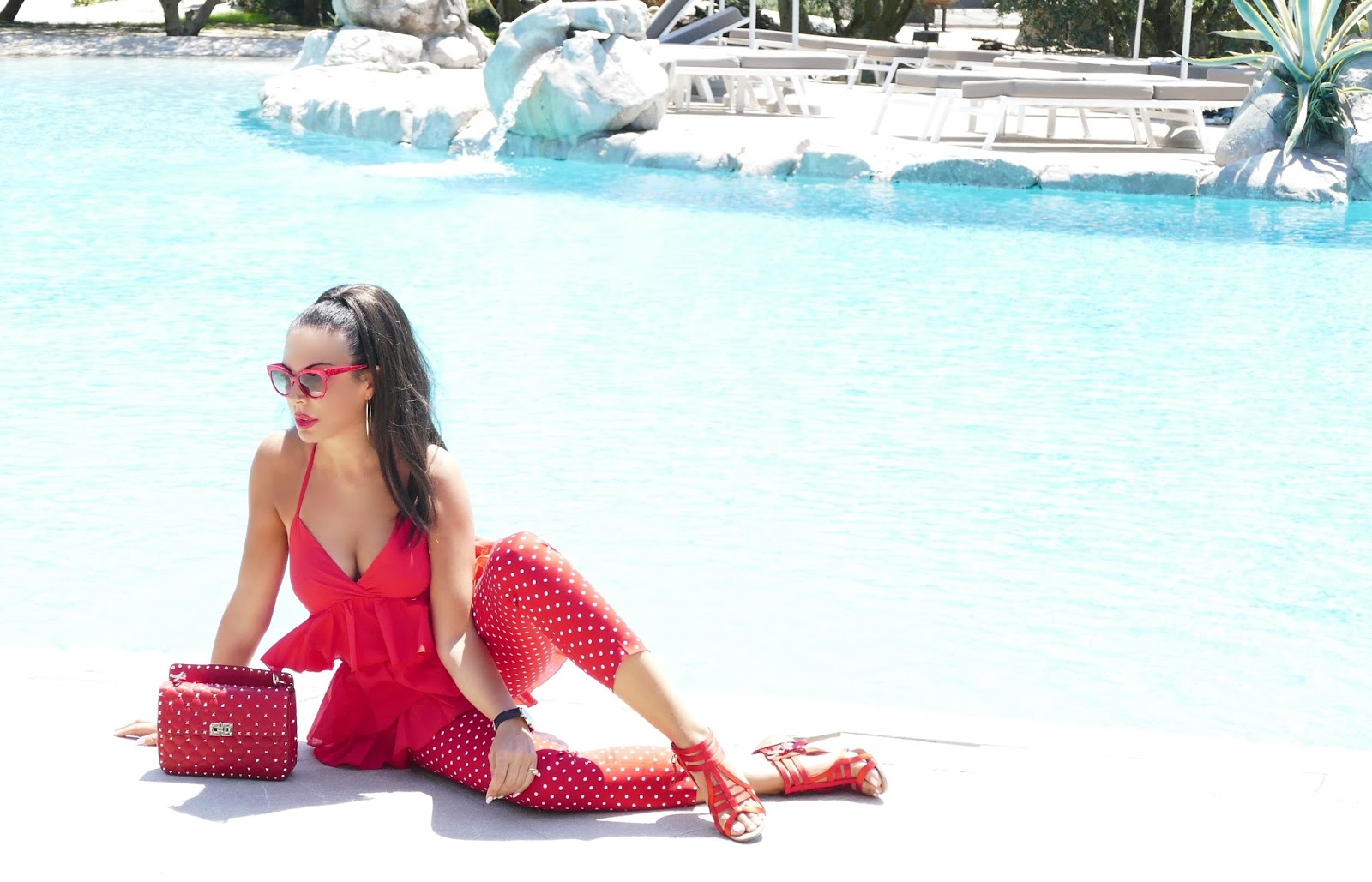 I was wearing:
Valentino "Rockstud Spike" bag