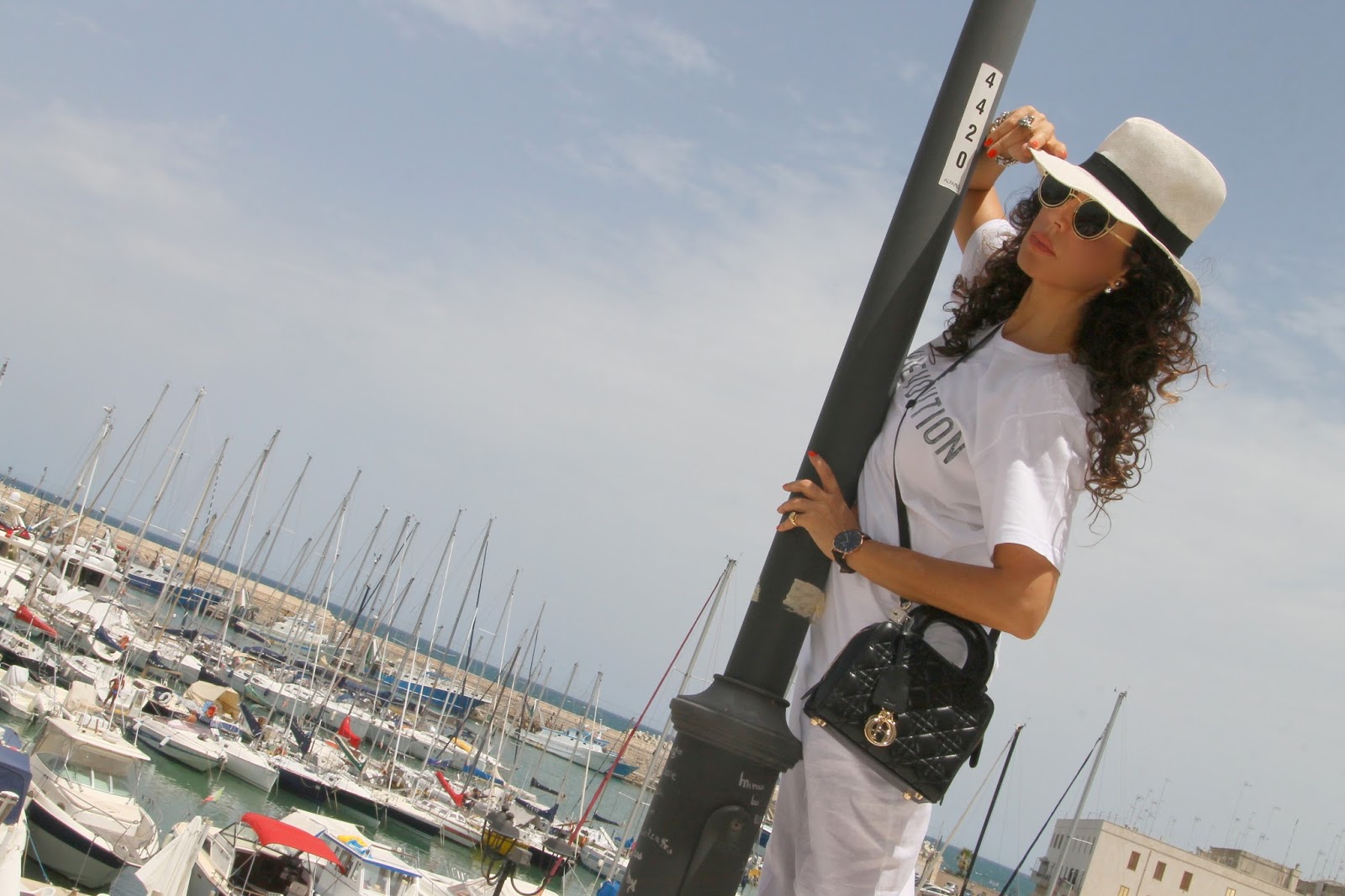 Visitare Bisceglie, vivace cittadina della Puglia, è una scoperta
continua che riempie di stupore.
Il borgo antico medievale e le
testimonianze preistoriche ci parlano di un passato lontano tutto da
esplorare, mentre il mare attira e seduce con i suoi colori cangianti.
Passeggiare nel suo centro storico tra le chiese, i palazzi nobiliari, i monumenti che fanno bella mostra in un dedalo di case medievali, è un'esperienza che ti arricchisce dal punto di vista artistico e archittettonico.
In posizione estremamente panoramica, prospiciente il porto, è impossibile non notare il massiccio Palazzo Ammazzalorsa, dall'imponente facciata in bugnato rustico e pietra tufacea, l'edificio storico situato lungo la strada che passa sulle mura aragonesi del XV secolo.
Vi si conserva al suo interno una collezione privata di dipinti del Grosso e di sculture del Dossena, preziose porcellane e antiche carrozze.
Indosso un tailleur pantaloni, il due pezzi emblema del guardaroba lady-like, classy e irresistibilmente
chic, assolutamente trendy per questa calda estate 2017. Un look total white interrotto solo da eleganti accessori neri, tra i quali spicca un raffinatissimo orologio Daniel Wellington, dal design minimal e lo stile intramontabile.
Per tutti i miei lettori, solo fino al 31 luglio, la possibilità di acquistare un elegante orologio usufruendo di uno sconto del 15%, utilizzando il codice "Expressyou", sul sito ufficiale… cosa aspetti?
(Clicca
qui
e
qui
per vedere tutti i tailleur più chic visti sulle passerelle PE).
(Clicca
qui,
qui
e
qui
per vedere altri outfit dove indosso un tailleur pantalone).
A visit to Bisceglie, a lively town in southern Italy, is a continual discovery that fills with amazement.
The Medieval village and prehistoric testimonies tell us
about a distant past to explore while the sea attracts and seduces
with its changing colors.
Walking in its historic center among the churches, the noble palaces,
the monuments that make a great show in a maze of medieval houses, is an
experience that enriches you from an artistic and architectural point
of view.
In an extremely panoramic position, overlooking the harbor, it is
impossible not to notice the massive Palazzo Ammazzalorsa, the
impressive rustic façade and tufaceous stone, the historic building
along the road that runs through the fifteenth-century Aragonese walls.
There is a private collection of paintings and sculptures,
precious china and old carriages.
I'm
wearing a pant-suit, the two-piece emblem of lady-like wardrobe, classy and
irresistibly chic, so damn trendy for this hot summer 2017.
A total white look interrupted only by stylish black accessories,
including a refined Daniel Wellington watch from
minimal design and timeless style.
For
all my readers, only until July 31, the opportunity to buy an elegant
watch using a 15% discount, entering "Expressyou" code on the official
website… what're you waiting for?
(Click here, here and here to see other outfits where I was wearing a pant-suit).
(Click here and here to read more about the perfect summer suit).
Location: Ammazzalorsa Palace – Bisceglie – Puglia – Italy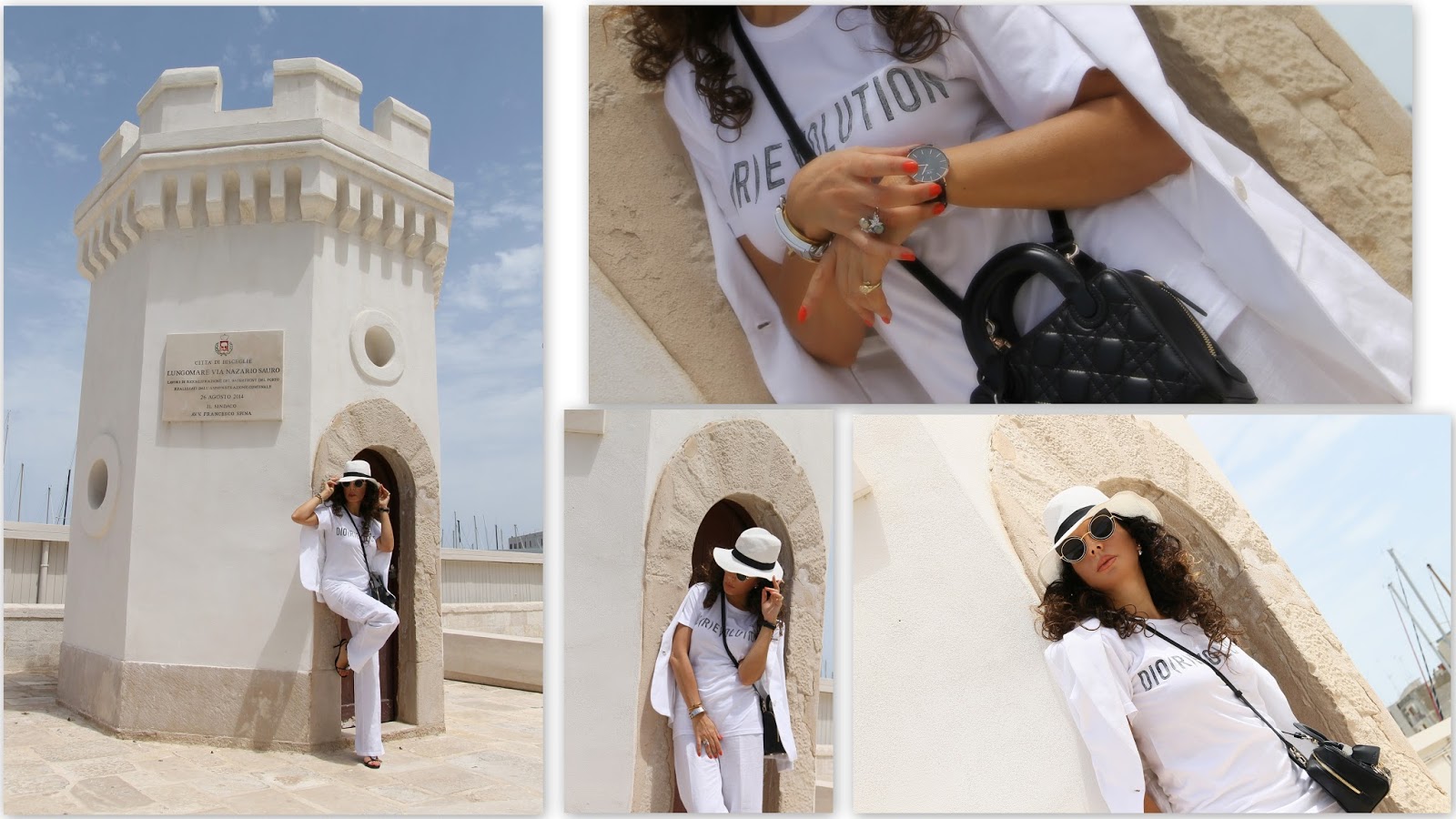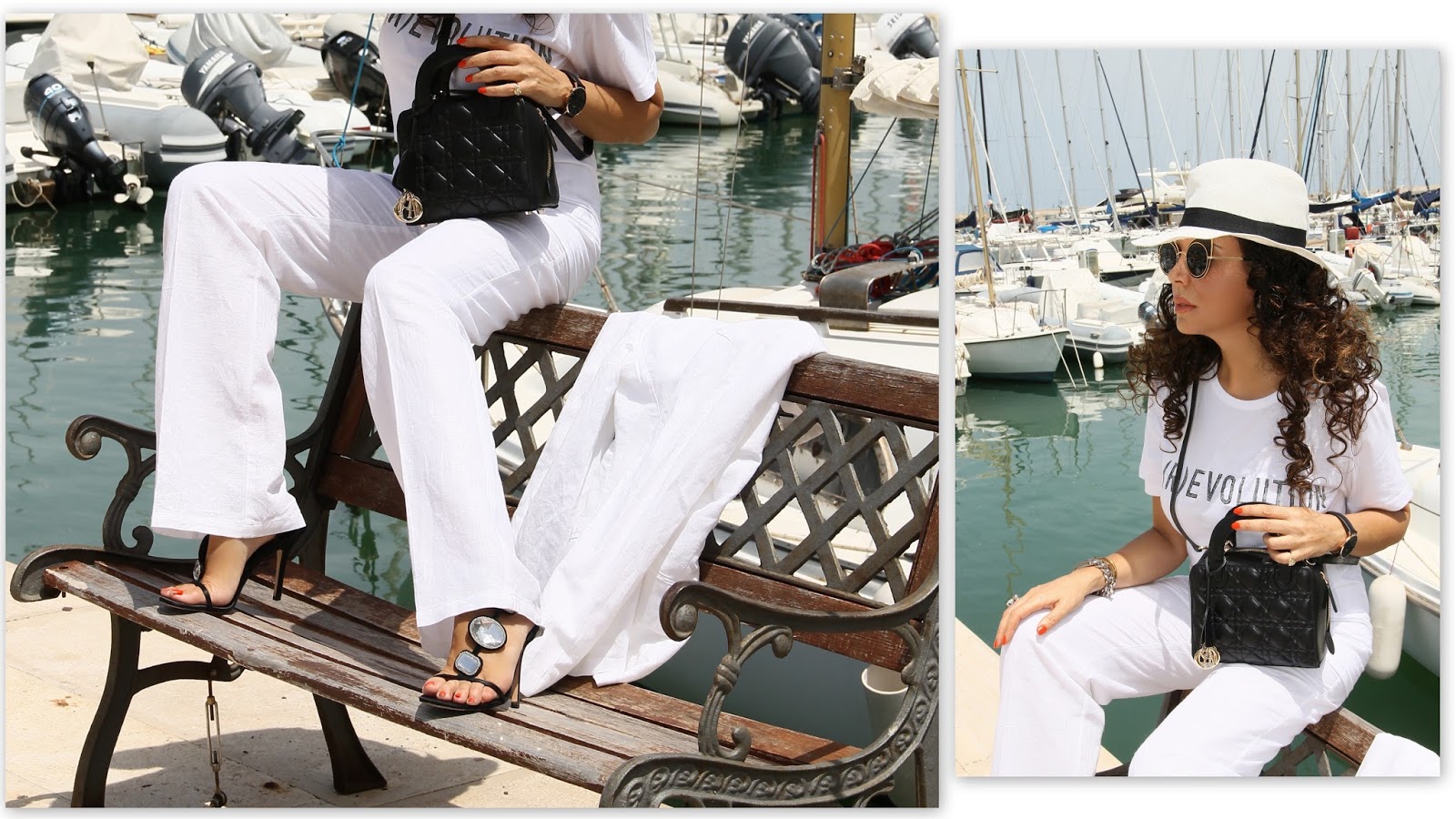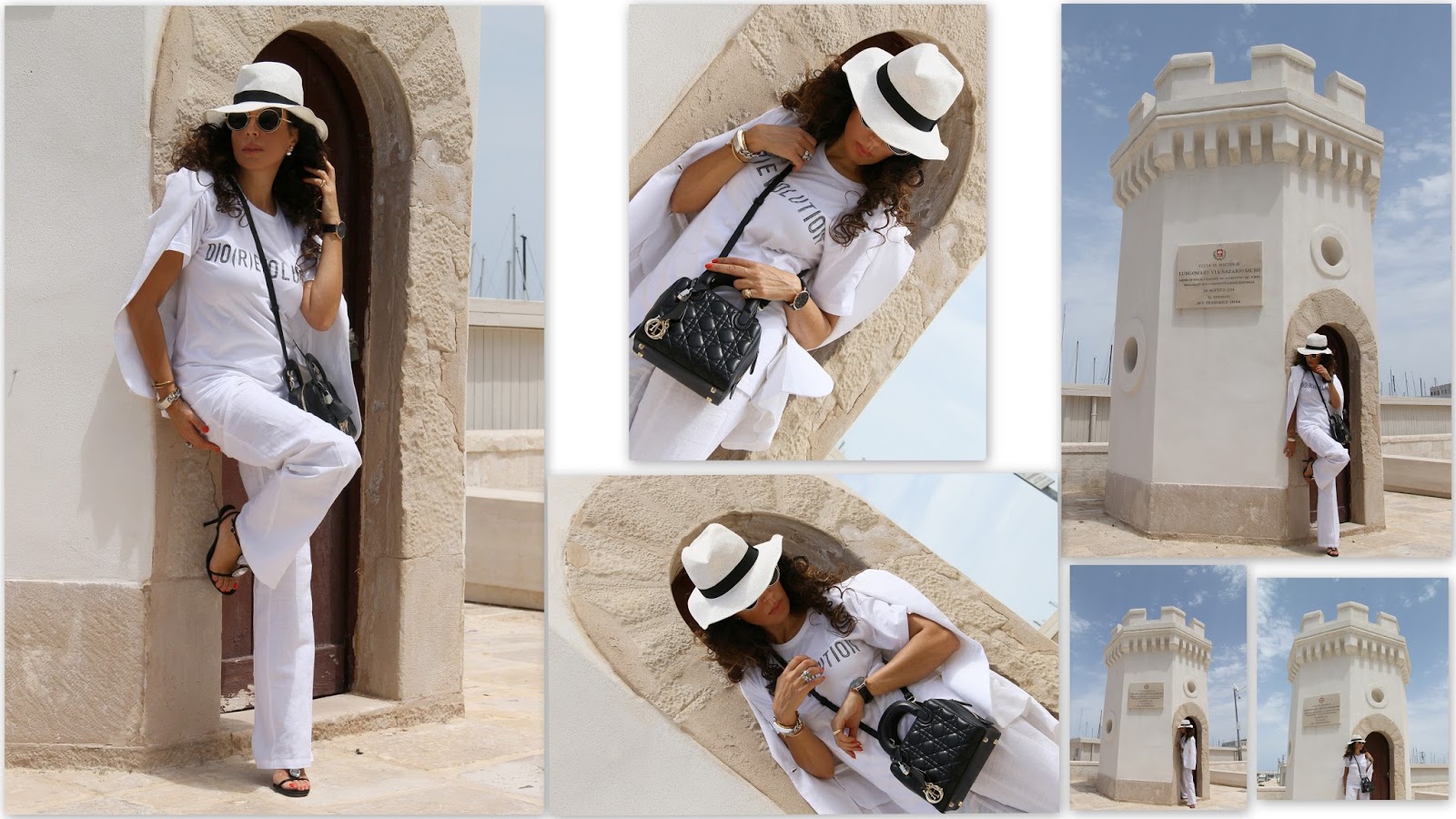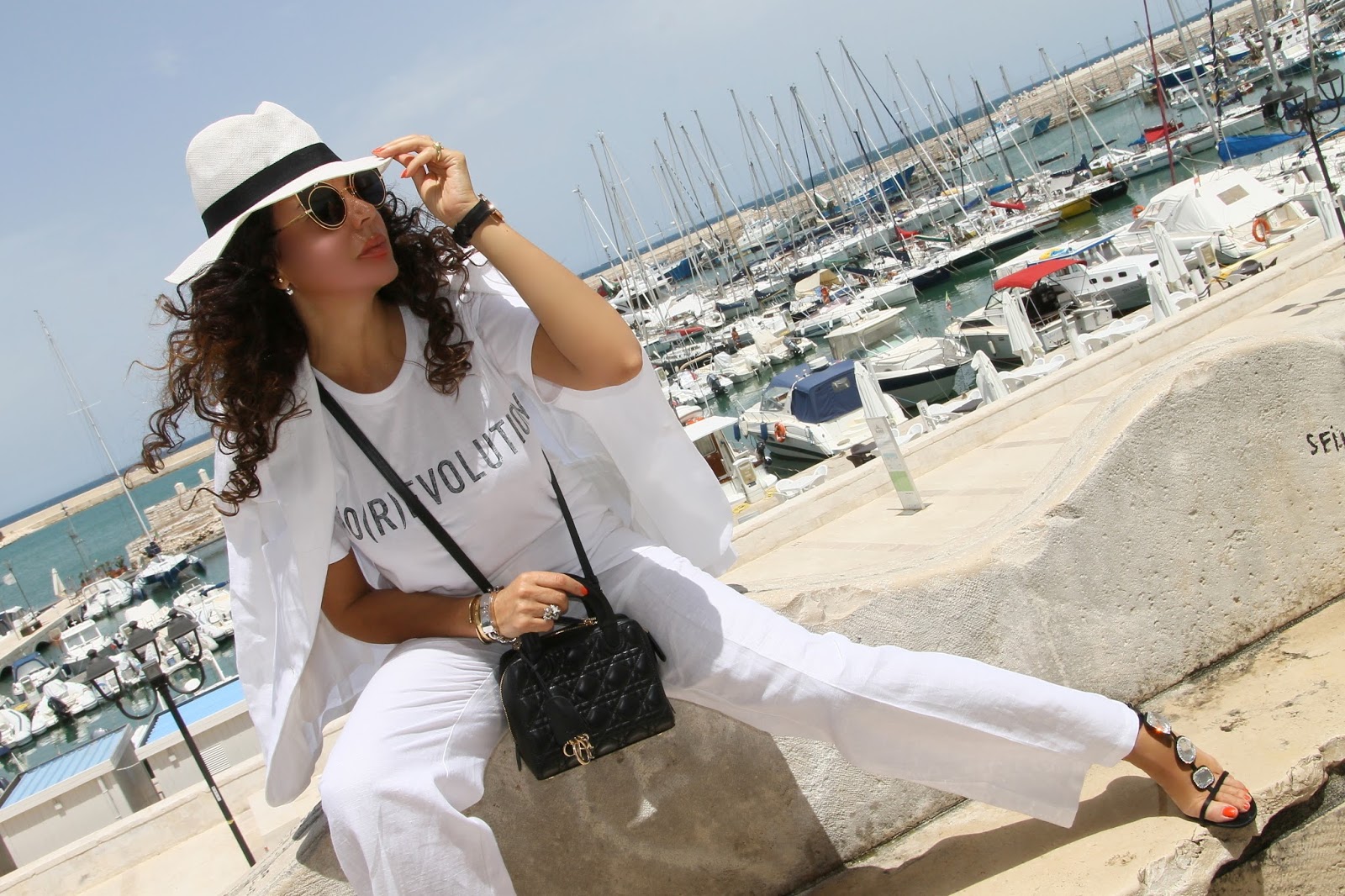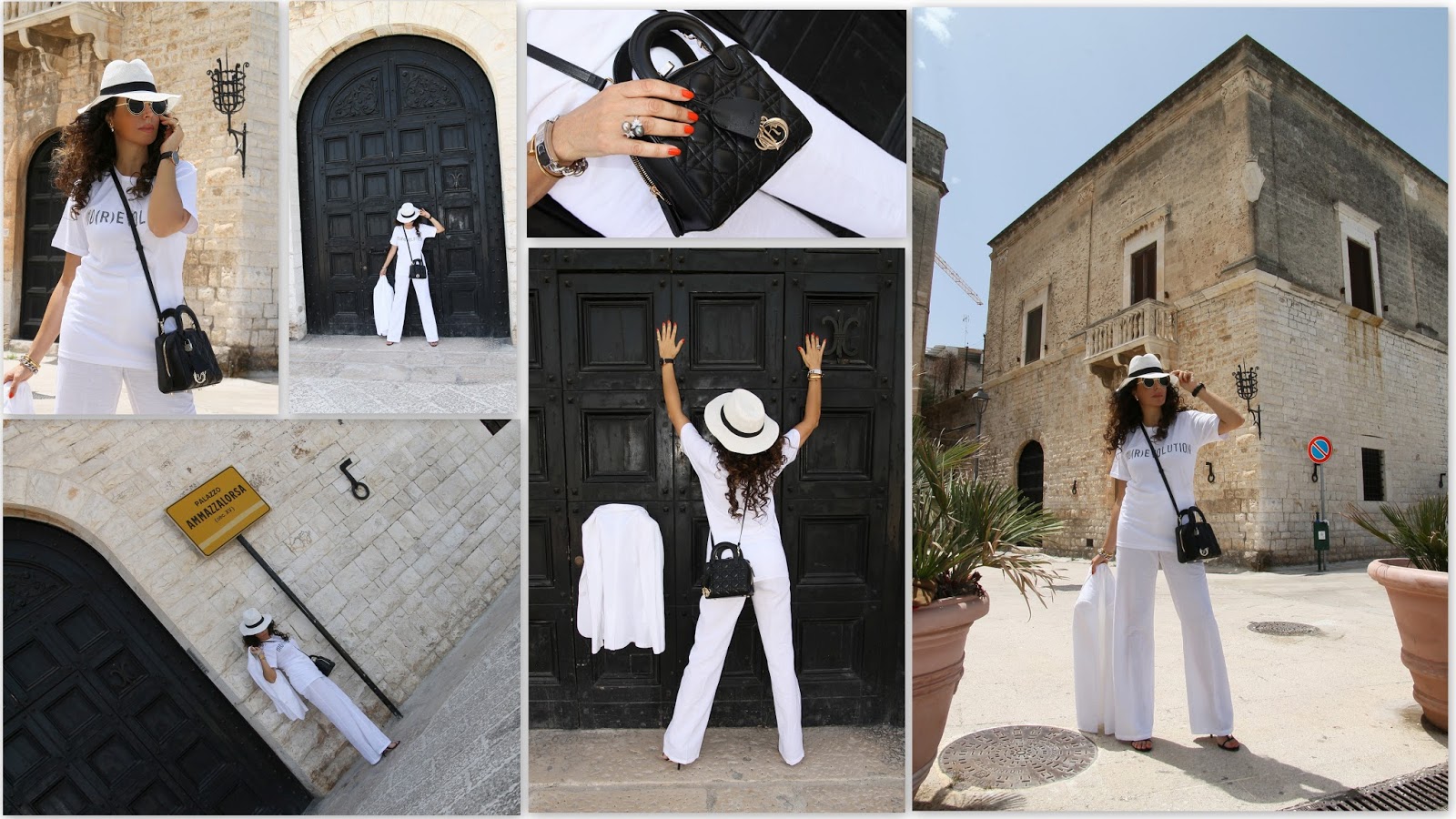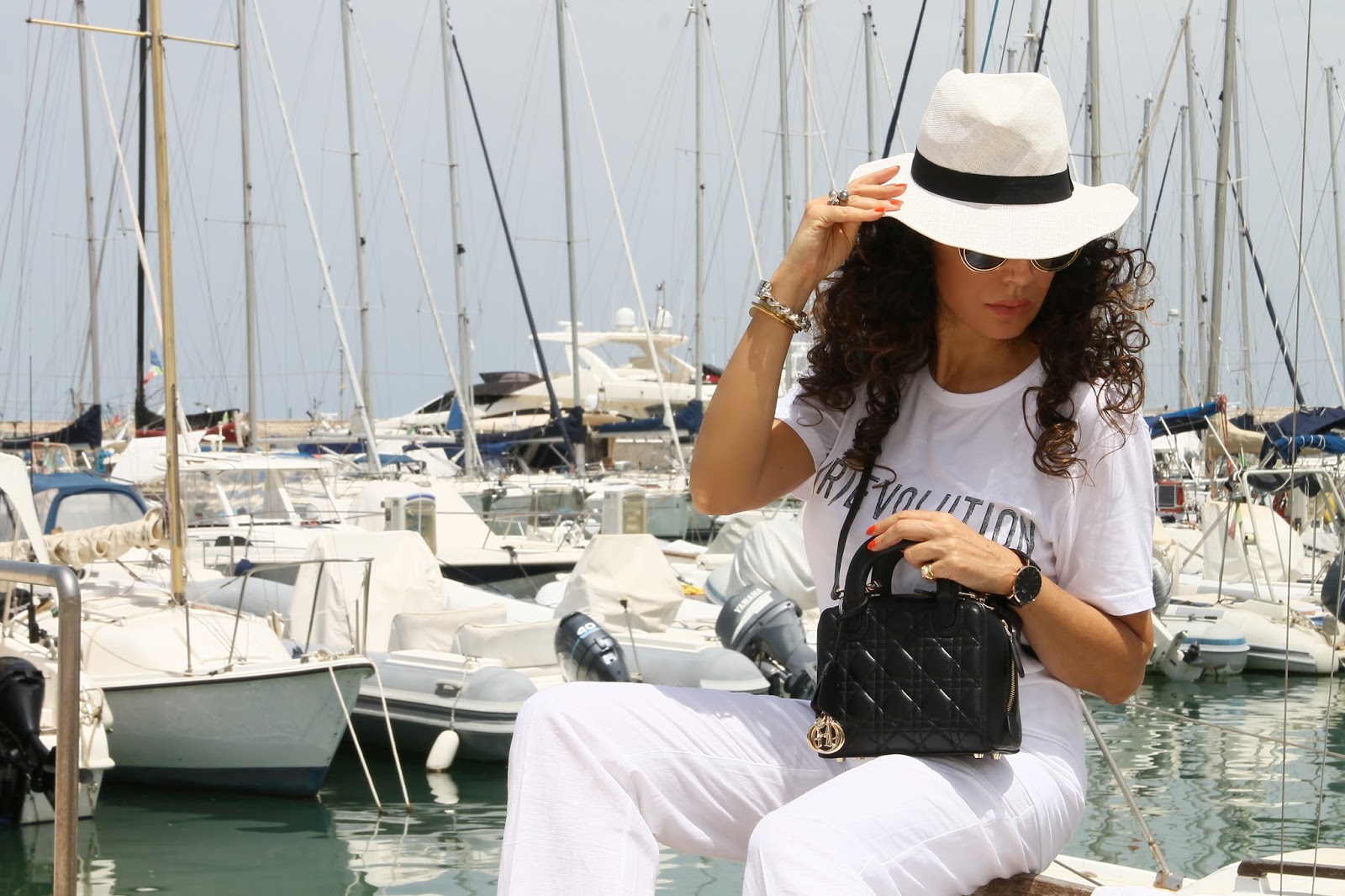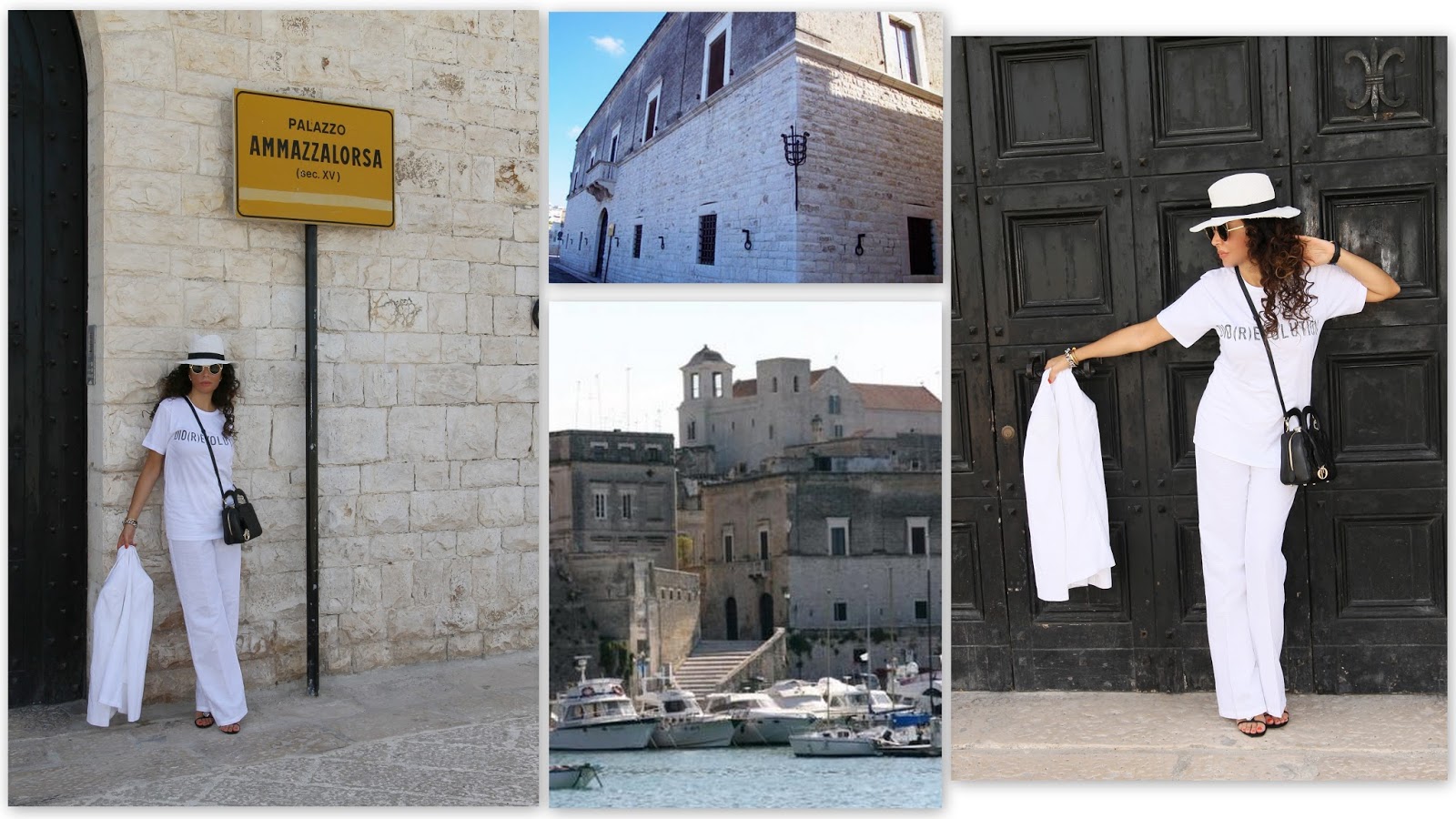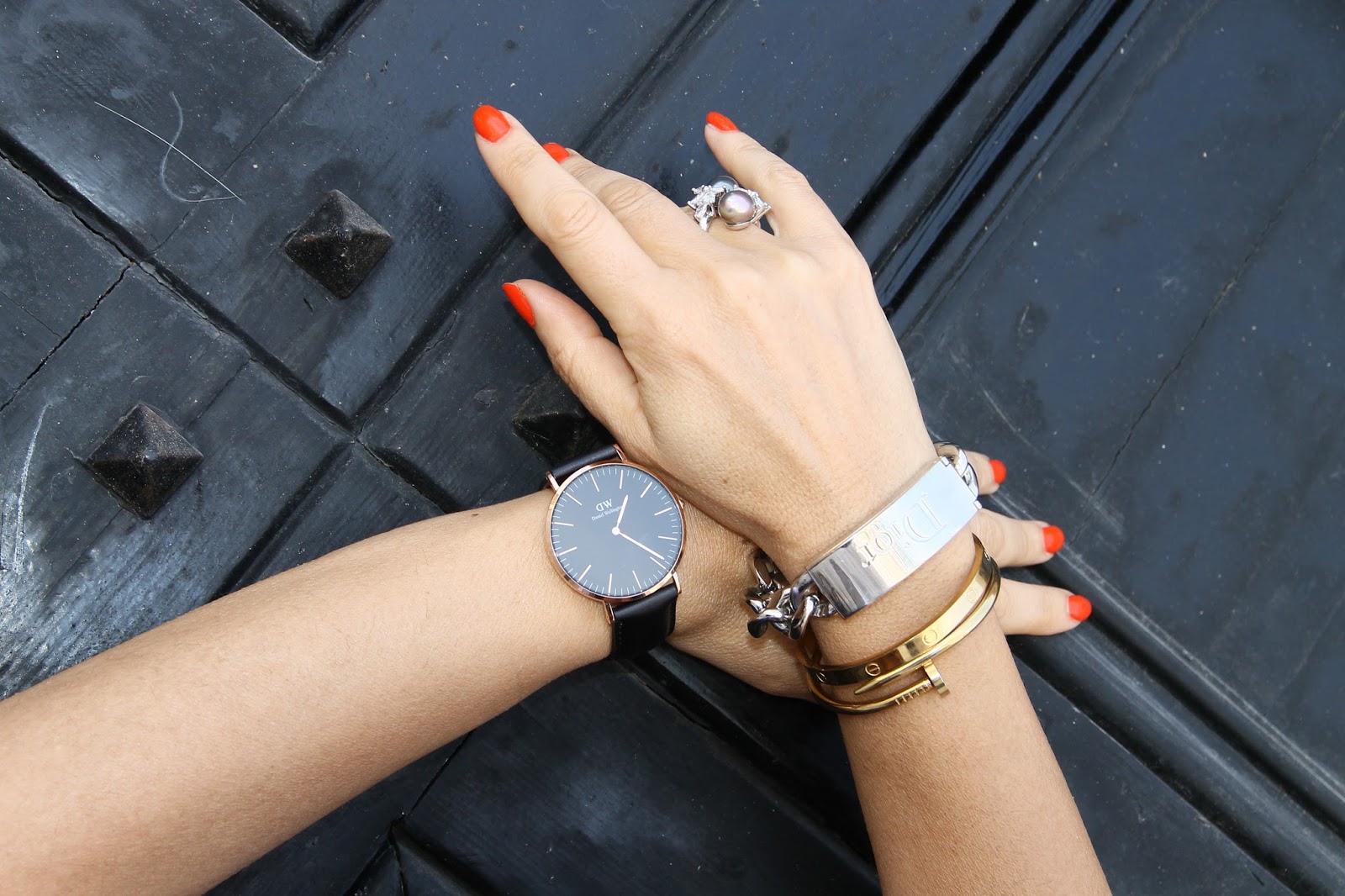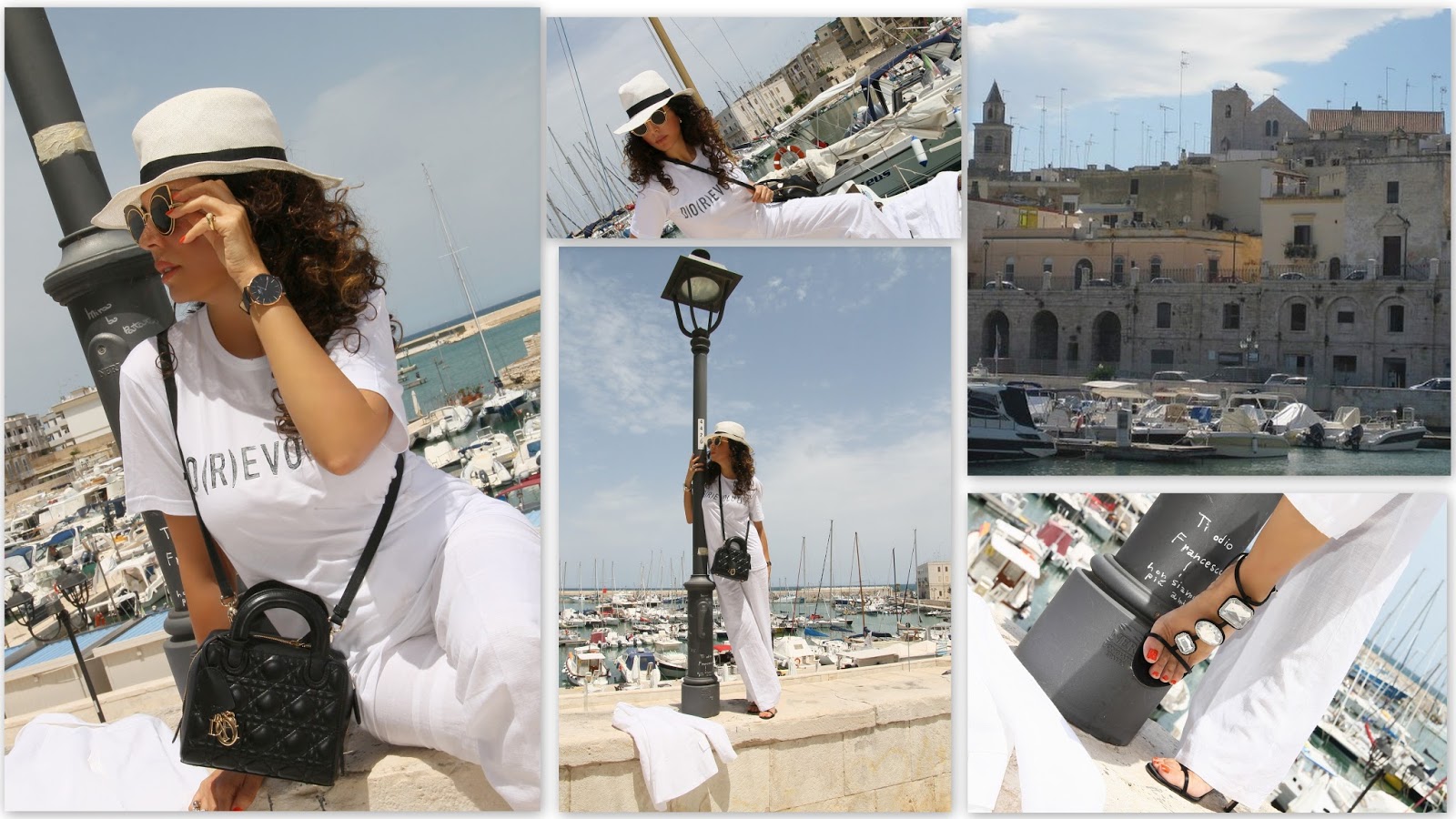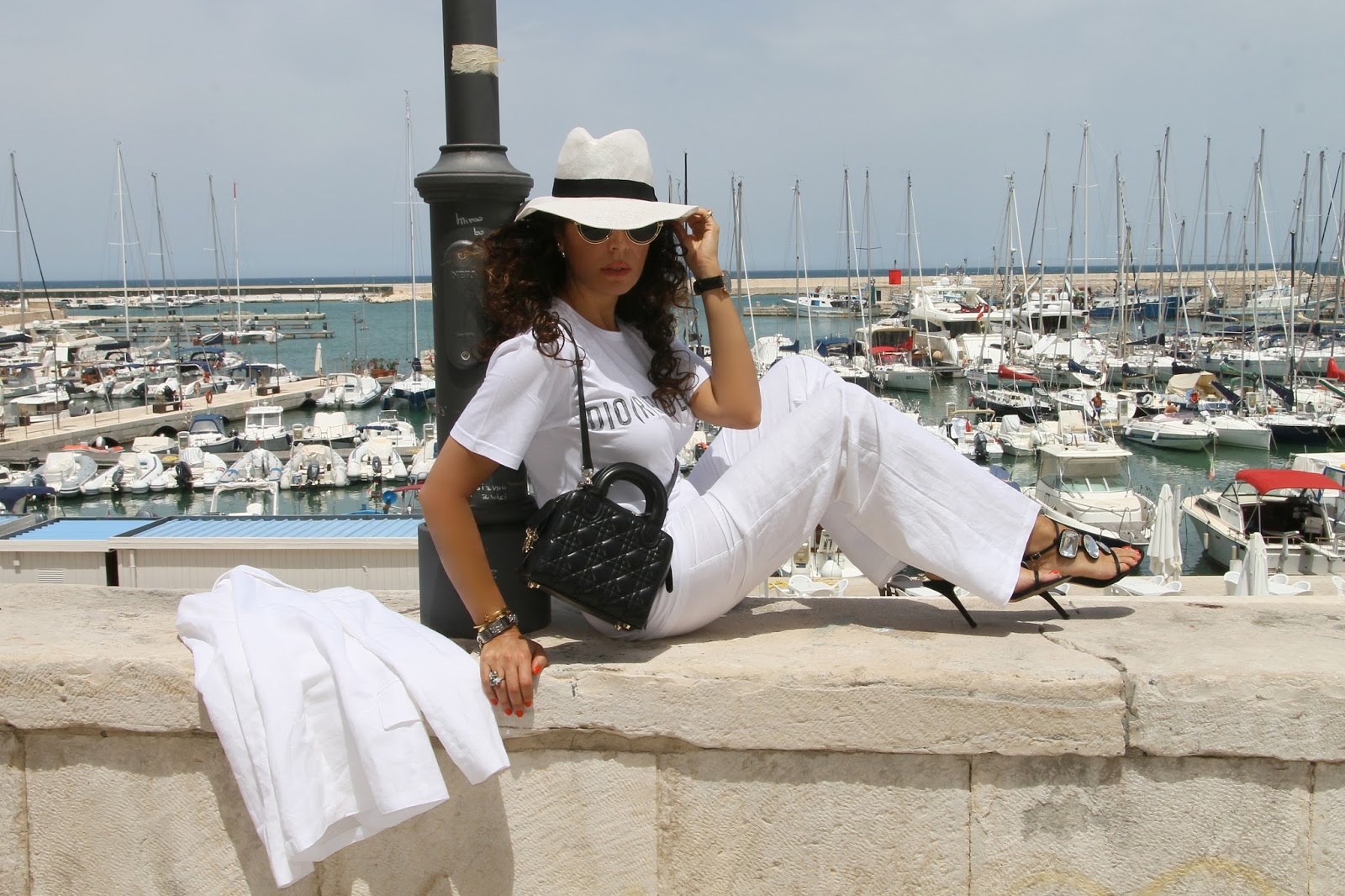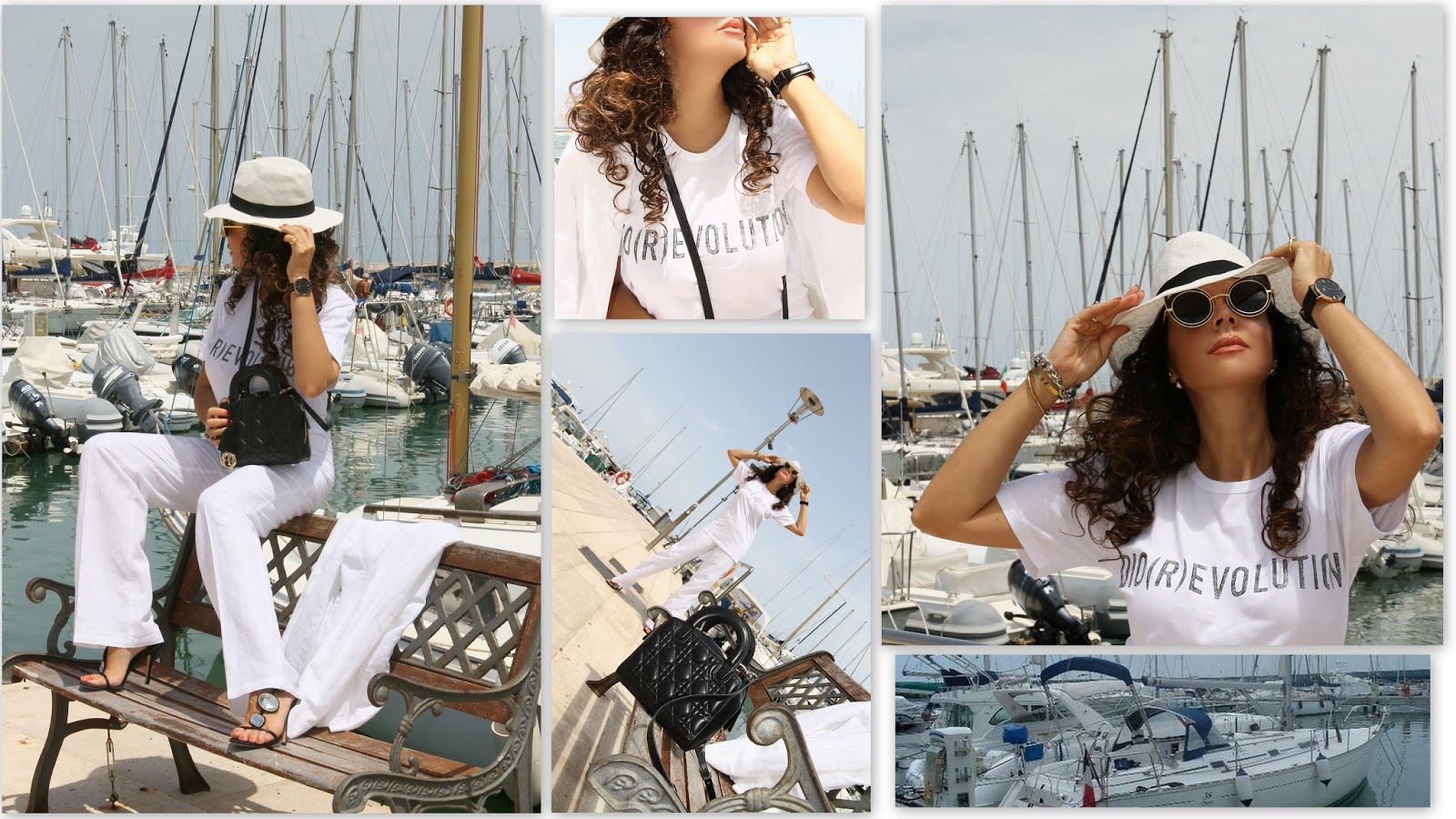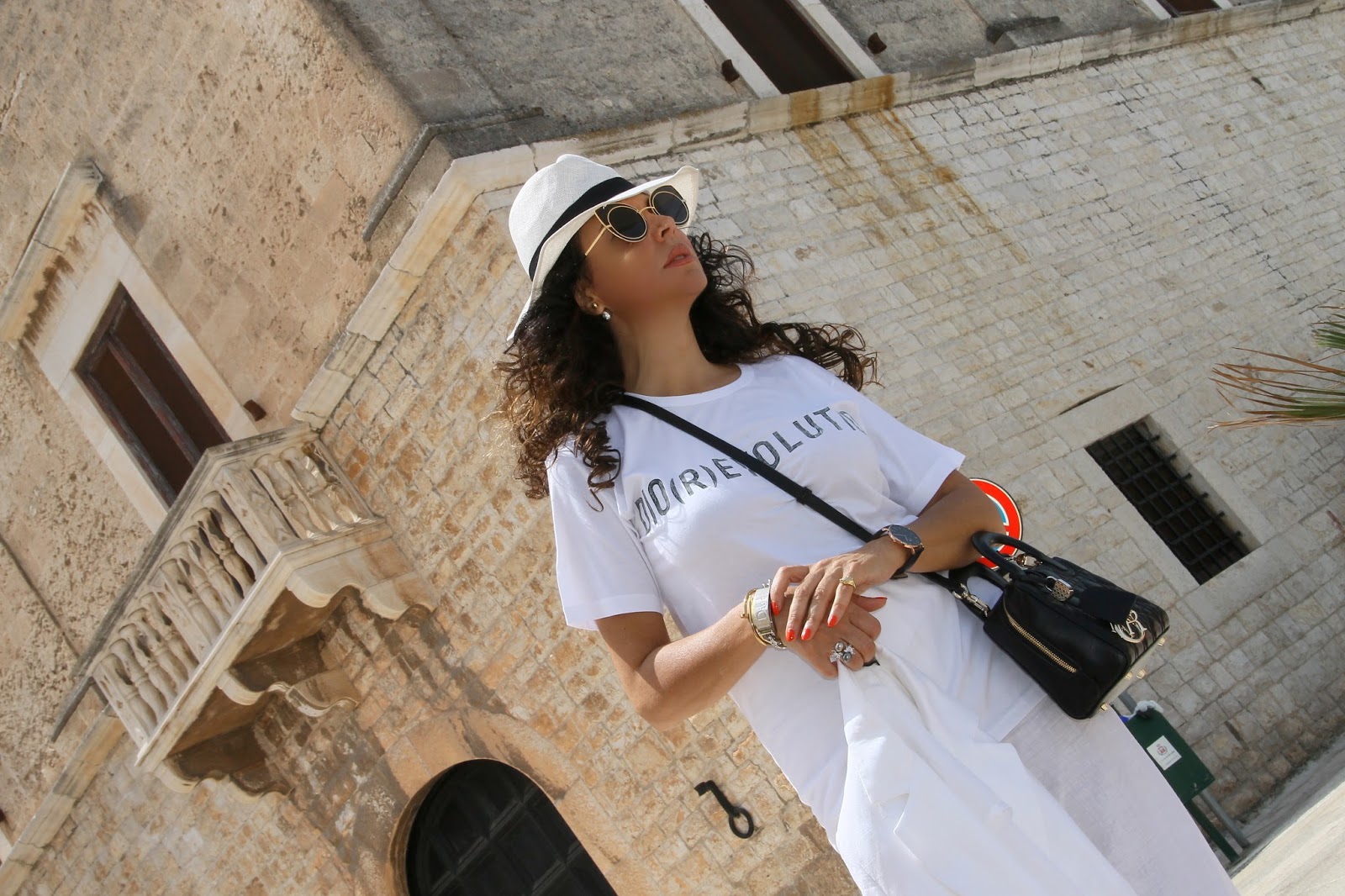 Il massccio Palazzo
Ammazzalorsa prospiciente il Porto, costruito verso la fine del
'400 e restaurato recentemente dal Quagliat
Vi si cserva una
collezione privata di dipinti del Grosso e di sculture del Dossena. Gli Ammazzalorsa sono originari della Terra d'Otran
Il massiccio Palazzo
Ammazzalorsa prospicente il Porto, costruito verso la fine del
'400 e restaurato recentemente dal Qua Photos: Mirko Cammisa
I was wearing: