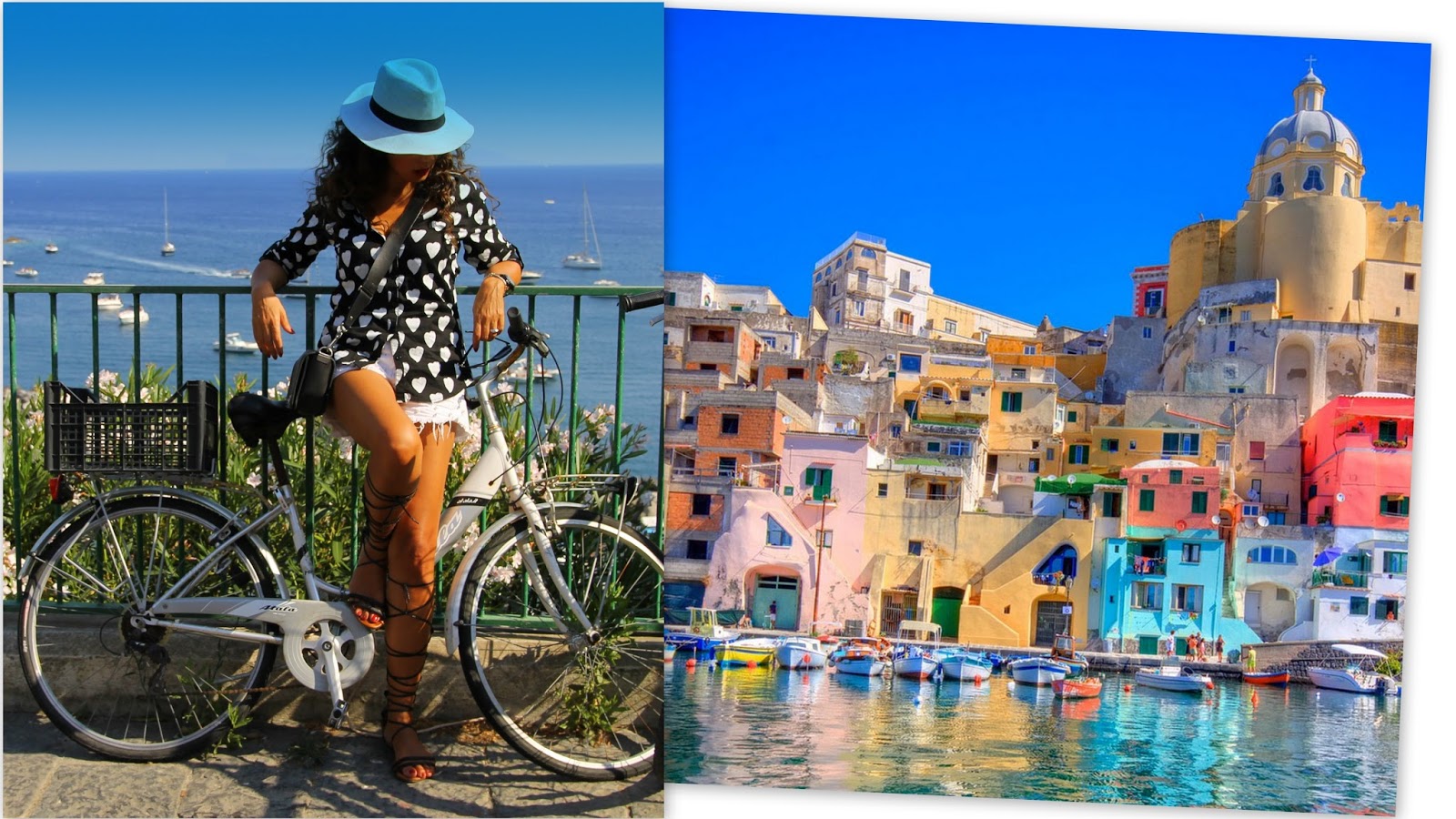 Rustica e misteriosa. Un'isola di straordinaria bellezza, dal tipico paesaggio dei luoghi mediterranei, impregnato di antiche tradizioni e dell'autenticità della gente di mare.
Vero unicum nel Golfo di Napoli, lontana dalla ribalta, Procida, terra di marinai e contadini, dediti alla pesca e alla coltivazione dei limoni. Uomini che restano l'anima vera dell'isola, disegnando il suo paesaggio da cartolina, con le "cianciole" in legno, le reti ammassate sui pontili, le abitazioni dall'intonaco colorato, i limoneti e gli orti nascosti tra le mura di vecchi palazzi.
Irte lingue nere di basalto, lucido di sole, strade strettissime e sinuose, appena sufficienti a consentire la circolazione dei veicoli, come voluttuosi manti scuri che si inerpicano e scorrono tra quei tanti parallelepipedi multicolori che si aggrappano alle rocce.
Una terra semplice, gelosa e orgogliosa della propria storia.
Autentica, fatiscente, ma affascinante e ancora da scoprire.
Procida è il bello vero.
Indosso un outfit monocromatico quasi a contrastare lo spettacolo policromo dell'arcobaleno di calce che abbraccia il porticciolo dei pescatori di "Corricella".
(Clicca
qui
,
qui
e
qui
per vedere mie diverse interpretazioni della tendenza bicolor, tra le più forti della nuova stagione).
Rustic and mysterious. An island of
extraordinary beauty, which offers typical landscape of
Mediterranean places, steeped in ancient traditions and authenticity of
seafarers.
Real
unique in the Gulf of Naples, far from the
footlights

, Procida, land of
sailors and farmers,
engaged in fishing

and

cultivation of lemons.
Men
who are the true soul of the island, drawing its picturesque landscape,
with the "cianciole", their typical wooden boats, massed fishing nets on the wharves, colored houses, the lemon groves and hidden gardens within the walls of old
palaces.
Like bristling black basalt tongues, the winding narrow streets,
just enough to allow the movement of vehicles, as voluptuous dark
cloaks that climb and slide between those many multicolored
parallelepipeds that cling to rocks.
A simple land, jealous and proud of its history.
Authentic, crumbling, but charming and undiscovered.
Procida is the true beauty.
I'm wearing
a monochromatic outfit almost
counteract

the rainbow multicolored
spectacle that embraces the fishing port of "Corricella".
Location: Procida Island – Italy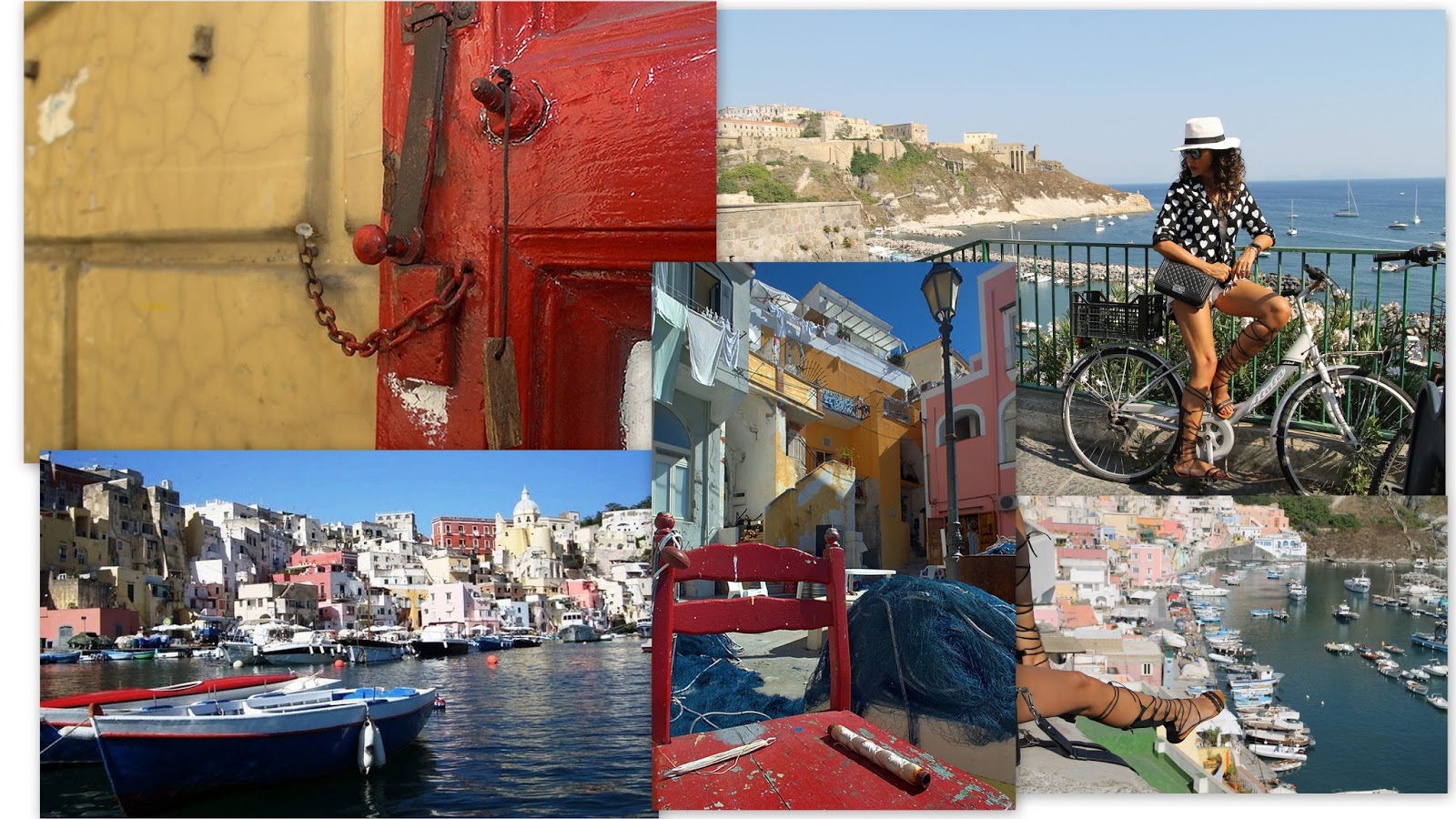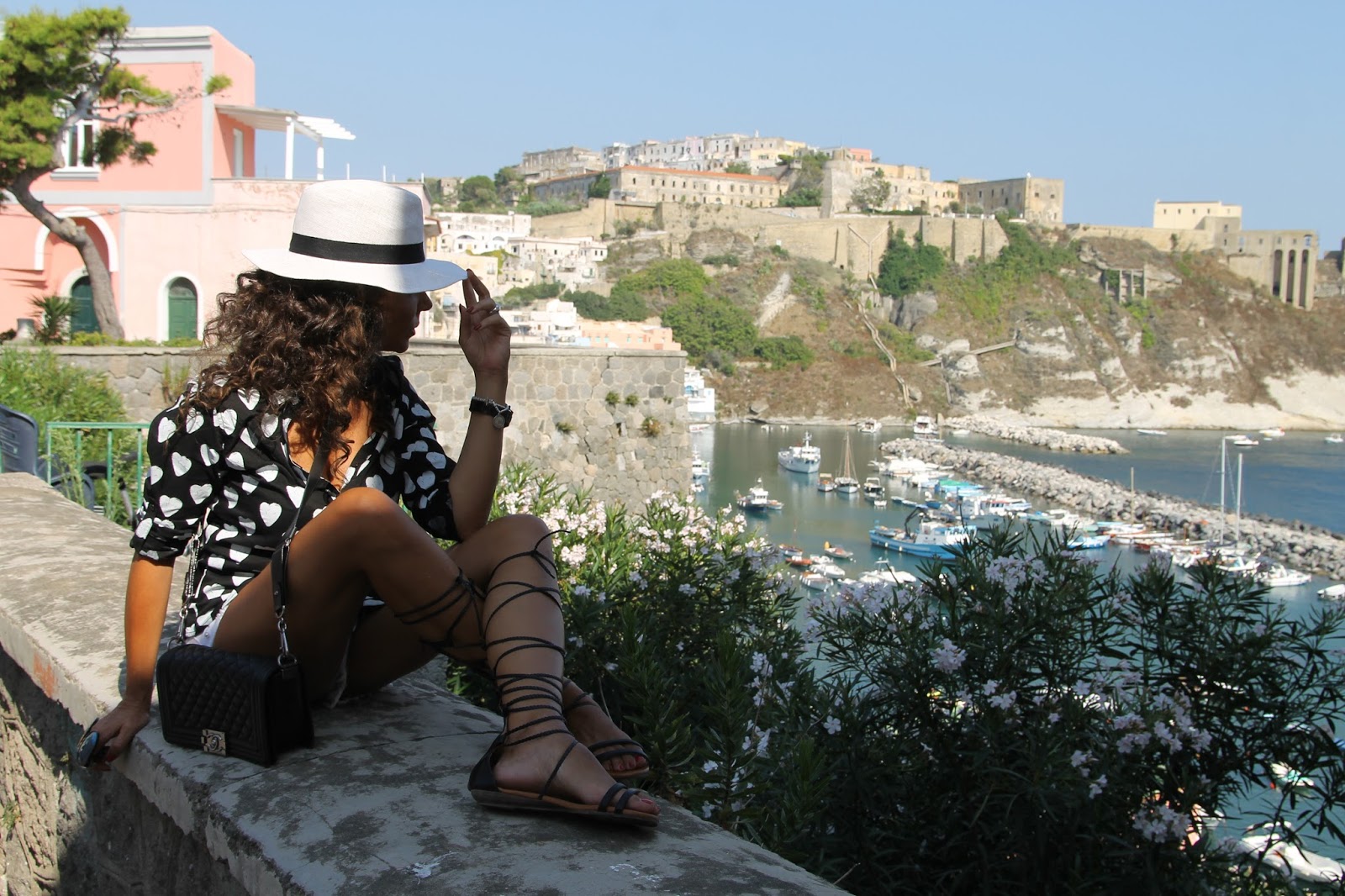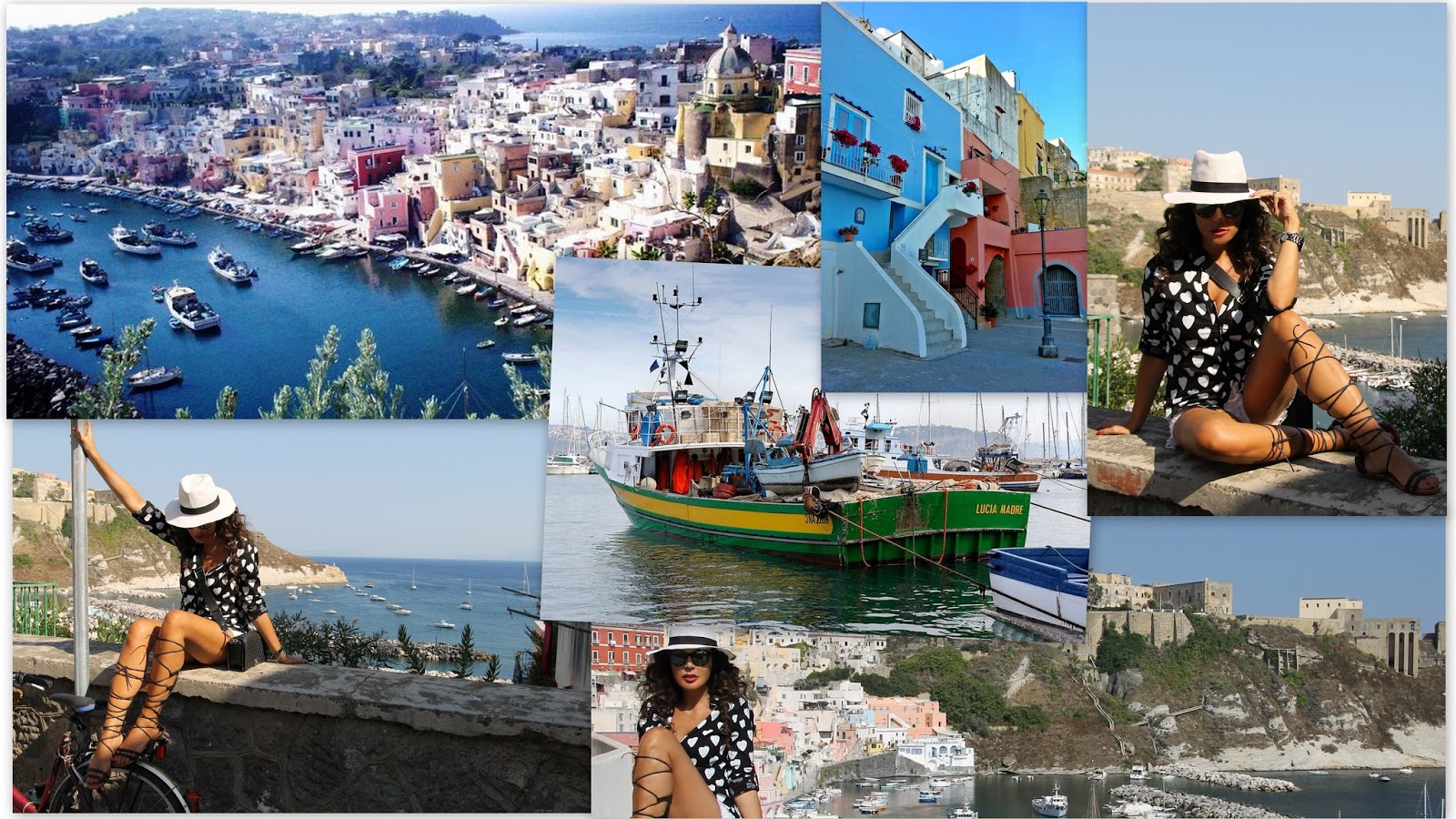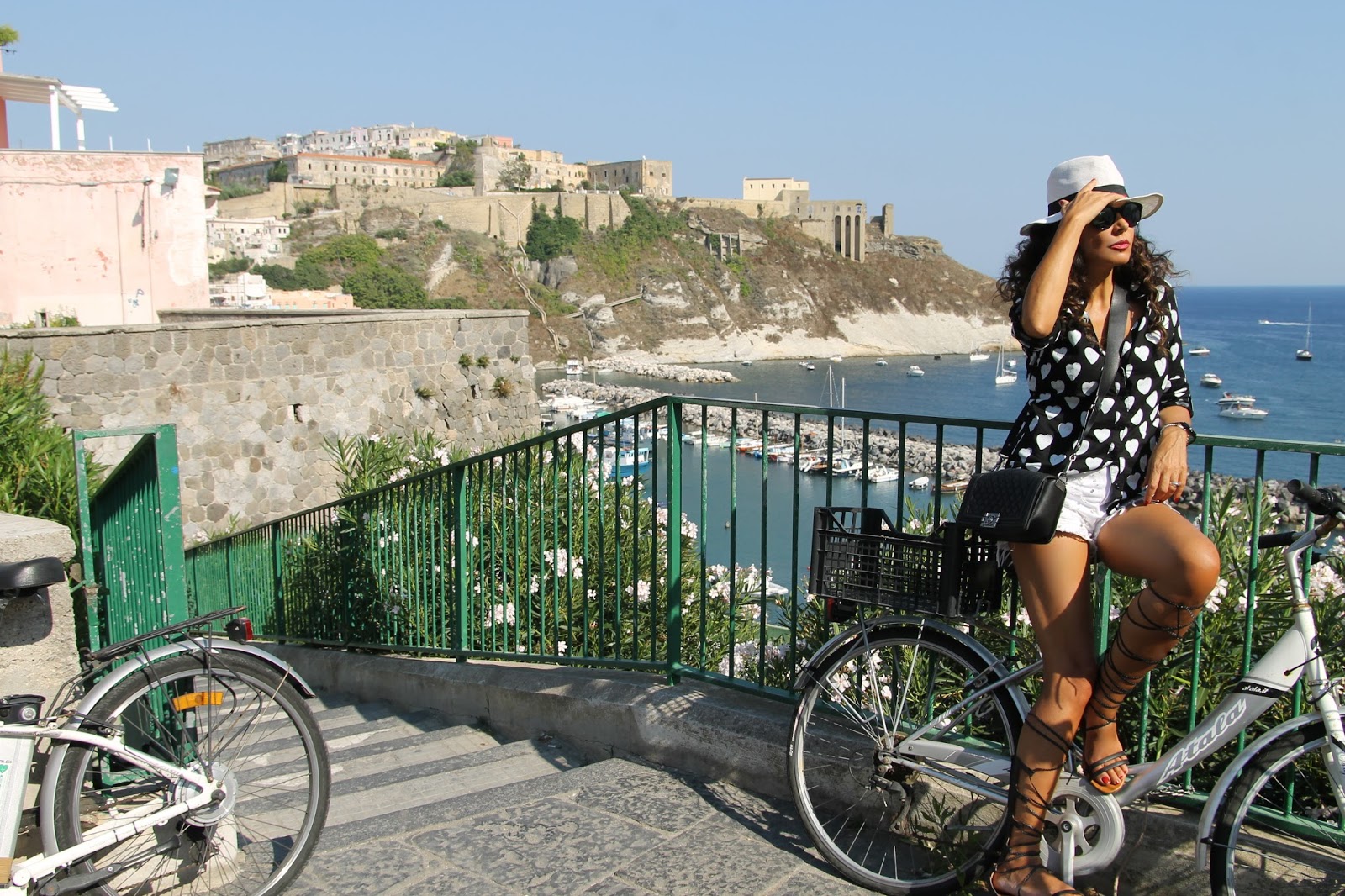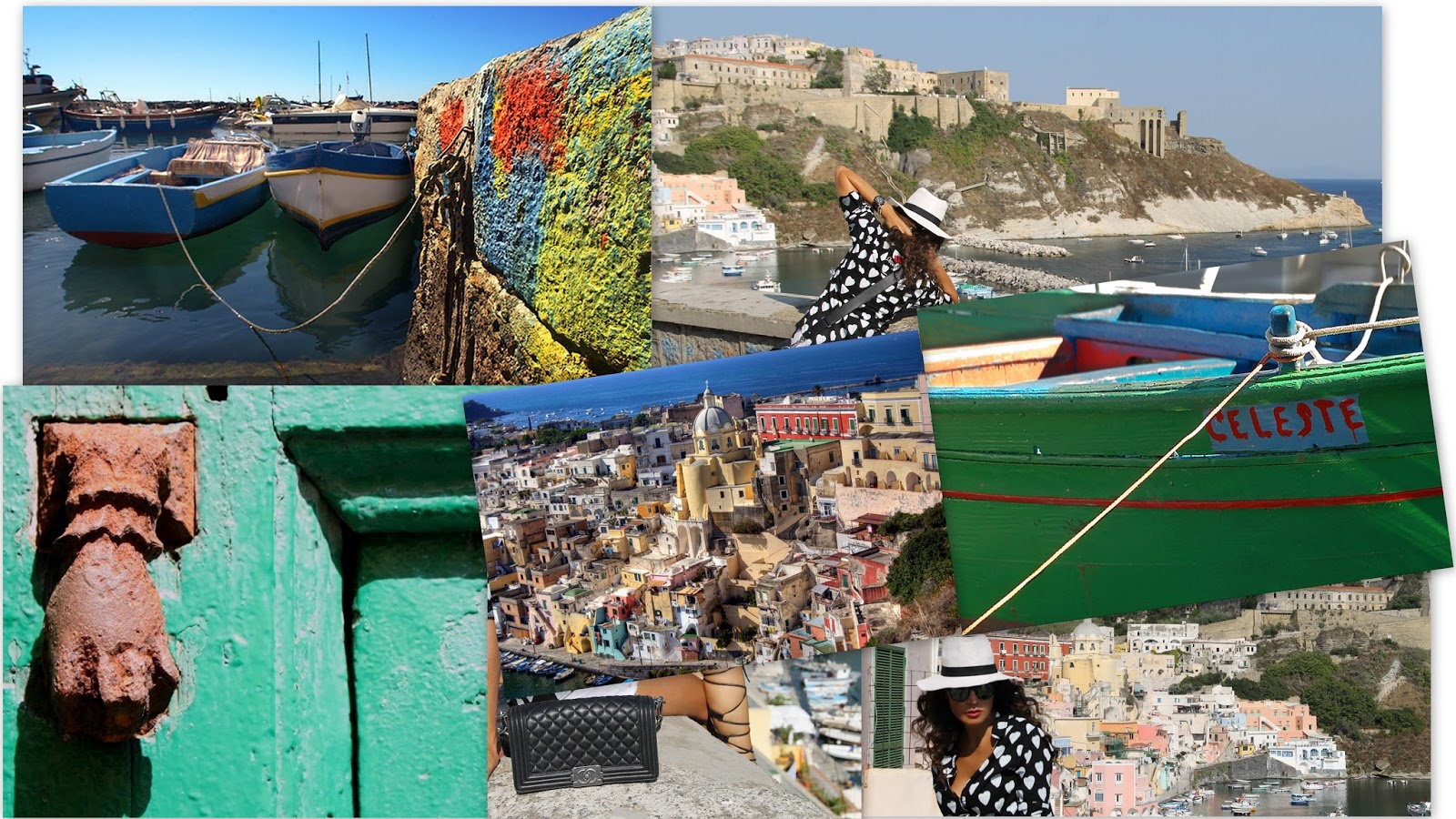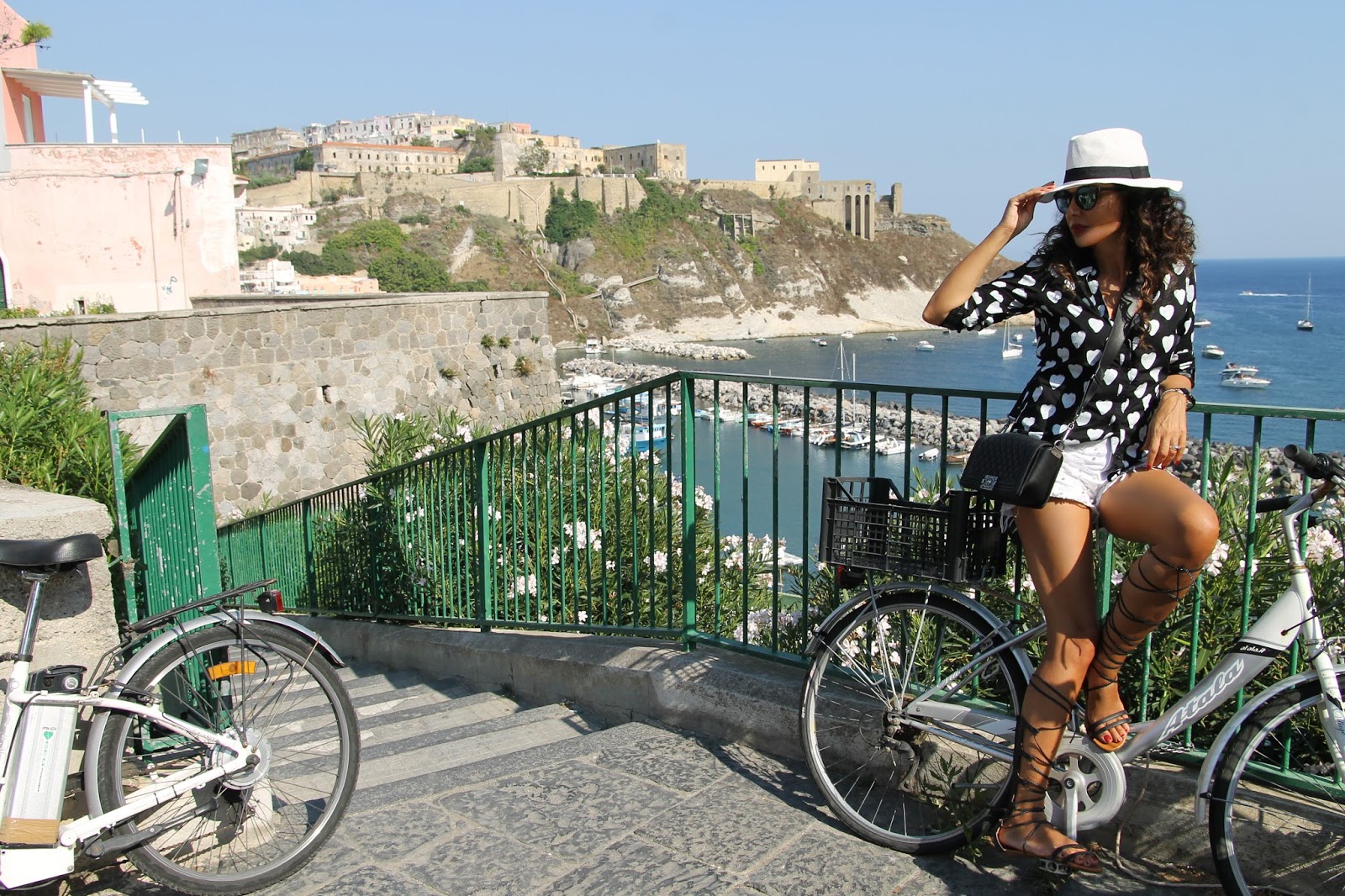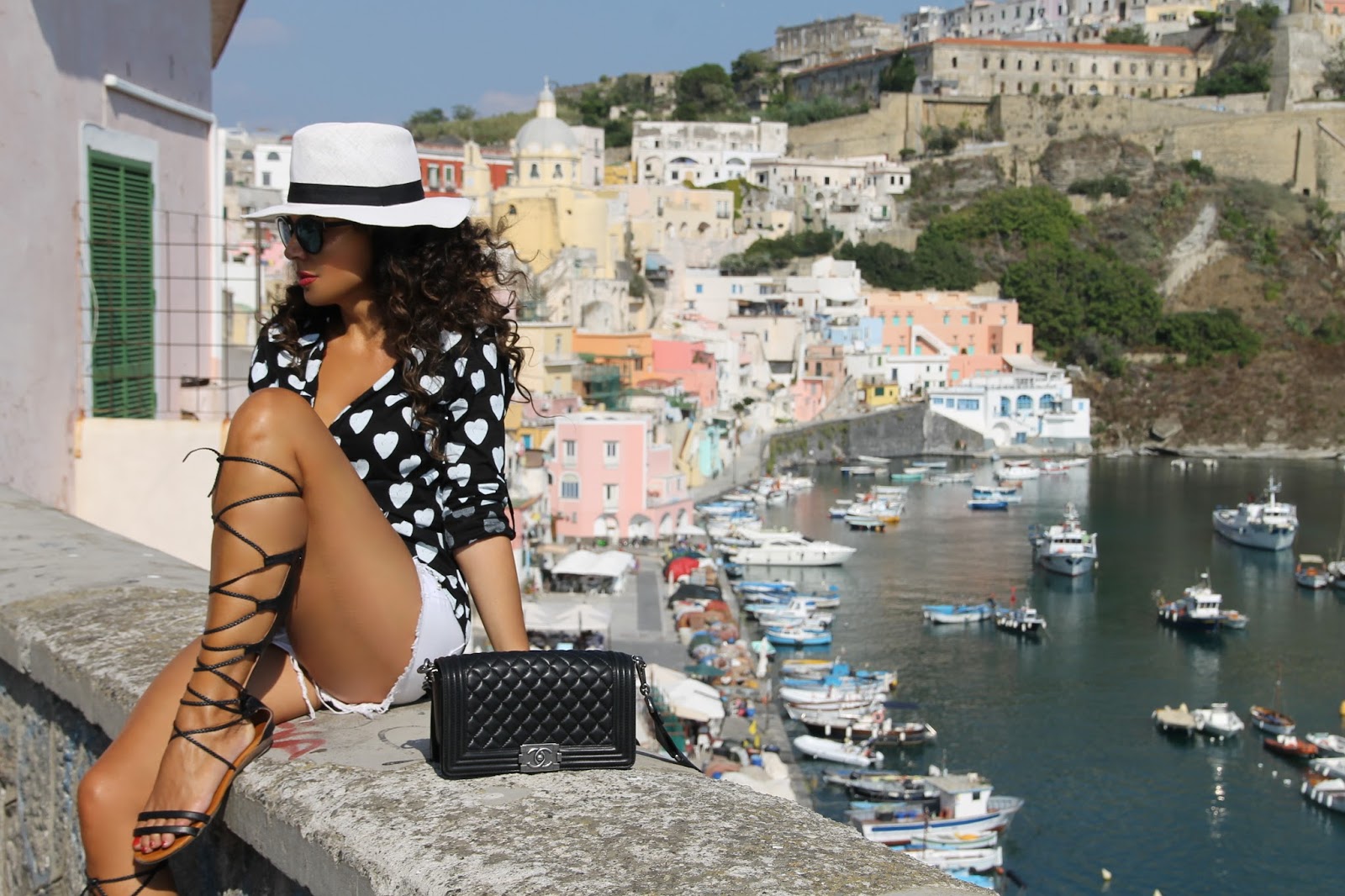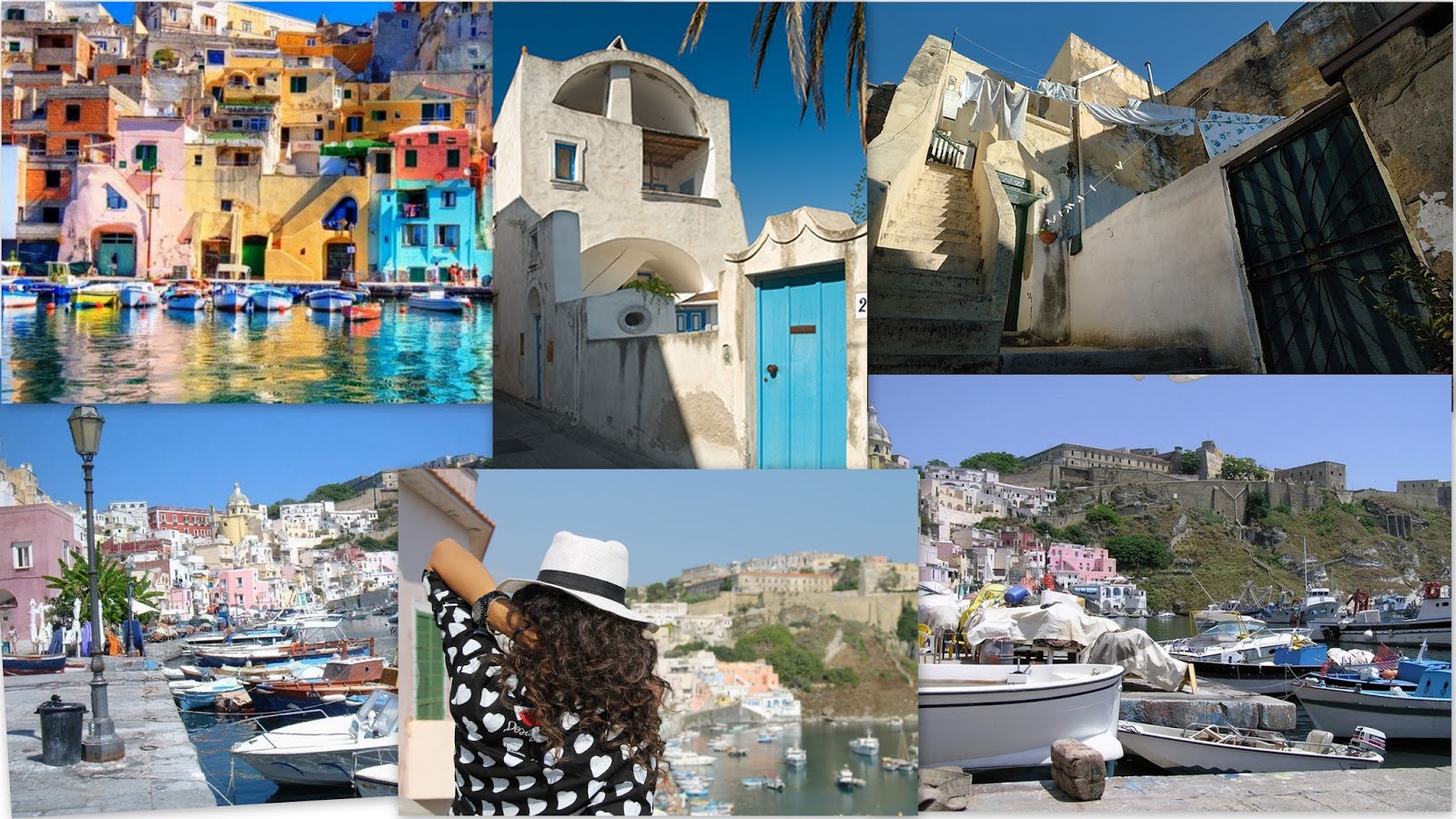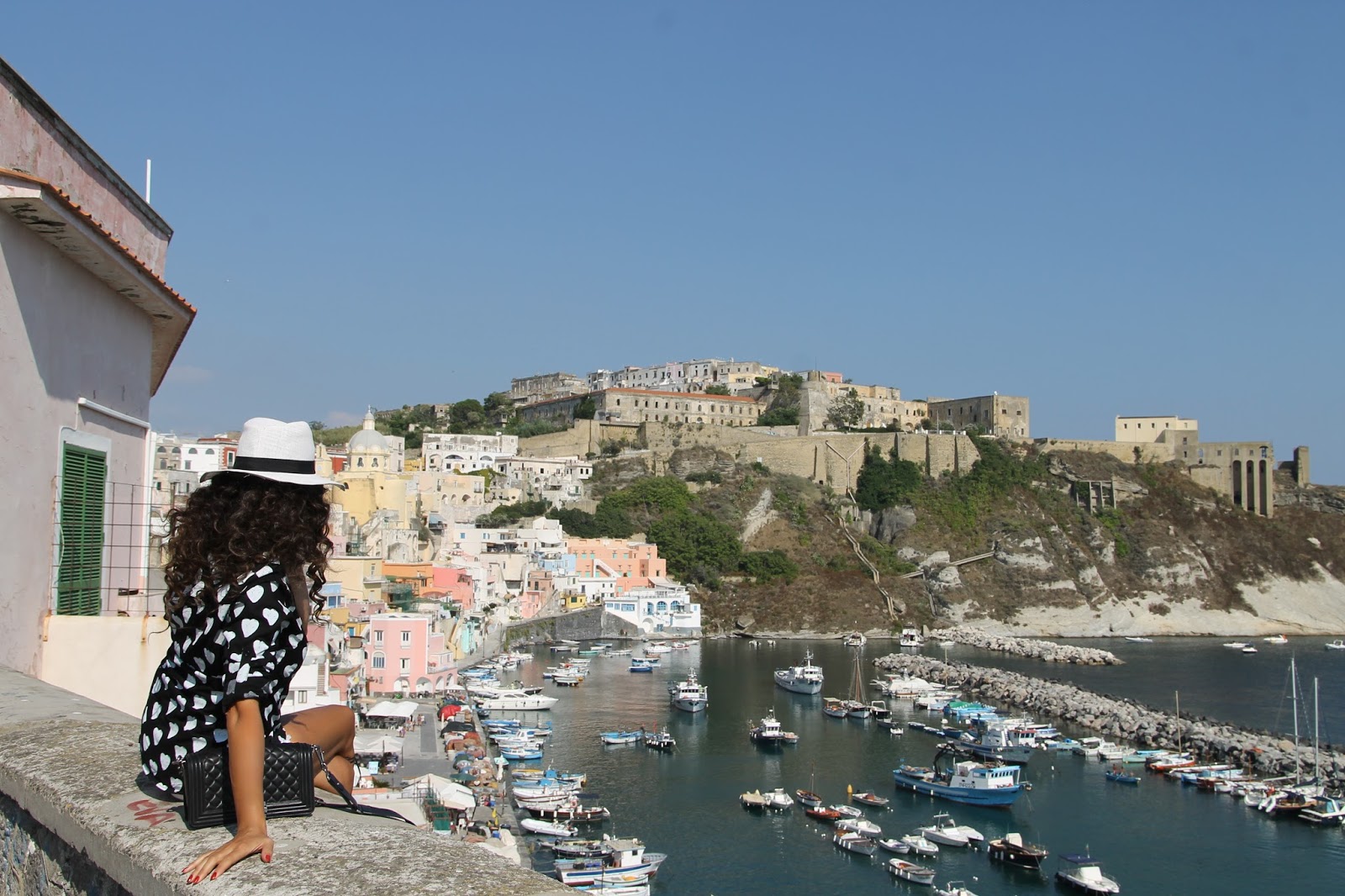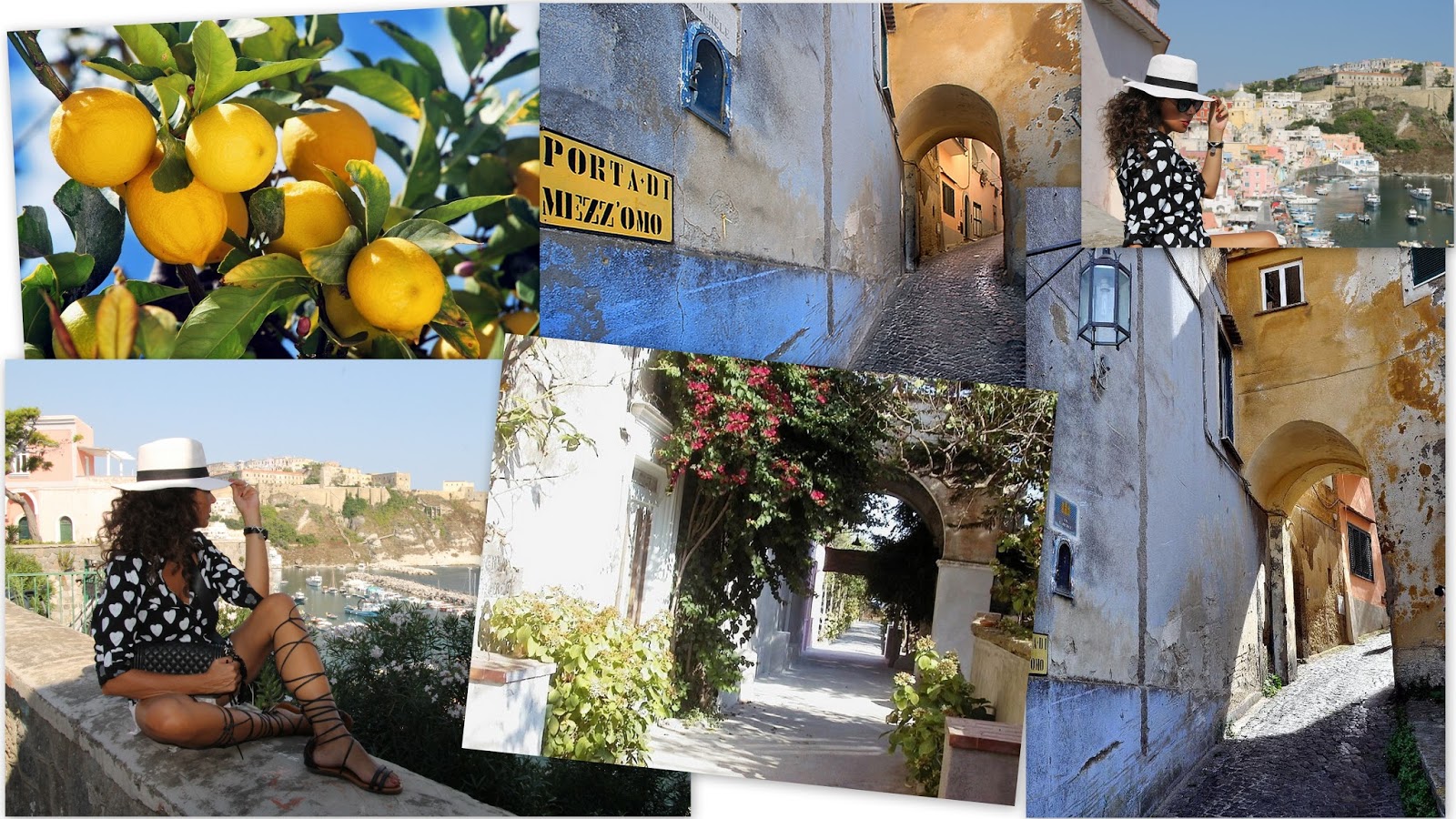 Photos: Oigres Elirab
I was wearing: