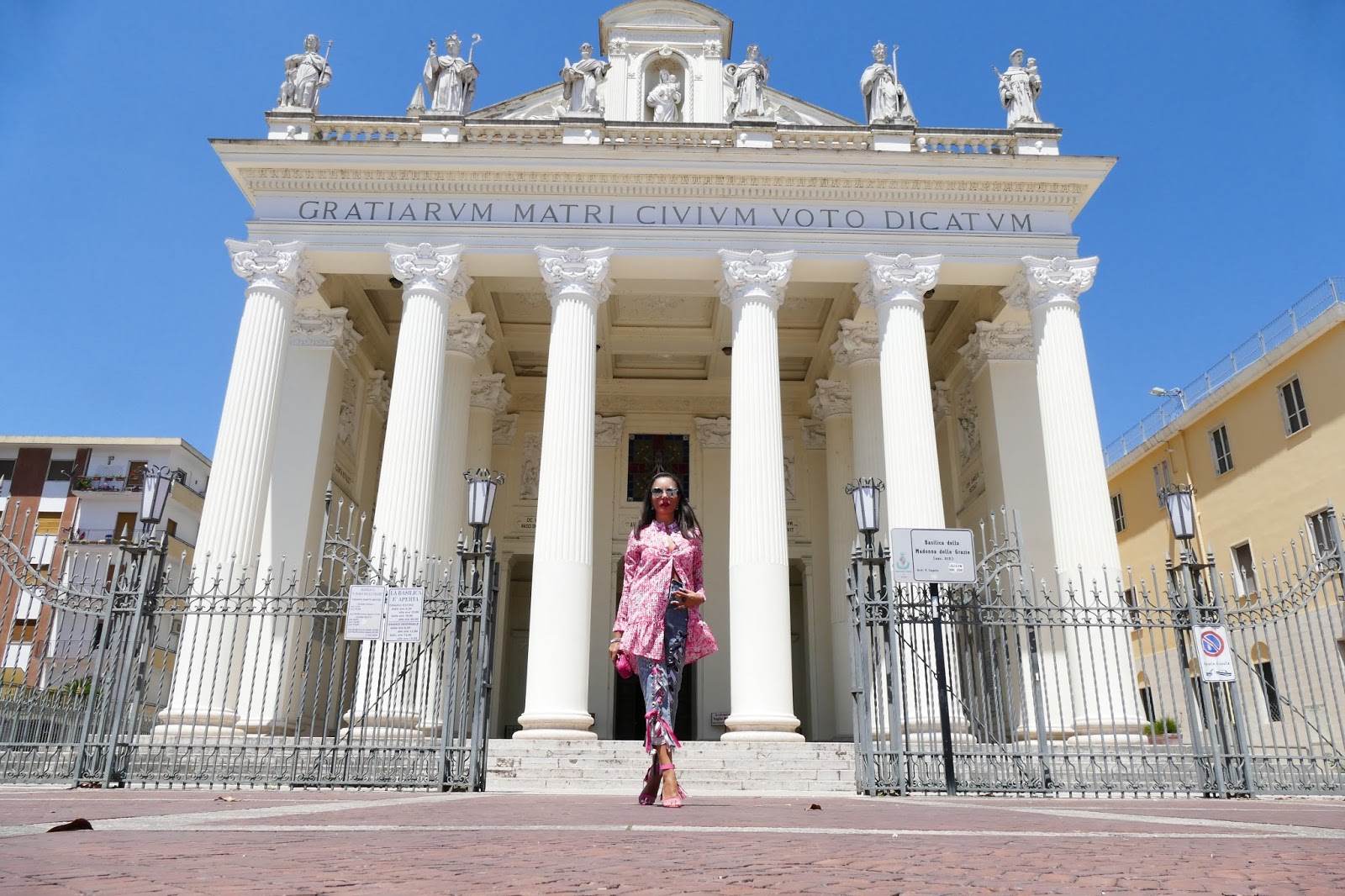 Una chiesa monumentale ottocentesca, dedicata alla Regina del Sannio, sorge alla fine di viale San Lorenzo a Benevento.
Eretta su disegno di Vincenzo Coppola, la Basilica fu completata nel 1839.
La prima pietra fu posta dall'allora delegato apostolico di Benevento, monsignor Gioacchino Pecci, che divenne papa col nome di Leone XIII.
Il Santuario fu eretto in onore della Madonna delle Grazie, quale ringraziamento per aver liberato la città dall'epidemia del colera del 1836-1837.
Un vero e proprio tempio di gusto neoclassico, ove un'imponente facciata è preceduta da un pronao esastilo con architrave, sormontato dalle statue dei Santi protettori della città: Sant'Antonio, San Barbato, San Bartolomeo, San Francesco, San Gennaro e San Rocco.
Il timpano mostra la bellissima statua della Madonna con Bambino.
Ho provato a rendere glam un paio di vecchi jeans, giocando con del nastro di raso, abbinandoli ad accessori ultra femminili e a un romantico cappottino in una nuance decisamente appariscente, per combattere la malinconia dell'estate che comincia a farsi sentire.
Ma, soprattutto perchè il 2018 sarà un inverno a colori e vedrà un tripudio di sfumature accese e pop, dal rosso a rosa nella sua versione più brillante, il fucsia, per una nuova moda in technicolor e un anno nel segno della cromoterapia.
(Clicca qui e qui per prendere nota sulle nuances più vivaci, pronte ad iniettare di buon umore anche la stagione fredda).
(Clicca qui per vedere tutti i miei post dai siti storici della città di Benevento).
A 19th-century monumental church, dedicated to the Queen of the Sannio, stands at the end of San Lorenzo Avenue in Benevento.
Built on Vincenzo Coppola's design, the Basilica was completed in 1839.
The foundation stone was laid from then Benevento's apostolic delegate, Monsignor Gioacchino Pecci, who became pope under the name of Leo XIII.
The Sanctuary was erected in honor of Our Lady of Grace, thanks to the liberation of the city from the cholera epidemic of 1836-1837.
A real neoclassical temple, where an imposing facade is preceded by a pronaos with architrave, surmounted by the statues of the saint protectors of the city: St. Anthony, St. Barbato, St. Bartholomew, St. Francis, St. Gennaro, and St. Rocco
.
The tympanum shows the beautiful statue of Our Lady with Child.
I tried to make glam a pair of old jeans, playing with satin ribbon, combining them with ultra-feminine accessories and a romantic coat in a shimmering nuance to fight the melancholy of the summer.
Especially because 2018 will be a colorful winter with a triumph of bright and pop shades, from red to pink in its brightest version, fuchsia, for a new fashion in technicolor and a year in the chromotherapy sign.
(Click here to see all my previous posts from the historical city of Benevento).
Location: Sanctuary of Madonna delle Grazie – Benevento – Italy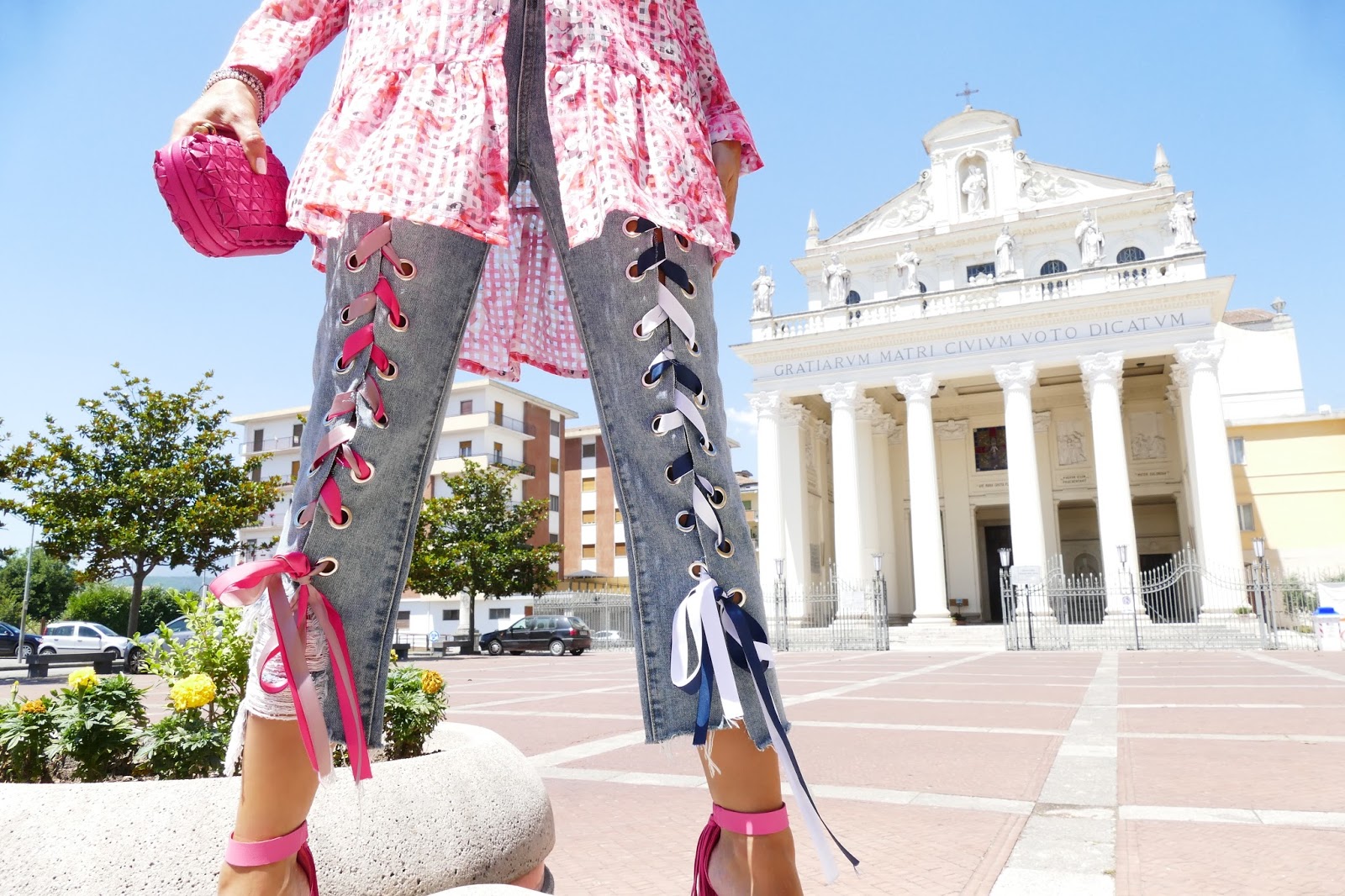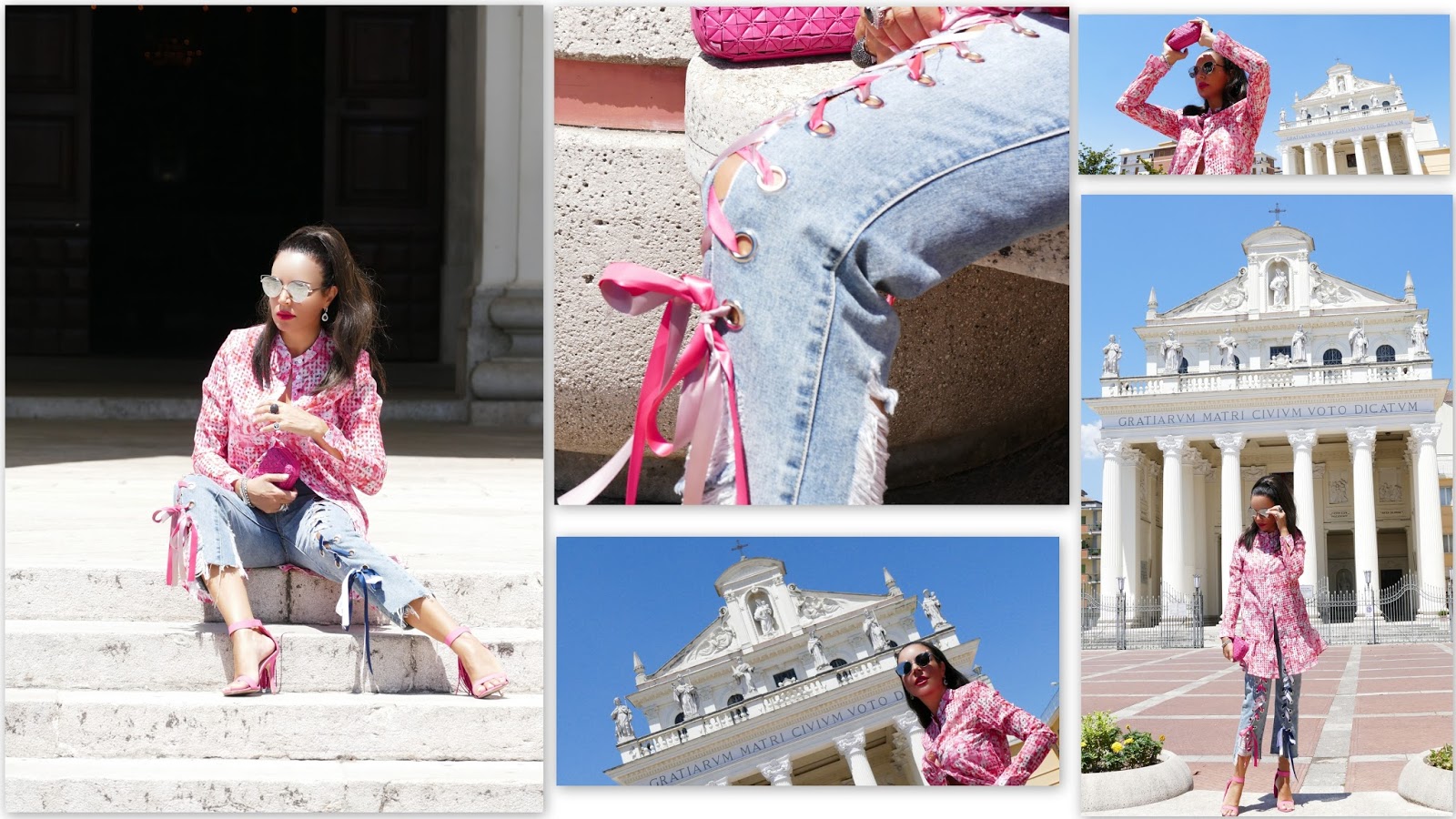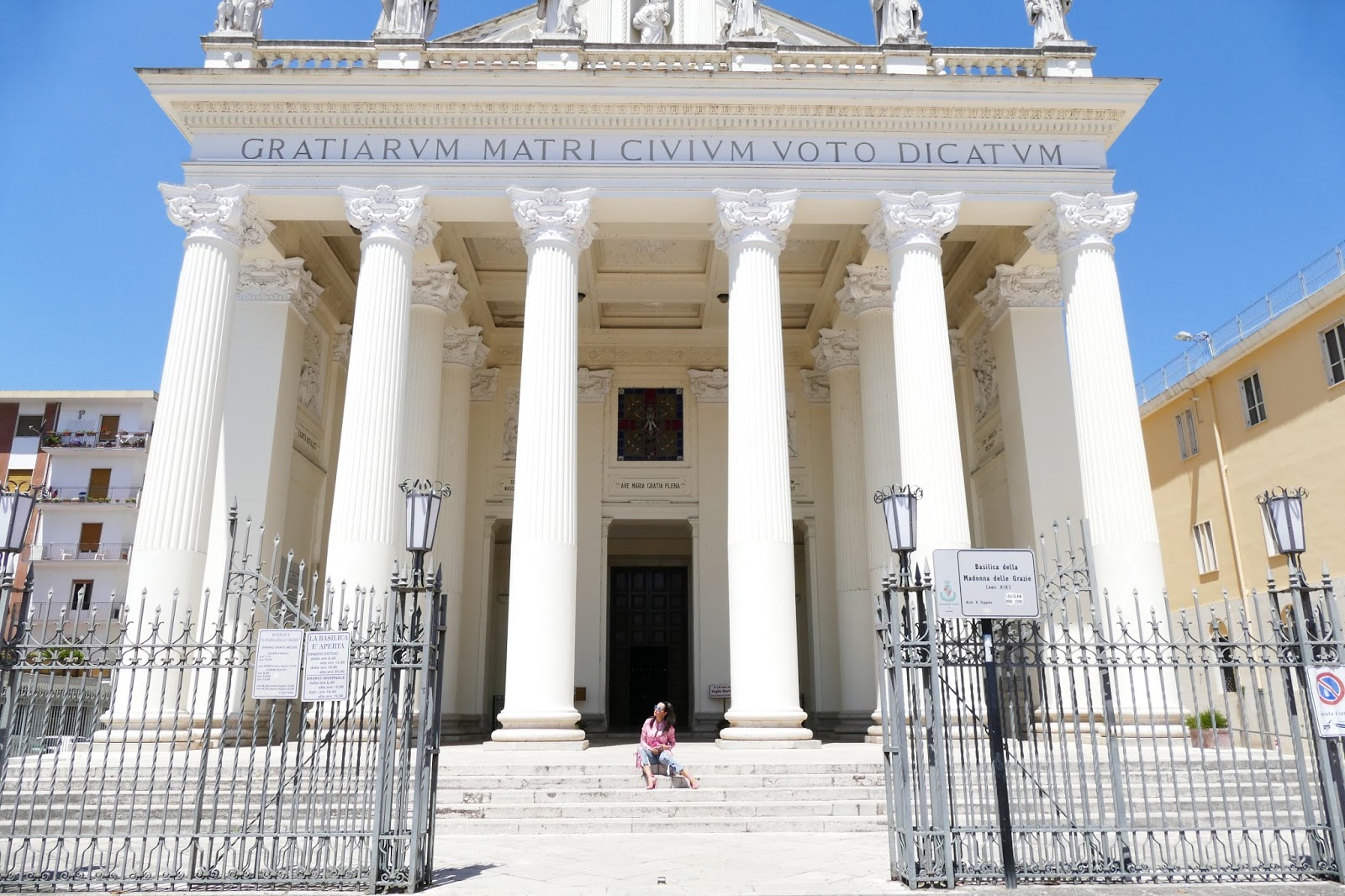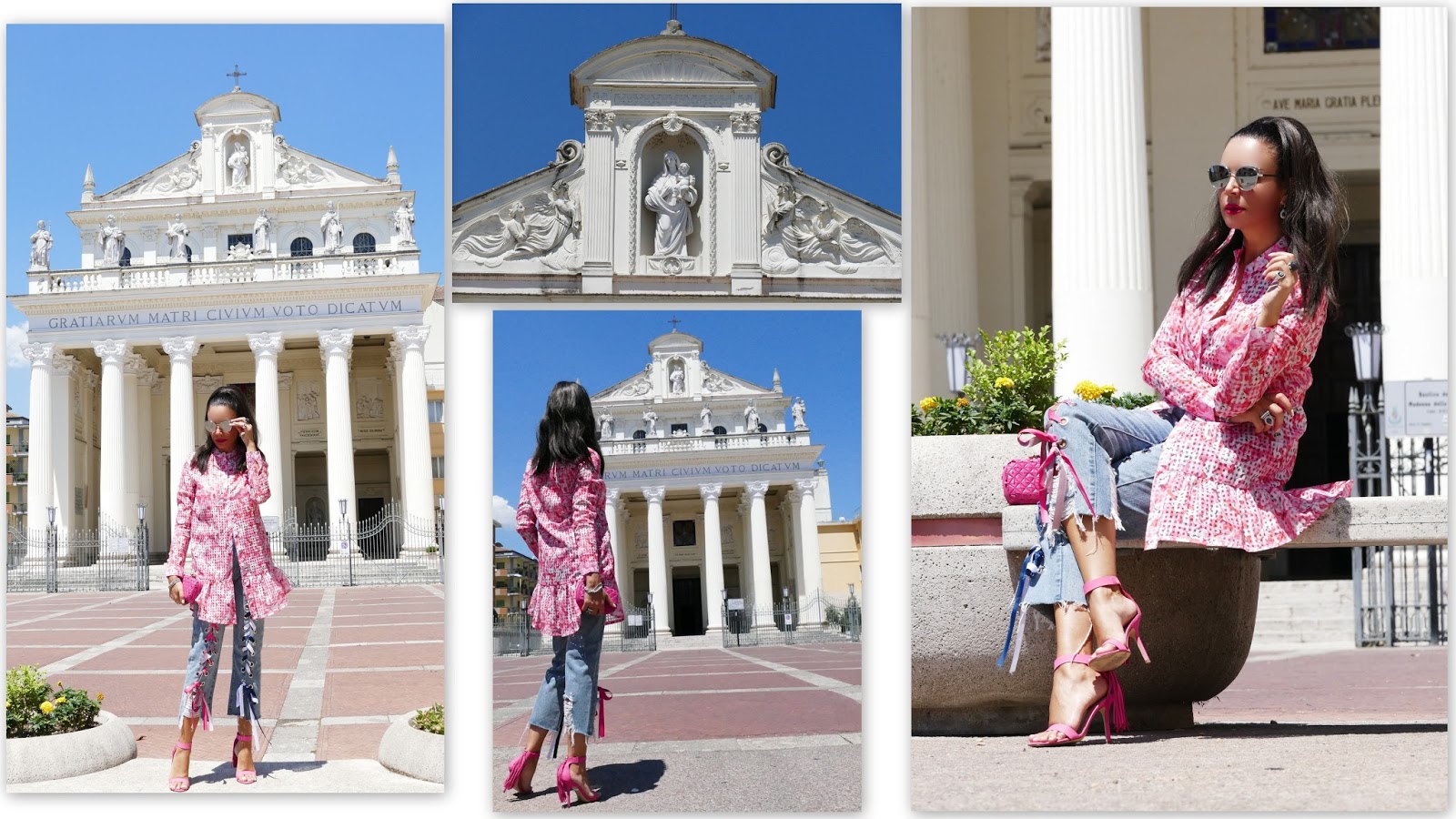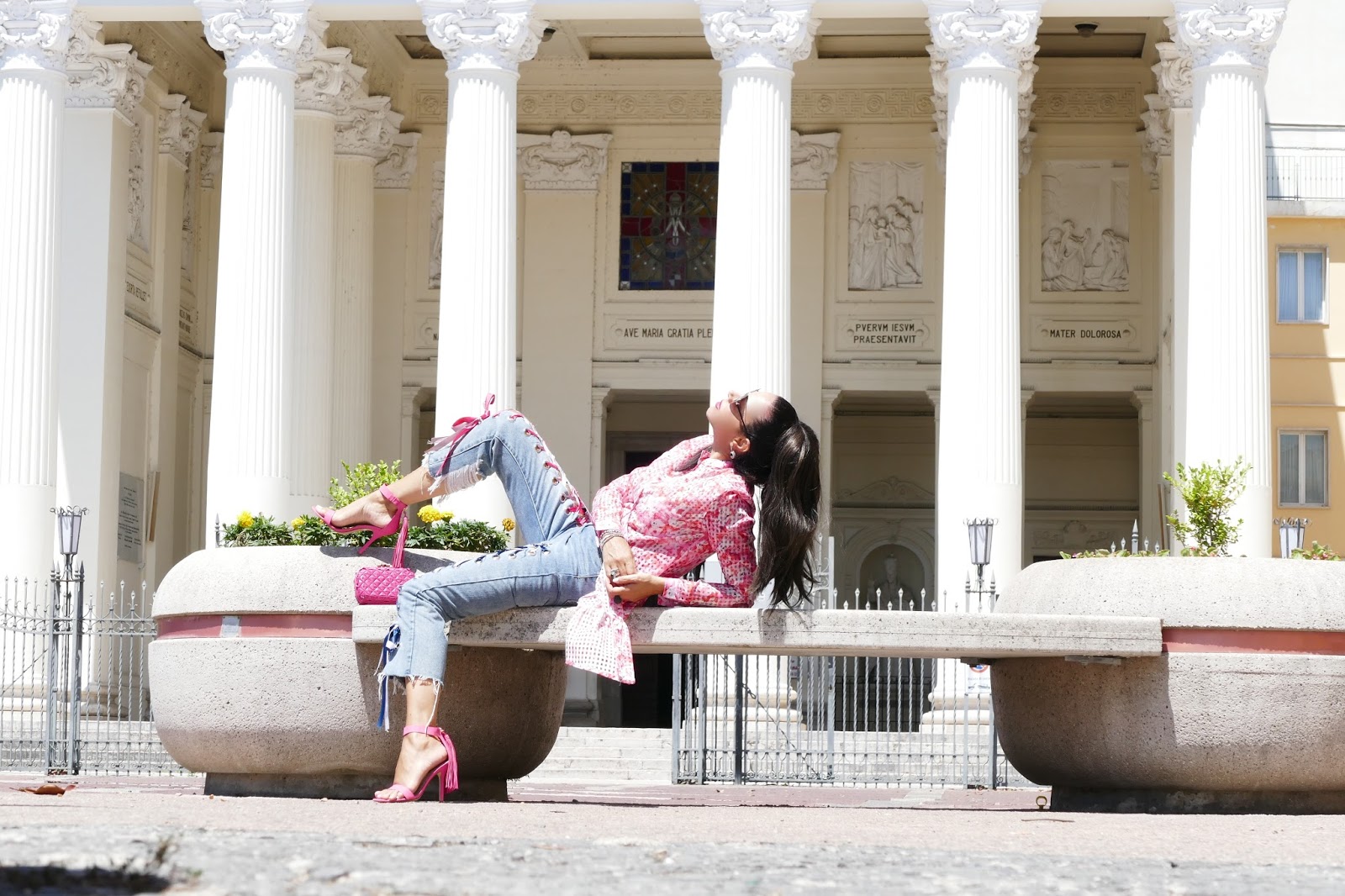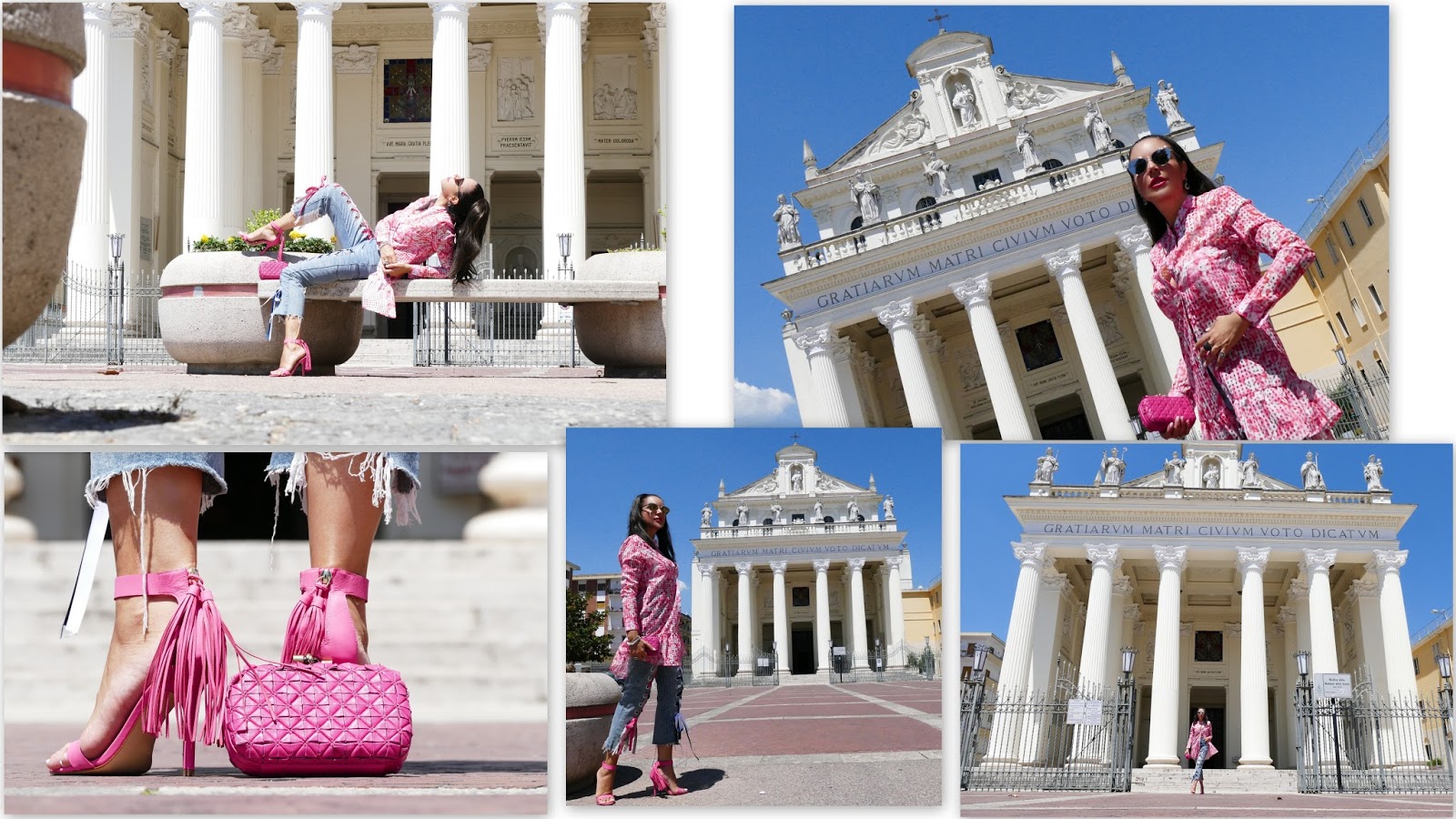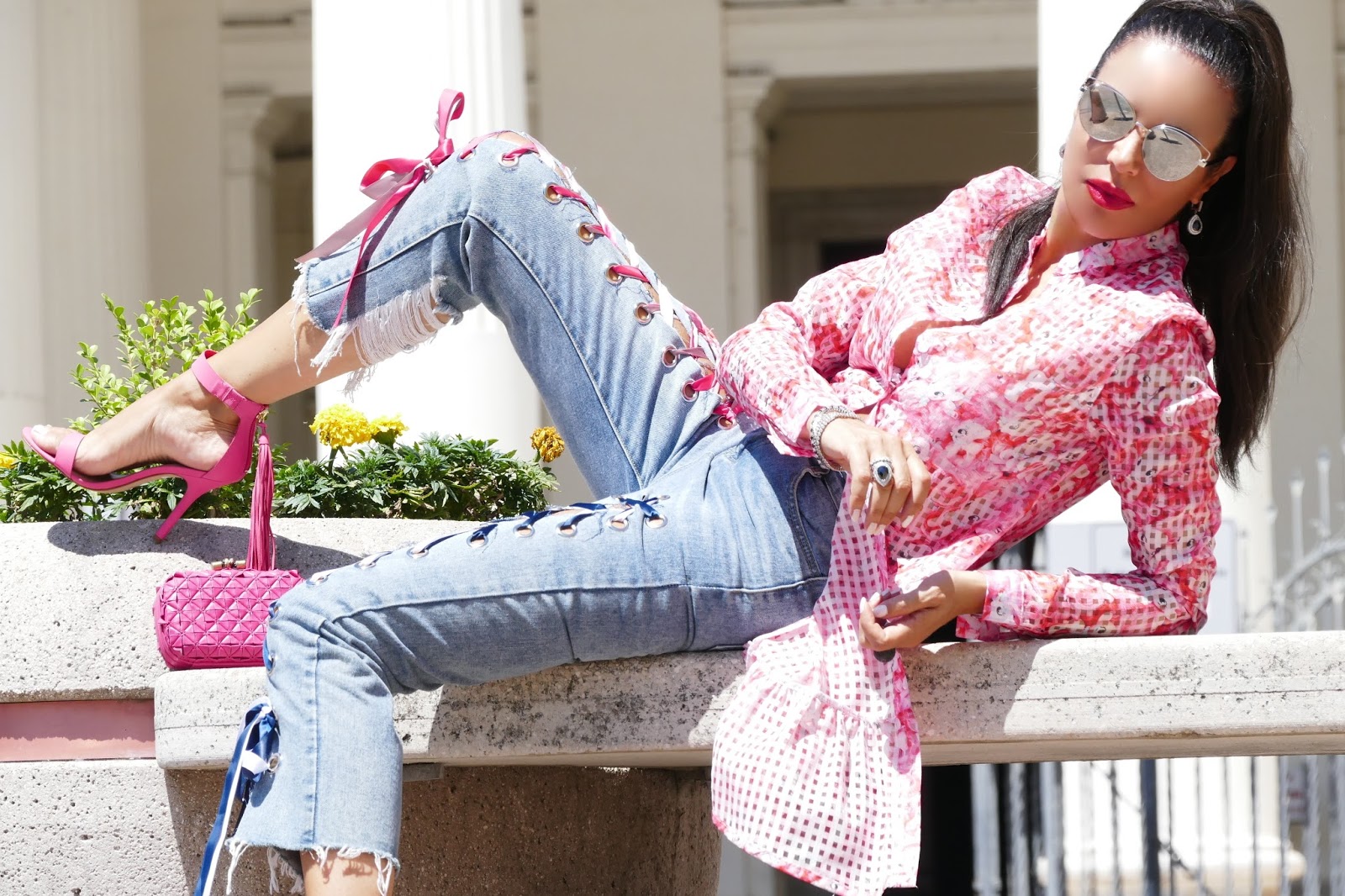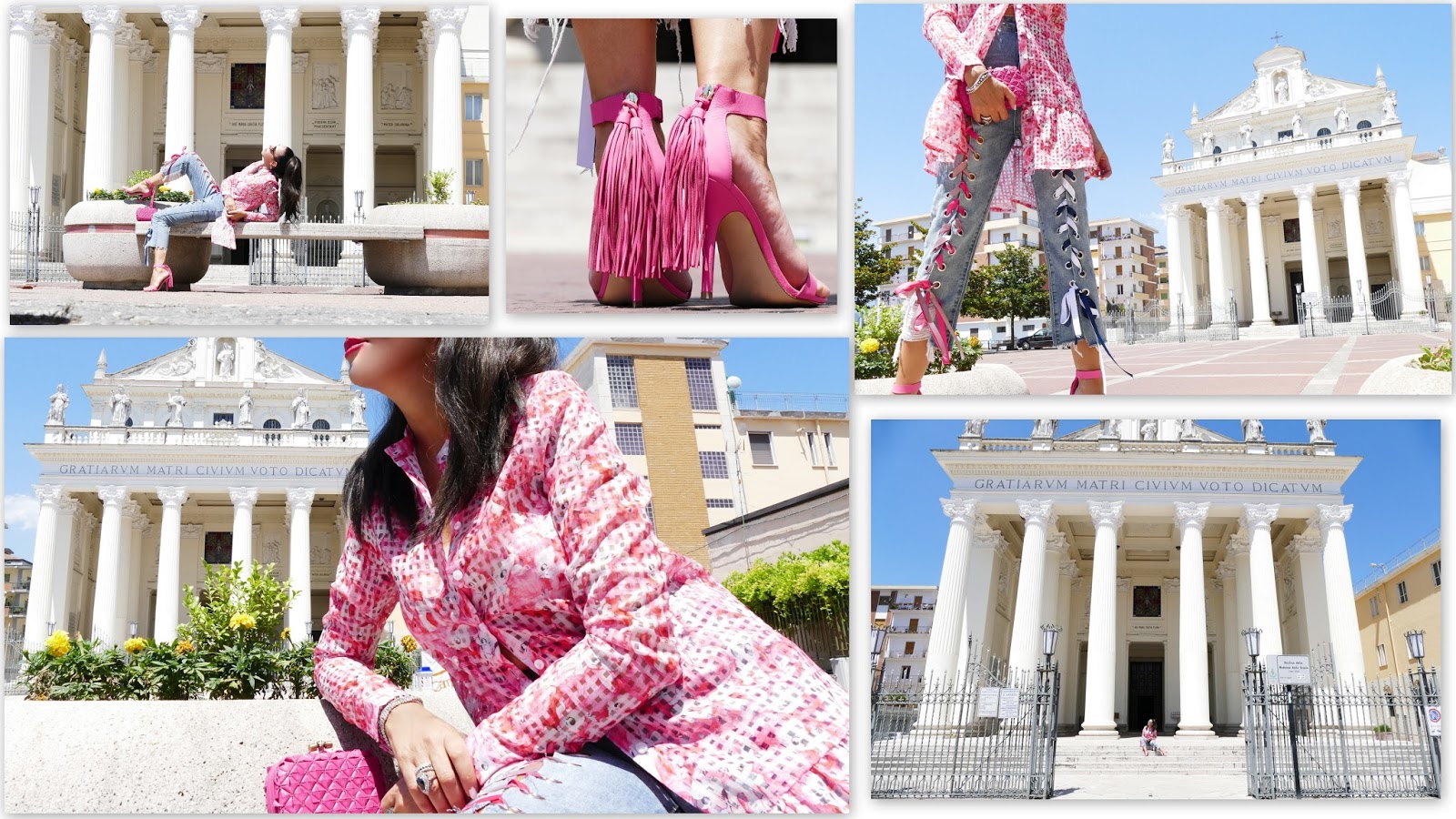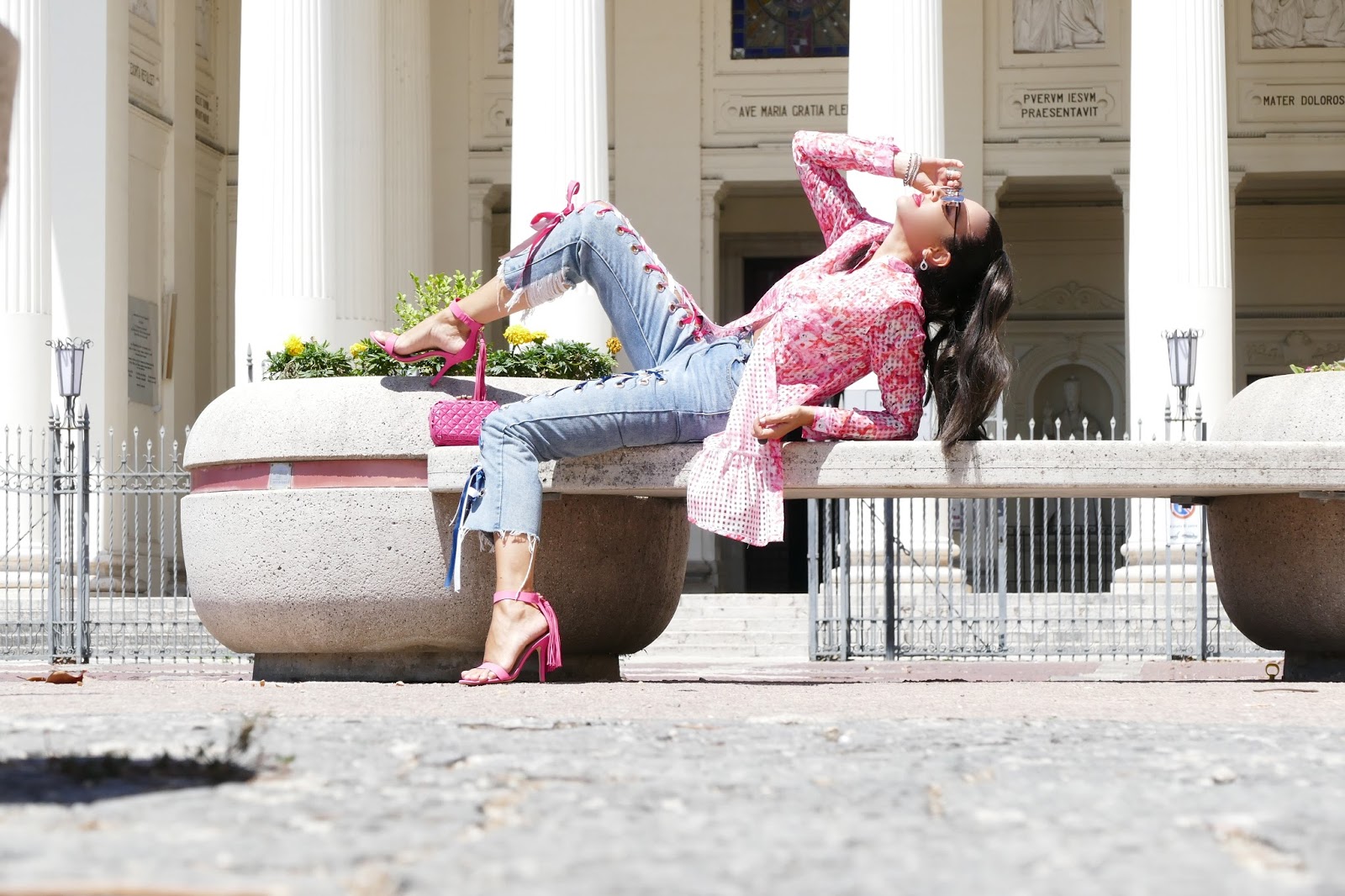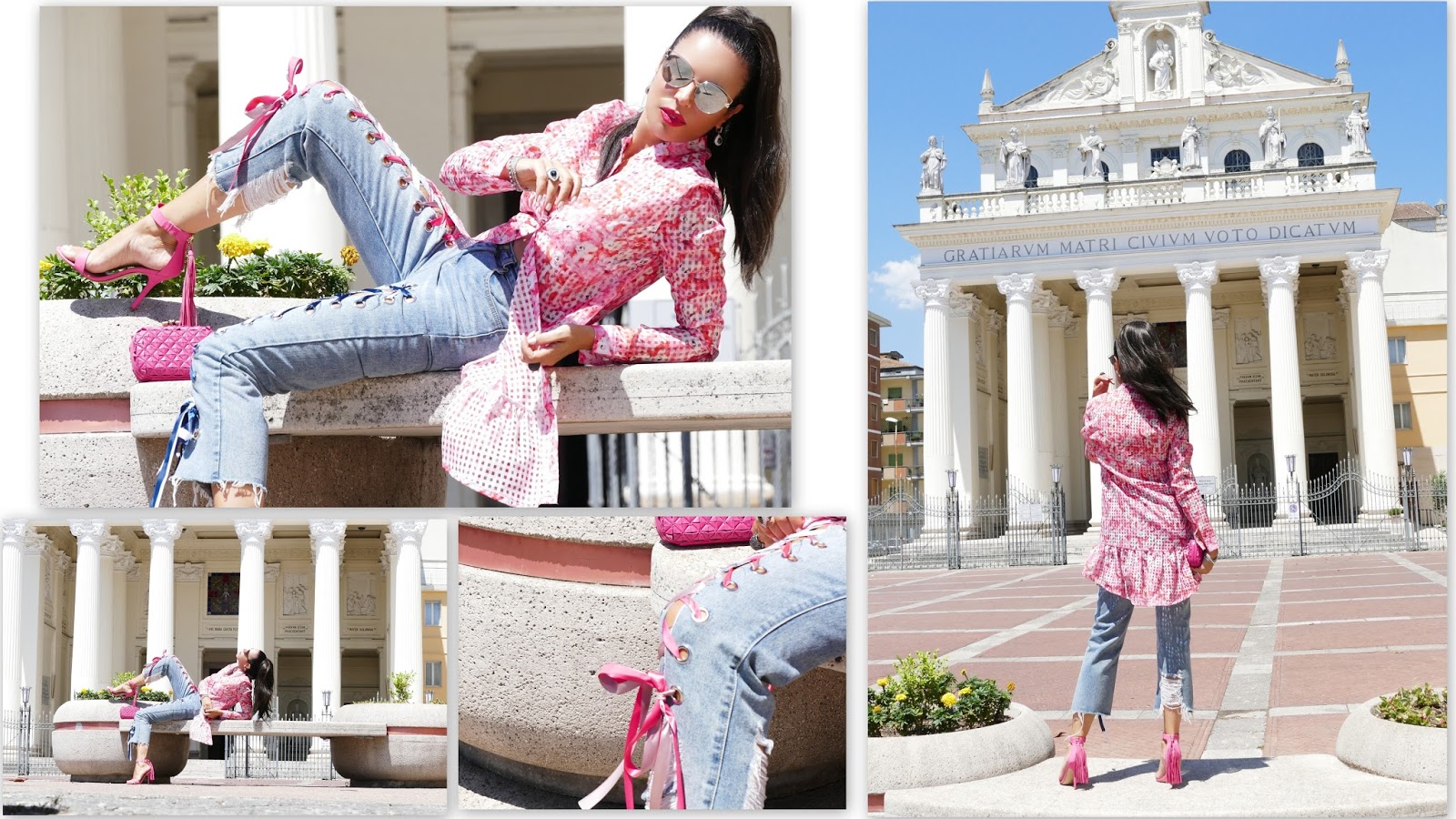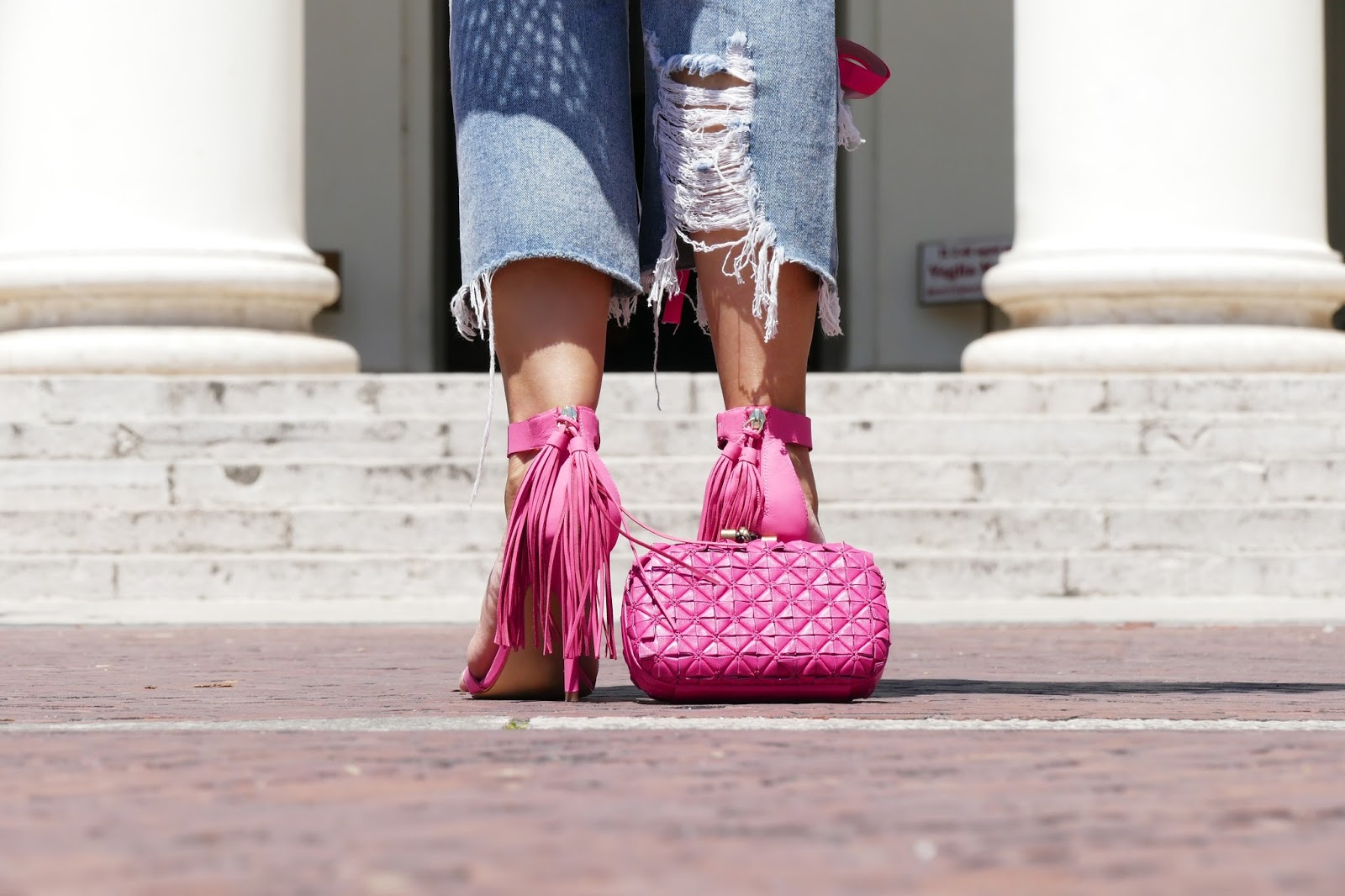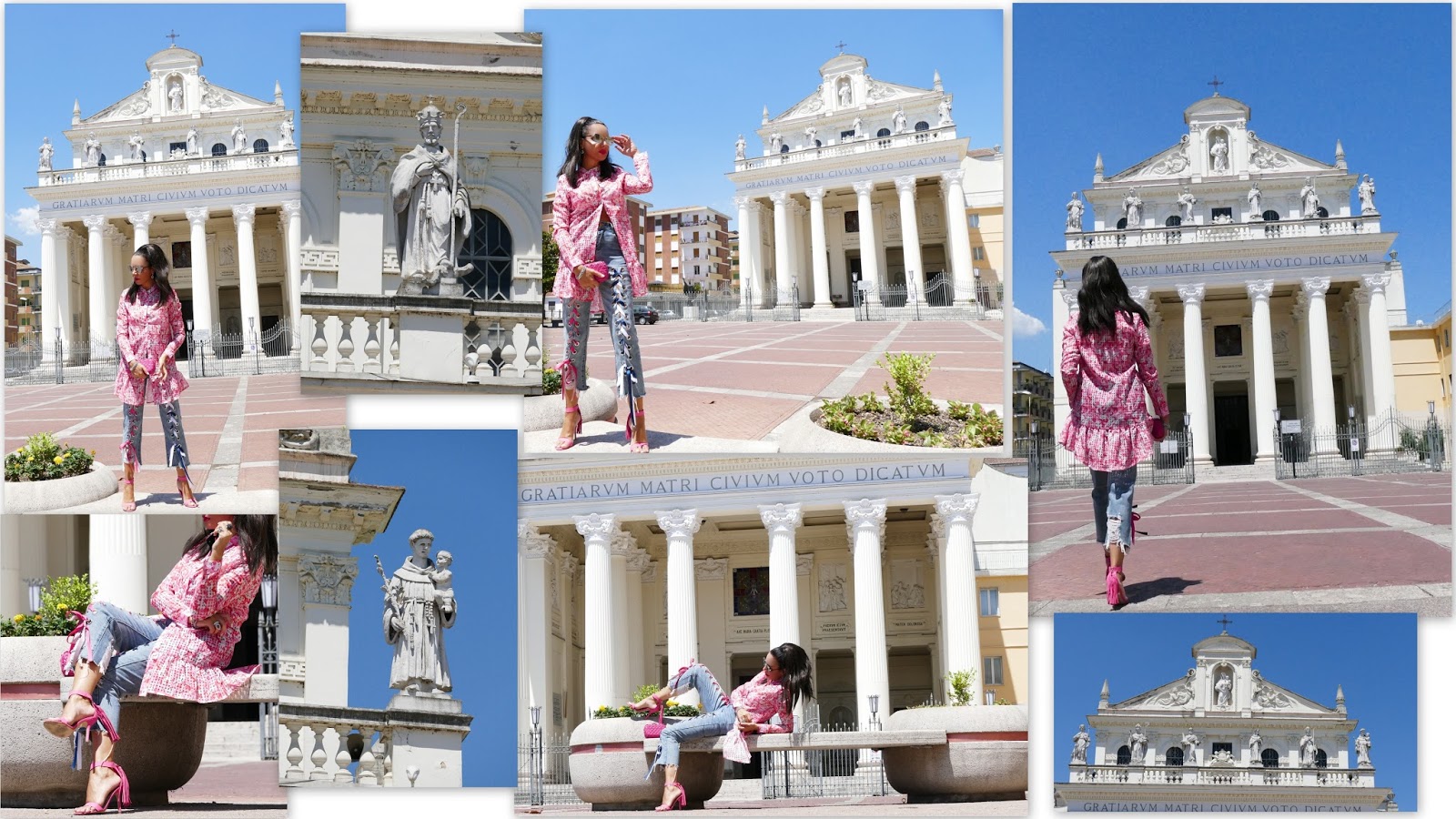 I was wearing:
DIY jeans