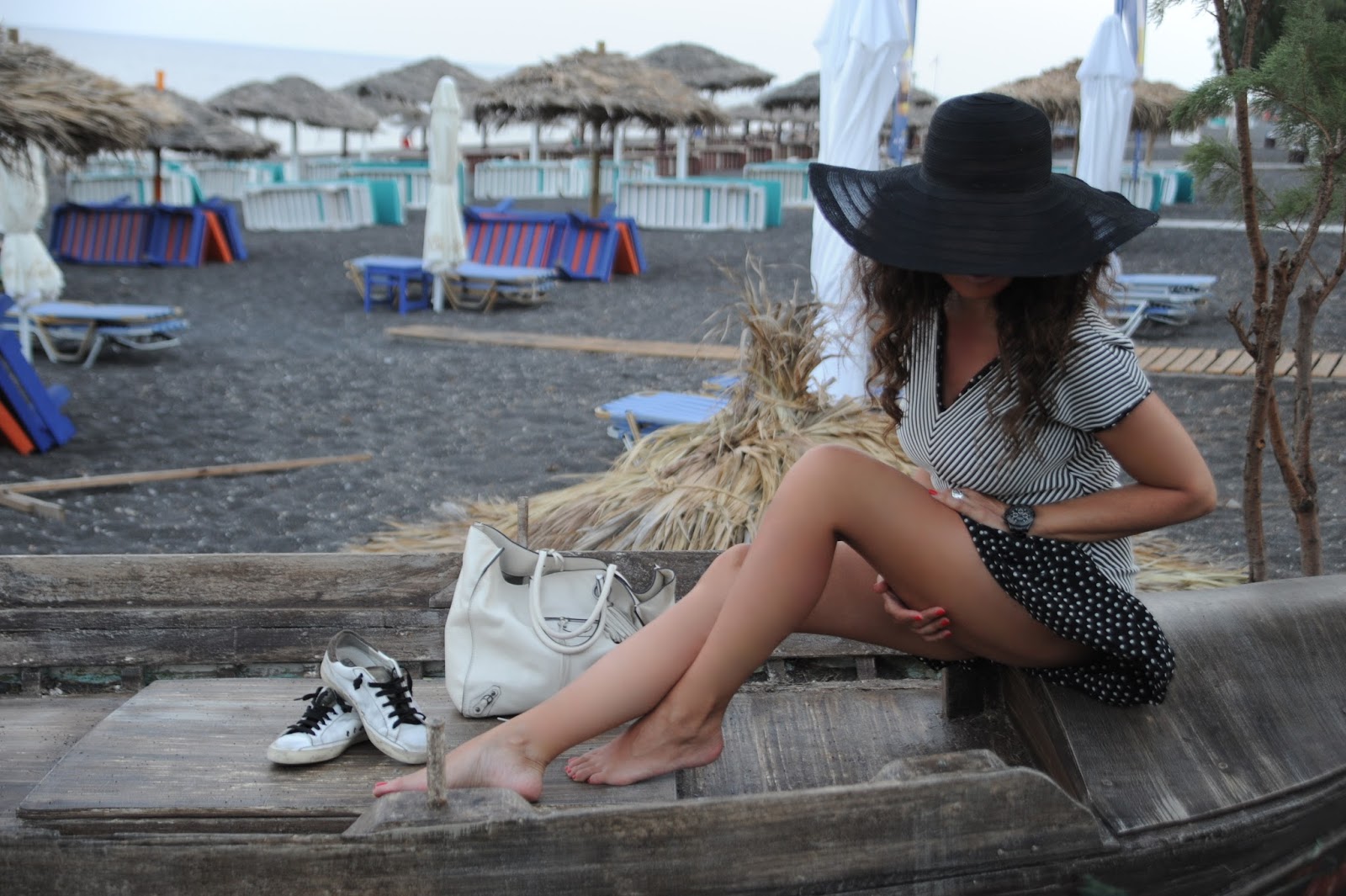 Le spiagge di Santorini sono tutte uniche e diverse tra loro per via
dell'origine vulcanica dell'isola. Le più famose sono situate lungo la
costa sud-orientale.
Kamari è la località balneare più cosmopolita dell'isola, che ha guadagnato la Bandiera Blu per la sua spiaggia.
Il suo lungo tratto di costa, chic e vivace, si trova sotto l'imponente roccia di Mesa Vouno che sorge dal mare, ed è punteggiata da ombrelloni e lettini.
L'area è estremamente attraente, soprattutto di notte quando la roccia brilla nel buio.
L'acqua è profonda e blu, la sabbia è nera e una
passeggiata lastricata corre parallela alla
spiaggia estendendosi lungo tutta la baia nella sua caratteristica forma di luna crescente.
Una zona chiusa al traffico durante i mesi estivi, che offre una grande varietà di ristoranti, bar e hotel.
Ed è proprio la caratteristica "black sand beach" il set naturale dei miei due outfits, dove le stampe righe, pois e quadretti sono protagoniste.
The

beaches of Santorini are all unique and different from each other because

of the volcanic

origin of the island. The most famous are located along the southeast coast.
Kamari is a cosmopolitan beach resort
on the south east of Santorini, which has been awarded the Blue
Flag. Its long stretch of beach, so chic and lively, lies under the impressive rock
of Mesa Vouno that rises from the sea, and it's dotted with umbrellas and sunbeds.
The area is extremely attractive, especially at night when the rock shines in the dark.
The water is deep and blue, the sand is black
and a stone-paved promenade for strolling that runs parallel
to the beach stretches across the crescent moon shaped bay.
This is closed off to traffic during the summer months, with numerous food and drink options.
And it is

precisely the amazing

"black sand beach" the natural set of my two outfits, where stripes, polka dots and gingham prints

are the protagonists

.
(Click here, here and here to see my different outfits where the coolest prints of this summer).
(Click here, here and here to learn more about the gingham trend).
Kamari is a famous
beach resort of Santorini situated 10 km southeast of Fira, the island's
capital. Quite similar to the landscape of Perissa, the beach is
covered by black sand while on the left side of the beach is an enormous
rock called Mesa Vouno that rises from the sea. The area is extremely
attractive, especially at night when the rock shines in the dark. The
beach of Kamari is fully organised offering a wide range of facilities
like sunbeds, umbrellas and various types of water sports.

The traditional houses line the village of Kamari offering a beautiful
view to the sea. Visitors can take a nice walk along the waterfront. Due
to the modern amenities including hotels, restaurants, snacks, cafes,
bars and night clubs the village becomes quite popular with tourists
during the peak season. From Kamari, a road takes you up the mountain to
Ancient Thira, and a caique can bring you to the wild isle of Anafi.
Source: www.greeka.com
Location: Kamari beach – Santorini – Greece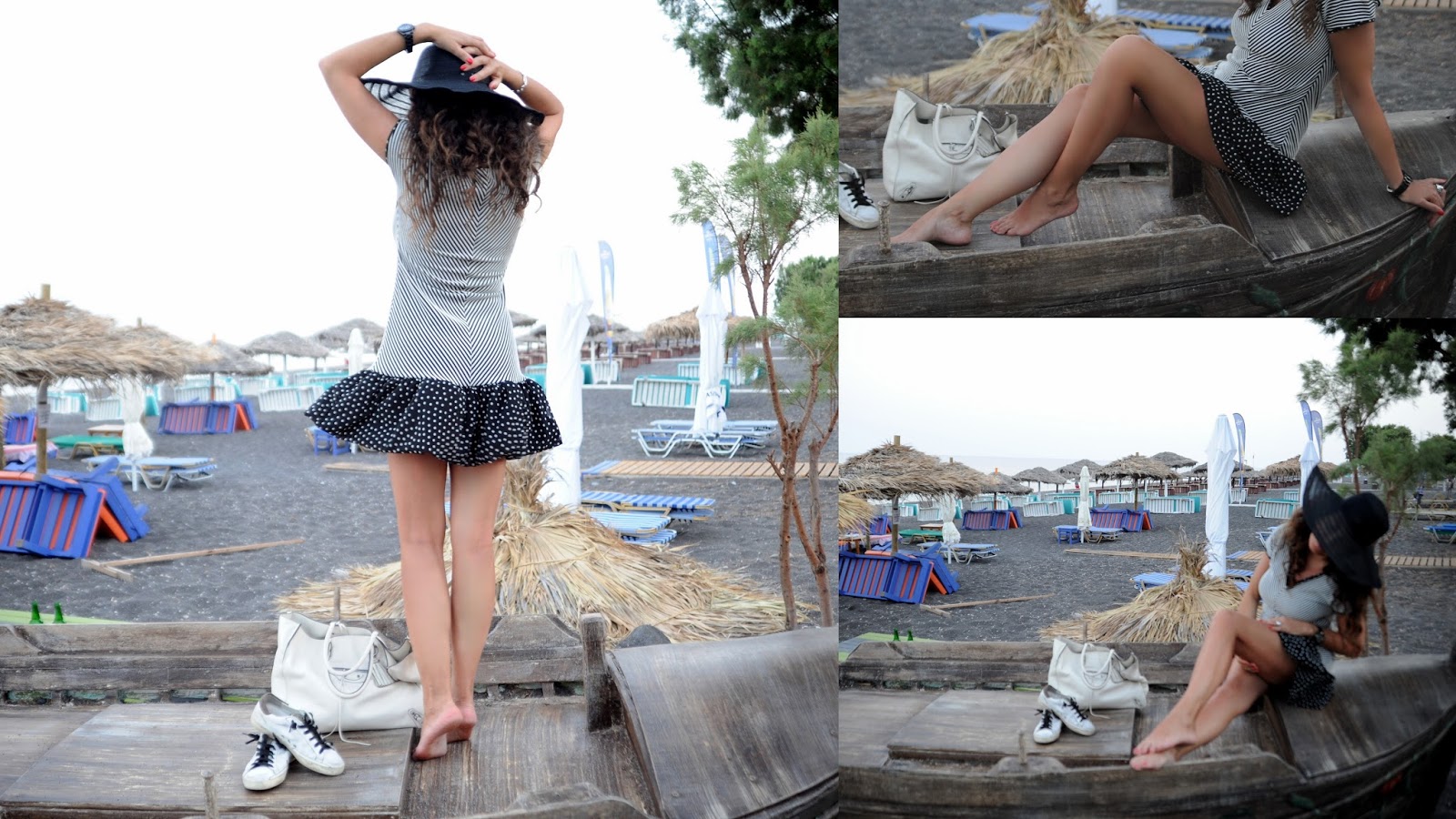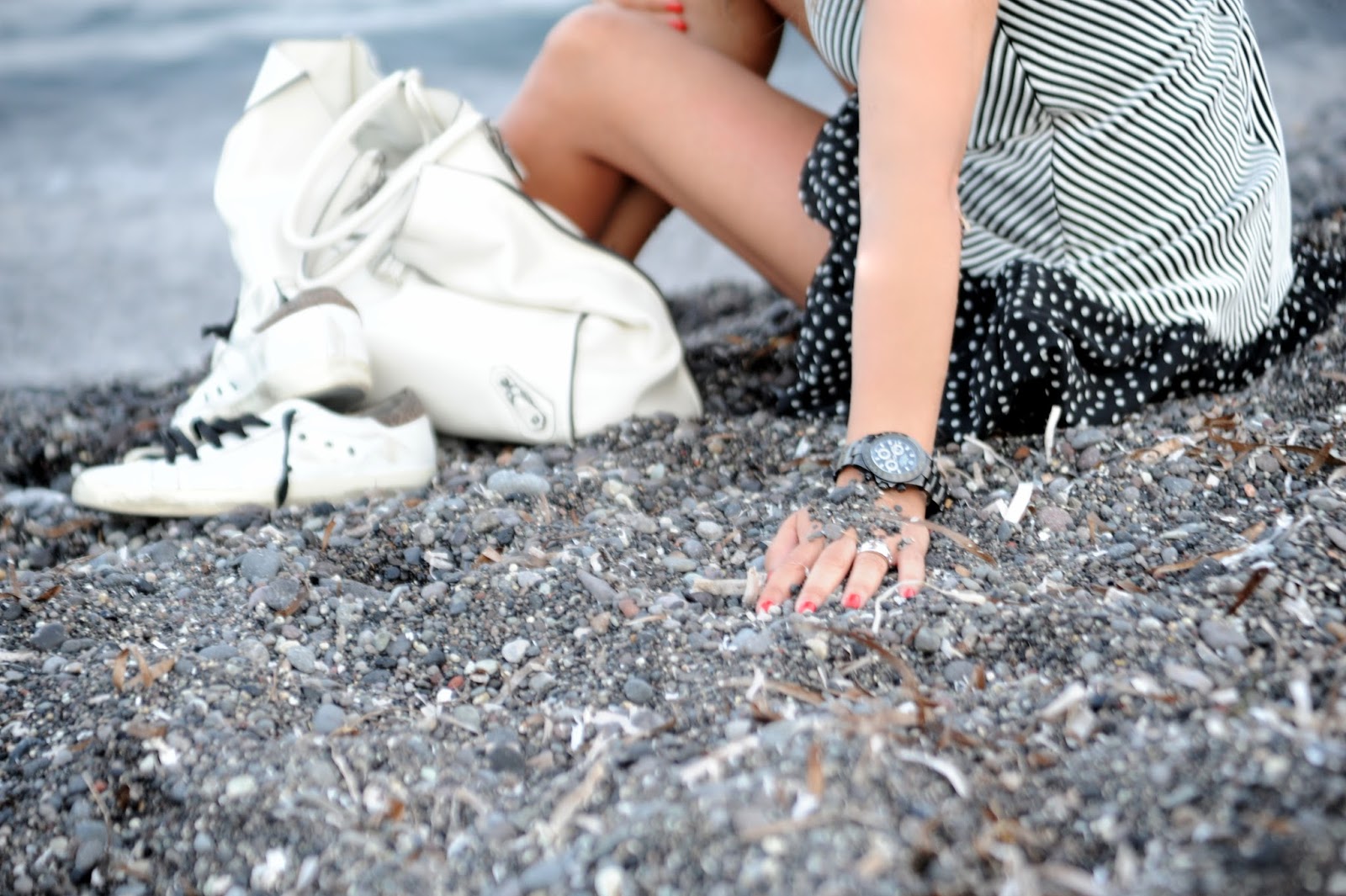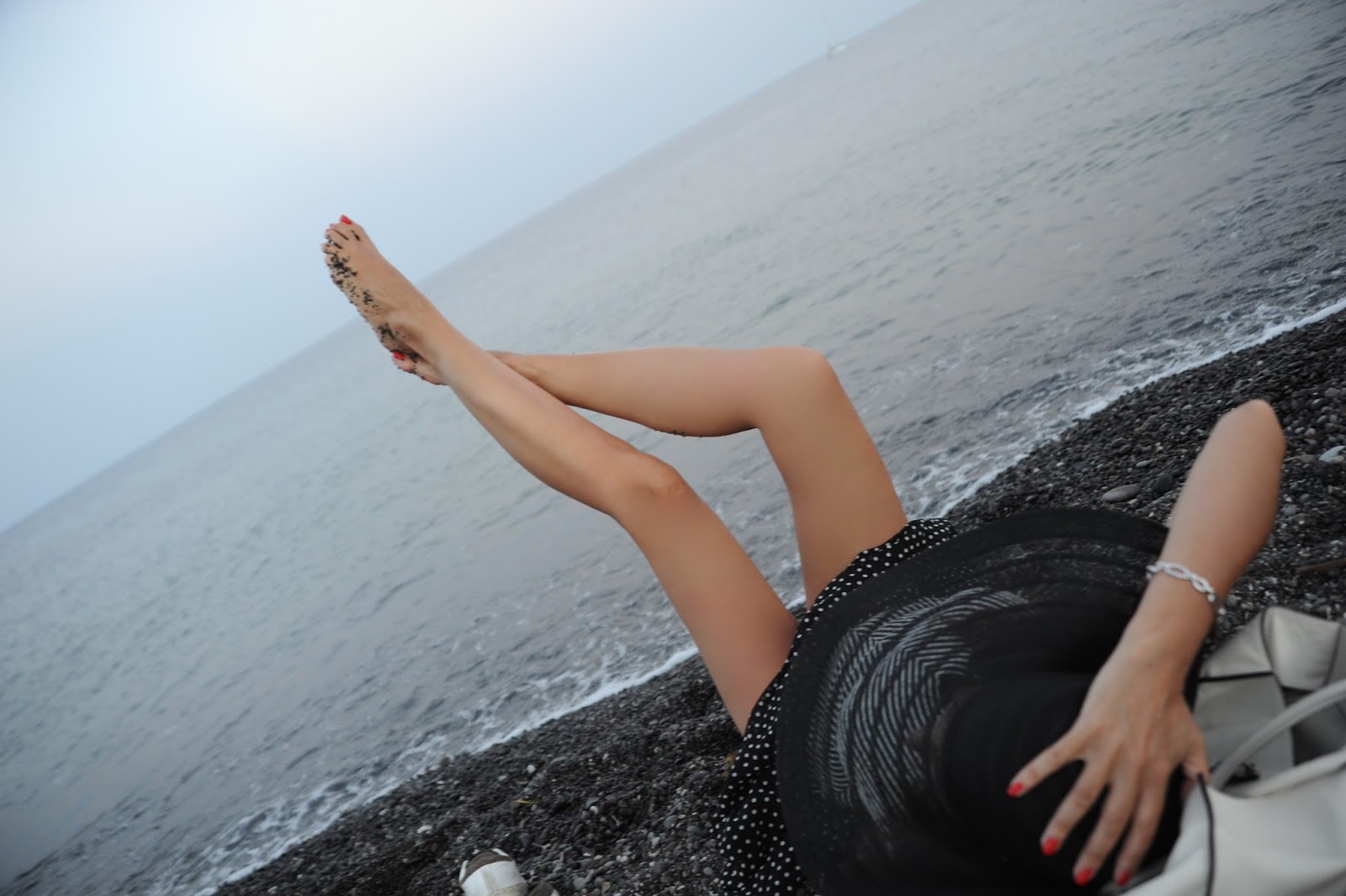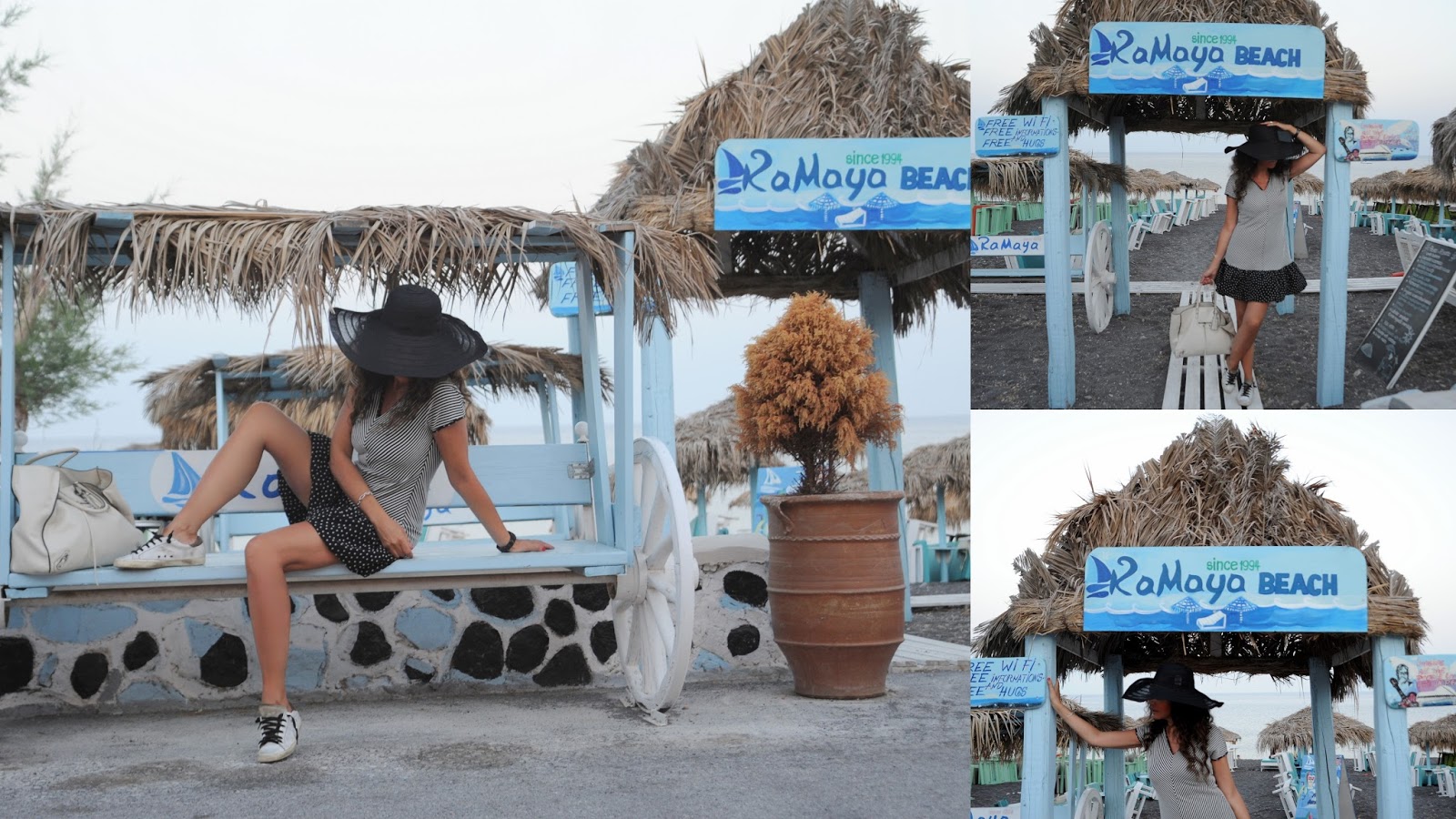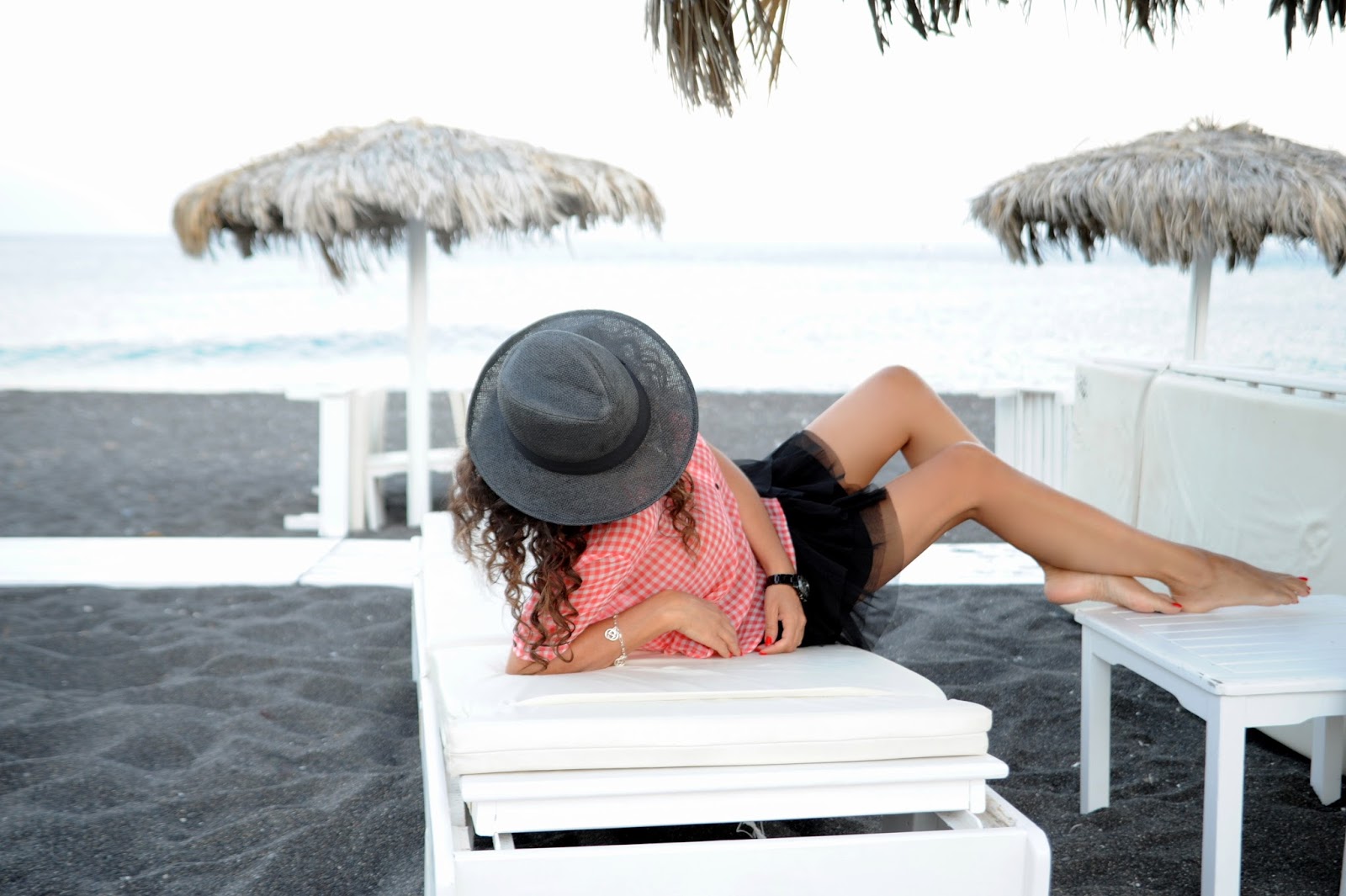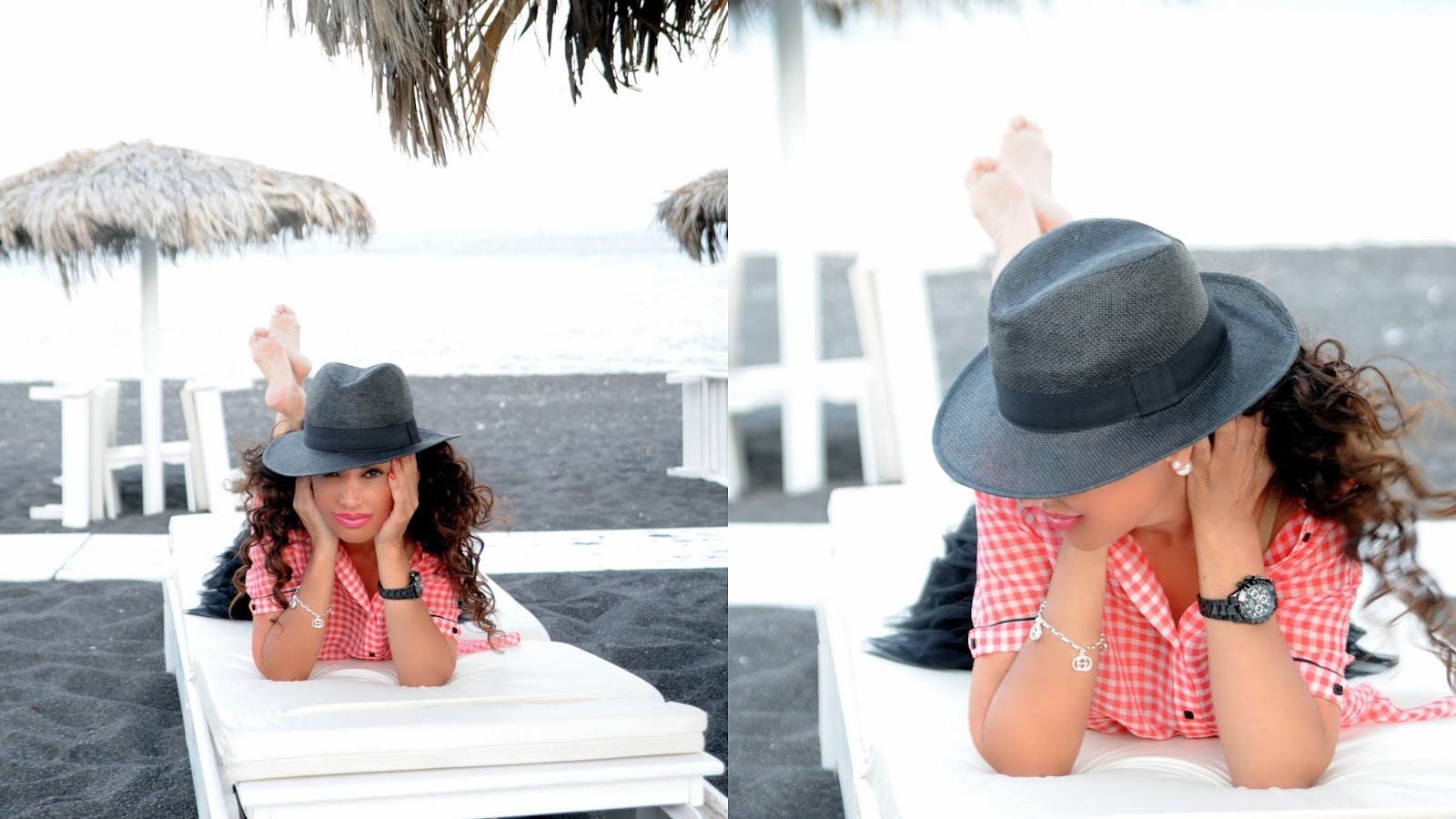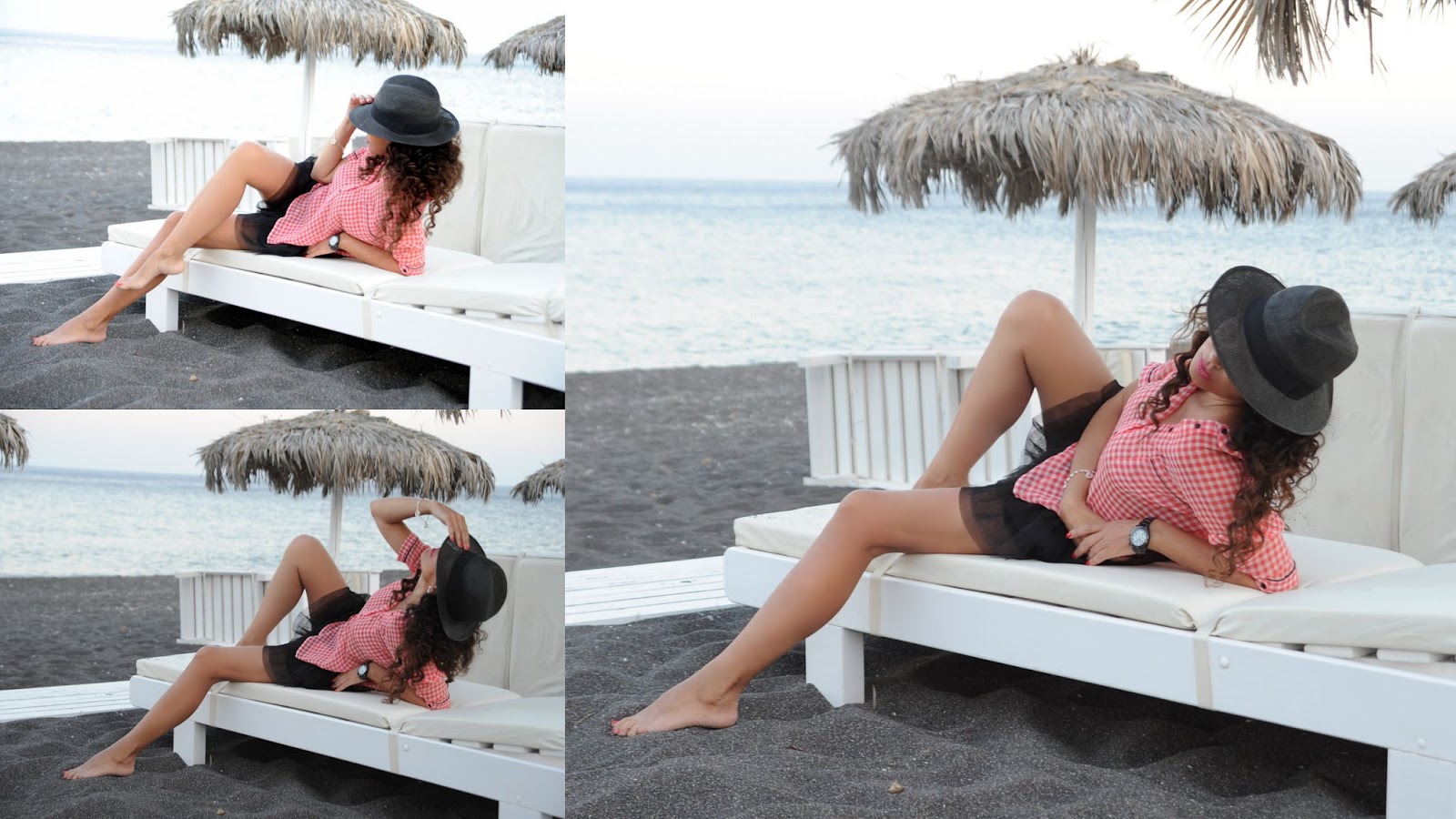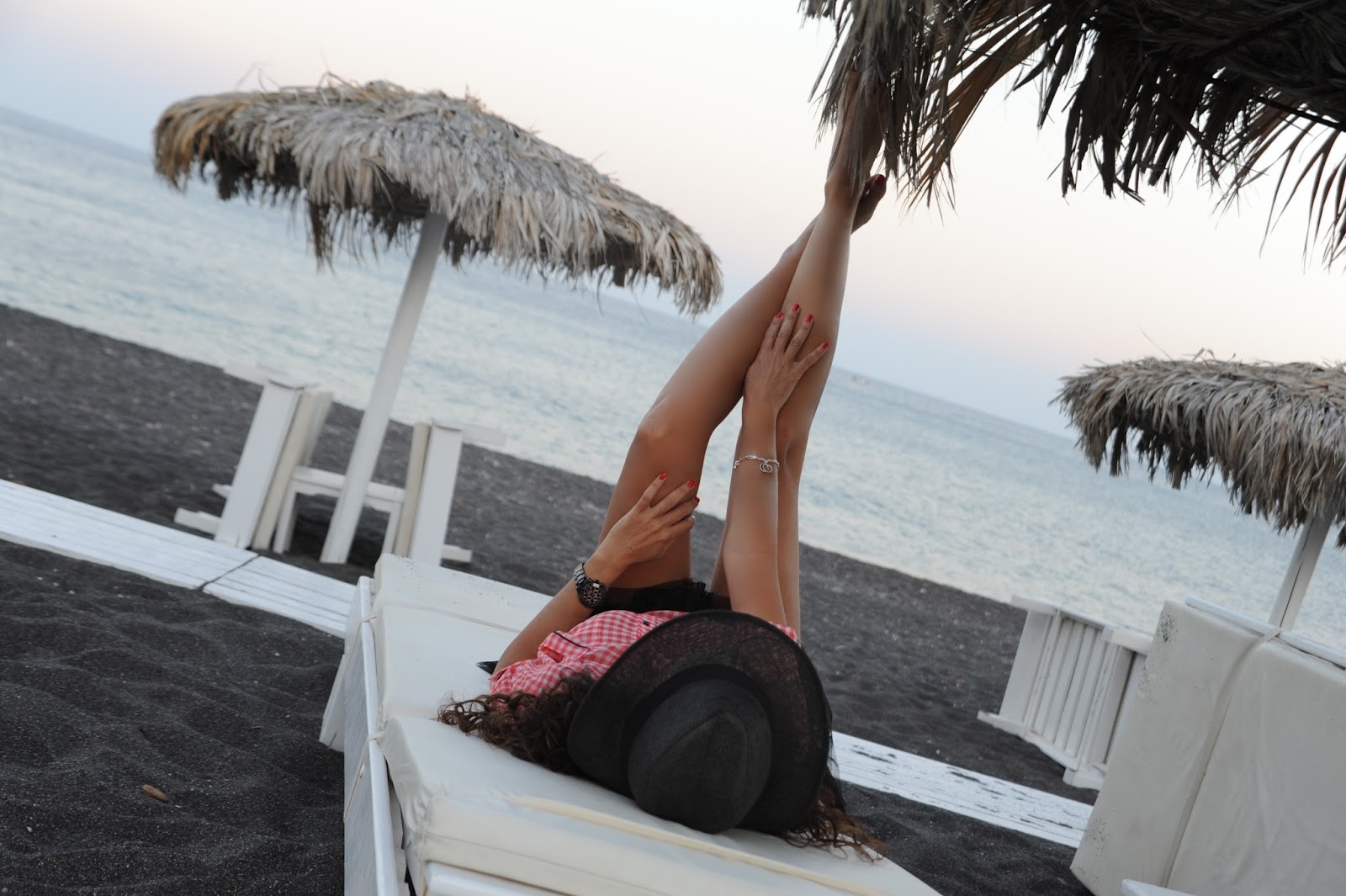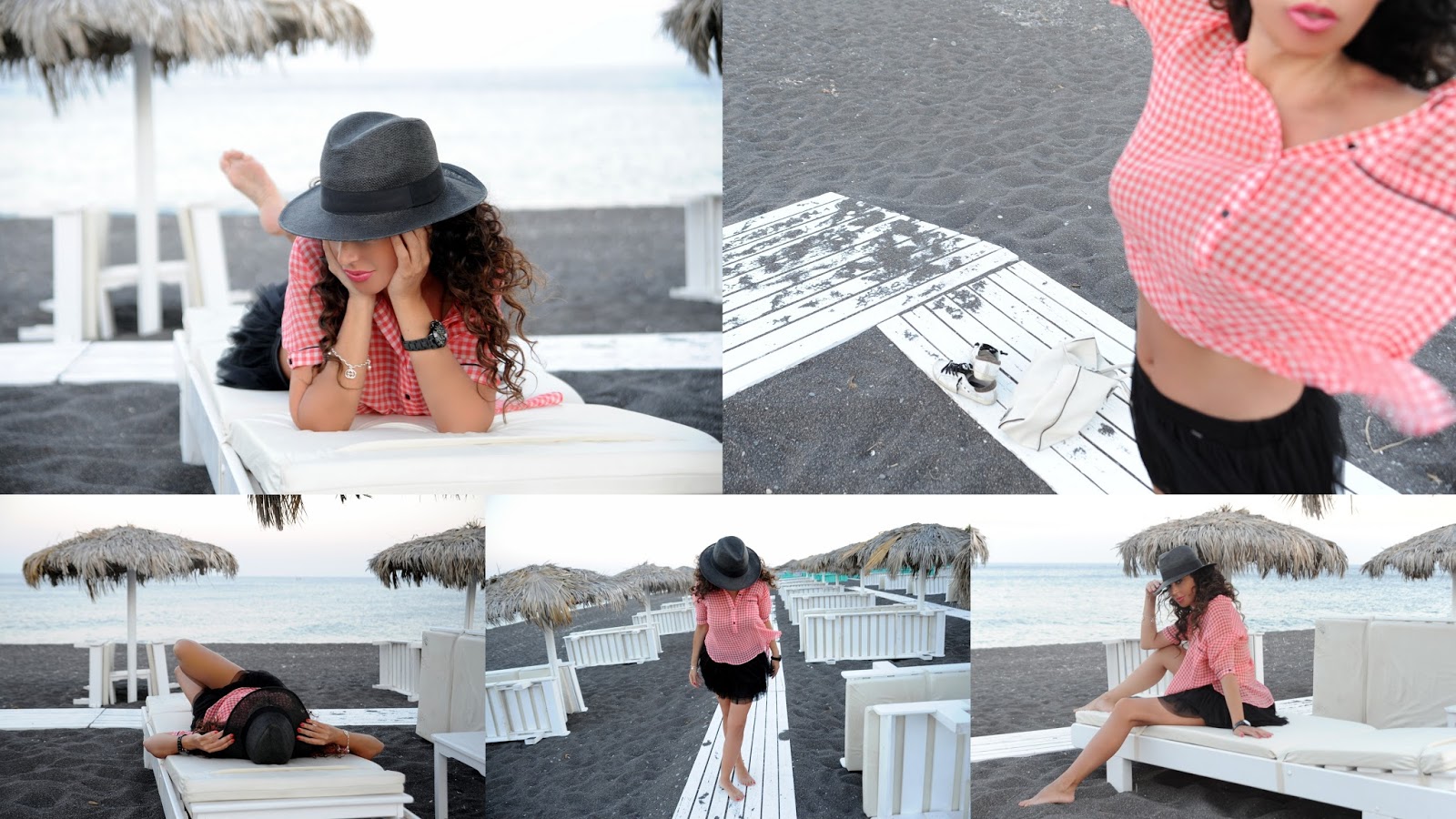 Photos: Jacopo Maria Barile
I was wearing:
Balenciaga "papier A4" bag