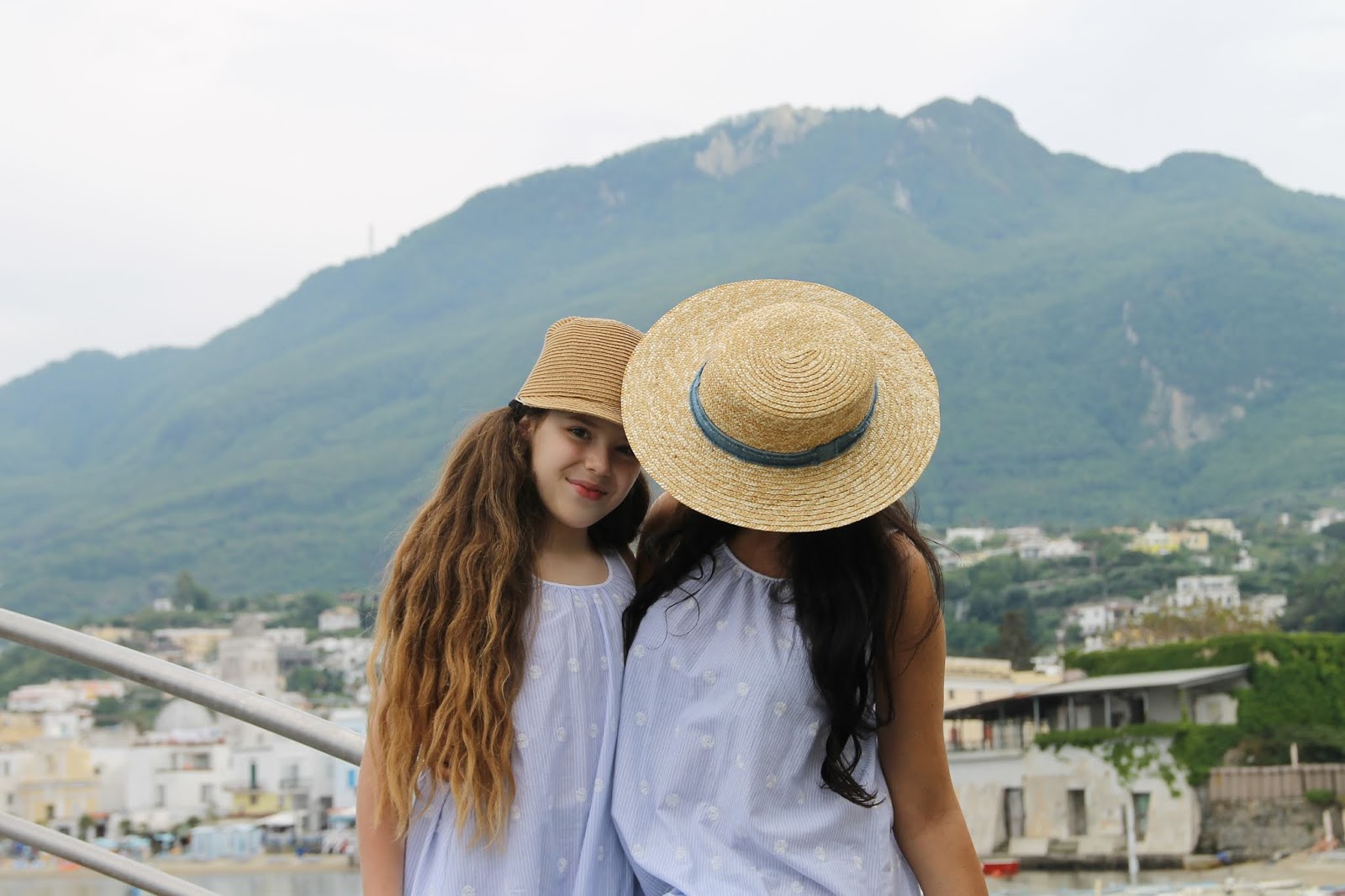 Forse meno famosa della vicina Capri, l'isola di Ischia ha gli stessi
paesaggi spettacolari, una splendida vista sul mare e più di qualche
hotel davvero incantevole.
Tra questi c'è senza dubbio L'Albergo della
Regina Isabella, nel pittoresco borgo di Lacco Ameno, il cui glamour della metà del secolo deve tutto al suo
fondatore, il celebre produttore cinematografico ed editore Angelo Rizzoli.
Così, nel giro di pochi anni, Ischia e l'albergo Regina Isabella divennero il polo d'attrazione di una mondanità cosmopolita.
Il Regina Isabella è al centro di una
tranquilla baia, tra scogli, spiaggette private e il verde della pineta mediterranea,
il tutto incastonato sullo sfondo delle famose sorgenti termali di Ischia.
L'atmosfera qui non è mai cambiata sin dalla sua fondazione, vi si respira la cultura di un "savoir vivre italiano", votato all'eleganza e al bello… come l'outfit scelto per un'altra giornata di sole in un luogo incantato.
Uno stile unico, un look per due, che segue il fenomeno moda ancora attualissimo del "minime".
Pensato per tutte le mamme attente alle nuove tendenze e
per tutte le figlie che non vogliono rinunciare a vestire come loro.
E se la tendenza fashion più cool di sempre parla chiaro, a

me e alla mia Becky piace
giocare con la moda e divertirci a creare dei look con capi che abbiano una vestibilità adatta ad entrambe.
Questo il nostro matching outfit dalla magica
Ischia
, un'isola dalla bellezza senza tempo, da vivere assaporando piacevoli momenti tra i colori e il calore partenopeo.
(Clicca
qui
per leggere la mia ultima intervista sul fenomeno moda "mini-me" e
qui
per saperne di più sul trend).
Perhaps less famous than the nearby Capri, the island of Ischia has the same spectacular landscapes, a splendid view of the sea and more than some truly enchanting hotels.
Among these, there is undoubtedly the Regina Isabella Resort, that
was built in the 1950s in the charming village of Lacco Ameno and its founder was Angelo Rizzoli,
the legendary Italian publisher and film producer.
So,
within a few years, Ischia and the Regina Isabella Hotel became a centre of attraction for the international jet-set.

Regina Isabella Resort is located in the middle of a tranquil bay,
surrounded by rocky outcrops, private beaches and Mediterranean pinewoods, all set against the backdrop of the famous thermal springs of Ischia.
The atmosphere here has never changed since its foundation,
it epitomises the "Italian art of living well", with an emphasis on style and beauty… like the outfits chosen for another sunny day in this enchanted place.
A unique style, a look for two, the trendiest fashion phenomenon is that of the "mini-me".
Designed for all mothers who are attentive to new trends and for all the daughters who do not want to give up dressing like them.
I've
always liked playing with fashion and this summer I had so much fun
with my daughter Becky embracing this trend, with simple matching
outfits that make us radiant and make us smile by looking each other.
These are our latest coordinated outfits by the magical Ischia, an
island of timeless beauty to be experienced savoring pleasant moments between Neapolitan colors and warmth.
(Click here to read my latest interview about the "mini-me" fashion and here to read more about this trend).
Location: Hotel Regina Isabella – Lacco Ameno – Ischia – Italy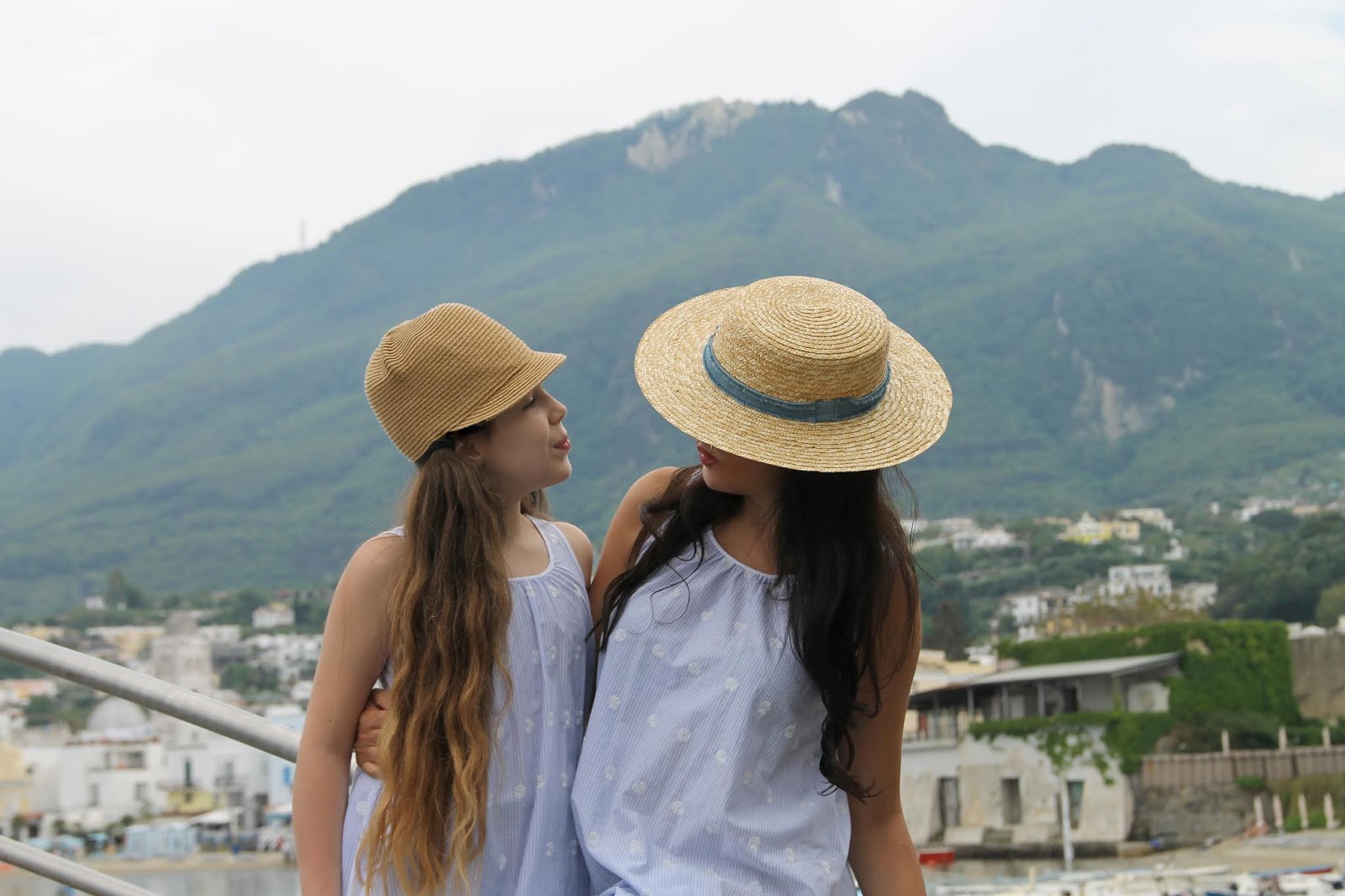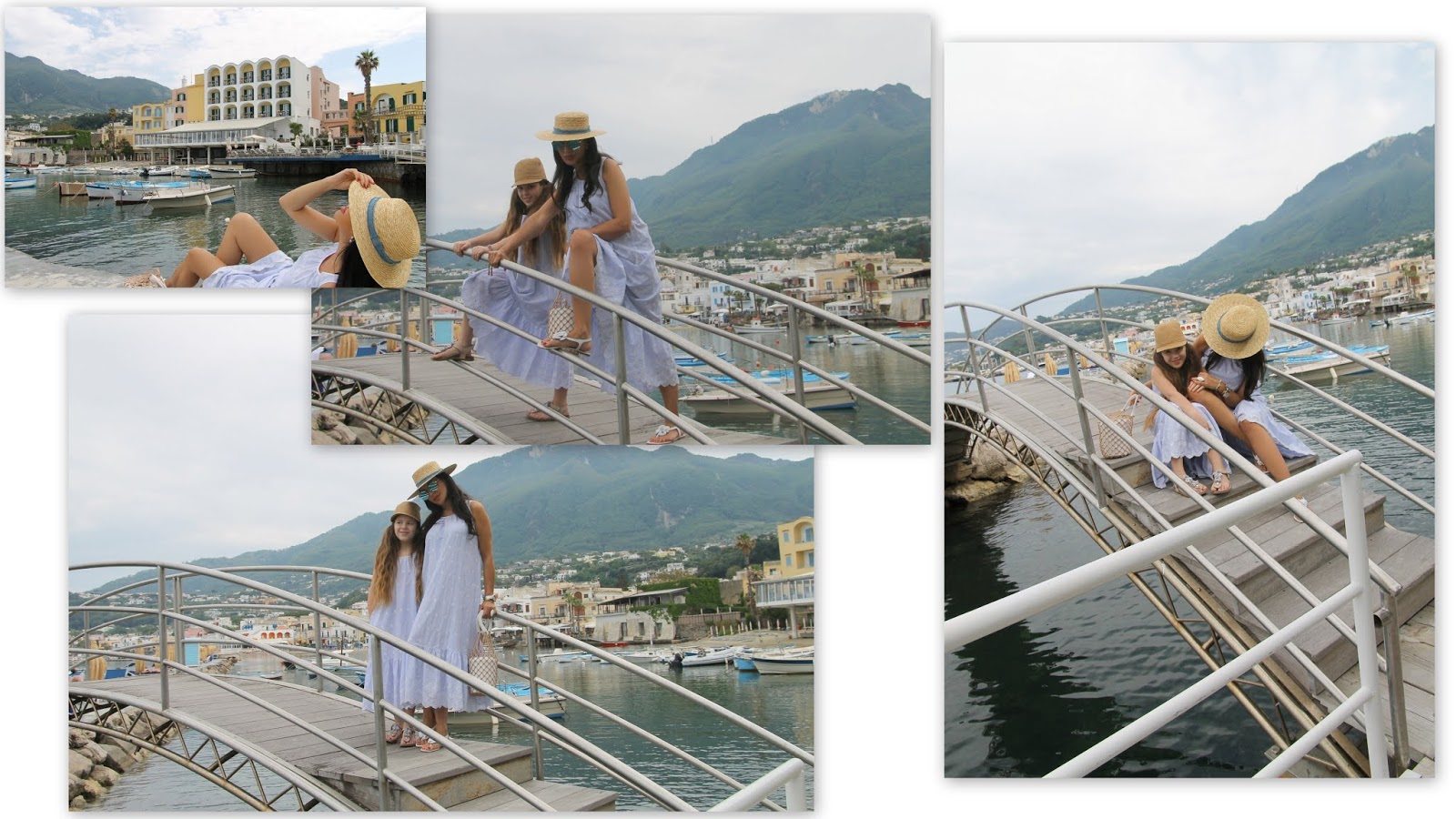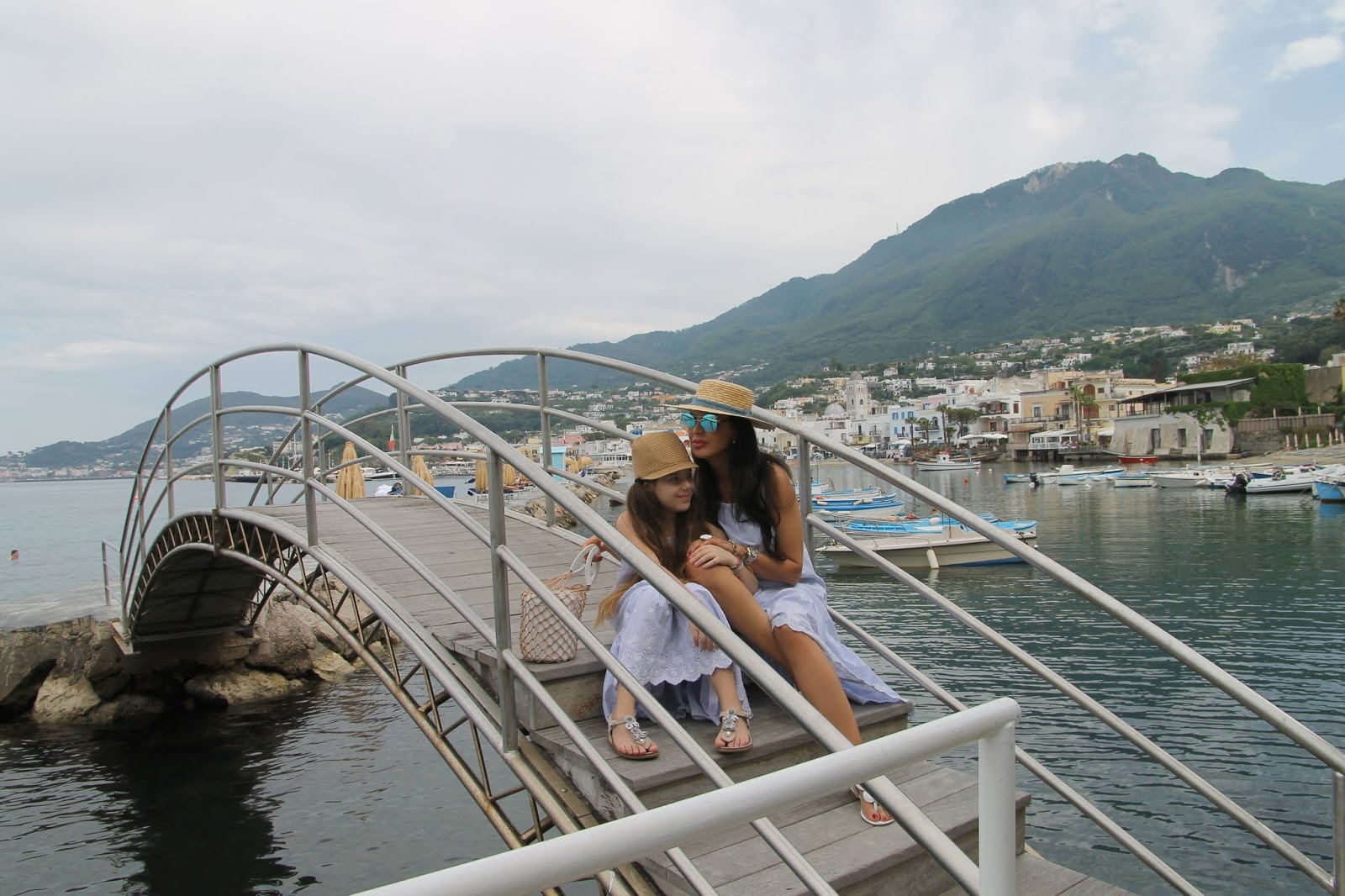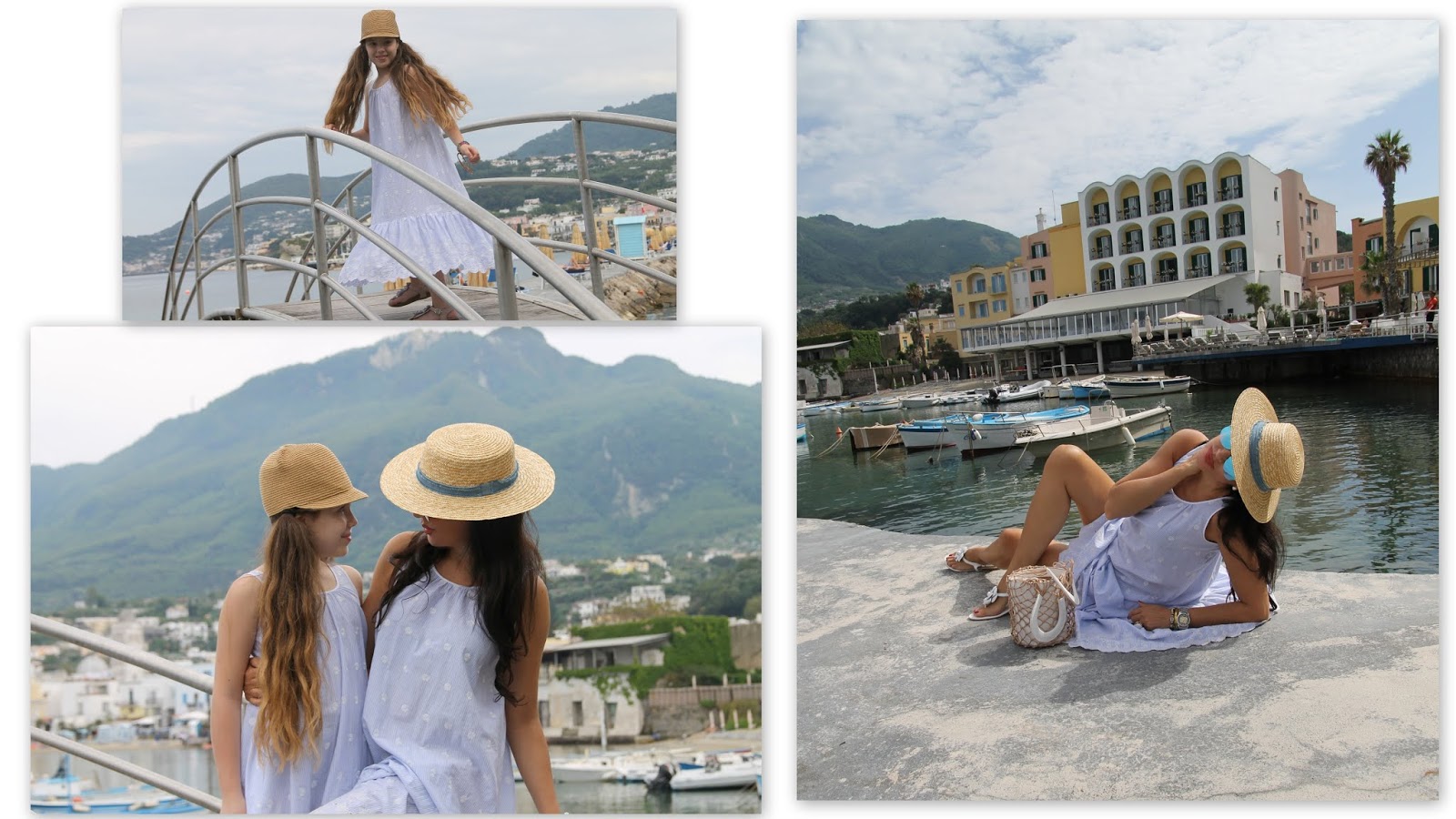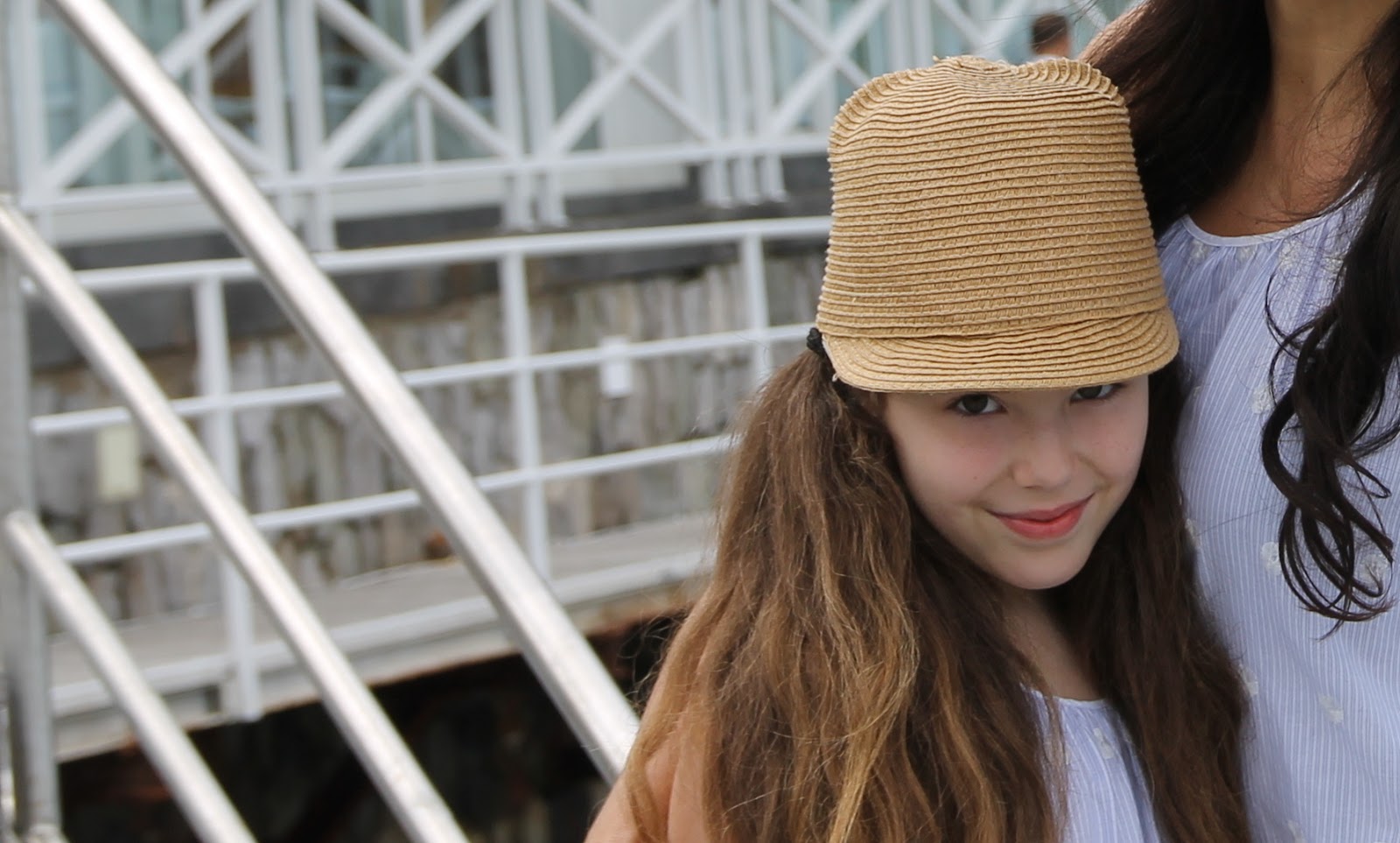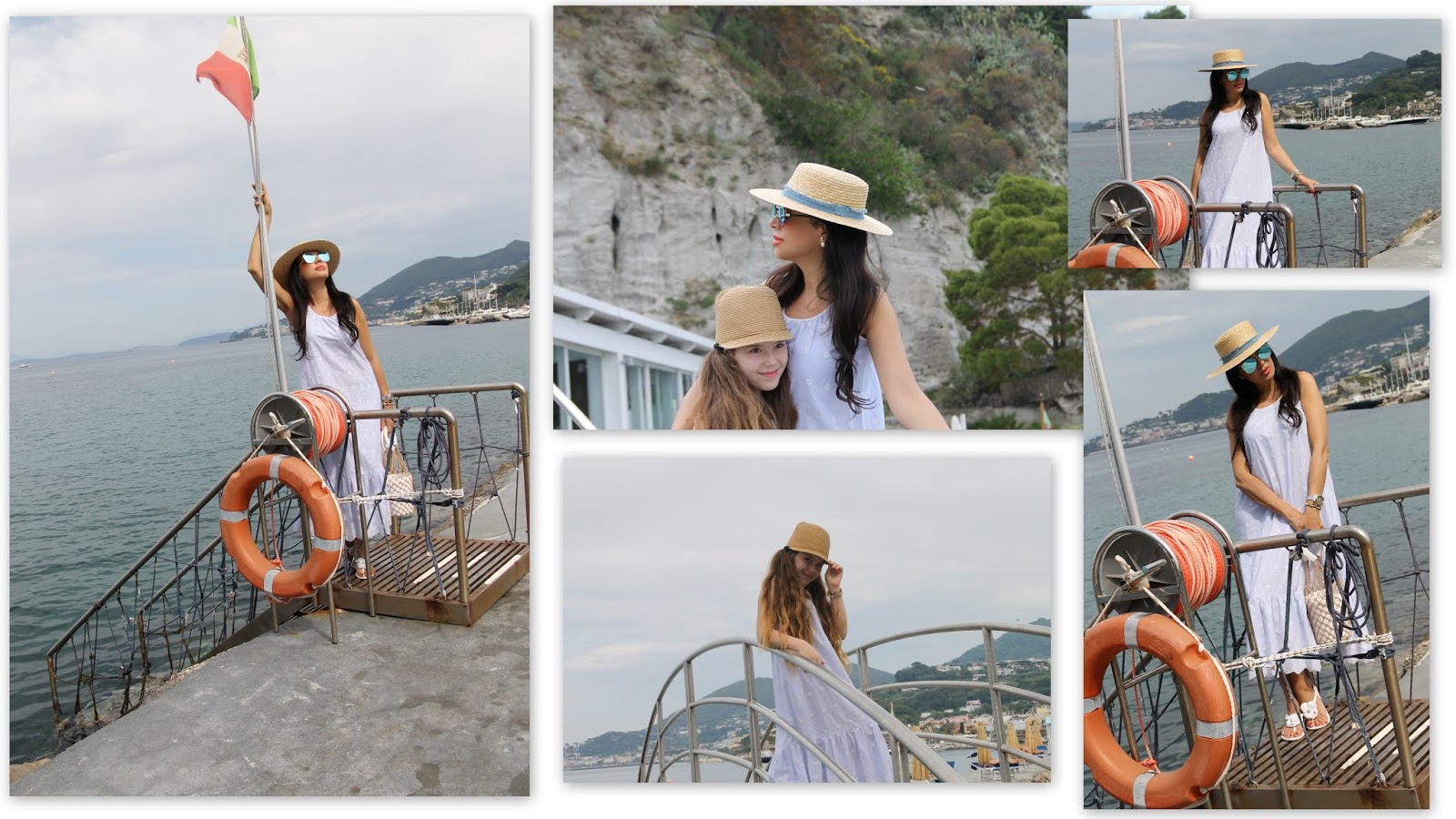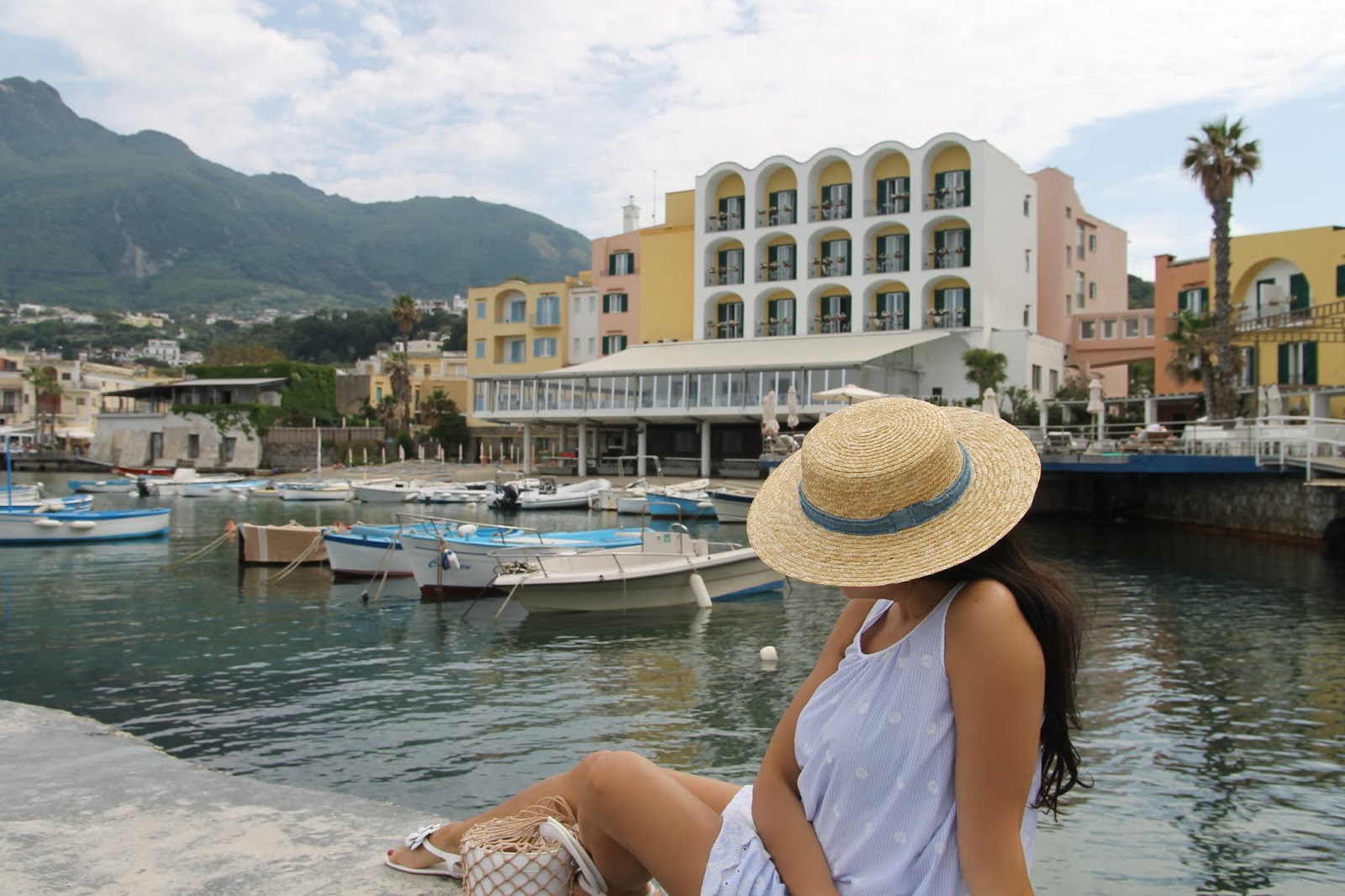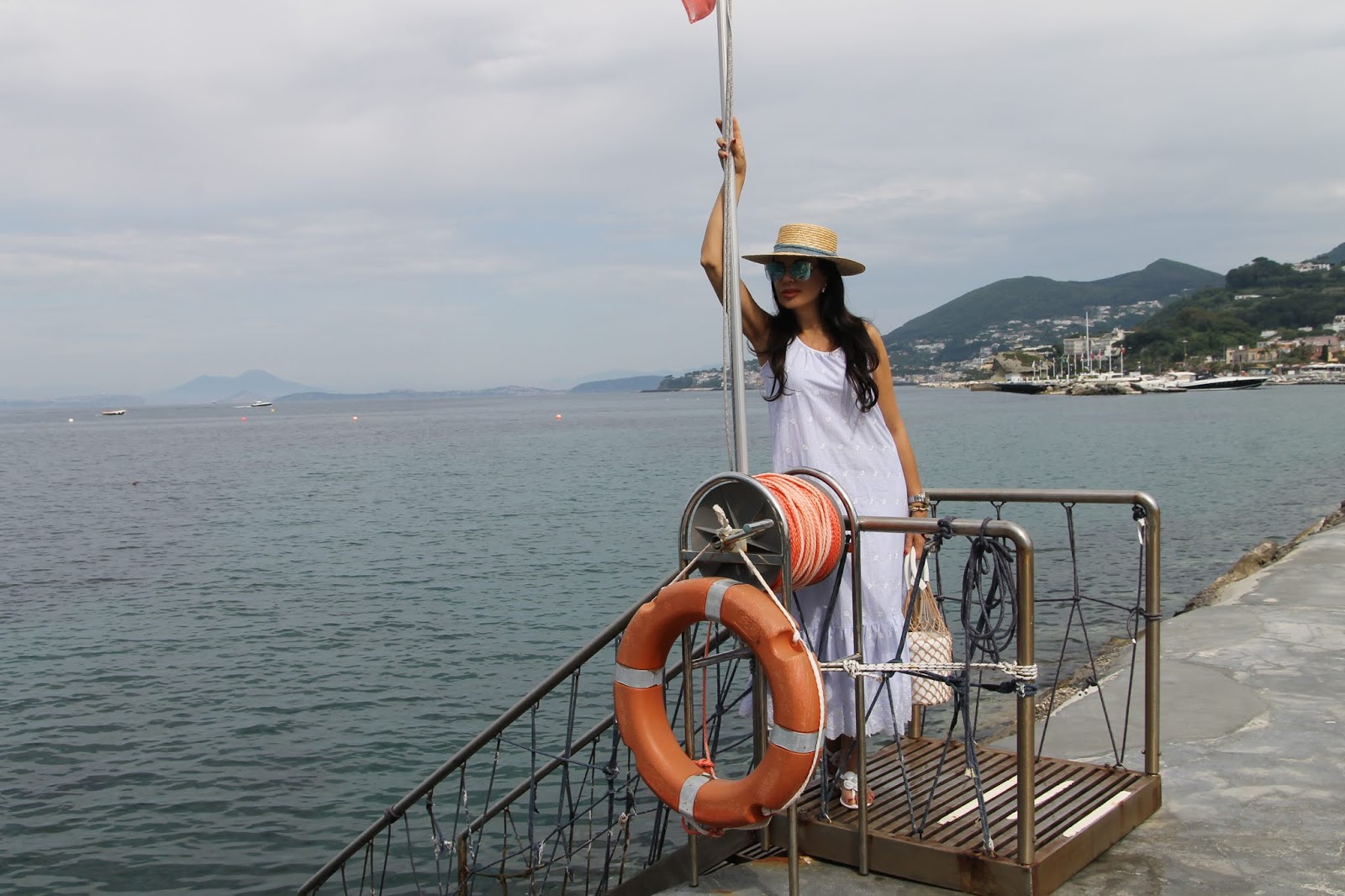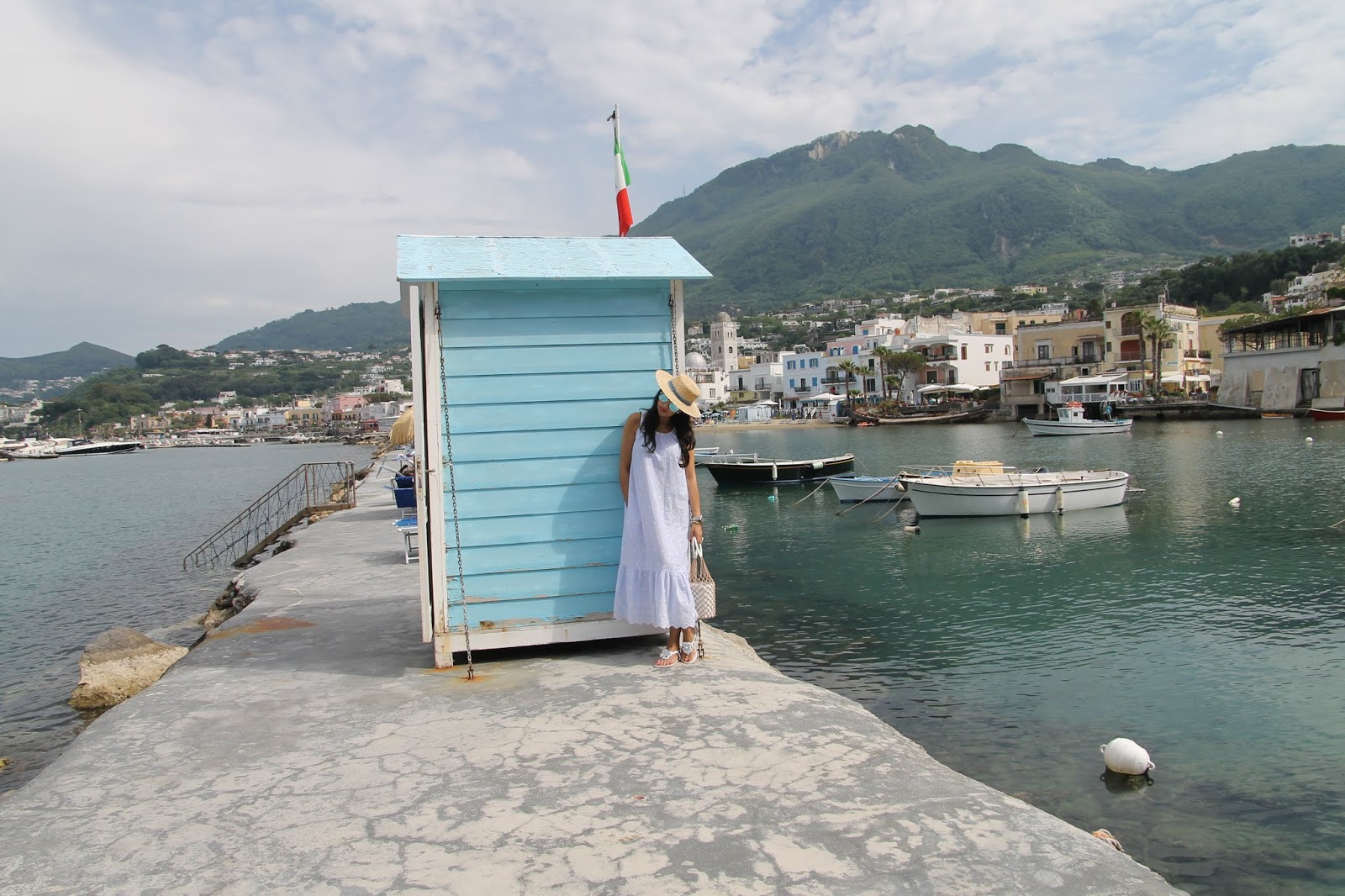 Photos: Nicola Polese
I was wearing:
Becky was wearing: