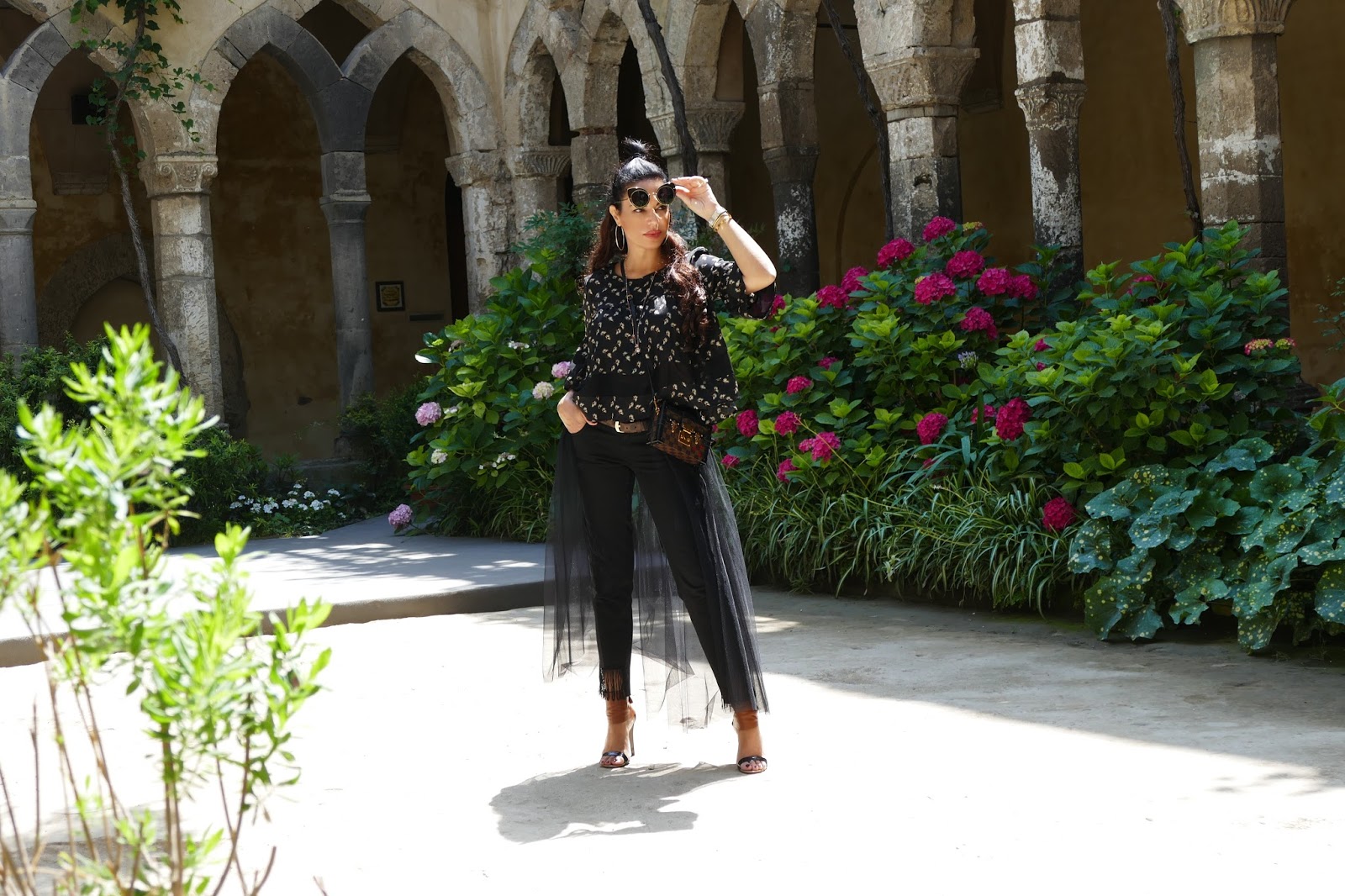 Il chiostro di San Francesco è tra i monumenti più antichi di Sorrento, costruito sui i resti di un monastero del VII secolo, ubicato a ridosso dell'omonimo Convento, a picco sul mare.
A rendere unica questa pregevole costruzione, concorre una architettura
particolarmente suggestiva.
Essa è, infatti, una perfetta stratificazione di
stili architettonici diversi, dovuta a restauri di epoche successive. Questo il motivo per cui nella sua pianta rettangolare, sui lati del portico, ad archi tondi che poggiano su colonne ottogonali sormontate da capitelli di squisita fattura artigianale, si alternano archi
incrociati di tufo, espressione stilistica del tardo trecento.
L'occhio attento potrà, inoltre, notare la
presenza di numerosi elementi di spoglio, provenienti da templi pagani, e materiali di altri antichi insediamenti,
sapientemente integrati nell'insieme architettonico.
Il chiostro è lo scenario perfetto di mostre d'arte e concerti musicali, in centro città.
Risulta particolarmente suggestivo, avvolto in un'atmosfera mistica che sembra riportare il
visitatore indietro nel tempo, in un luogo magico.
Io l'ho visitato in una splendida giornata di
sole, all'ombra dei portici, assaporando tutta
la magia di un luogo avvolto dal silenzio, e ricco di profumi e colori di una sobria vegetazione, indossando un total black look, reso glam dagli accessori e illuminato da una splendida creazione di gioielleria di
Boccadamo
, brand espressione del più autentico Made in Italy, sinonimo di una produzione di altissima qualità e di notevole espressione creativa.
(Clicca
qui
se ti sei perso il mio primo post da Sorrento).
The cloister of St. Francesco is one of the oldest monuments in
Sorrento, built on the ruins of a 7th century monastery, located near
the homonymous Church, overlooking the sea.
To make unique this lovely building, is a particularly majestic architecture.
It is, in fact, a perfect stratification of different architectural styles, due to restorations of successive ages.
This is why in its rectangular plan, on the sides of the porch,
round arches resting on ottogonal columns surmounted by capitals of
exquisite craftsmanship, alternating crossed arcs of tuff, a stylistic
expression of the late three hundred.
The attentive eye can also note the presence of numerous
elements from pagan temples and materials from other ancient
settlements, wisely integrated into the architectural set.
The cloister is the perfect scene for art exhibitions and musical concerts in the city center.
It is particularly impressive, wrapped in a mystical atmosphere that
seems to bring the visitor back in time, into a magical place.
I
have visited it on a beautiful sunny day, in the shade of the arcades,
savoring all the magic of a place surrounded by silence, rich in scents
and colors of a sober vegetation, wearing a total black look, made glam
from accessories
and well-lighted by a wonderful piece of jewelery designed by
Boccadamo, the brand of
the most authentic Made in Italy, synonymous with production of the
highest quality and remarkable creative expression.
(Click here to see my first post from Sorrento).
Location: Cloister of Franciscan Church – Sorrento – Italy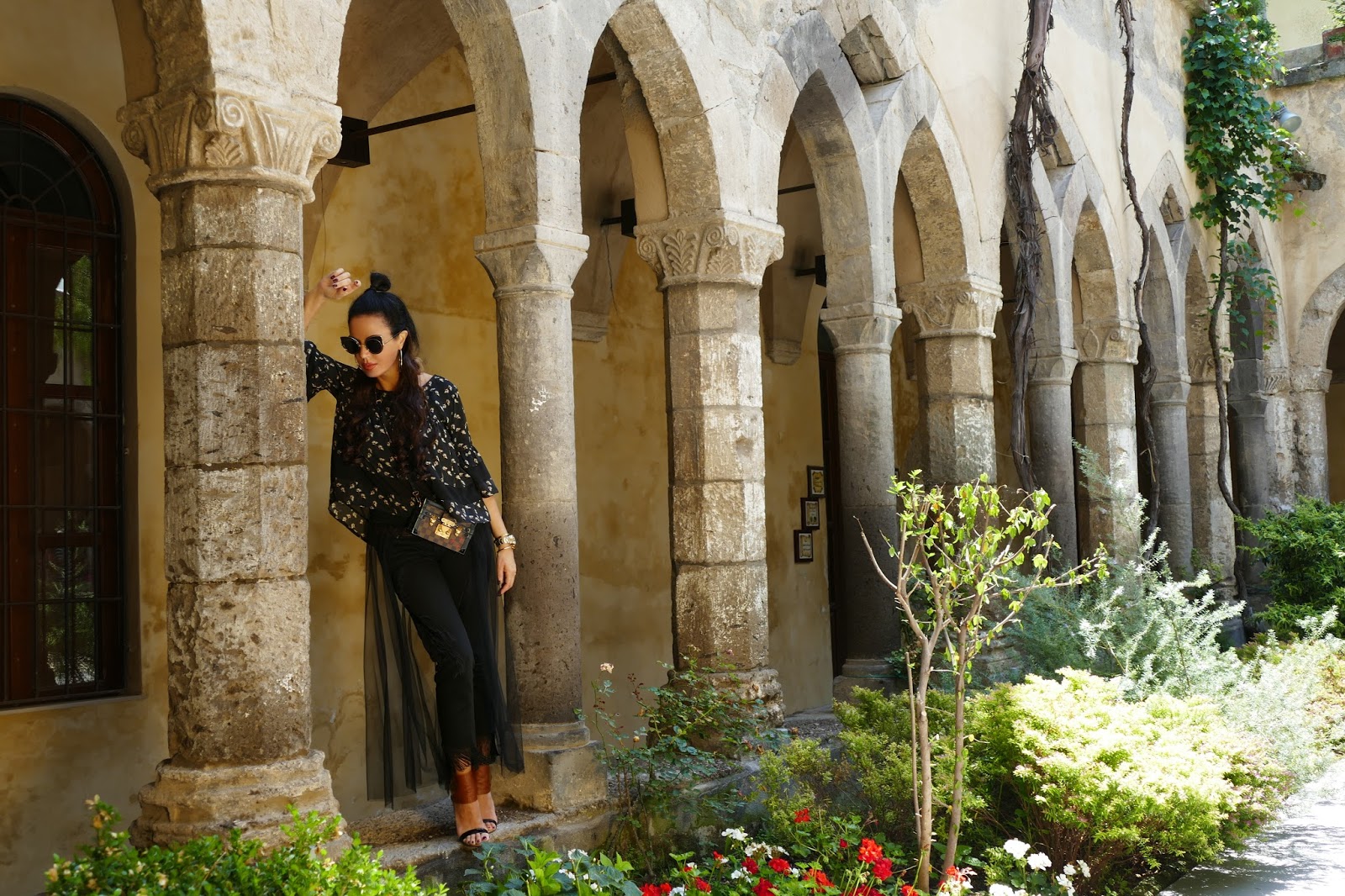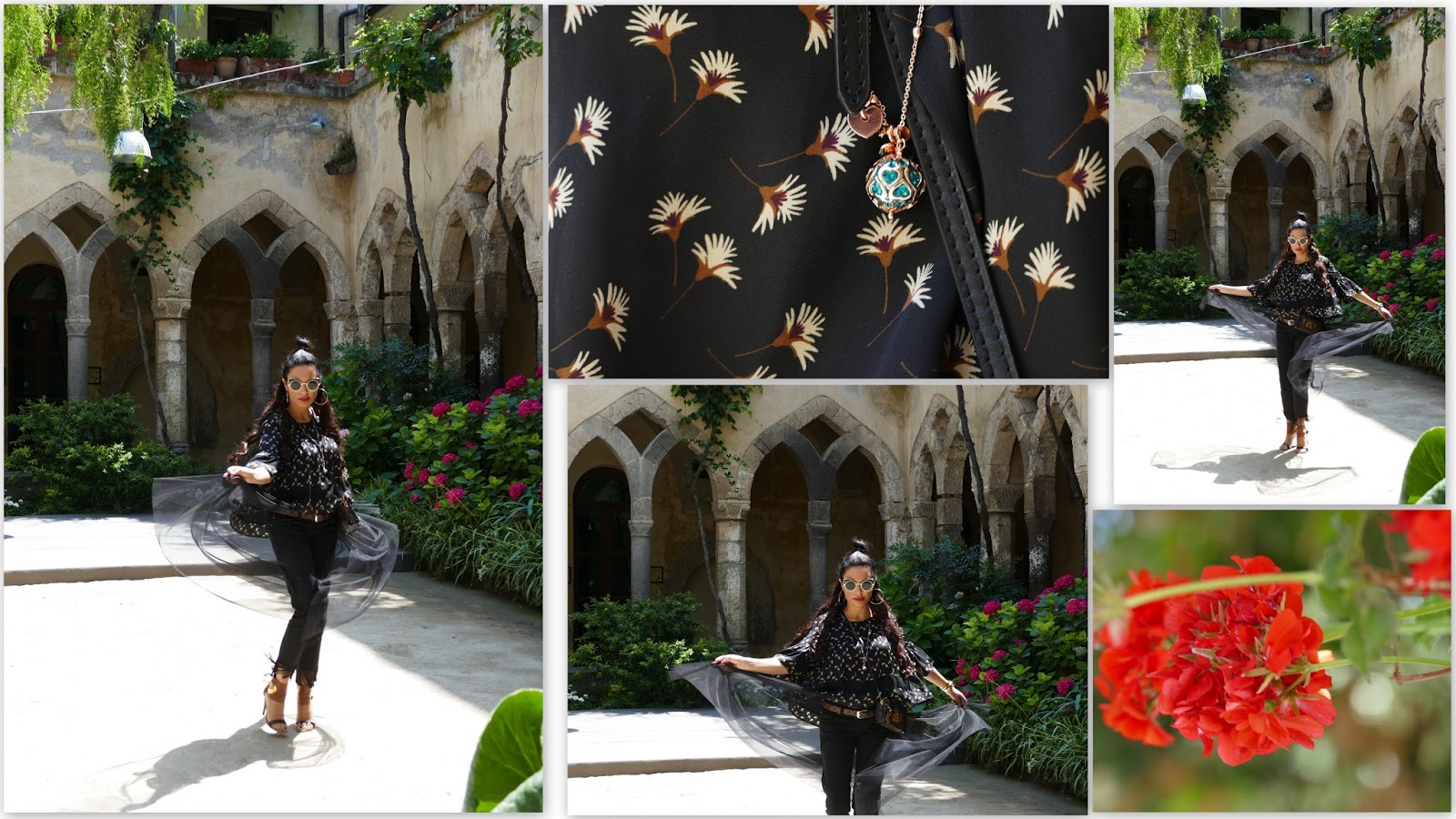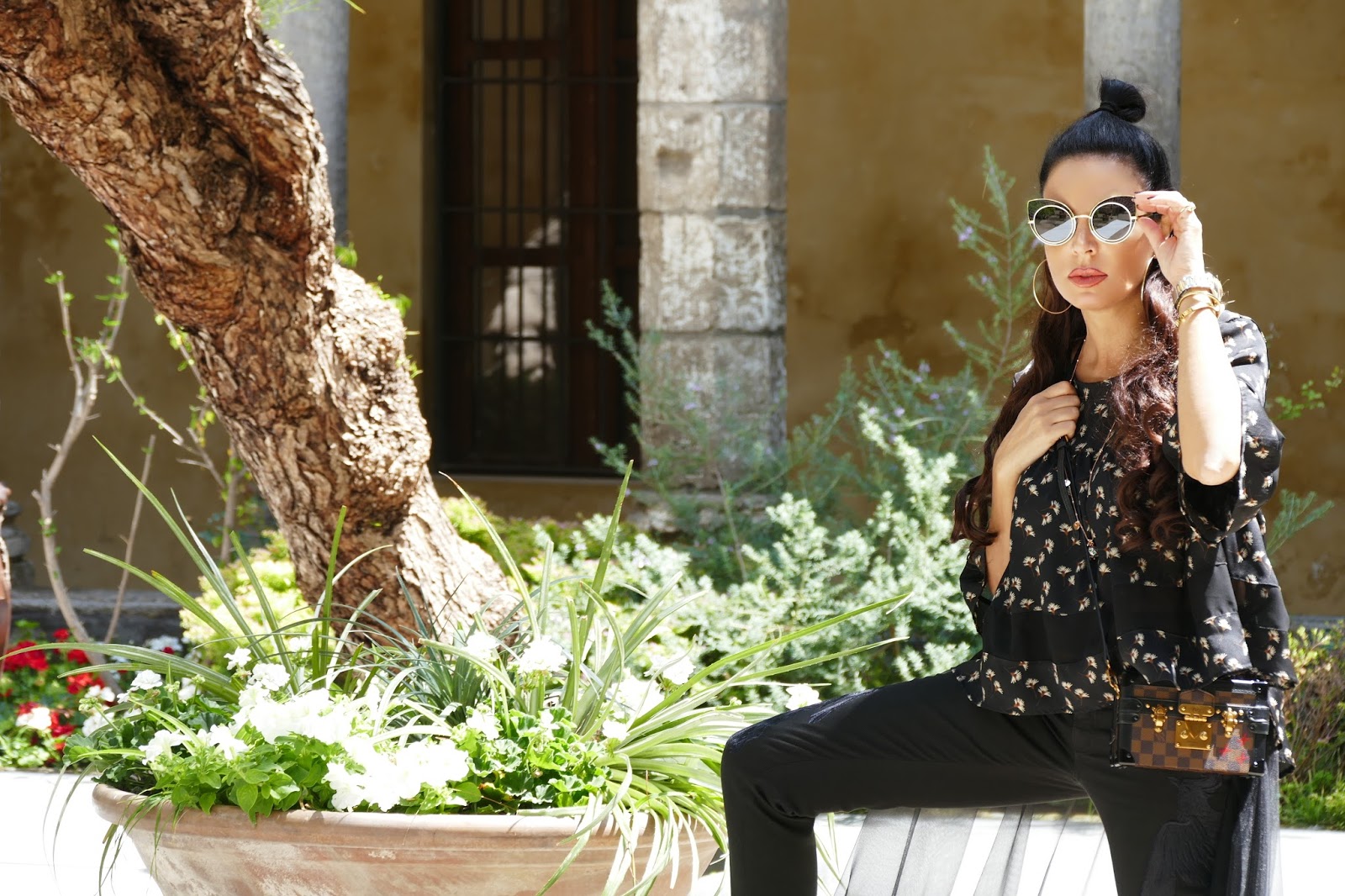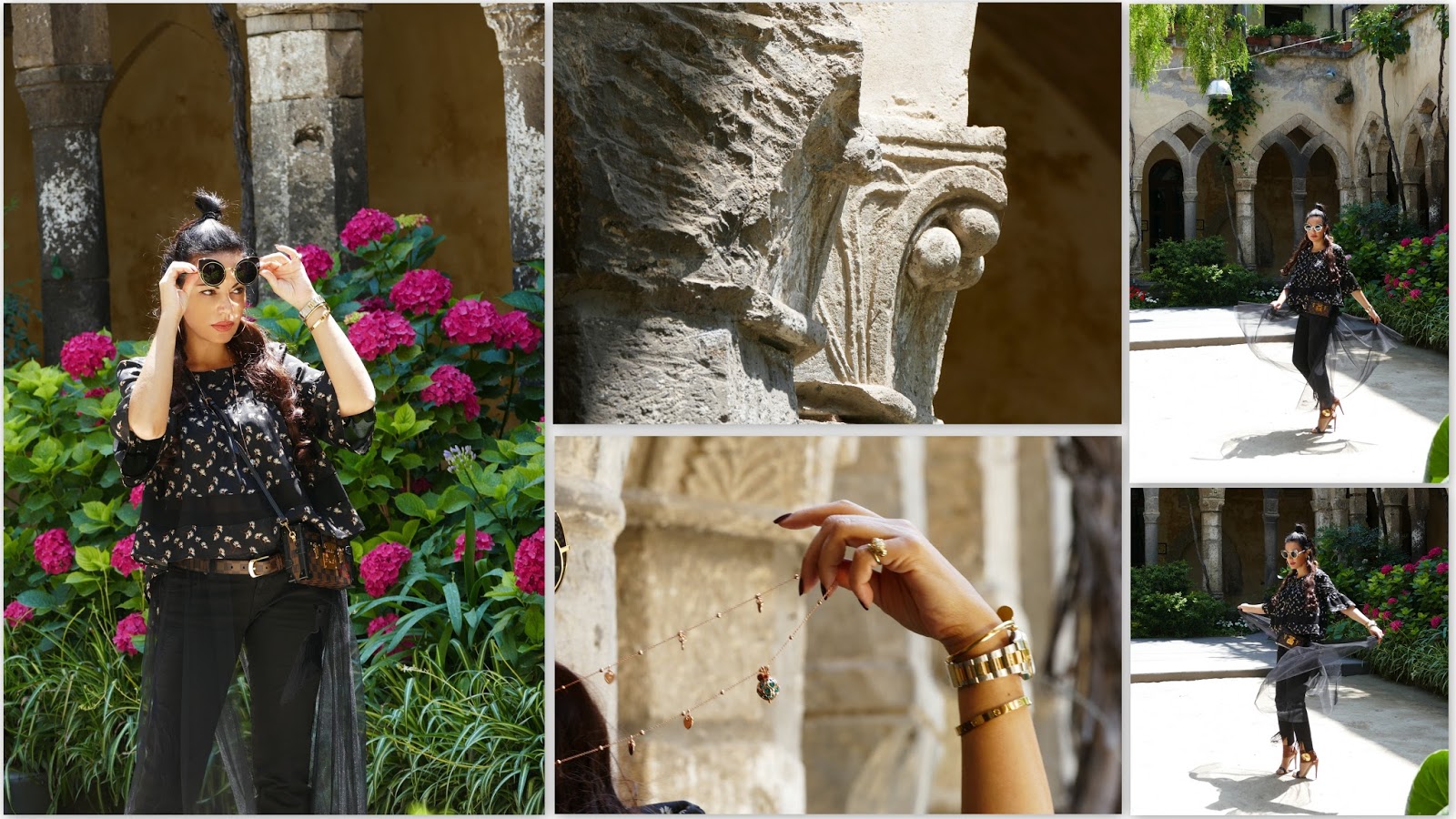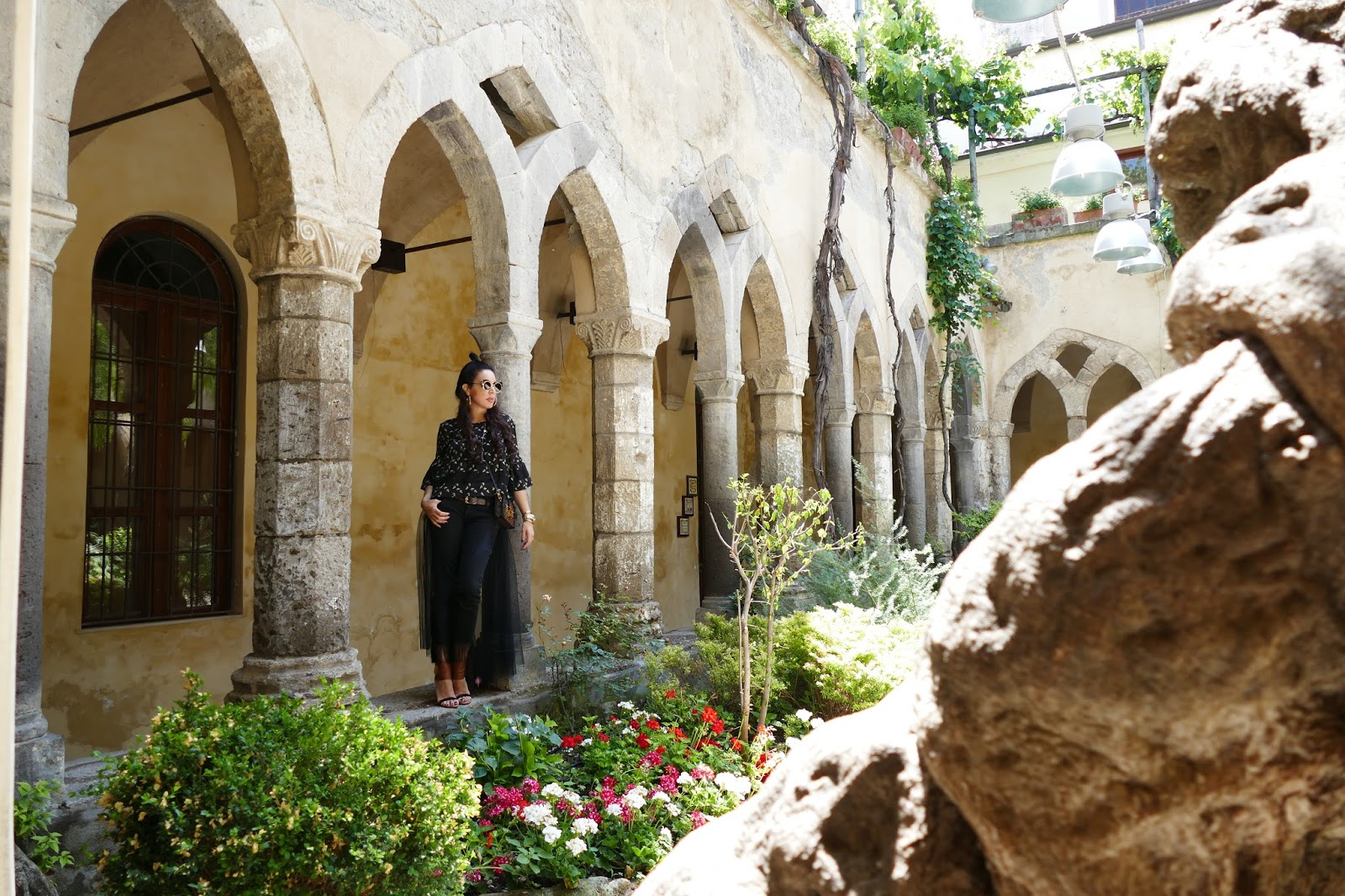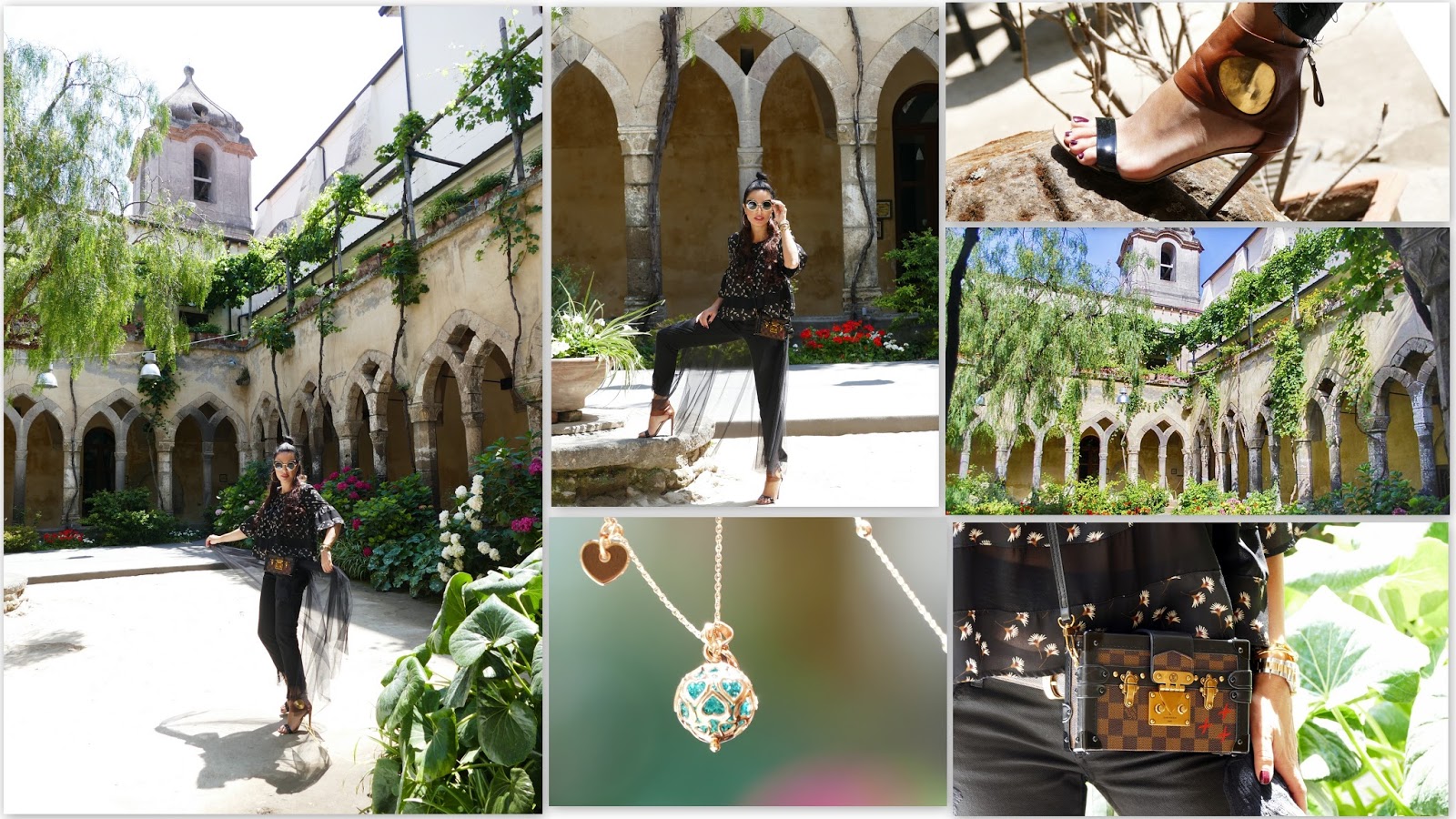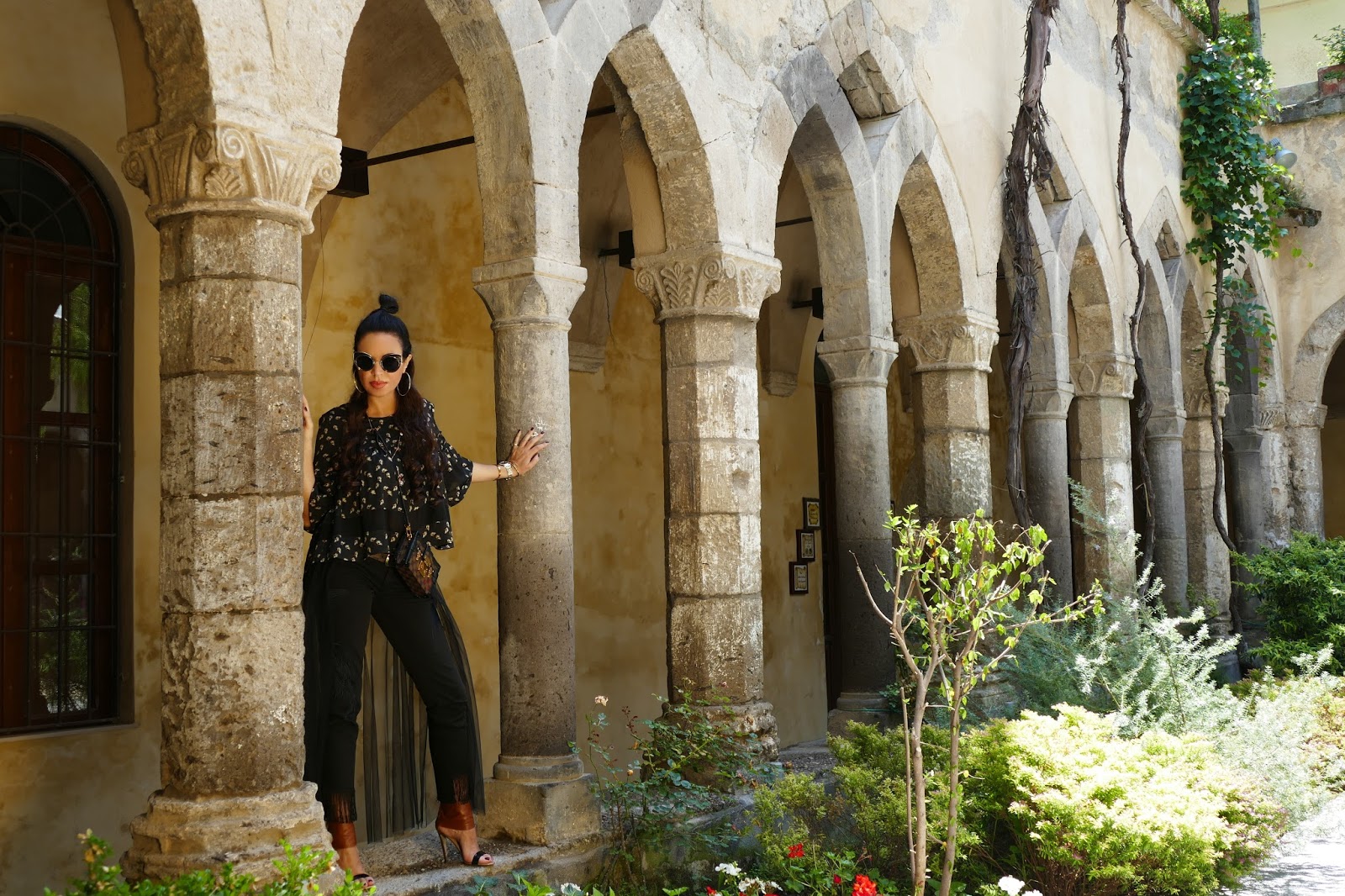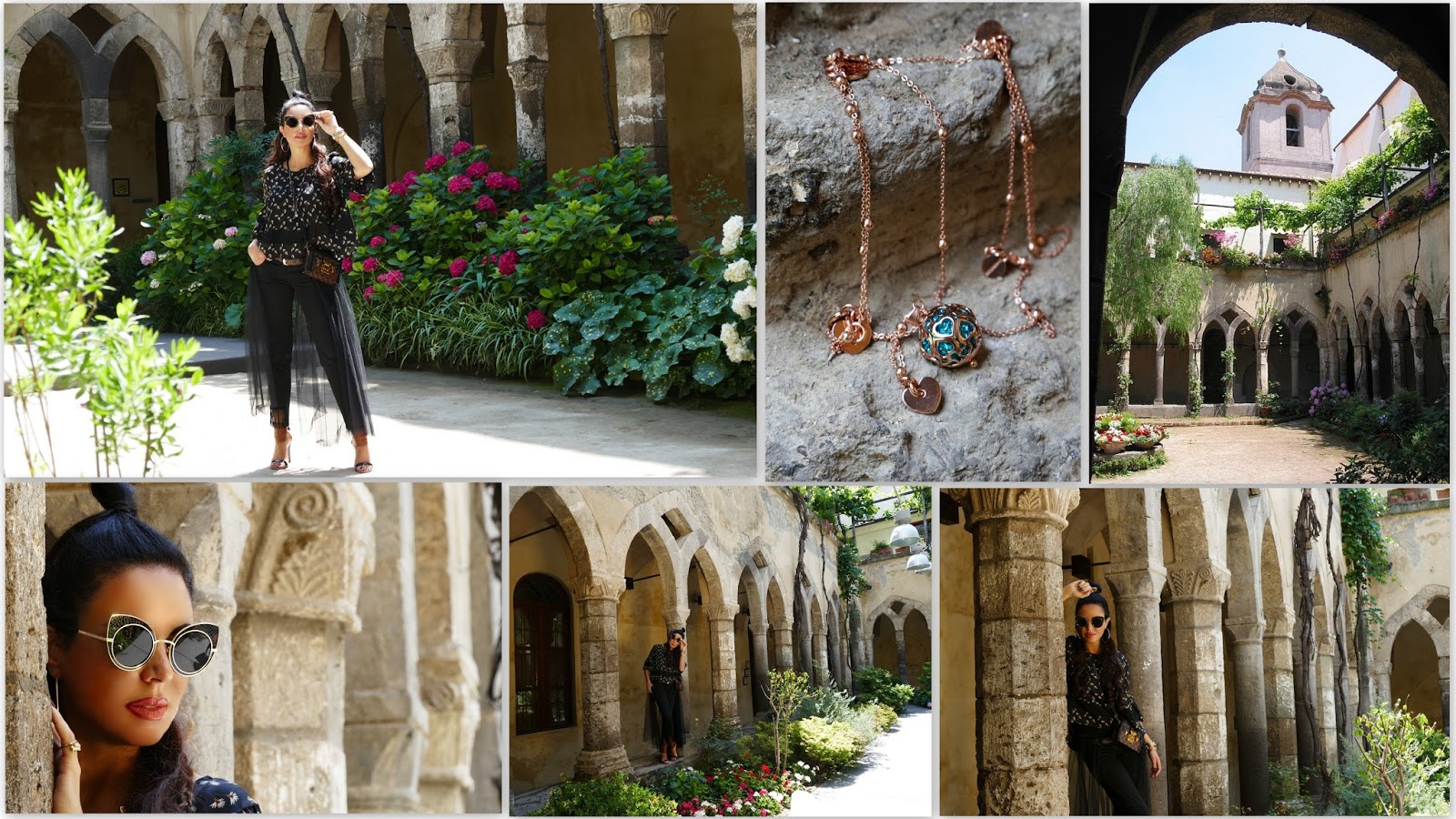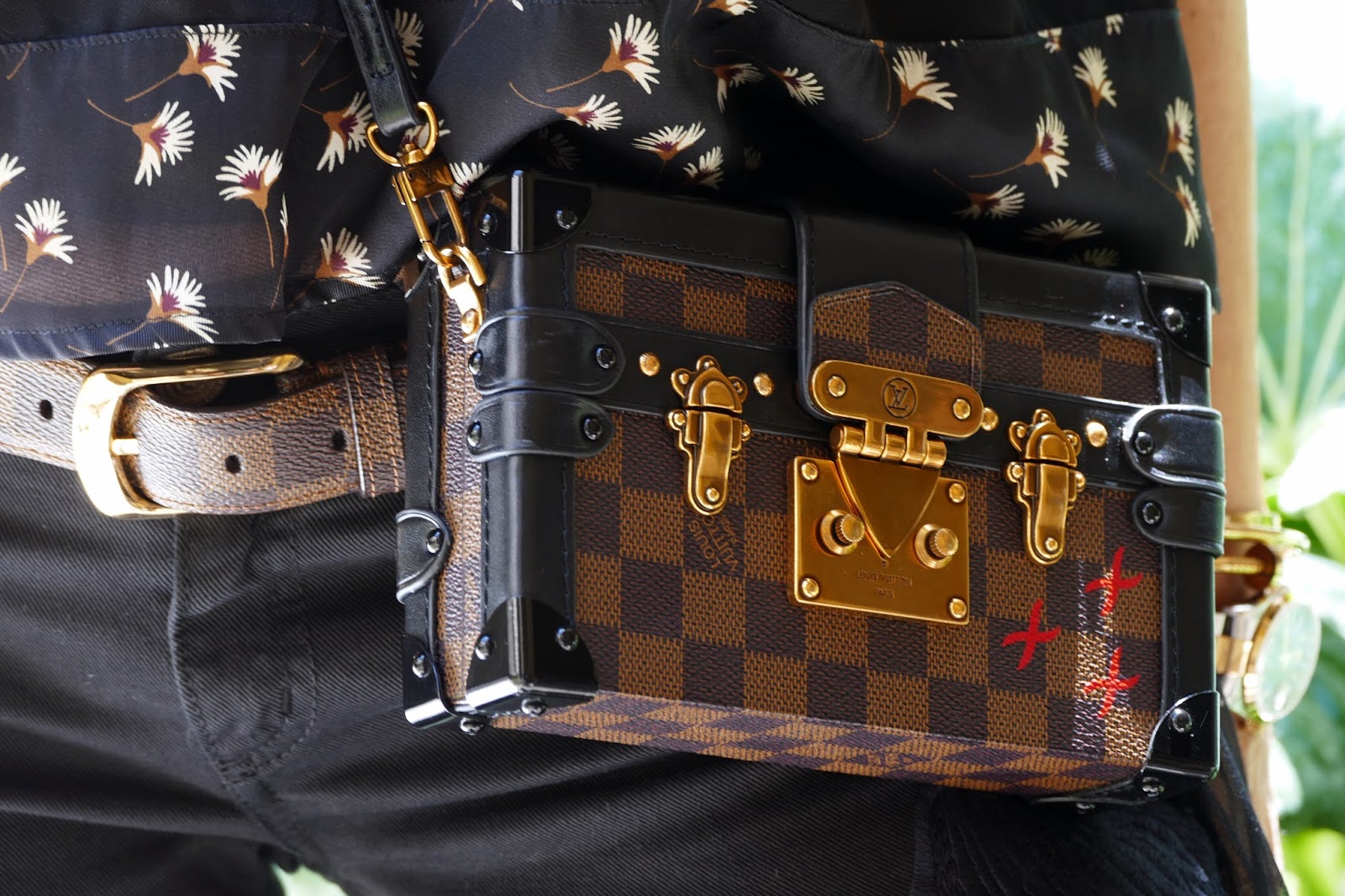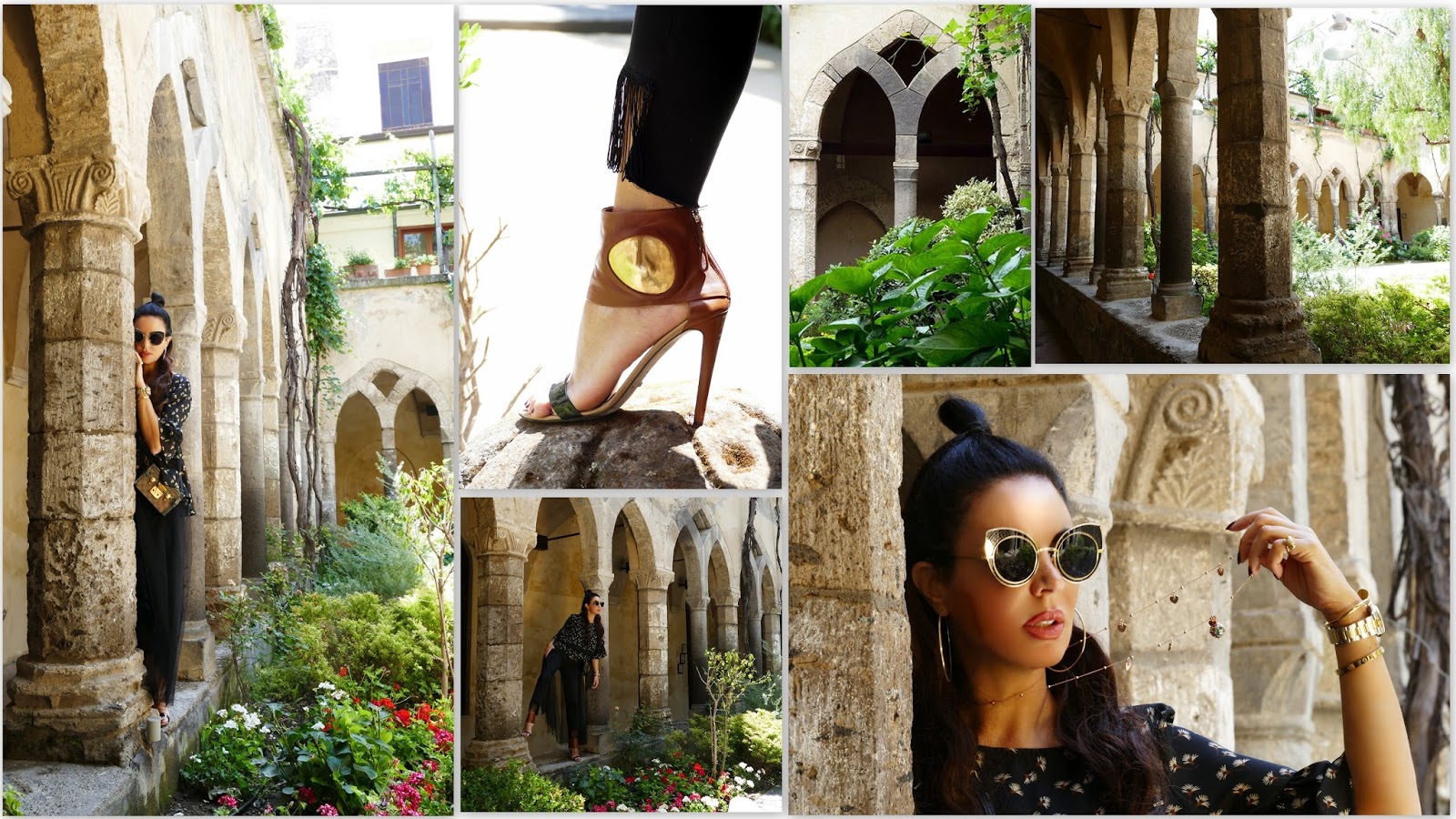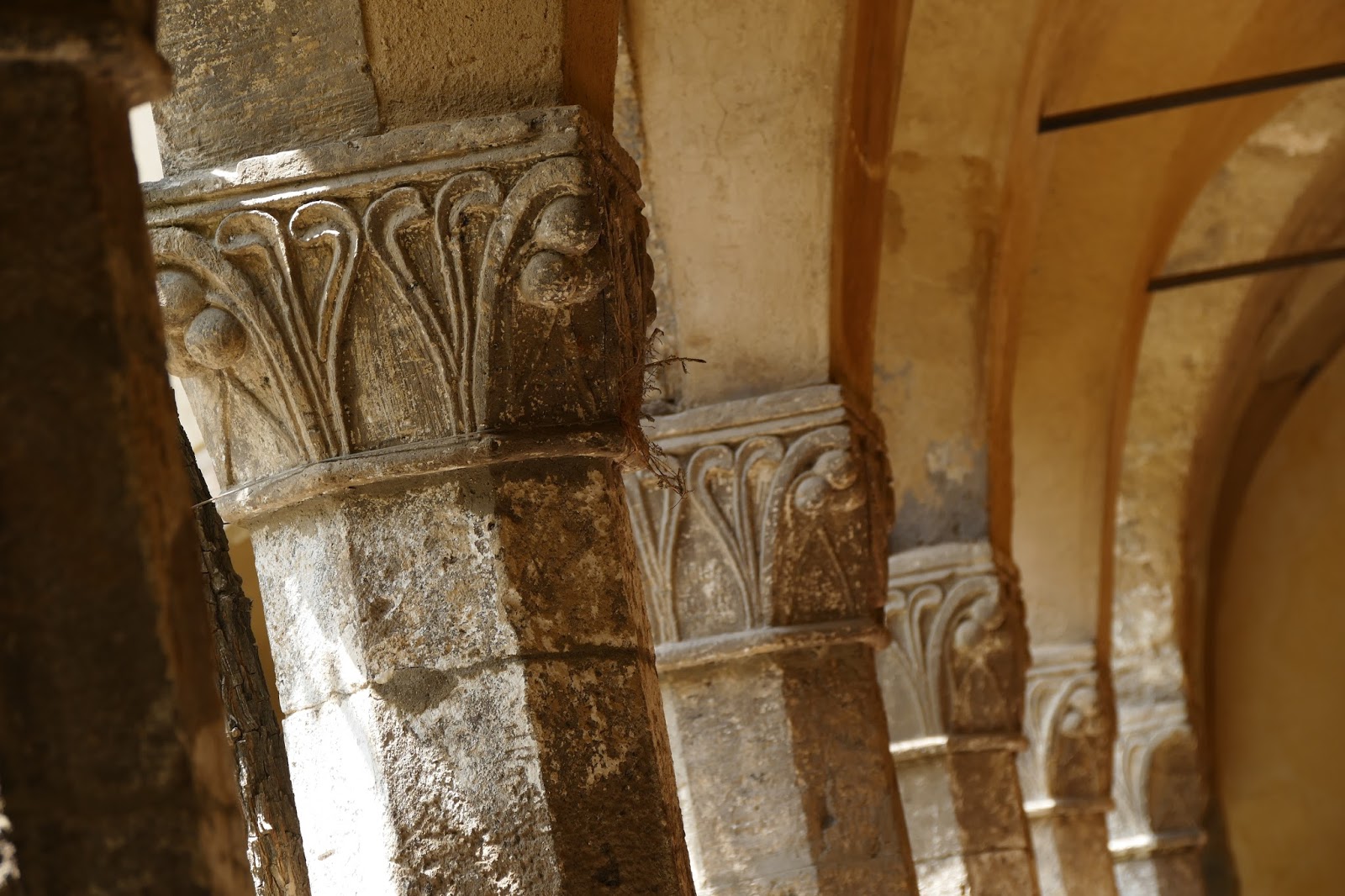 Photos: GerardoFusco.it
I was wearing: