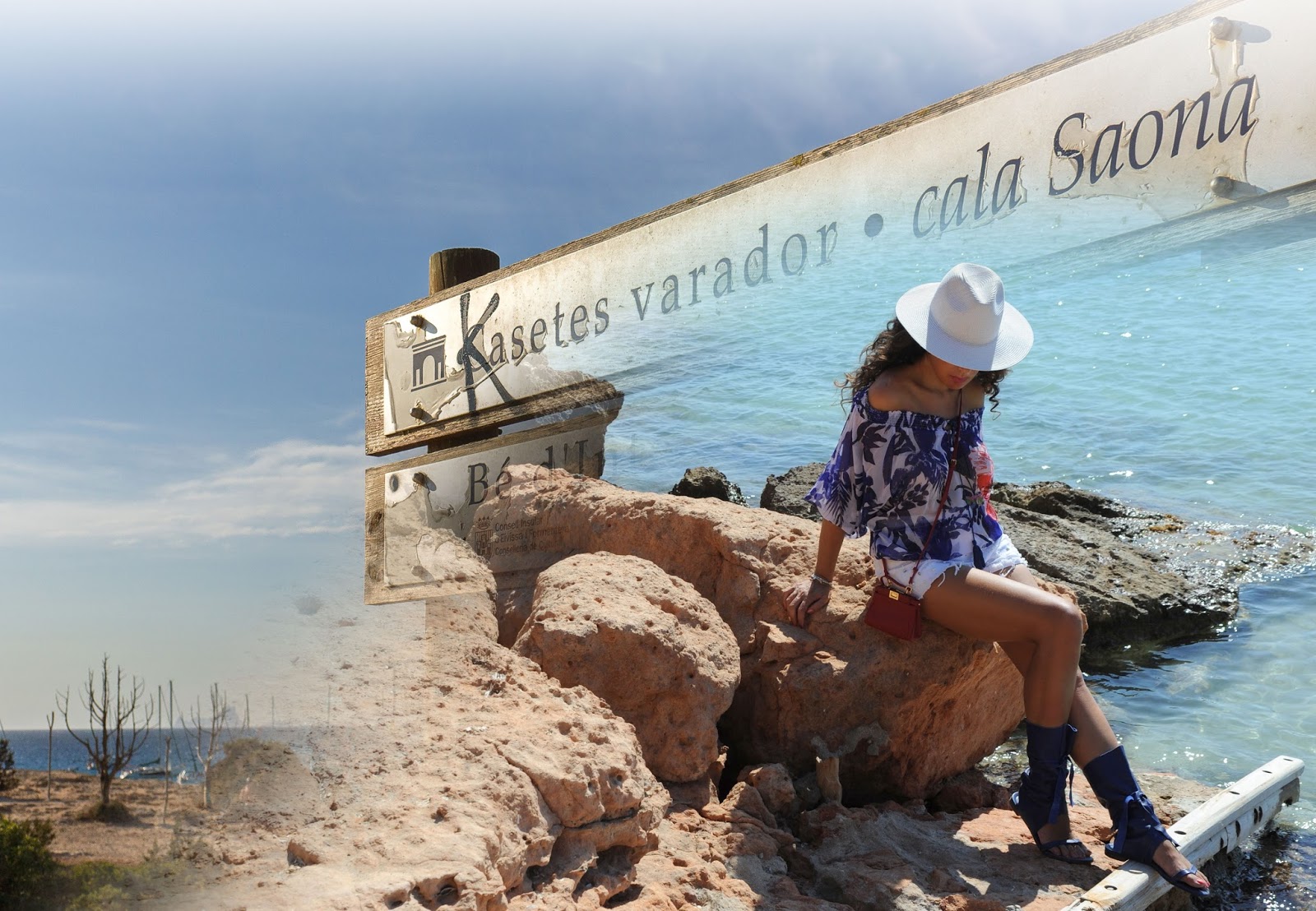 Formentera è un'isola delle Baleari piccola e tranquilla, una località balneare esclusiva, che permette un'immersione in uno scenario naturale di straordinaria bellezza, con lunghe spiagge, cale dorate, mare limpido, un vero e proprio paradiso terrestre, dichiarato "Riserva Naturale e Patrimonio dell'Umanità" dall'Unesco. Riconoscimento che contribuisce al mito di Formentera come località caraibica nel Mediterraneo.
La spiaggia di Cala Saona è situata nella parte occidentale,
pochi chilometri a sud-ovest della capitale Sant Francesc Xavier, ed è
sicuramente da annoverare fra le più belle dell'isola.
La zona esterna è circondata da una incantevole zona boscosa, luogo
ideale dove passeggiare e rilassarsi all'ombra dei pini, mentre la baia, di
sabbia finissima, si apre tra due gruppi di rosse e imponenti scogliere su un
magnifico golfo, le cui acque cristalline appaiono di un sorprendente azzurro intenso. Ad una estremità della baia sono ancora presenti dei lunghi binari in legno che servono per fare scivolare in acqua, dalle capanne, le vecchie barche dei pescatori.
Dal litorale la veduta è davvero spettacolare: la particolare luce
del luogo ed il contrasto tra le rocce rosse ed il colore turchese dell'acqua
consentono di assistere ad un paesaggio da cartolina.
Immediamente alle spalle della bianchissima spiaggia è posizionato l'Hotel Cala Saona & Spa, esclusivo e lussuoso, uno dei più rinomati ed apprezzati di
Formentera, dal quale è possibile godere di una meravigliosa vista sul mare e sulla
lussurreggiante zona montuosa dell'isola.
Indosso una coloratissima blouse, firmata Desigual, con scollo alla "Bardot" su un paio di shorts, un outfit dal mood vagamente hippie, che si sposa perfettamente con il modo di vivere rilassato di questa perla del Mediterraneo.
Formentera
is quiet and small Balearic island, an exclusive seaside resort,
that allows an immersion in a natural setting of extraordinary beauty,
with long beaches, golden coves, clear sea, a real paradise, declared
"Nature Reserve
and Heritage of Humanity " by Unesco.
Acknowledgment that contributes to the myth of Formentera as a Caribbean resort in the Mediterranean Sea.
The beach of Cala Saona is situated in the west, a few kilometers
south-west of the capital Sant Francesc Xavier, and it is certainly to
be counted among the most beautiful on the island.
The area is surrounded by a lovely woods, ideal place to
stroll and relax in the shade of pine trees, while the bay of fine sand,
lies between two groups of red and towering cliffs on a magnificent gulf, whose crystal clear waters
appear in a striking deep blue.
At the end of the bay there are still long wooden rails serving to slide
old fishing boats

into the water, from the huts.
From the coast the view is truly spectacular: the particular light of the
place and the contrast between the red rocks and the turquoise of
the water allow you to attend a postcard landscape.
Behind the white sand beach is located the Hotel Cala
Saona & Spa, an exclusive and luxury place to stay, one of the most renowned and
appreciated of Formentera, from which you can enjoy a wonderful view of
the sea and the island's lush mountainous area.
I'm wearing
a colorful blouse, signed Desigual, with a "Bardot" neck combined with distressed
shorts, an outfit with a vaguely hippie mood, which fits perfectly with the
relaxed way of life of this pearl of the Mediterranean.
Location: Cala Saona – Formentera – Balearic Islands – Spain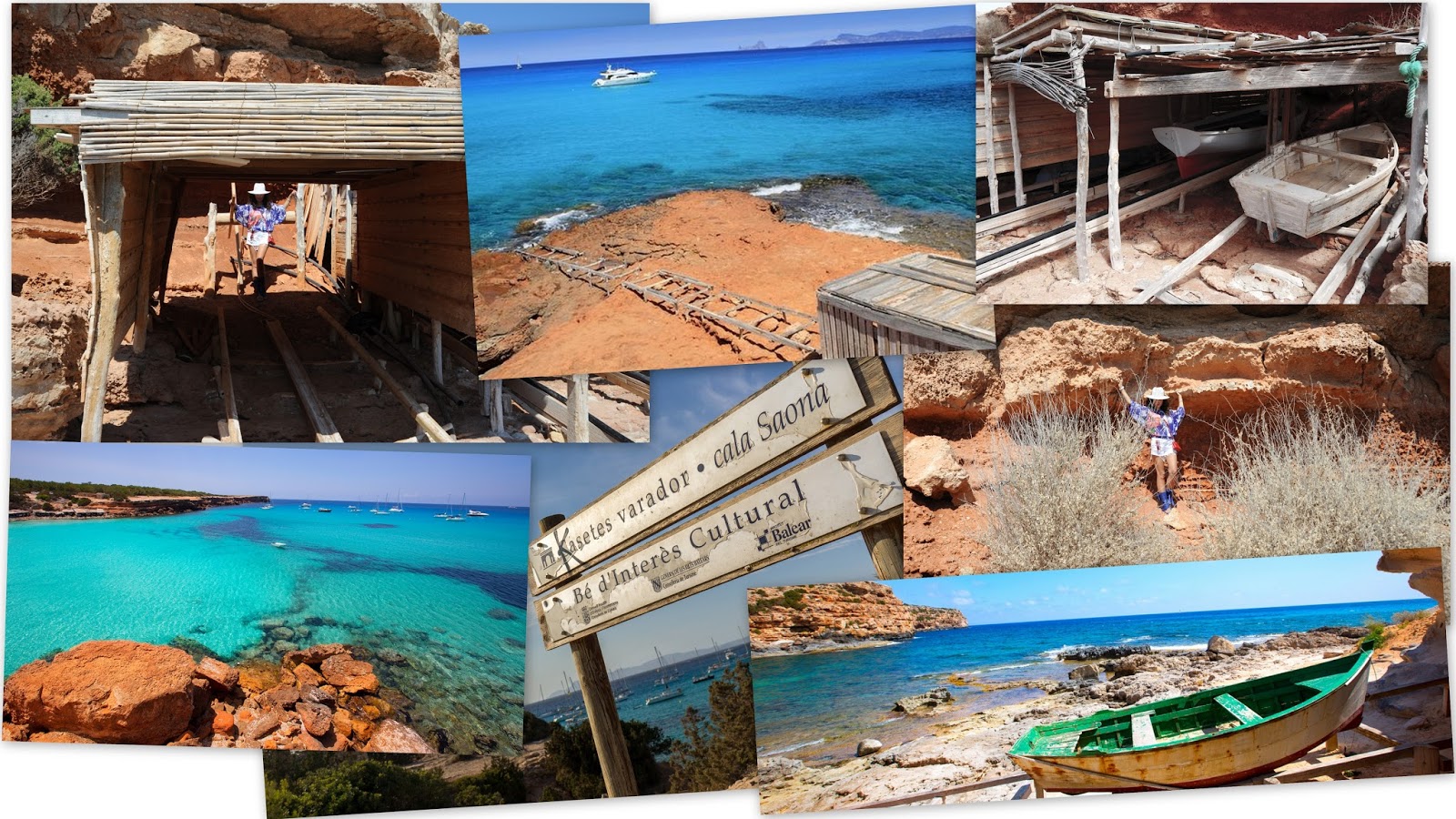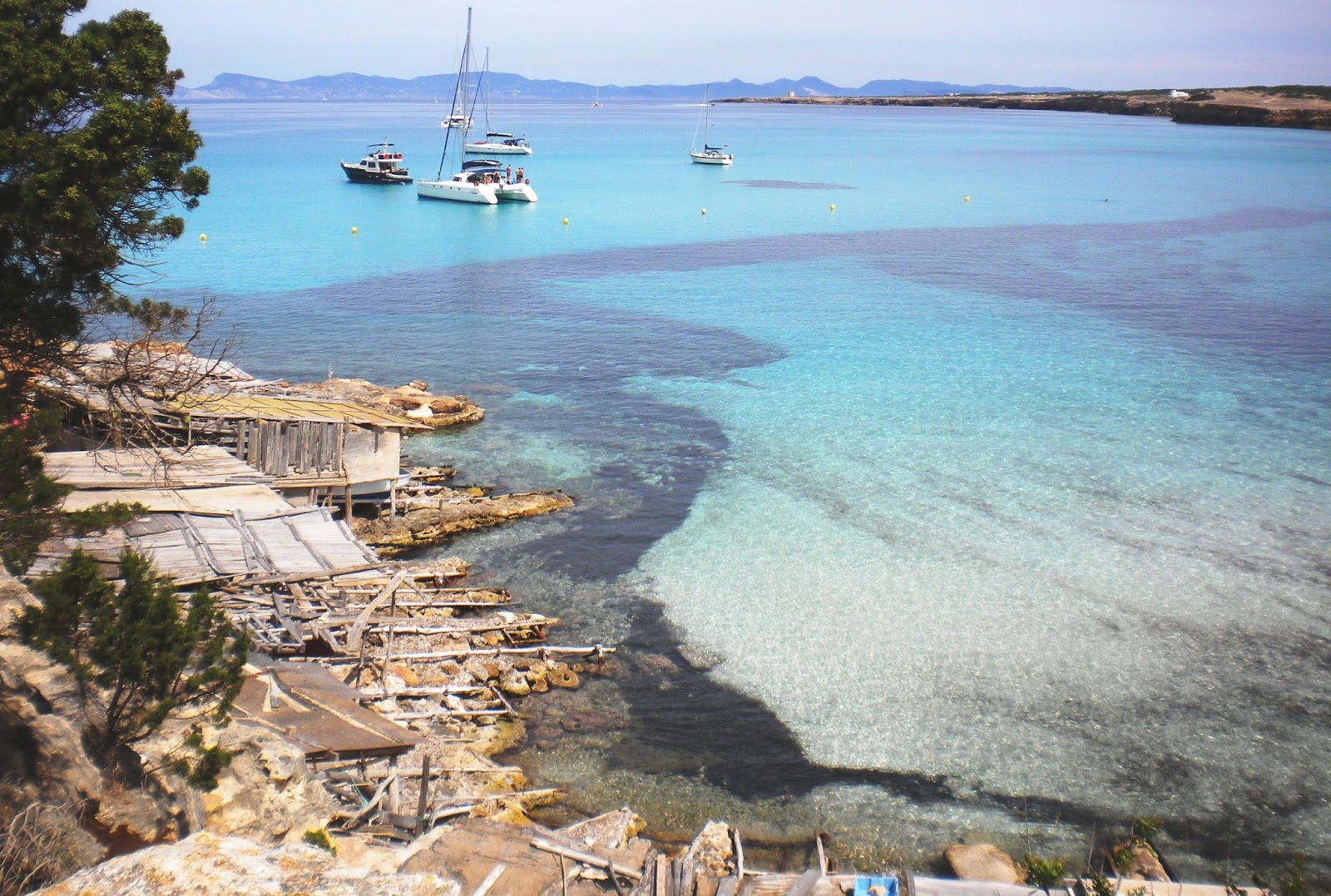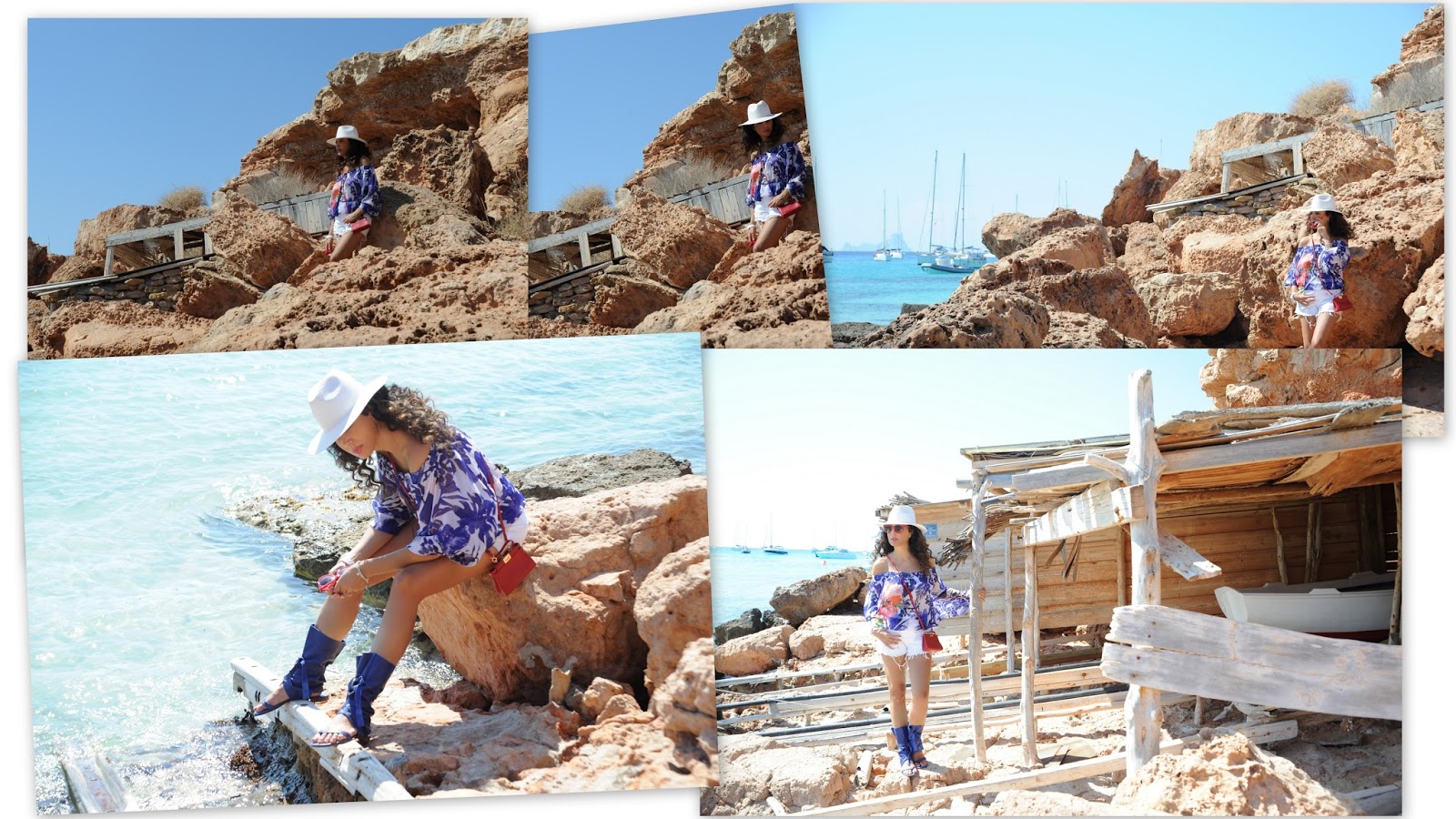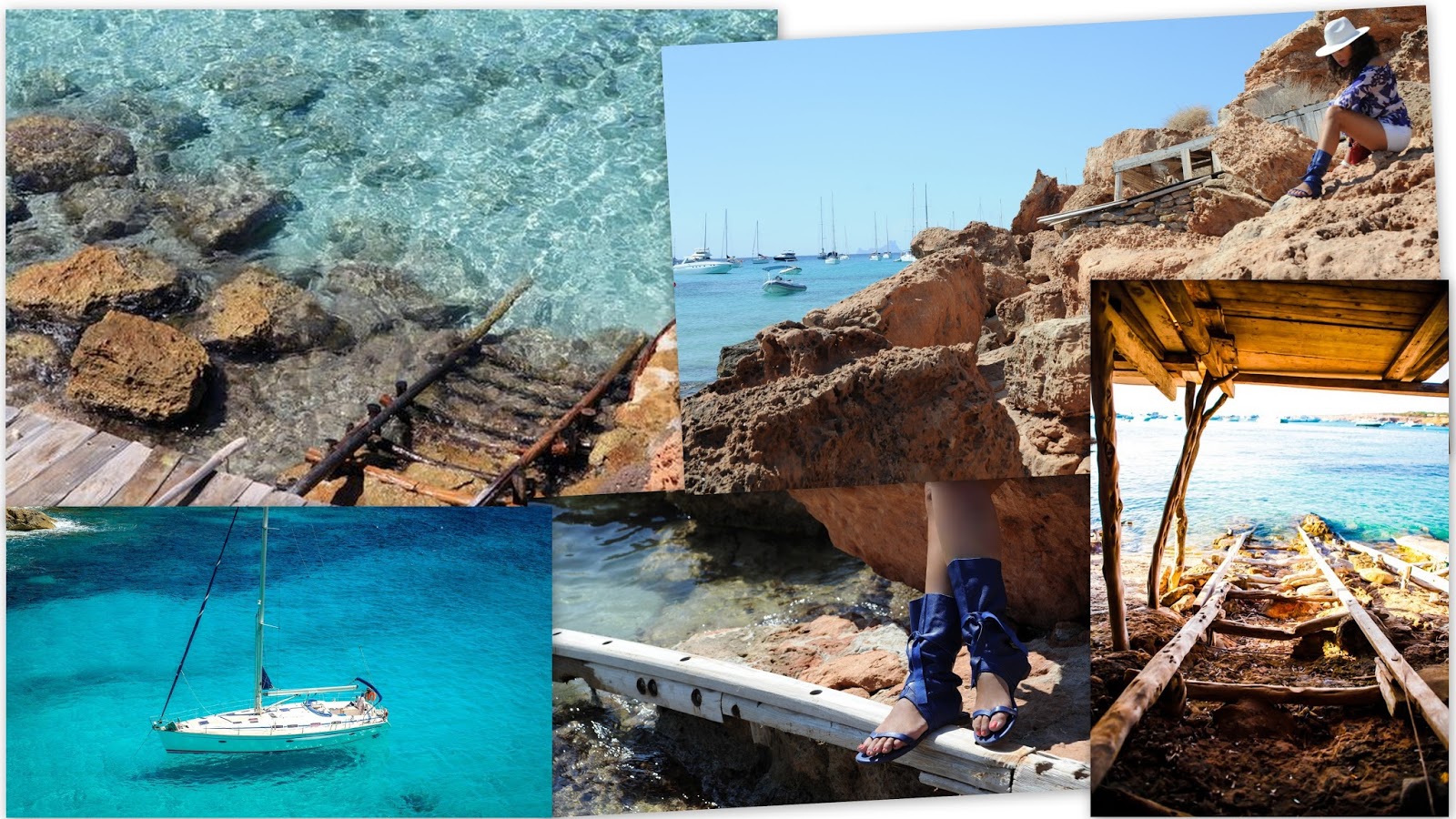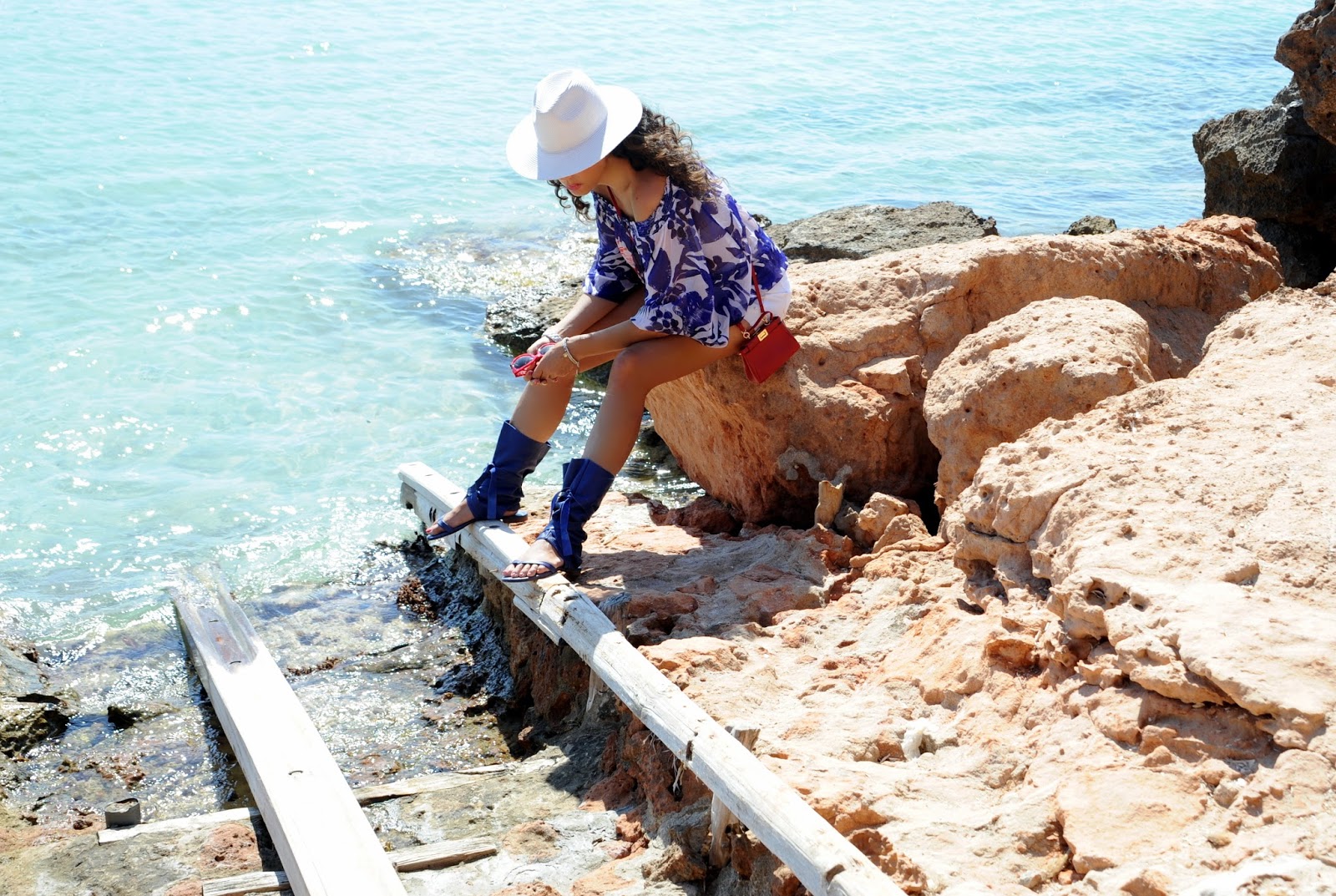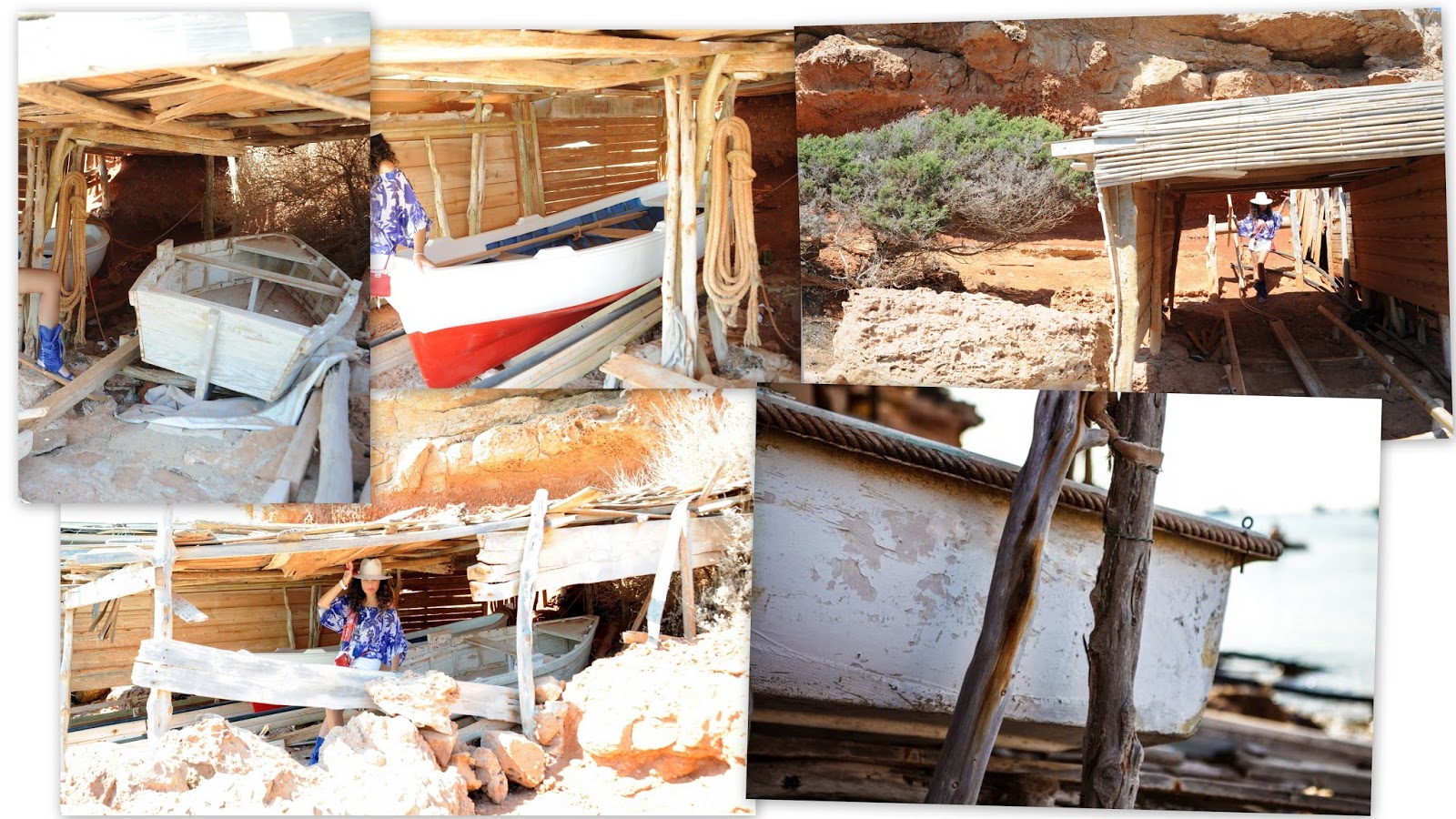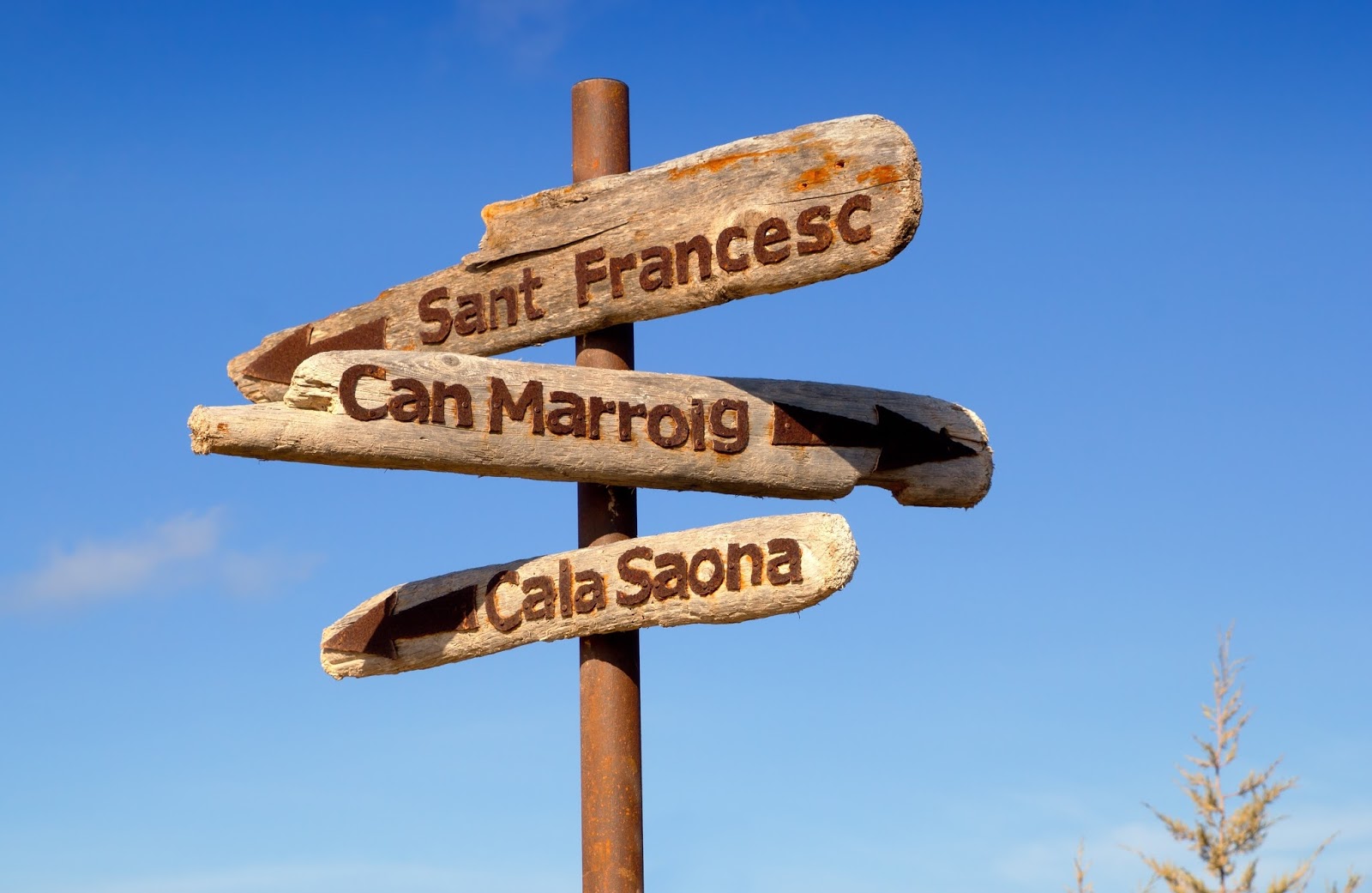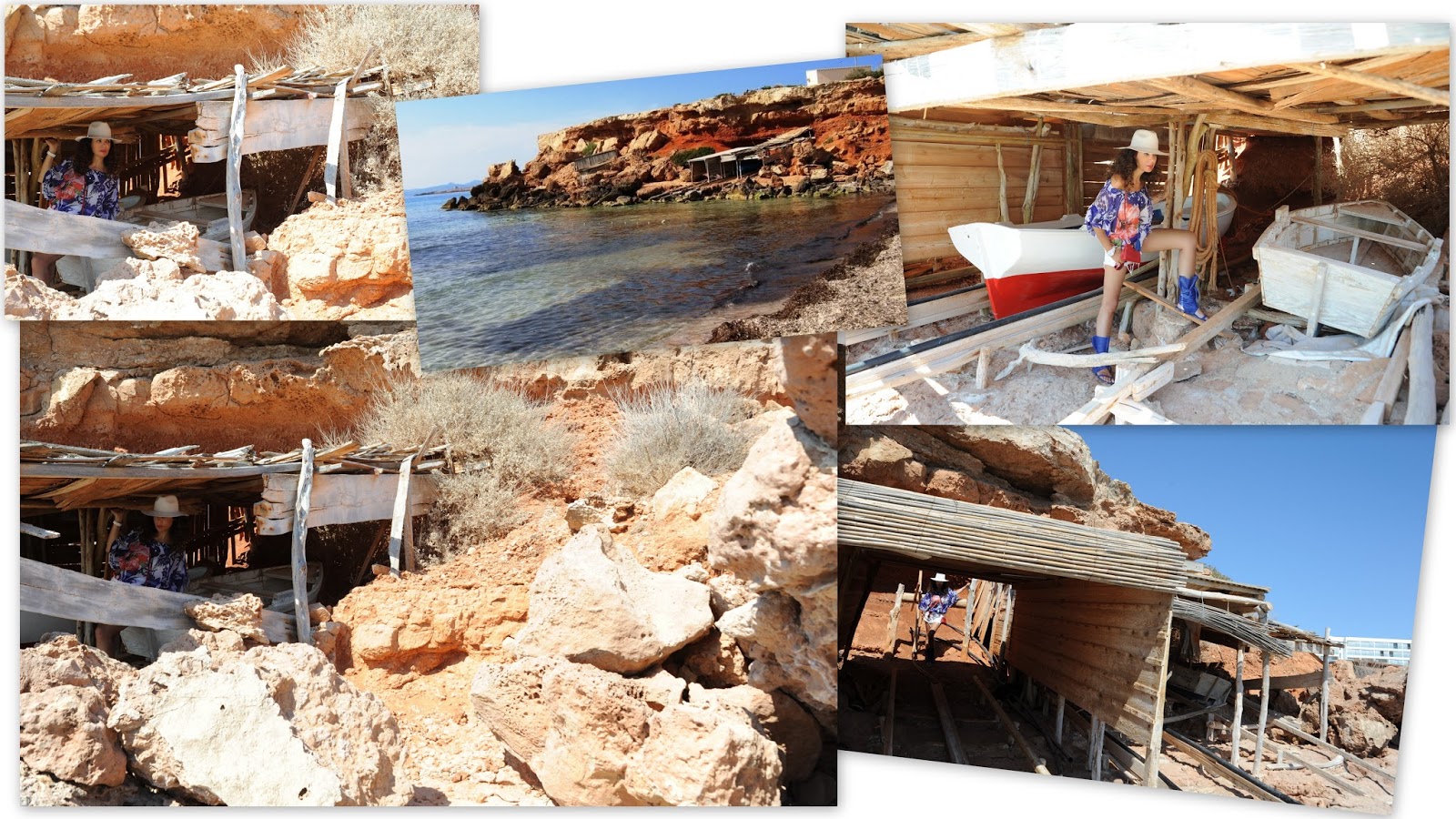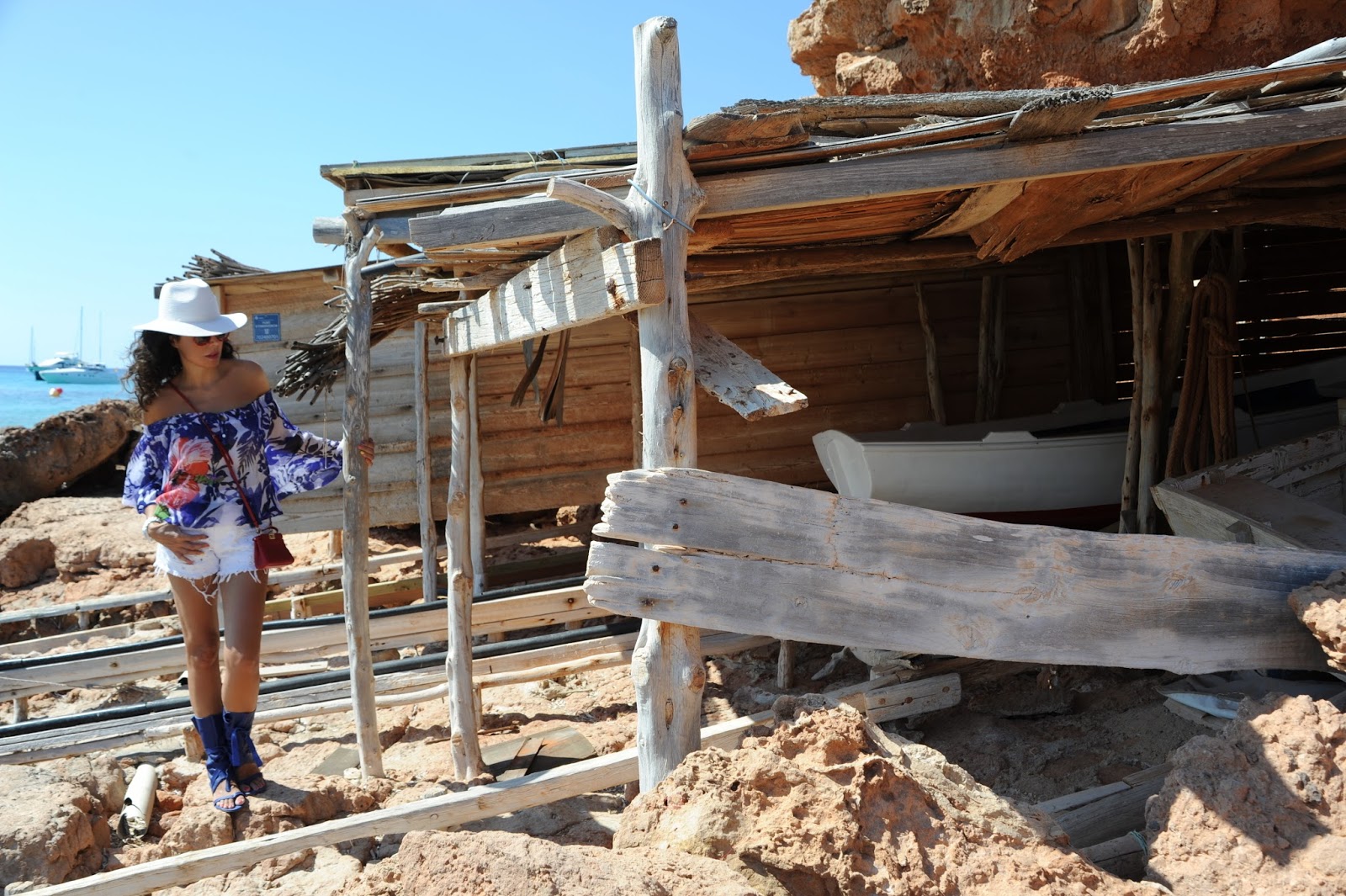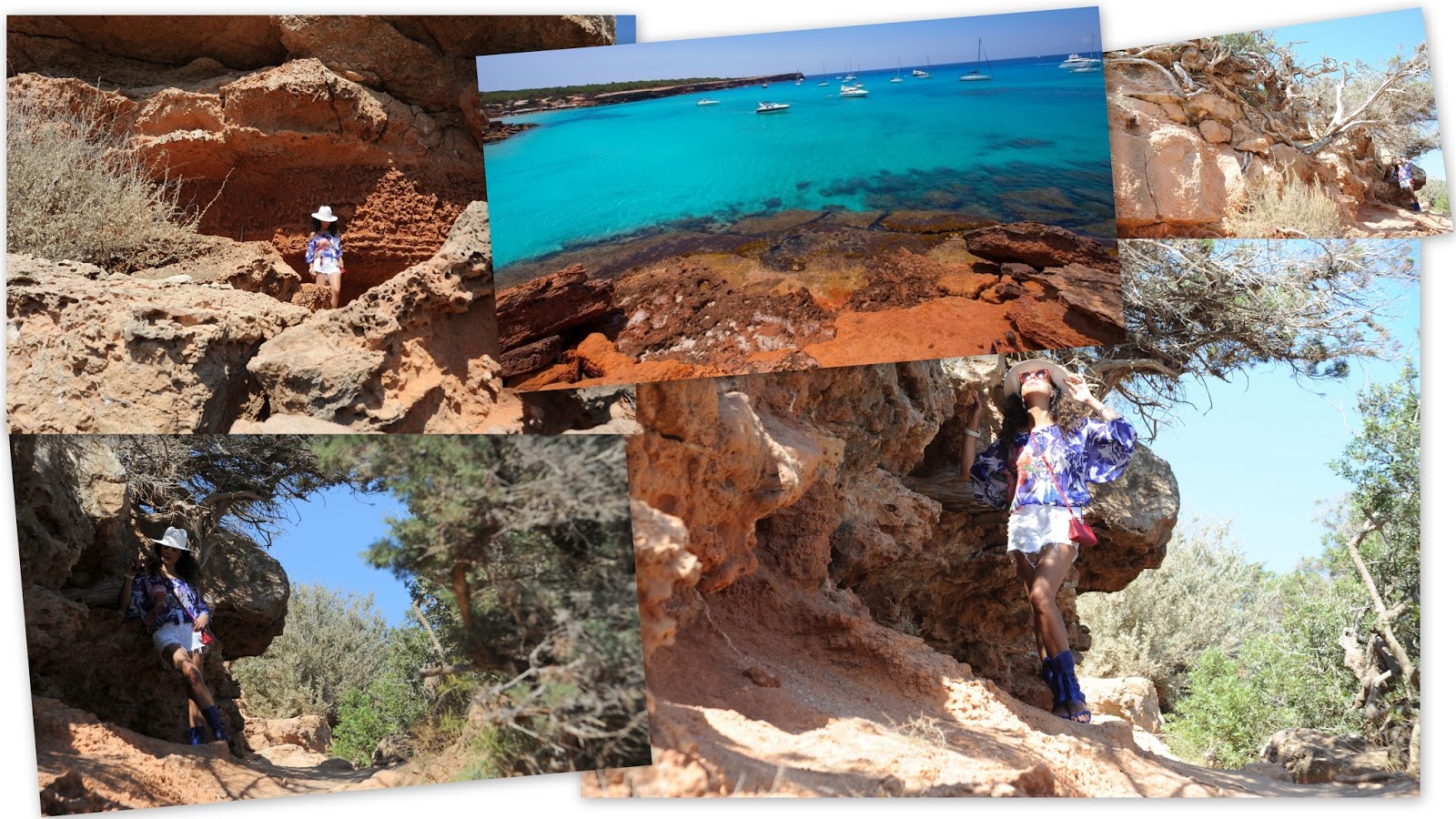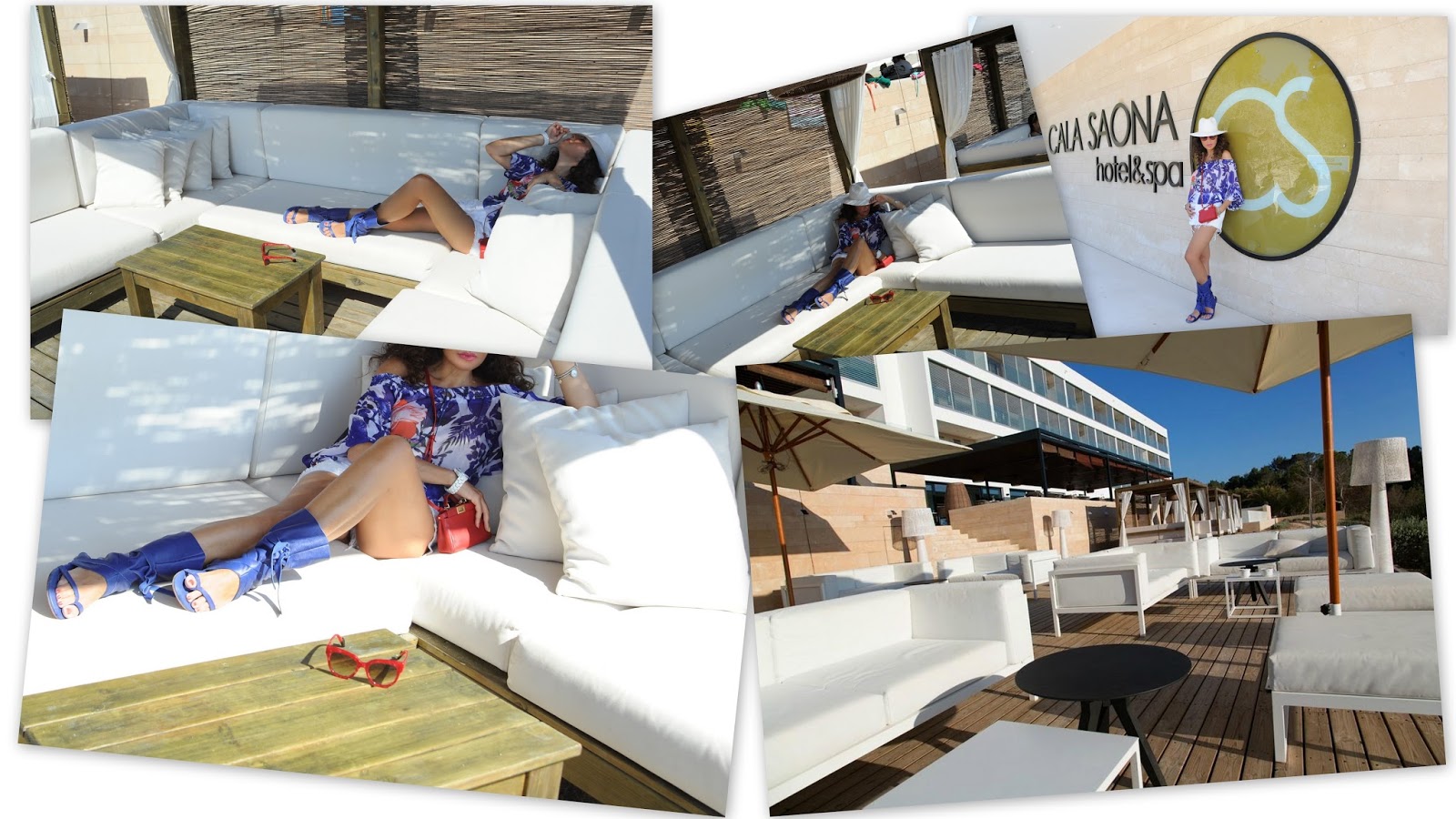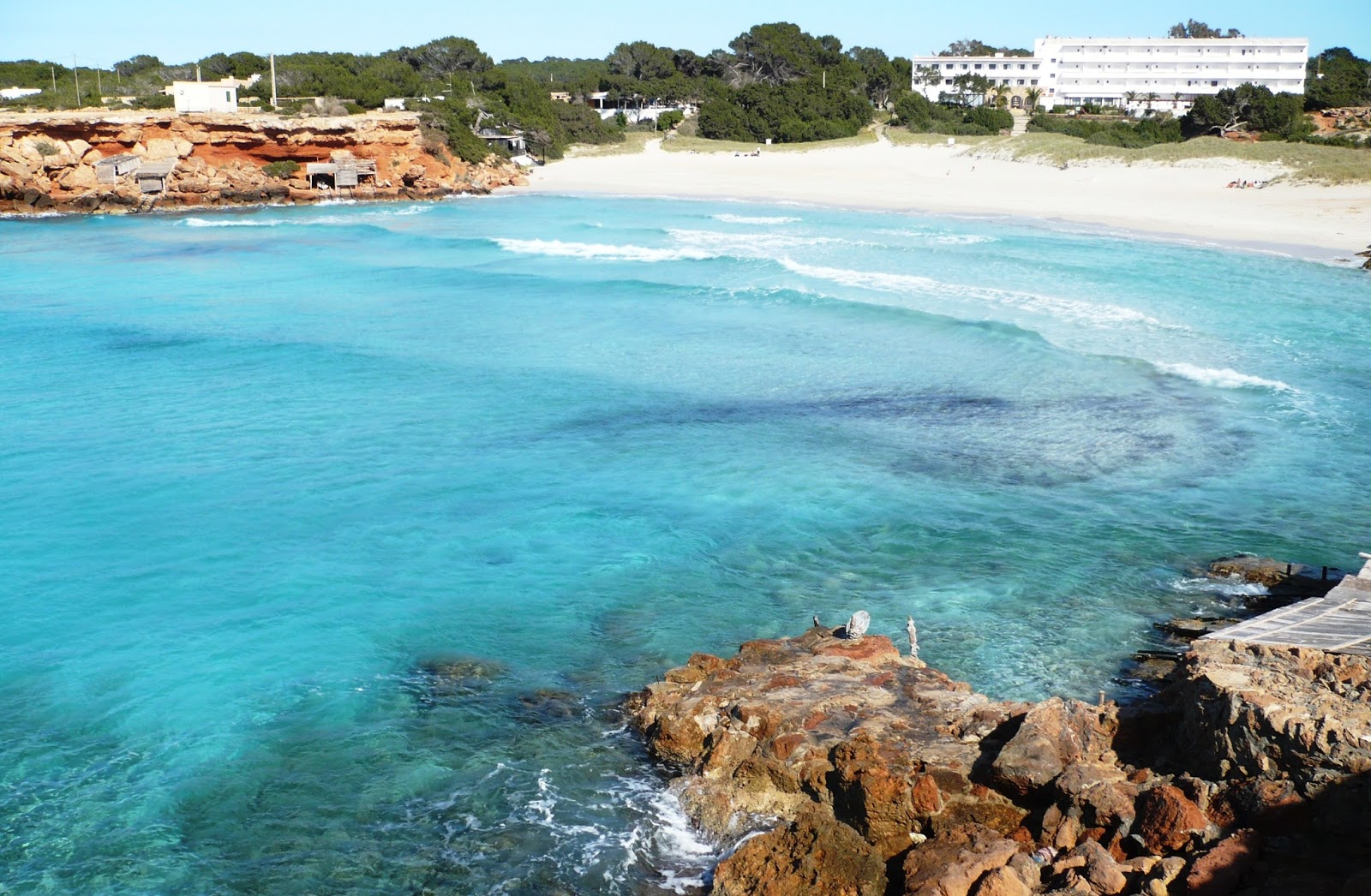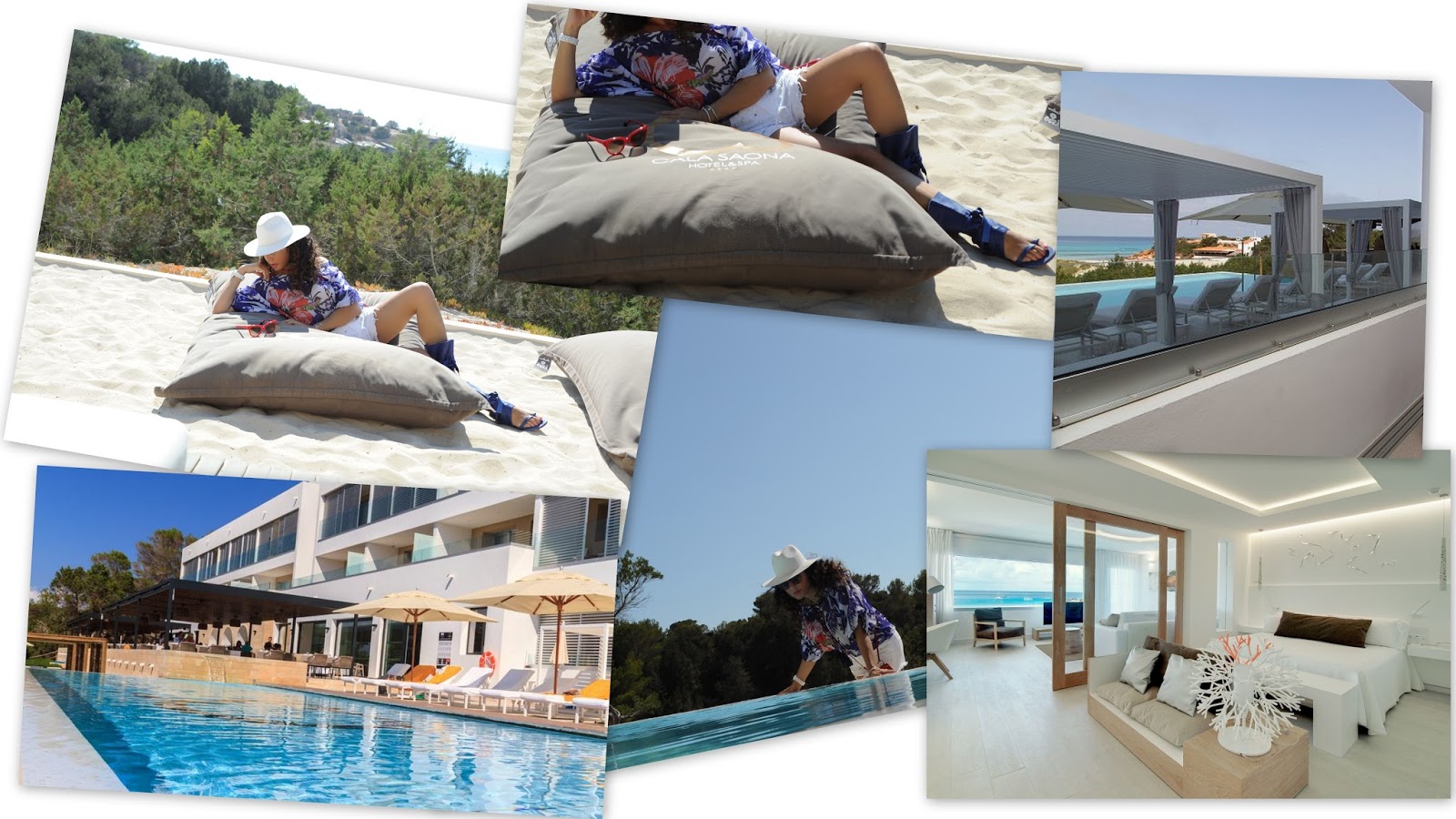 Photos: Oigres Elirab
I was wearing:
Desigual off the shoulder top
Fendi micro "peekaboo" bag