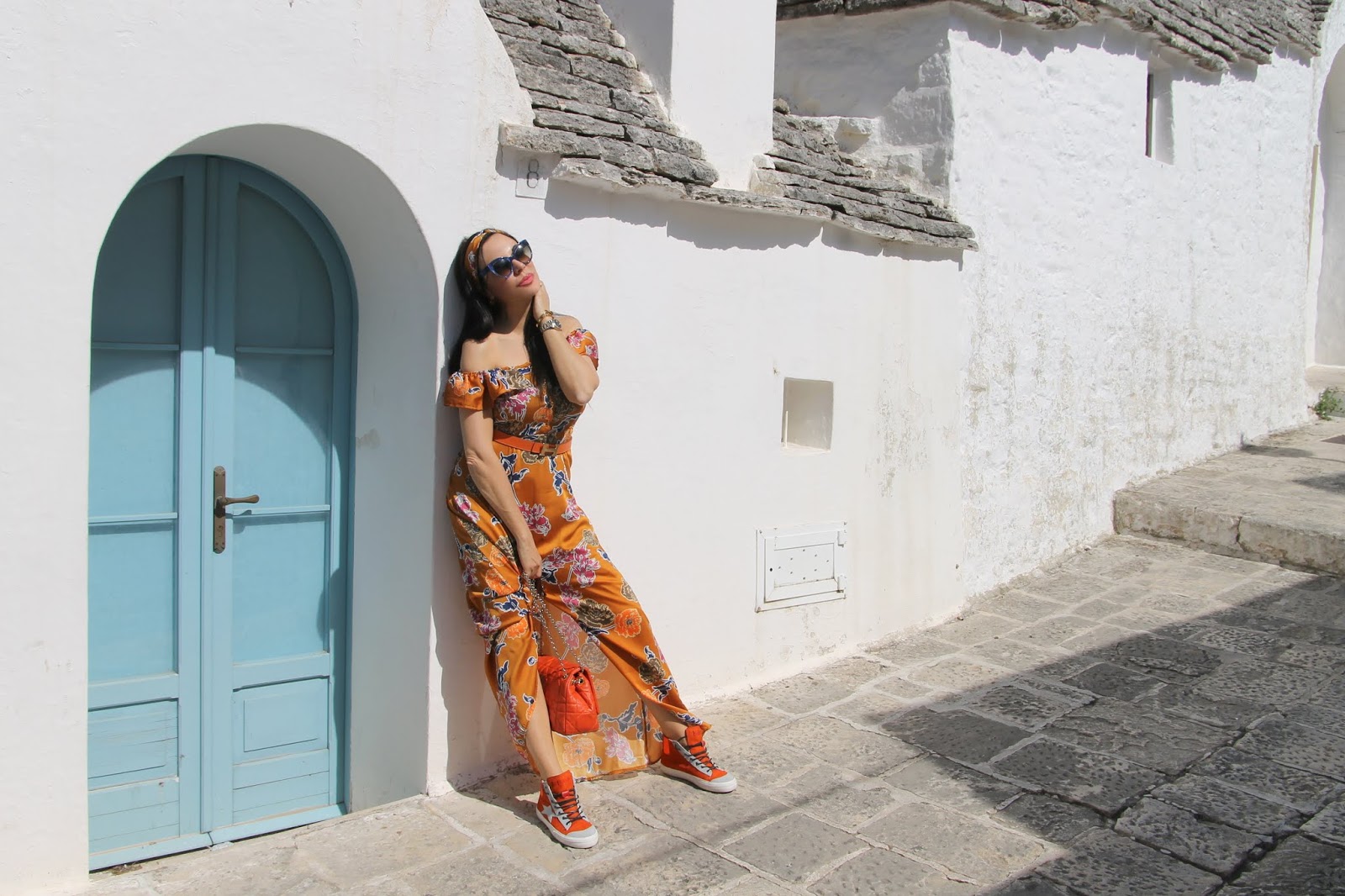 Un paese unico in Italia per la sua pittoresca architettura è Alberobello, highlight del turismo pugliese.
Esso consta tutto di "trulli" (dal greco tardo τρούλος, cupola), abitazioni di forma cilindrica con una sola apertura e un tetto conico, formato di anelli concentrici di pietre.
Chi sale al paese, vede macchie così bianche nel cupo della vegetazione verde-argento degli ulivi, di varia grandezza, ora isolate, ora riunite in gruppi, ora di forme rudimentali, ora complesse, che si estendono tutt'intorno, allineate lungo la via, arrampicate su per le colline nascoste fra gli alberi.
Le strane costruzioni hanno
le pareti accuratamente imbiancate, su cui spiccano le grigie pietre
della cupola, il cui cono termina con diverse fogge di pinnacoli. Non di rado disegni tracciati con
latte di calce sui tetti riproducono simboli primitivi, magici e
cristiani.
La loro struttura e forma è di origine antichissima, gli esemplari più vetusti risalgono a 3 o 4 secoli fa. Oggi costituiscono l'abitazione peculiare delle popolazioni delle Murge.
La zona monumentale del paese comprende i rioni Monti e Aia Piccola.
Sula sommità del rione Monti, unica al mondo per la sua particolare forma a trullo, si trova la chiesa dedicata a Sant'Antonio da Padova. Si impone scenograficamente: una piccola scalinata precede
l'ingresso monumentale, segnato da un rosone. Protagonista indiscusso di
tutta la visuale esterna è il cono centrale, affiancato da due cappelle
laterali con copertura a vela.
L'immagine d'insieme è spettacolare, linee rotonde, morbide e burrose
avvolgono con grazia quelle più spigolose. Il bianco abbagliante della
calce si alterna e risalta il grigio intenso della pietra grezza pugliese. Un gioiello, che miscela la tecnica edilizia del trullo, ad accorgimenti architettonici più moderni ed ancora, elementi tipici dell'architettura romanico-pugliese.
Difficile trovare qualcosa di simile in tutto il mondo. Da vedere e da
vivere, da assaporare abbandonandosi all'idea di raccoglimento e pace
che trasmette.
Infine, una nota romantica: il Trullo Siamese, con una particolare architettura dal tetto a doppio cono continuo.
Edificato sulla roccia affiorante, e circoscritto da un contrafforte, con fondamenta a crudo, costituite da macigni, appare questo particolare trullo, probabilmente tra i più antichi di Alberobello. All'interno, vi è un focolare basso e non vi sono finestre.
Nella mio tour in questo paese incantato indosso un maxi dress che esplora nuova pattern floreali nei toni dell'arancio, in un'esplosione di freschezza e vitalità e con quell'irresistibile allure romantica delle ruches. Leggero e svasato, soluzione perfetta per chi cerca comfort senza rinunciare al glamour, abbinato ad un paio di sneakers e il gioco è fatto.
Non so perché ma mi pare di udire il frinire delle cicale che si ripete
come un mantra in questa calda giornata di fine primavera… che strana
questa cosa… eppure questo luogo senza tempo rievoca in me questo ricordo.
The trulli, the characteristic cone-roofed houses of Alberobello, an inland village in the southern Italian region of Puglia, make up one of the 53 UNESCO World Heritage Sites in Italy.
The historic center of Alberobello is integrally constituted by these rather particular white, pyramidal structures that make it so famous and identifiable.
The name derives from the late Greek word for dome (τρούλος; in Italian, cupola), and refers to the ancient stone houses with conical roofs, constructed with the abundant limestone from the plateau of Apulia's Murge zone.
These impressive and unique structures are a genius example of architecture that is spontaneous, yet imperishable; to this day they are still used as homes.
The archaeological finds – that is, the first trulli settlements – date as far back as the Bronze Age, while the trulli still extant today go back to c. 1350.
The habitations gradually grew into villages, later called Aja Piccola and Monti.
The first one is a borgo made up of a network if tiny streets and alleyways.
Monti, instead, is a district consisting of 1,030 trulli, including the 'trulli siamesi', characterized by a double facade, a double pinnacle, a low hearth, and no windows.
Not to Miss in Alberobello, the Church of Sant'Antonio: in trullo form, and featuring a monumental entrance and a staircase overarched by a rose window.
The church is in Greek cross plan, with lateral chapels and a bell tower, and a cloister vault roof.
Difficult to find something similar in the world. To see and experience, to be savored by abandoning oneself to the idea of recollection and peace that it transmits.
The trulli are a unique example of prehistoric architecture that still survives and is in use today.
To visit the stupendous Alberobello today is to travel to a destination without time.
Visiting this enchanted country, I'm wearing a maxi dress that explores new floral
patterns in shades of orange, an explosion of freshness and vitality
and with that irresistible romantic allure of the ruffles. Lightweight
and flared, paired with sneakers, it's the perfect solution for those seeking comfort without giving
up the glamour.
I do not know why but I seem to hear the chirping of cicadas that repeats itself like a mantra on this hot day of late spring… it's so strange… and yet this timeless place evokes this memory in me.
Location: Trulli Siamesi and Church of Sant'Antonio – Alberobello – Puglia – Italy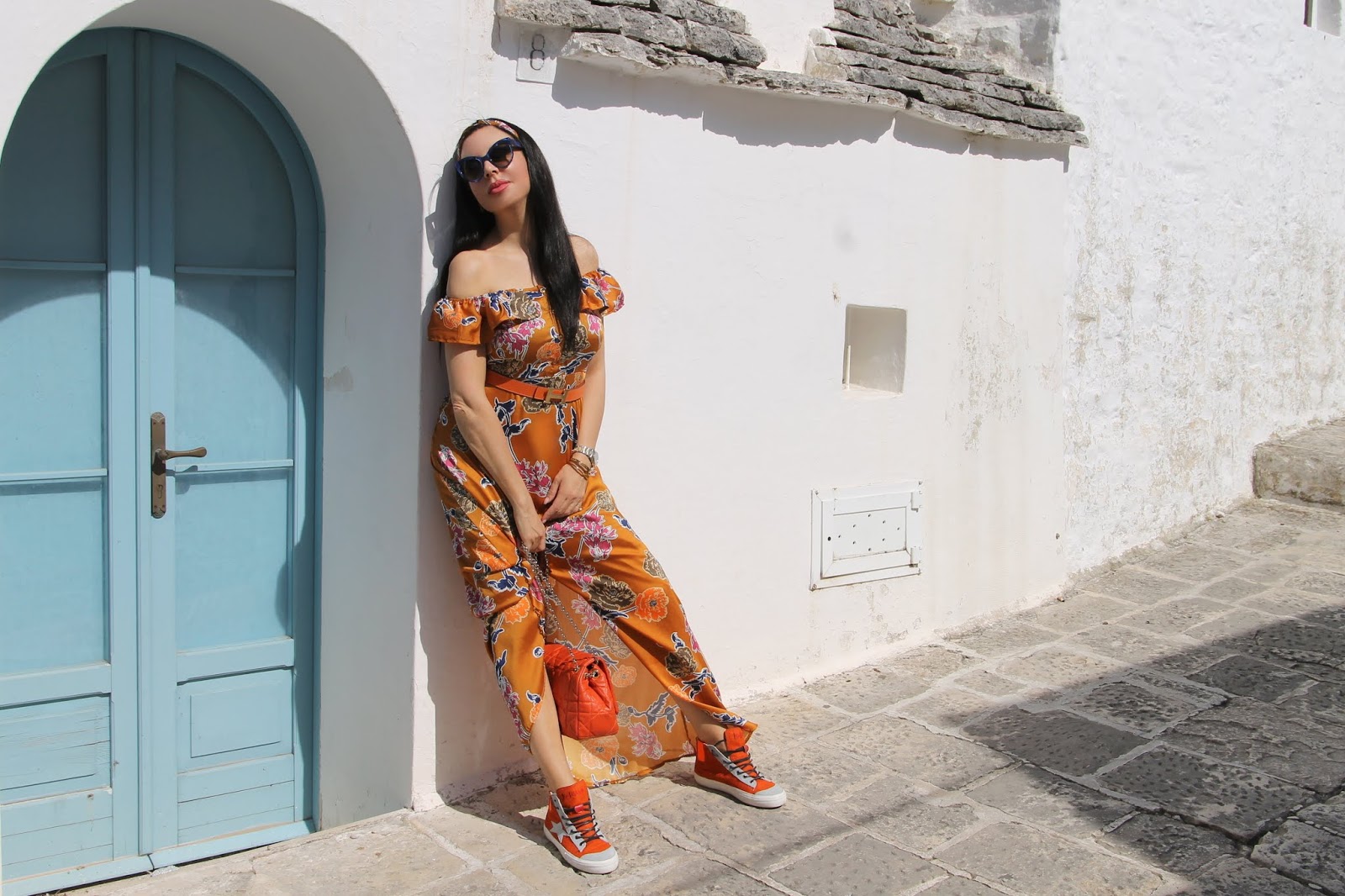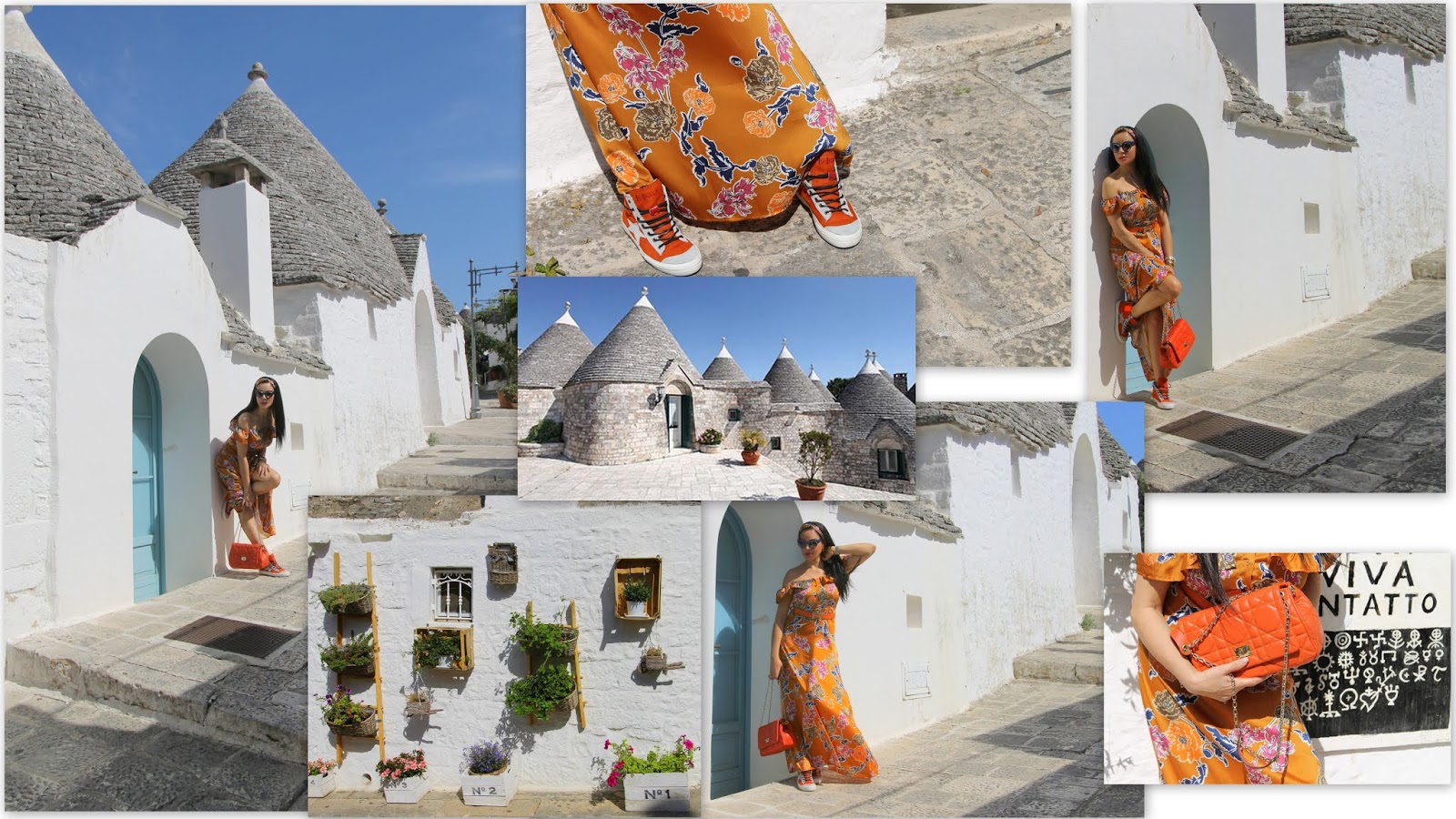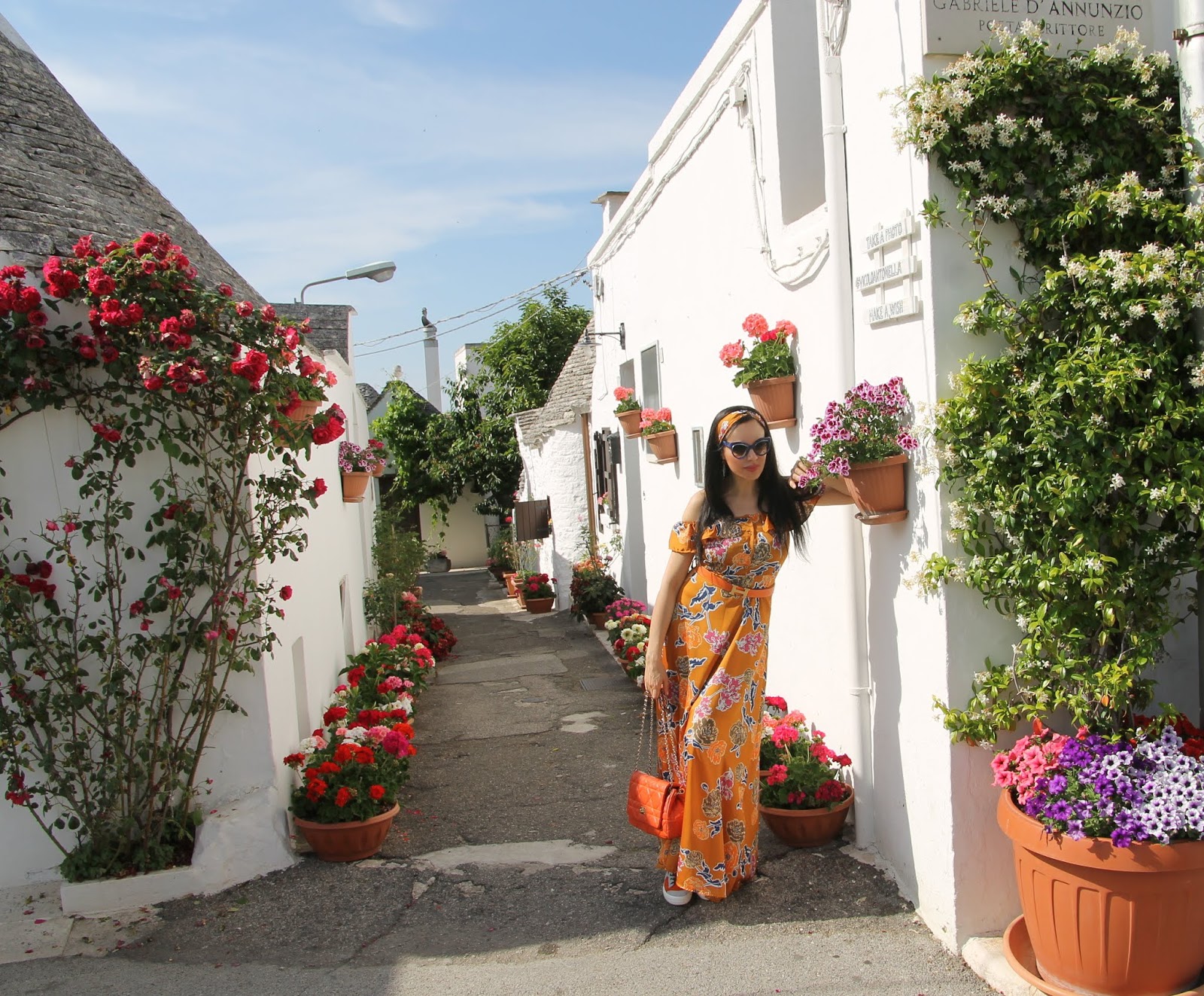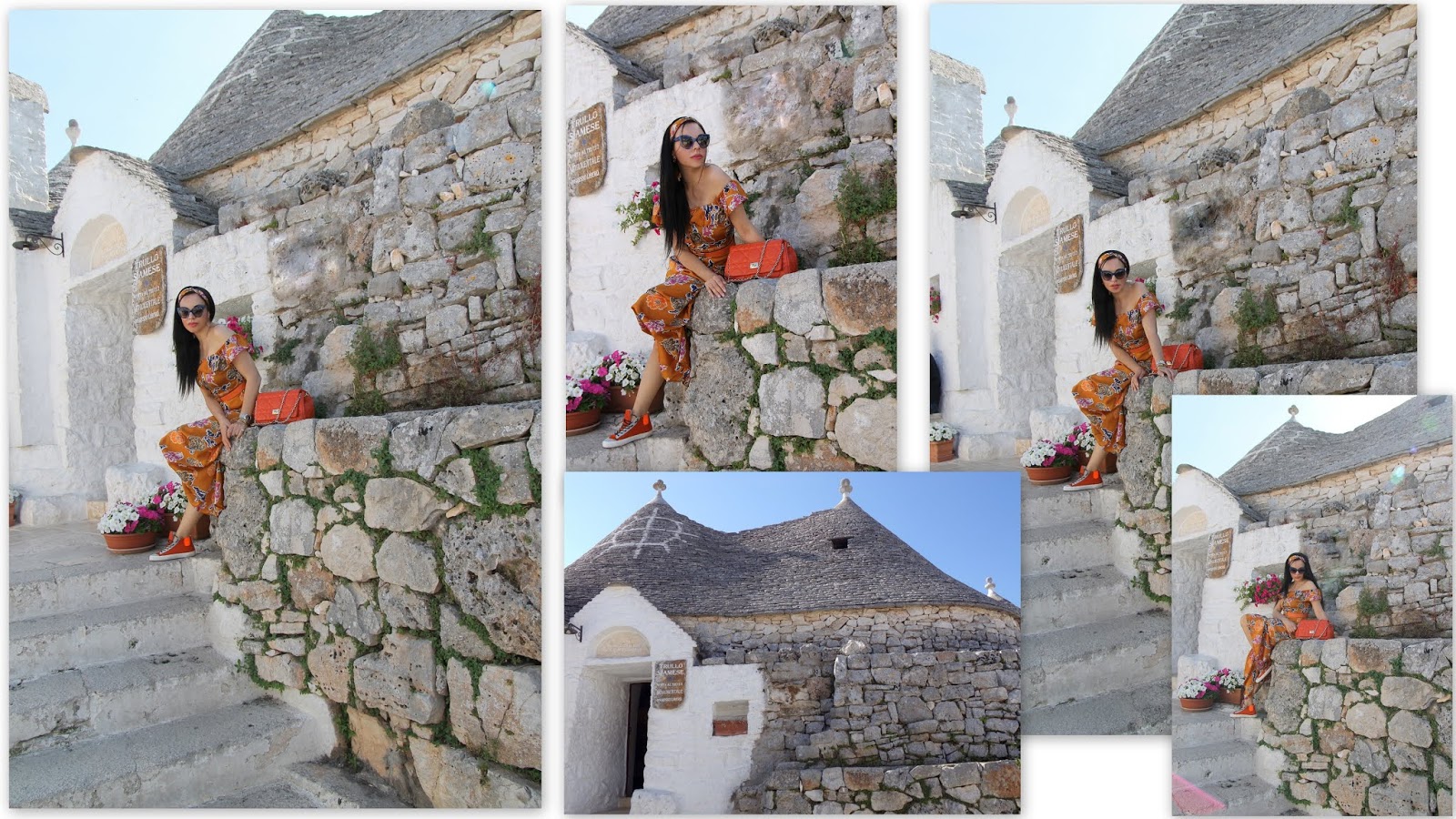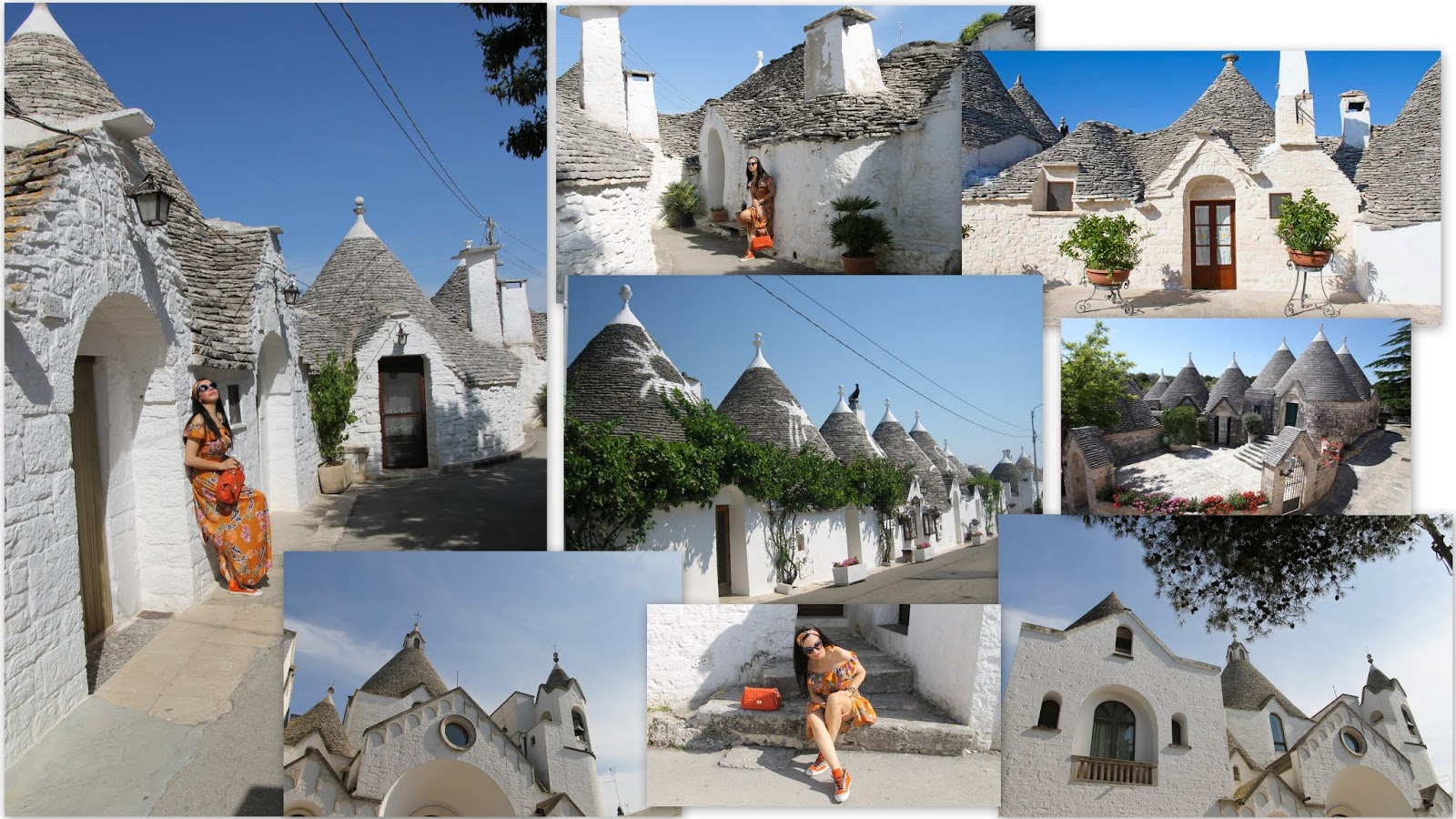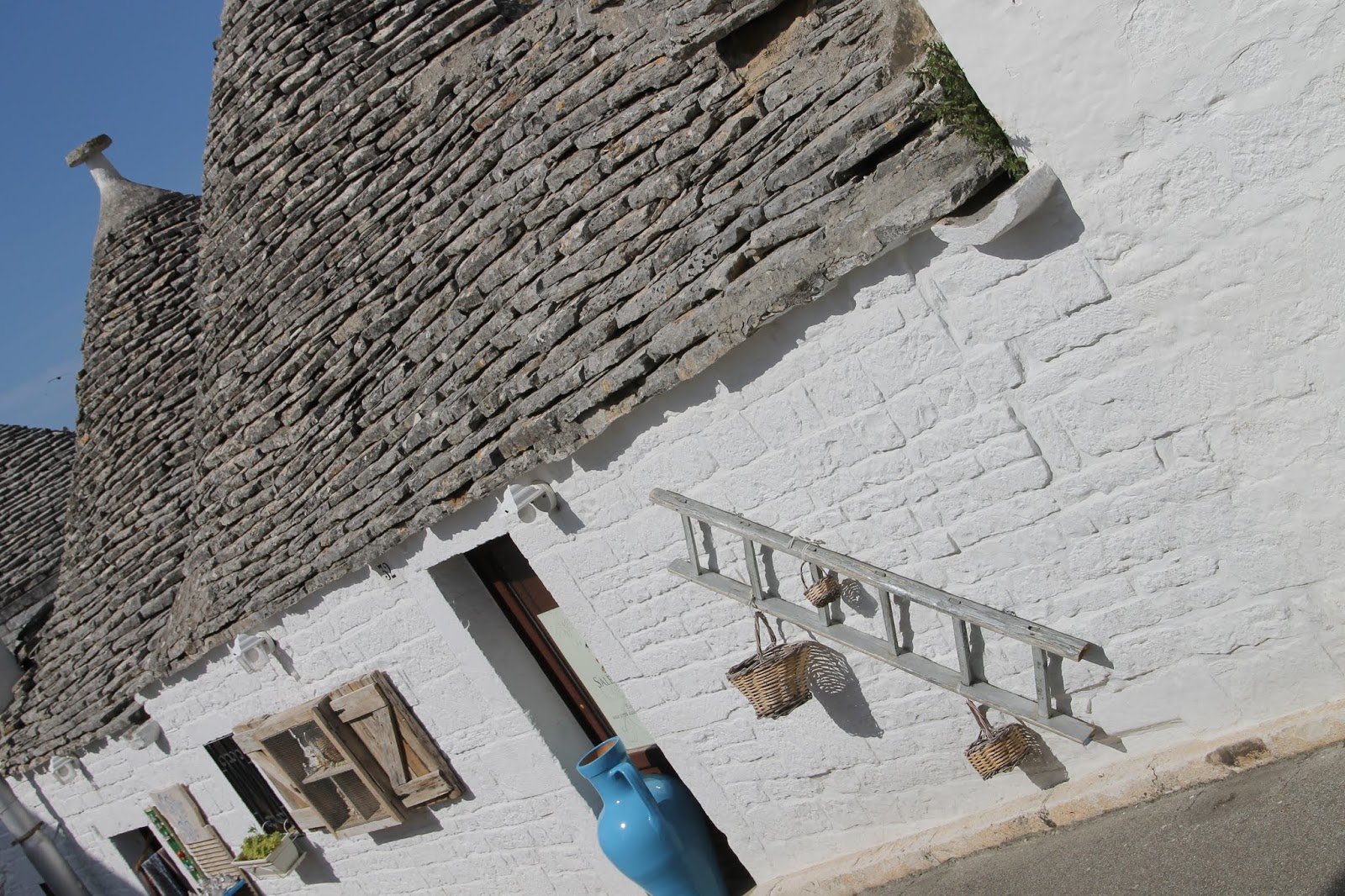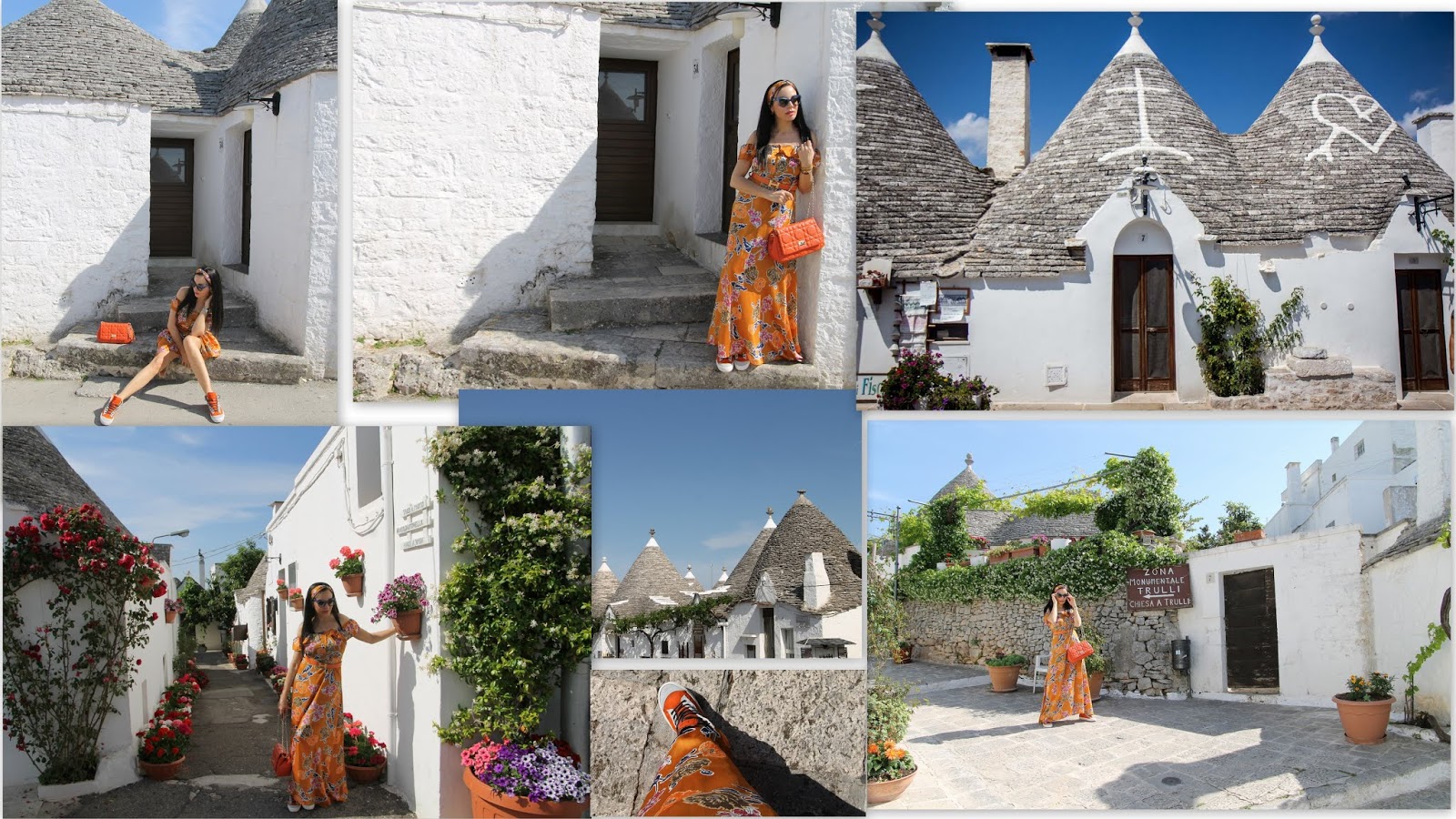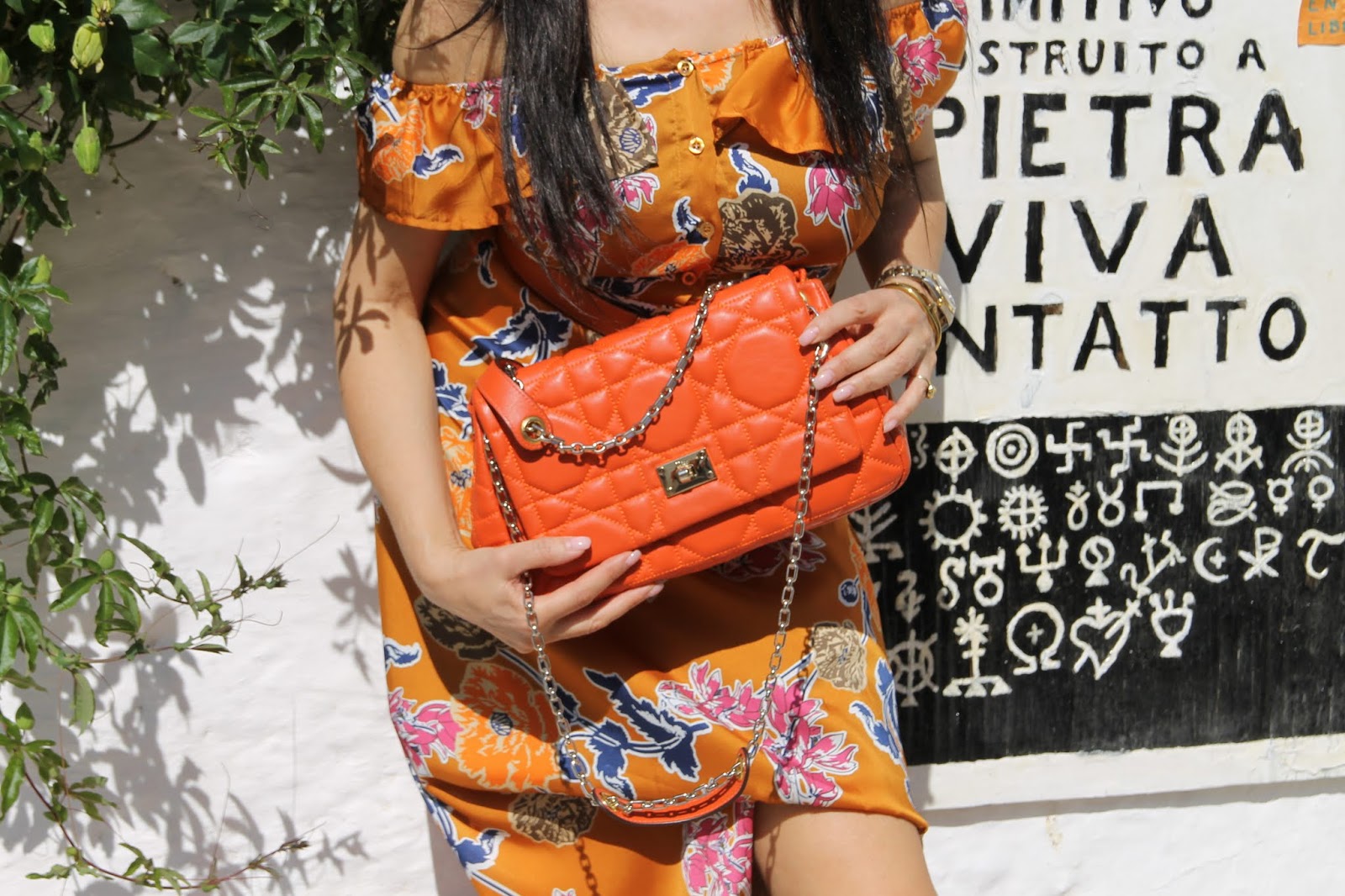 Photos: Rita Graziano
I was wearing: