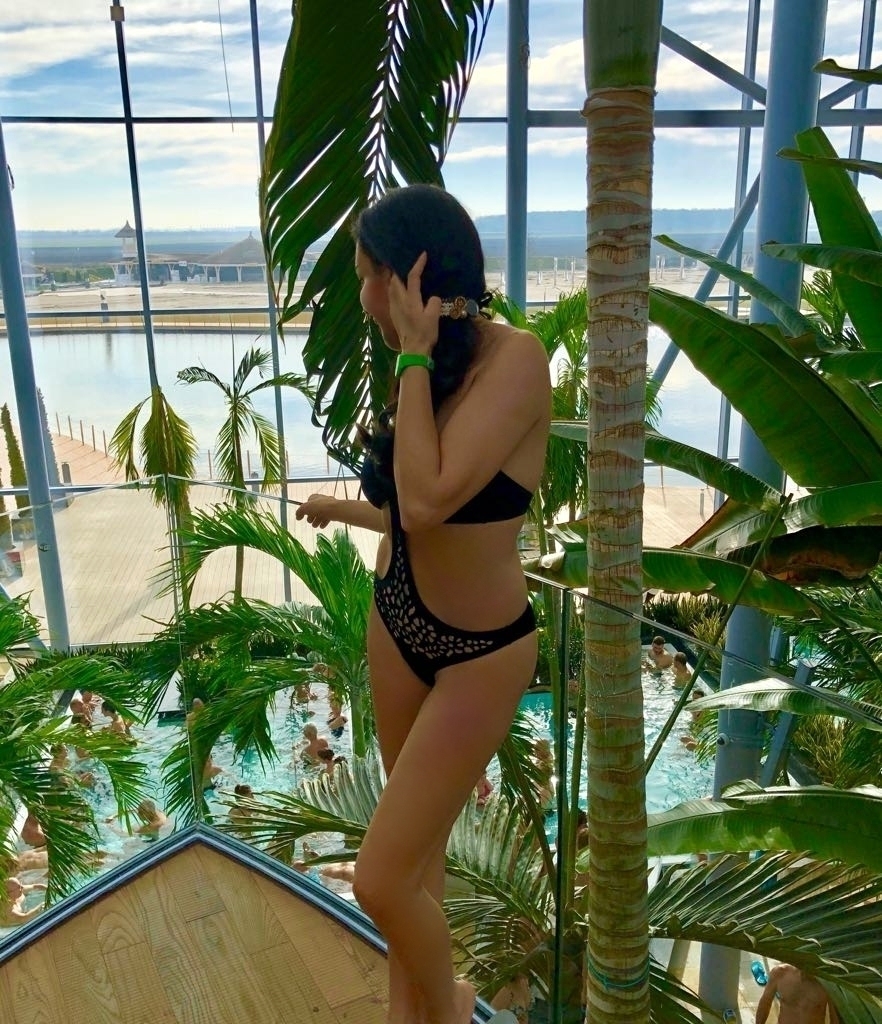 Considerate la spa più grande d'Europa, le Therme di Bucarest hanno posto la capitale rumena sulla mappa europea dei grandi centri termali.
L'esclusivo progetto, costato più di 50 milioni di euro, è distribuito su una superficie complessiva di 250 mila mq e l'edificio può ospitare contemporaneamente 4000 persone.
Situato nella parte nord della capitale, il complesso dispone di giardini esterni ed interni che costituiscono il più grande parco botanico tropicale della Romania, con oltre 800 mila piante importate da quattro continenti, tra alberi, arbusti, palme e fiori.
E' possibile ammirare delle specie rare di palme, come quelli della varietà Veitch, originari delle isole di Vanuatu del Pacifico. Ma la protagonista tropicale in assoluto è l'Albero della Vita "Ficus Religiosa", che ha oltre 120 anni e è stata portata dalla Cina. Il suo viaggio fino alle Therme è durato ben due settimane. Si dice che il Principe Siddharta si sedette e meditò sotto questo albero e vi trovò l'"illuminazione" ed è poi diventato il Buddha.
La luce necessaria a questo immenso giardino esotico viene garantita dalle tre facciate vetrate della imponente struttura.
L'acqua geotermica utilizzata per alimentare 9 piscine e 16 scivoli acquatici, viene estratta a 3100 m di profondità ad una temperatura superiore a 80° Celsius. Dopo trattamento e raffreddamento, la temperatura dell'acqua è costante a 33°C, ogni mese dell'anno, anche nelle piscine esterne accessibili in pieno inverno.
Tre sono le aree del centro: The Palm, Elysium e Galaxy.
La prima è la zona relax, comprende il giardino nel cuore del quale si trova la piscina principale con acqua termale. Altre 3 piscine, con aromaterapia, invitano i visitatori a stimolare il proprio benessere fisico e mentale. Dall'alto, si può ammirare la foresta tropicale, e per un relax perfetto sono a disposizione degli ospiti lettini con idromassaggio, bagni di vapore e un pool bar.
Elysium, è l'area dotata di una piscina panoramica arricchita di zinco e selenio, 6 saune tematiche con design esclusivo, sistema audio e un odore specifico emanato da una soluzioni di olii aromatici, camere per massaggi e un ristorante.
Galaxy, infine, è il parco giochi concepito per l'intera famiglia. Piscine con onde artificiali, scivoli spettacolari, spazi per rilassarsi tra le piante esotiche, uno snak bar ed altri servizi progettati per creare relax e buon umore.
E' in questa struttura paradisiaca che ho potuto godere di un vero rituale di purificazione del benessere, una pausa riequilibrante per staccare dallo stress quotidiano, tra massaggi rilassanti e il profumo inebriante degli olii essenziali.
(Clicca
qui
se ti sei perso il mio primo post da Bucarest).
Therme Bucharest is a 30,000 sqm wellness, relaxation and entertainment center based on thermal waters, a giant thermal bath-and-spa complex in Romania, of 50 million euro investment,
that it says is the largest in Europe.
The pools are filled with thermal water that rises from a depth of 3,100 meters.
The air temperature is between 30 and 33 degrees Celsius. Therme Bucharest is not just a thermal center, but it also hosts the largest botanical garden in Romania.
The thermal water providing a quality unique in the world, next to over
800,000 plants, many of which are rare or unique specimens, will
recreate the atmosphere of a tropical vacation, all year round, not very
far away from the city center.
The spa is divided into three major sectors, each of them with a specific theme.
The Palm, as the name says, is an area dedicated to relaxation among 500 palm trees, the largest garden of this type in Europe.
The main attraction in the Palm zone,
however, is the massive pool, kept at a steady 33 degrees Celsius, it's
the perfect temperature to slip into at any point during the day. Around
the edge of the pool, you'll also find a variety of jacuzzis to try out
throughout the day, there's also a steam room.
The pool also has it's own very
impressive swim up bar.
The outdoor pool is also heated to 33
degrees regardless of the temperature outside and thankfully linked to
the indoor pool so you don't even have to leave the water.
The Elysium area is designed for thermal saunas and for those who would like to enjoy a nice massage.
Here is where you'll find six saunas ranging in temperature from 40 – 90°C, offering different conditions and this area also includes another smaller pool with a bar.
The third sector, the Galaxy, is the center of the entertainment, where all the fun happens. Here you can have fun in a pool with waves, or you could ride down one of the many toboggan slides. And when you're tired enough, you could stop for a drink at the pool bar.
In this heavenly structure, I was able to slip into total relaxation mode, enjoying a true wellness
purification ritual, a rebalancing pause to detach from everyday stress,
including relaxing massages between the inebriating scent of essential
oils.
(Click here to read my first post from Bucharest).
Location: Thermal Wellness Center – Bucharest – Romania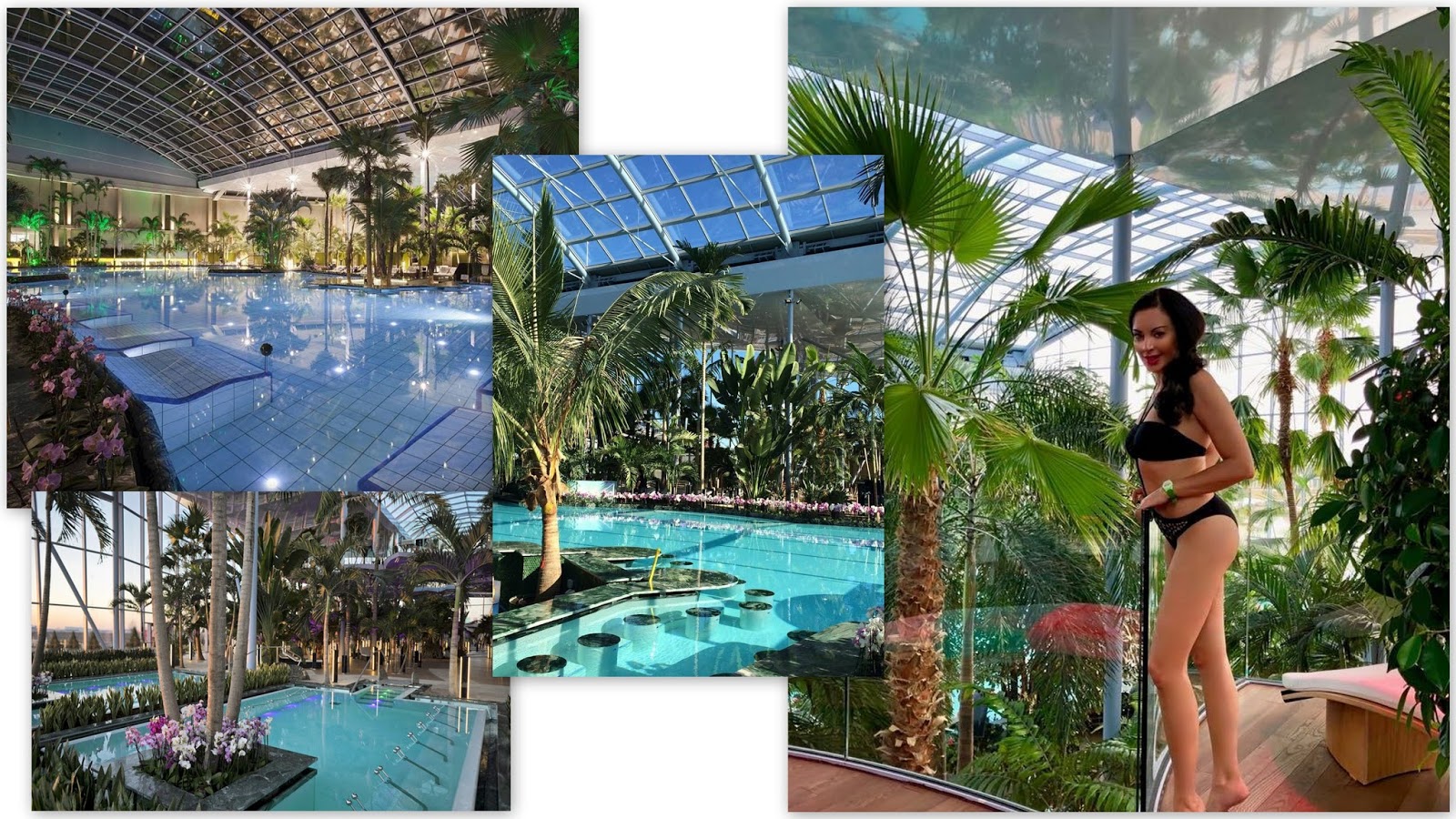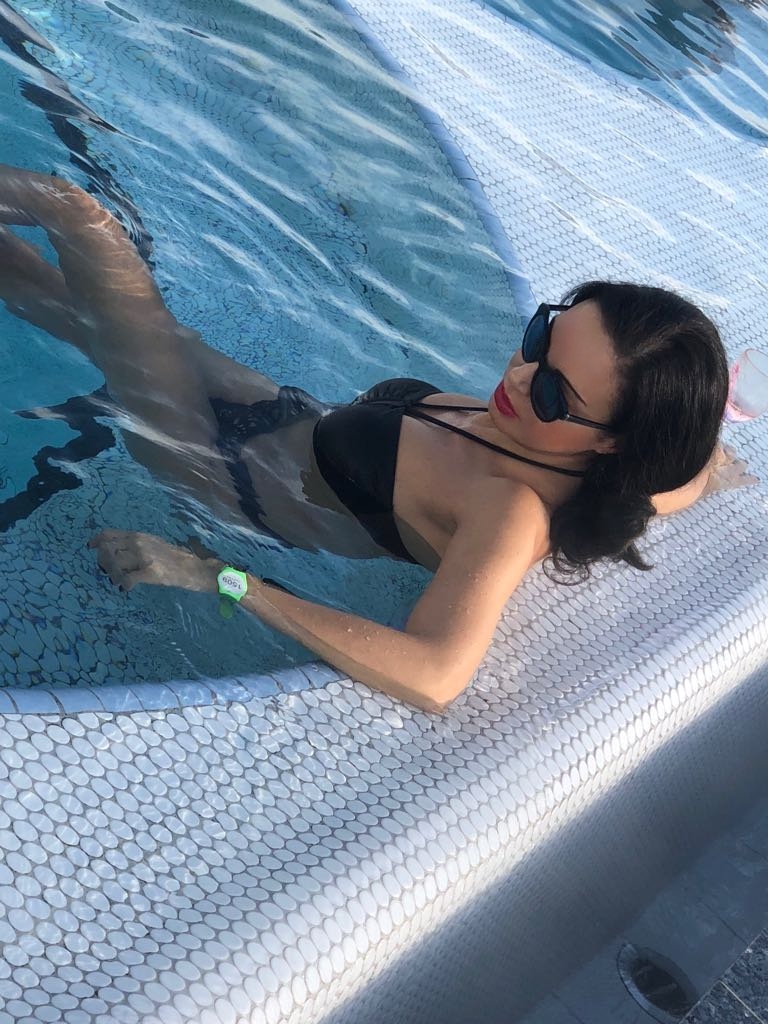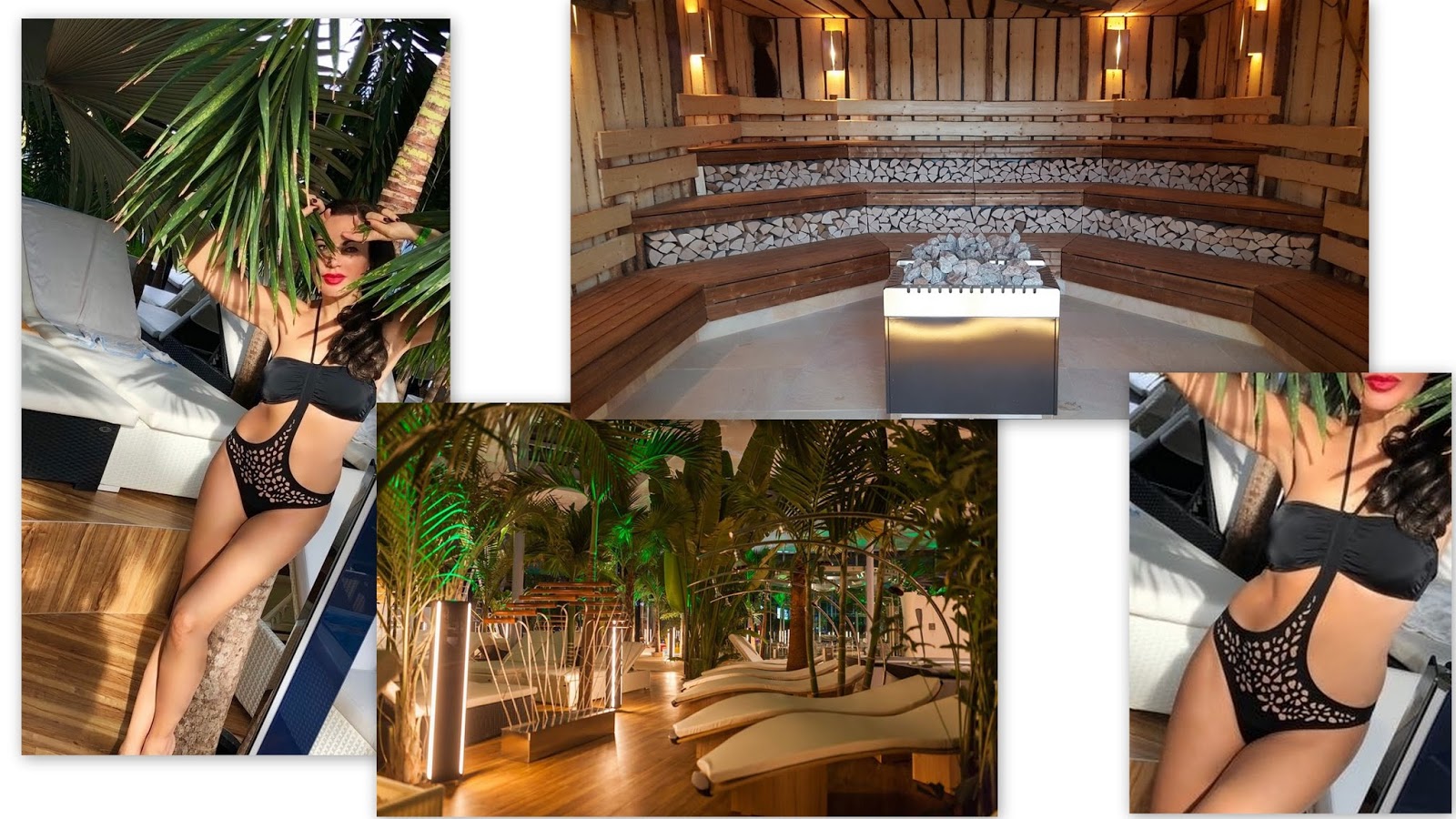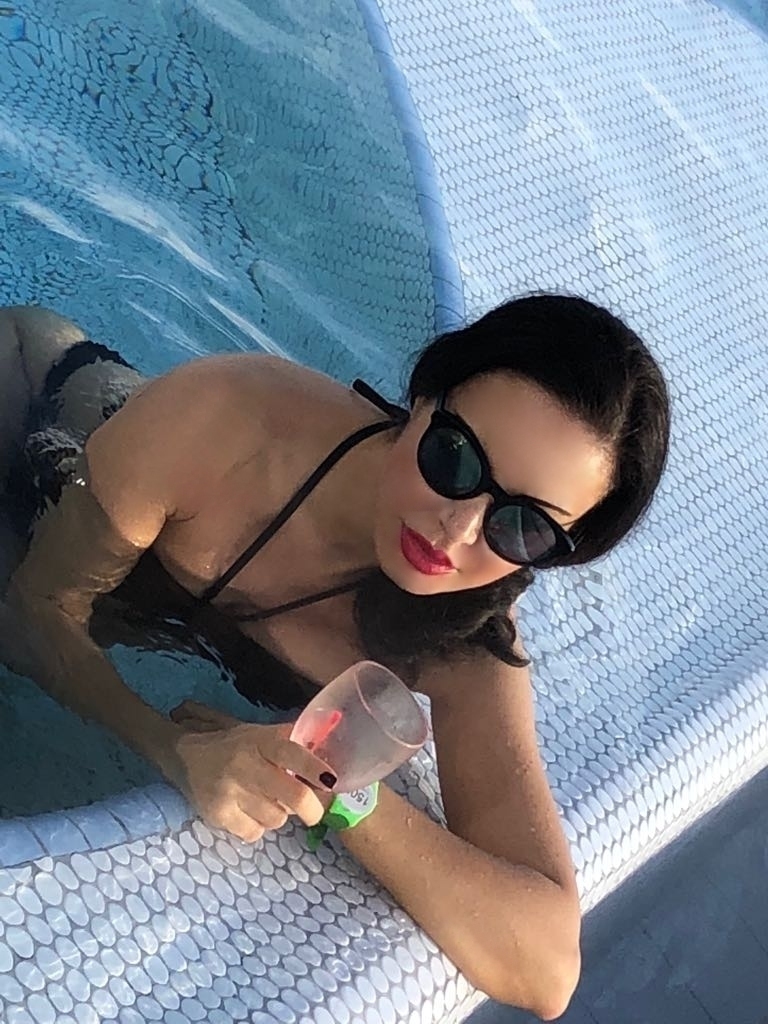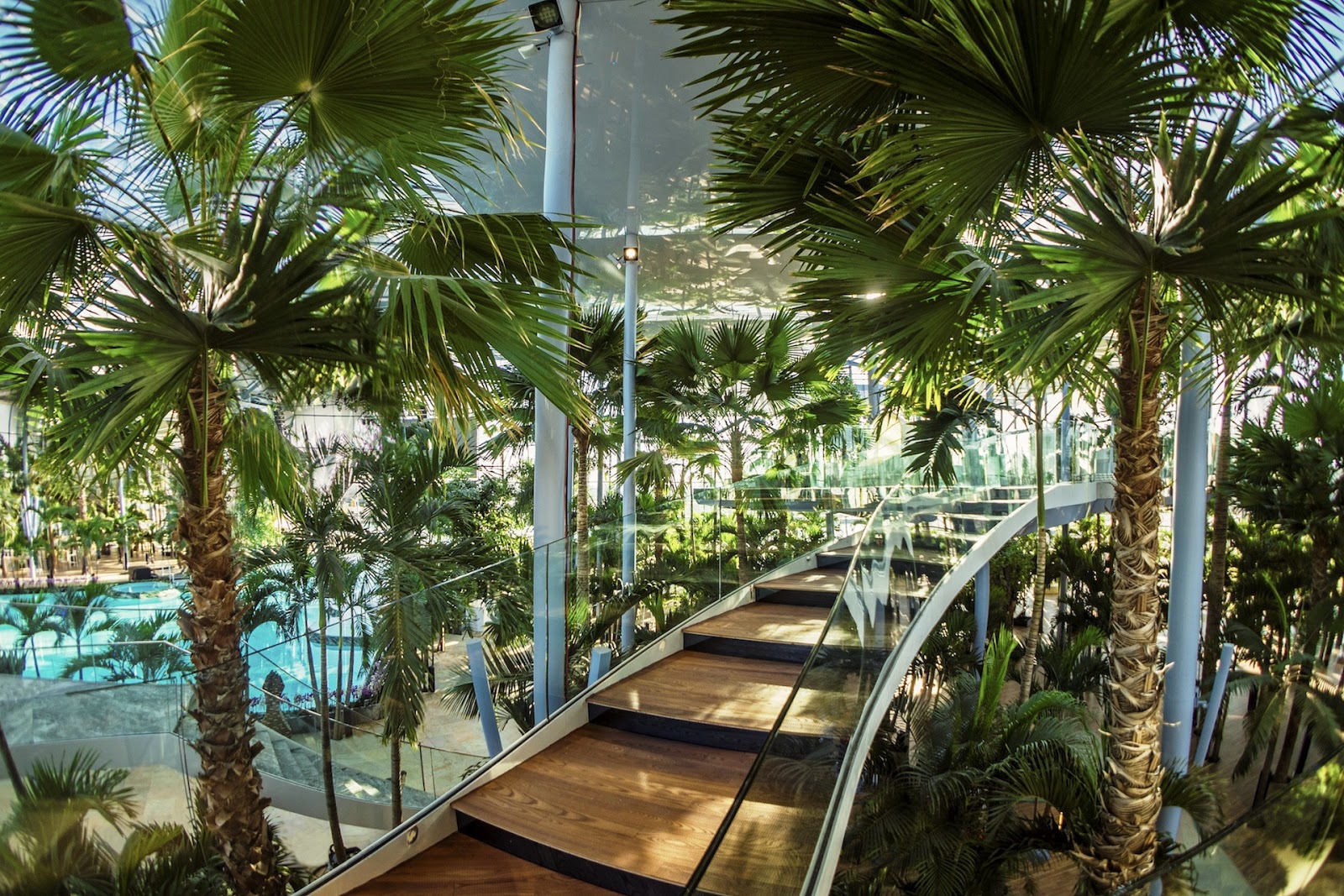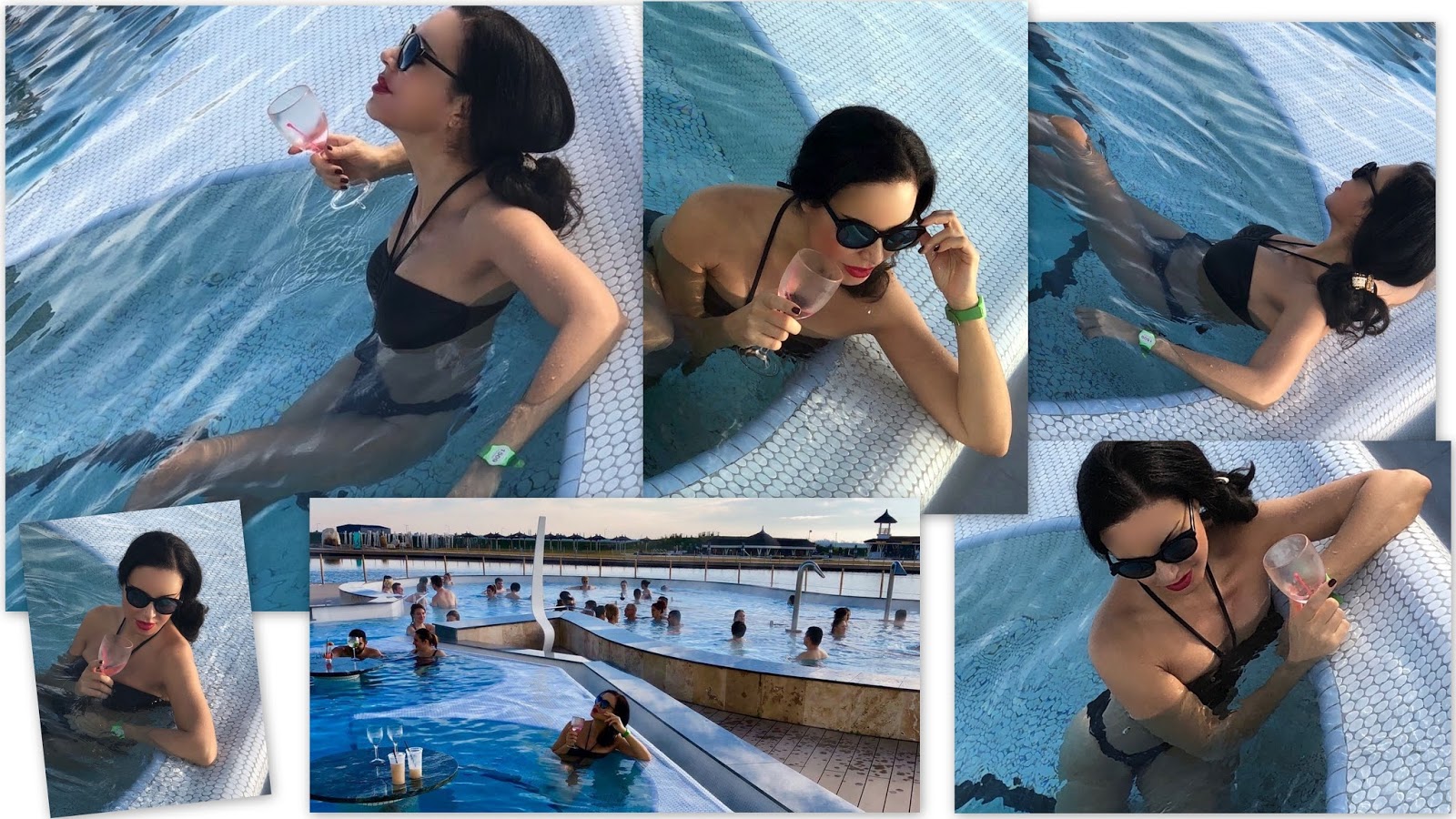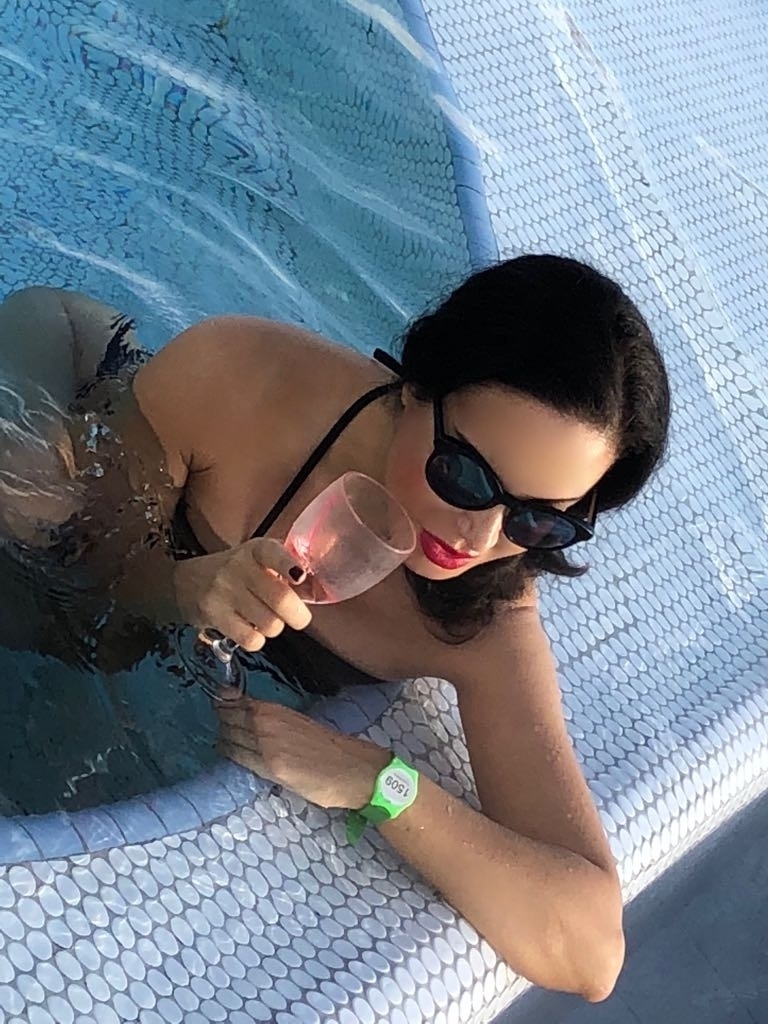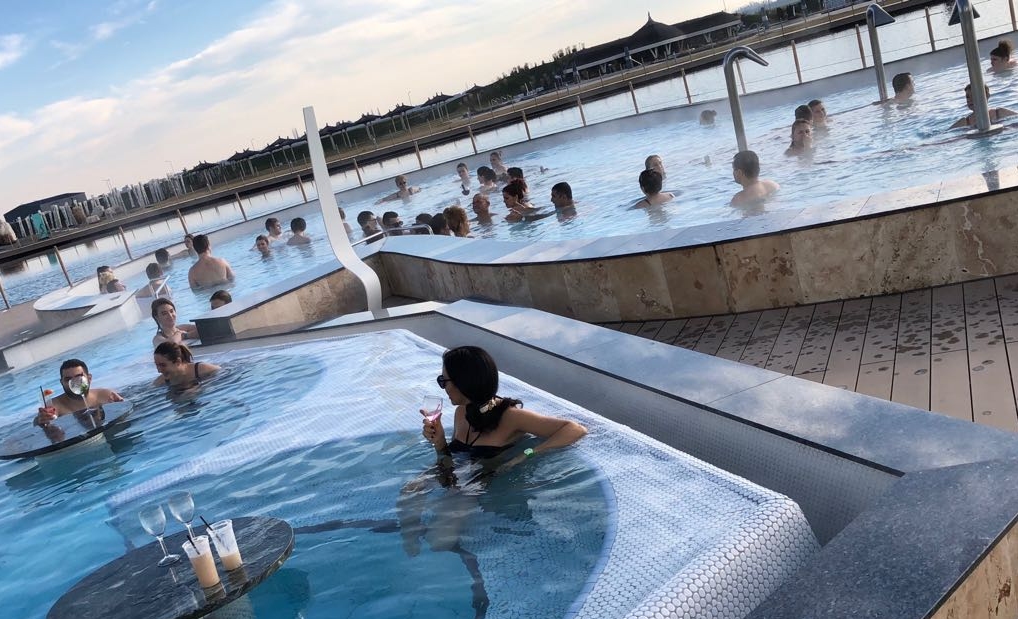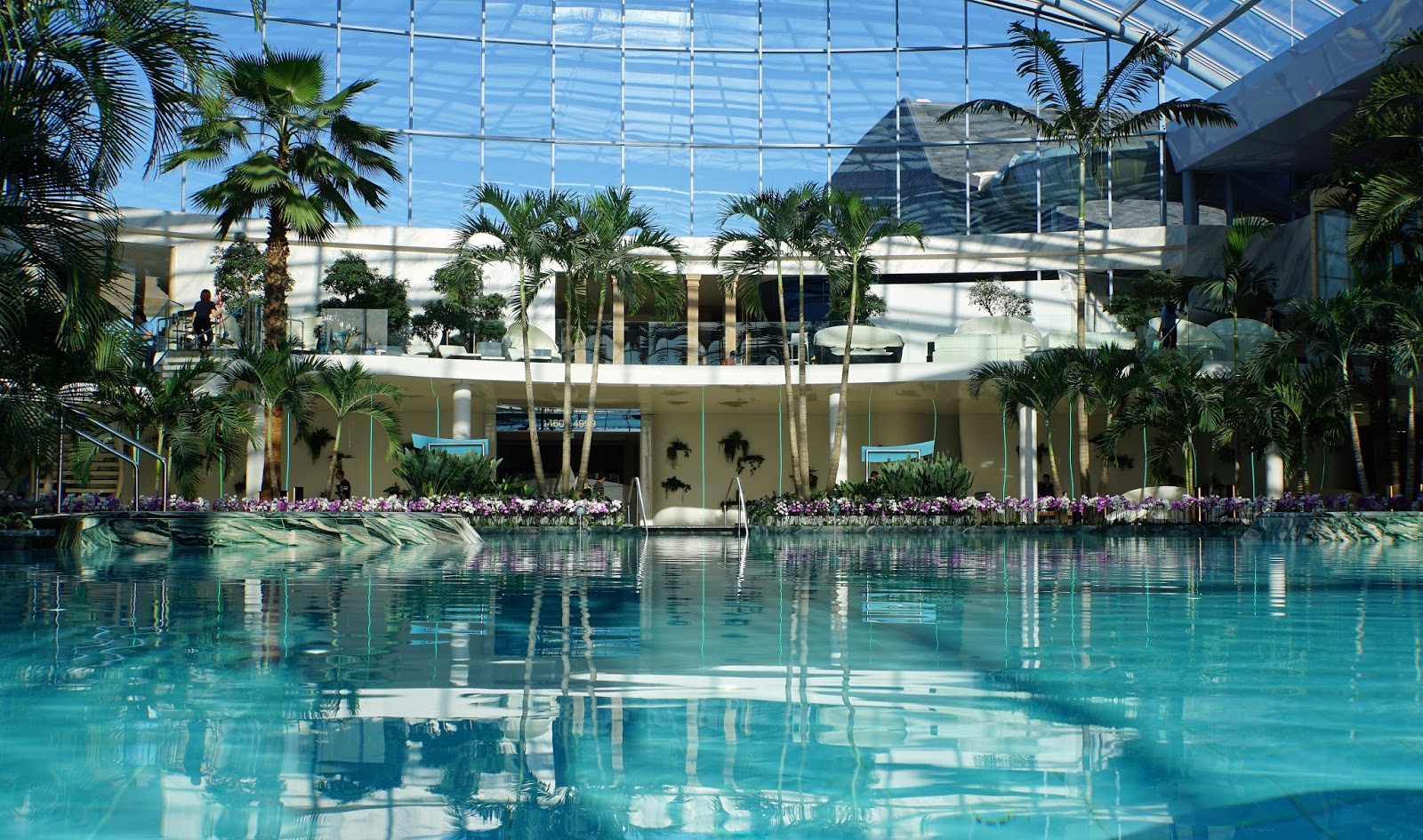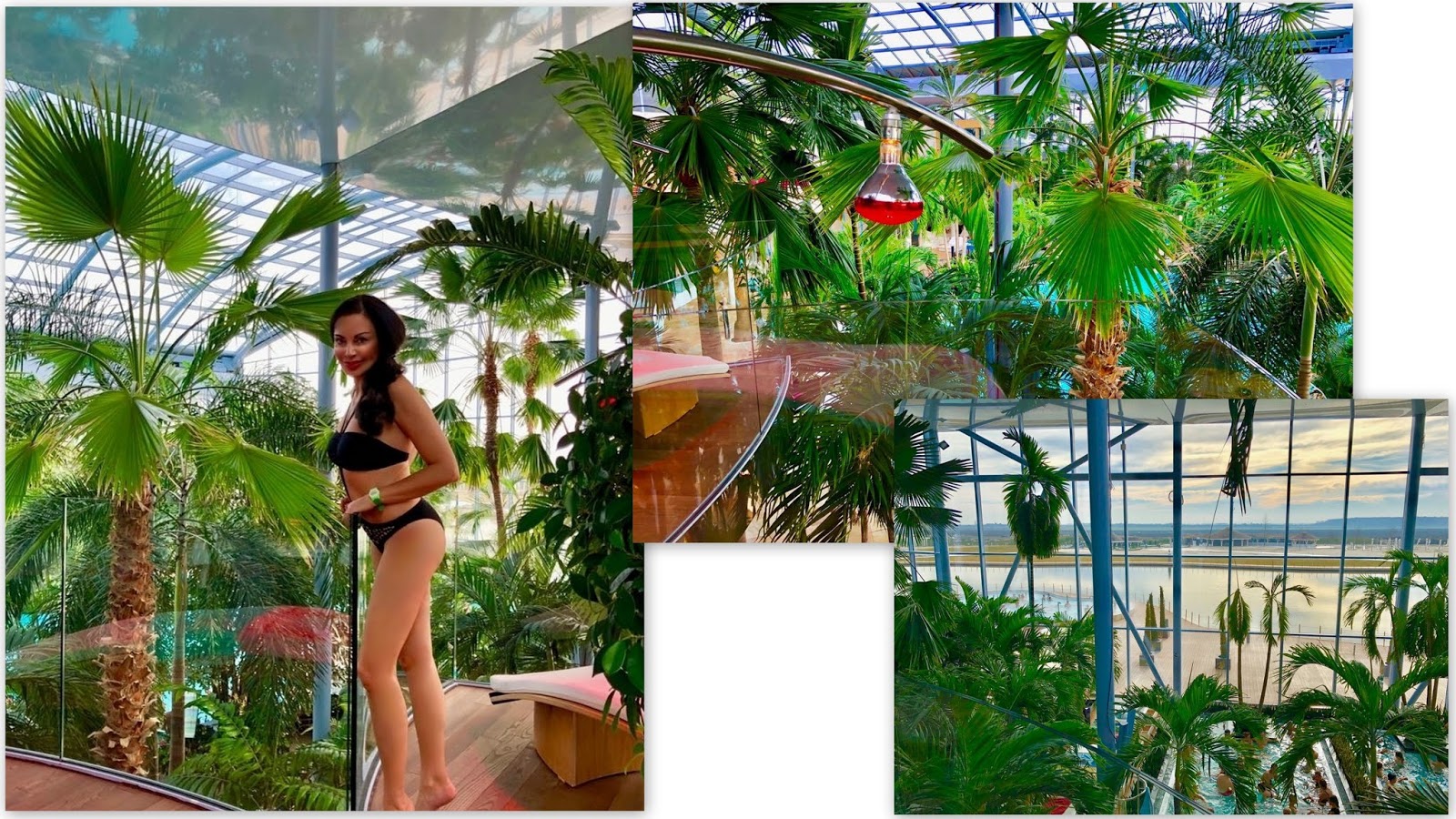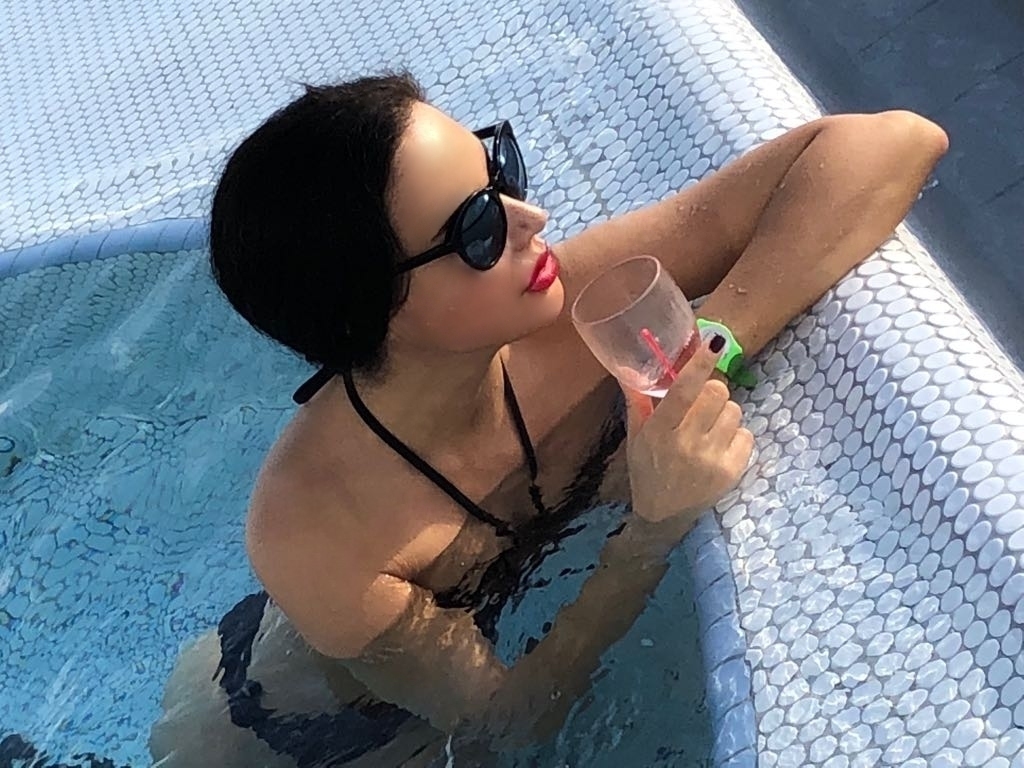 Photos: Paolo Barile
I was wearing: