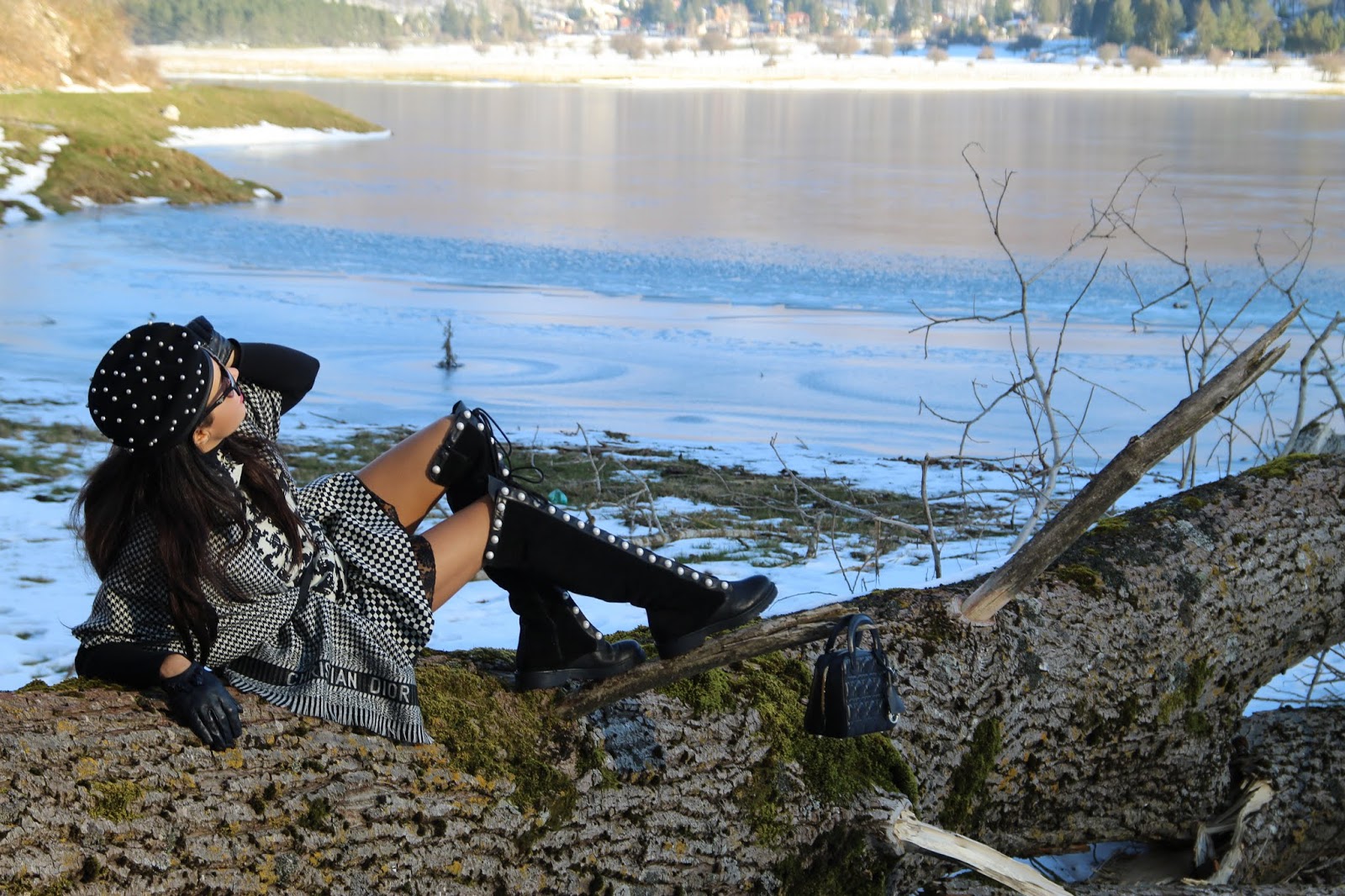 Qualcuno ha detto "pied-de-poule"?
La trama iconica è tornata e tra gli essential invernali non poteva di certo mancare.
Unica, sofisticata e perennemente attuale, è la stampa più chic dell'inverno 2020: un classico tra i classici nel gioco evergreen del black & white.
E' la stampa bicolore più famosa ed utilizzata nel mondo fashion.
Il disegno, che imita l'impronta di una gallina, ritorna in ogni collezione per la stagione fredda con qualche variazione, contrasti di colore, quadretti nella versione micro e macro, ed impiegato nella creazione non solo di capi di abbigliamento ma soprattutto di accessori.
Blazer, jumpsuit, cappotti, top, pantaloni palazzo, la scacchiera black & white, per l'inverno 2020, ha contagiato ogni pezzo del guardaroba.
Si passa da uno stile chic e sofisticato di un tailleur o di un tubino con decolletè ad uno street style in cui il pied de poule è indossato in maniera più casual, magari una giacca o un maglione oversize spezzati con jeans e sneakers, o semplicemente un capospalla per completare l'intero look.
Tutte le occasioni sono adatte per indossare un capo in pied de poule.
Gli stilisti lo accostano a tessuti importanti e spesso confortanti come la lana, il cashmere, tweed e filati pregiati.
Passando agli accessori invece, scarpe, borse, cappelli, guanti, sui catwalk si è visto di tutto.
Si punta al total look!
Ideali per le fredde giornate invernali, calde si ma con stile, come nel mio caso: ho provato a "giocare" con le grandezze, usando contemporaneamente misure diverse del pattern più cool della stagione fredda… perchè se non si rischia un pò che divertimento c'è?
(Clicca qui, qui e qui per saperne di più sul trend).
The winter 2020 fashion focuses on the empowerment of women.

The print trends include classic patterns dominating silhouettes from head-to-toe.
Did someone say "houndstooth"?
This black and white pattern is a classic with which you cannot fail.

If you're the reserved yet fashionable type, the winter 2020 print trends are going to give you a hankering for houndstooth.

Why are so many women in love with it?

It's quite simple: Houndstooth print has a timeless appearance that will never go out of style.

It can be combined with absolutely anything for every occasion. Personally, I think this duotone textile pattern will never go out of style, simply because of its classic look.

For those of us who err on the side of minimalist, houndstooth is the perfect winter print to instantly add some interest to a monochrome look.

Dominating silhouettes from head-to-toe, the high-contrast houndstooth motif saw a fusing of retro spirit with a distinctly androgynous allure.

This season, new takes on the trend make for strong style statements. The jackets are oversized, the dresses are breezy and the accessories are on point.

If you are a beginner to this print, then you can start from accessories.

Pieces that prove the appeal really is black and white… need I say more?
I tried to "play" with the sizes in my ootd, using at the same time different measures of the coolest pattern of the cold season… because if you don't risk a little where's the fun in that?
Location: Laceno – Italy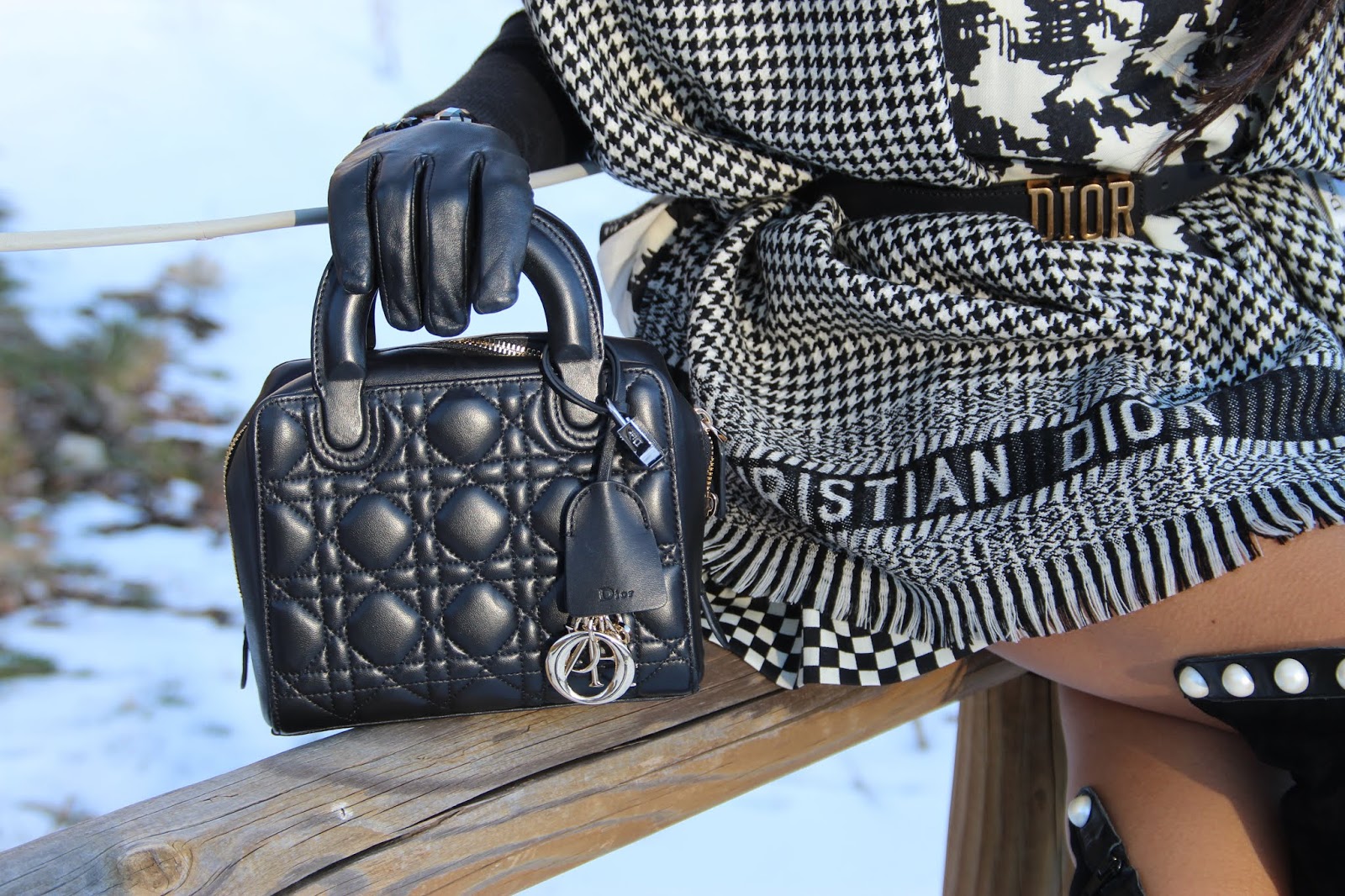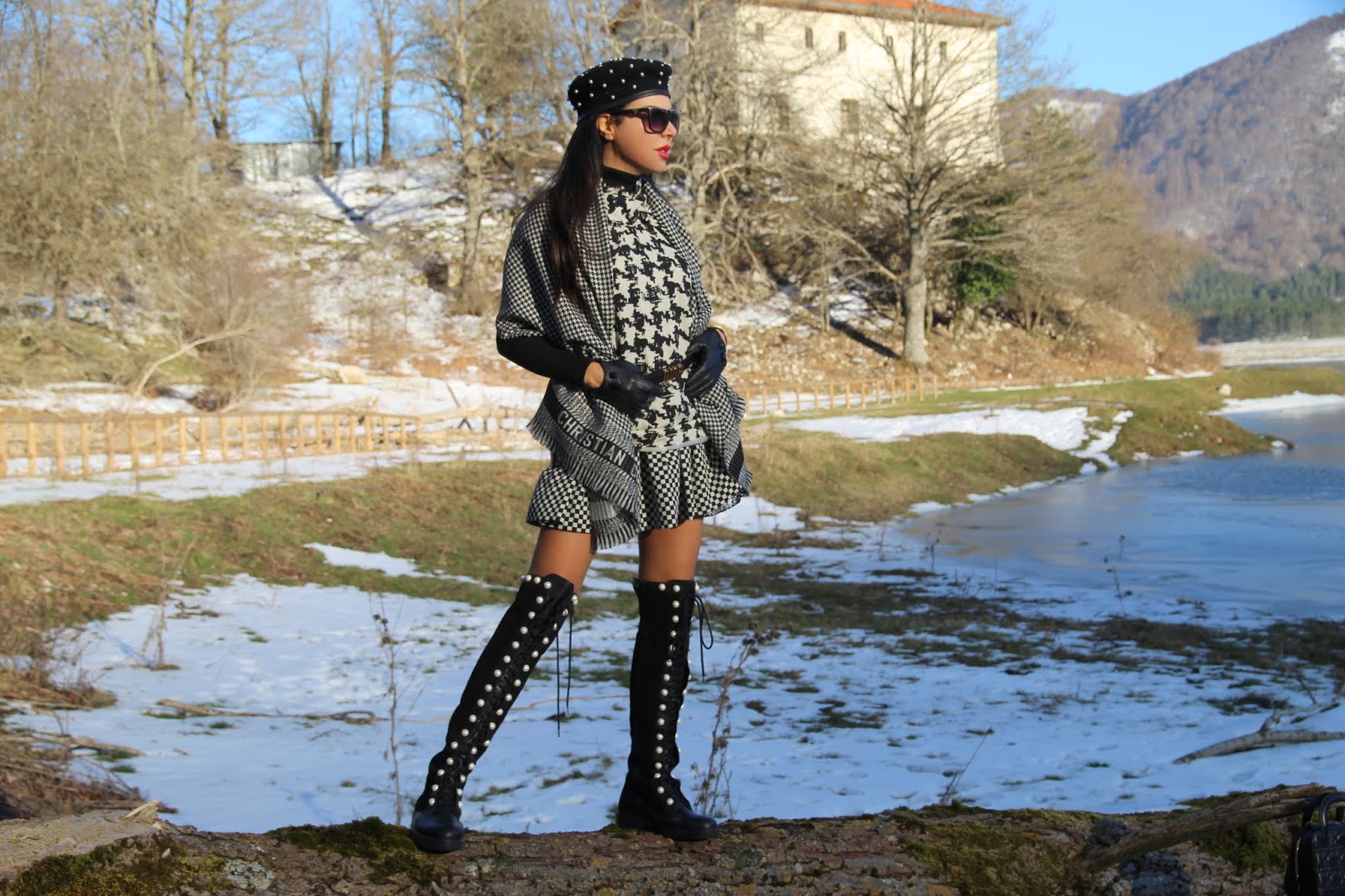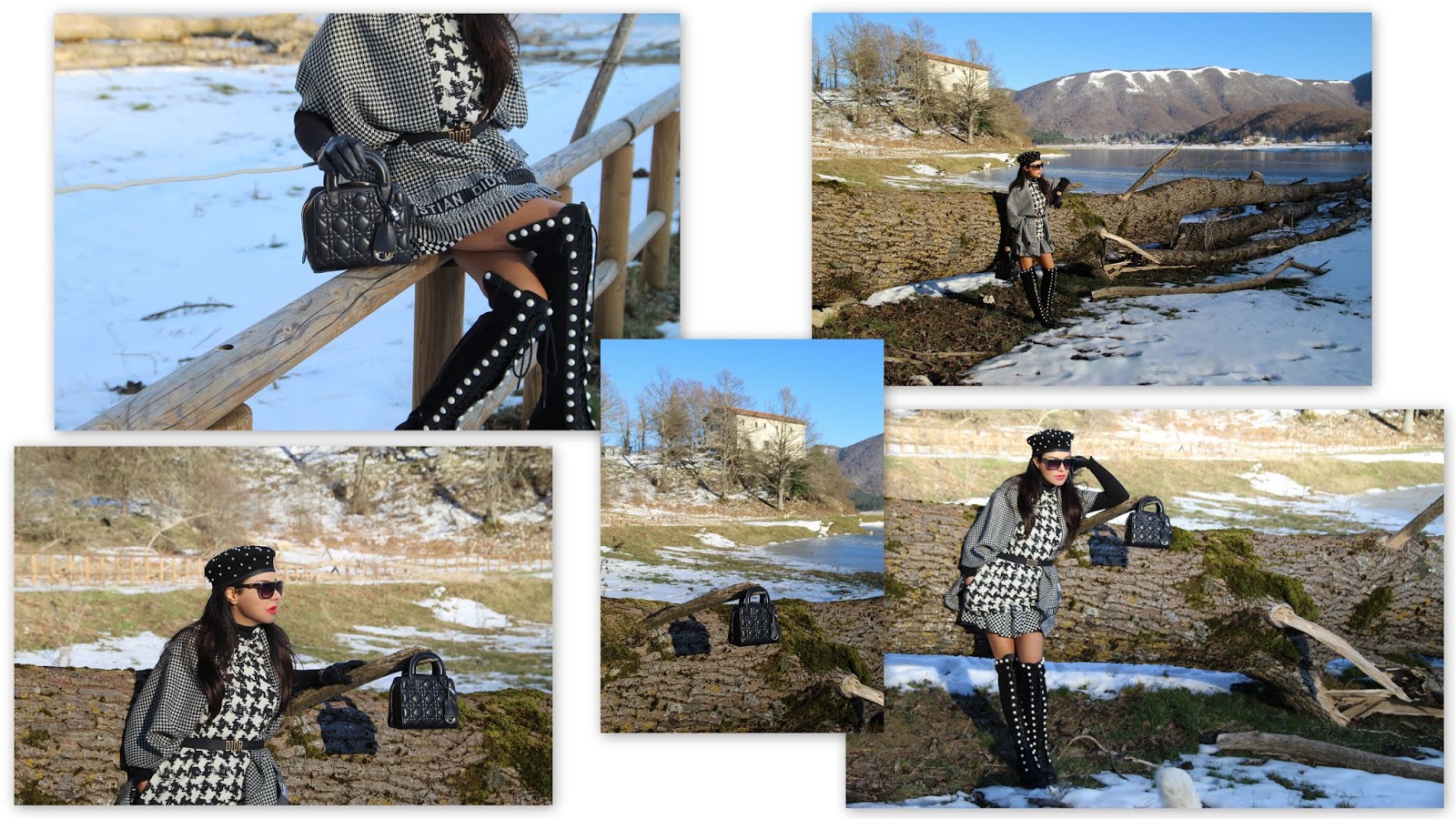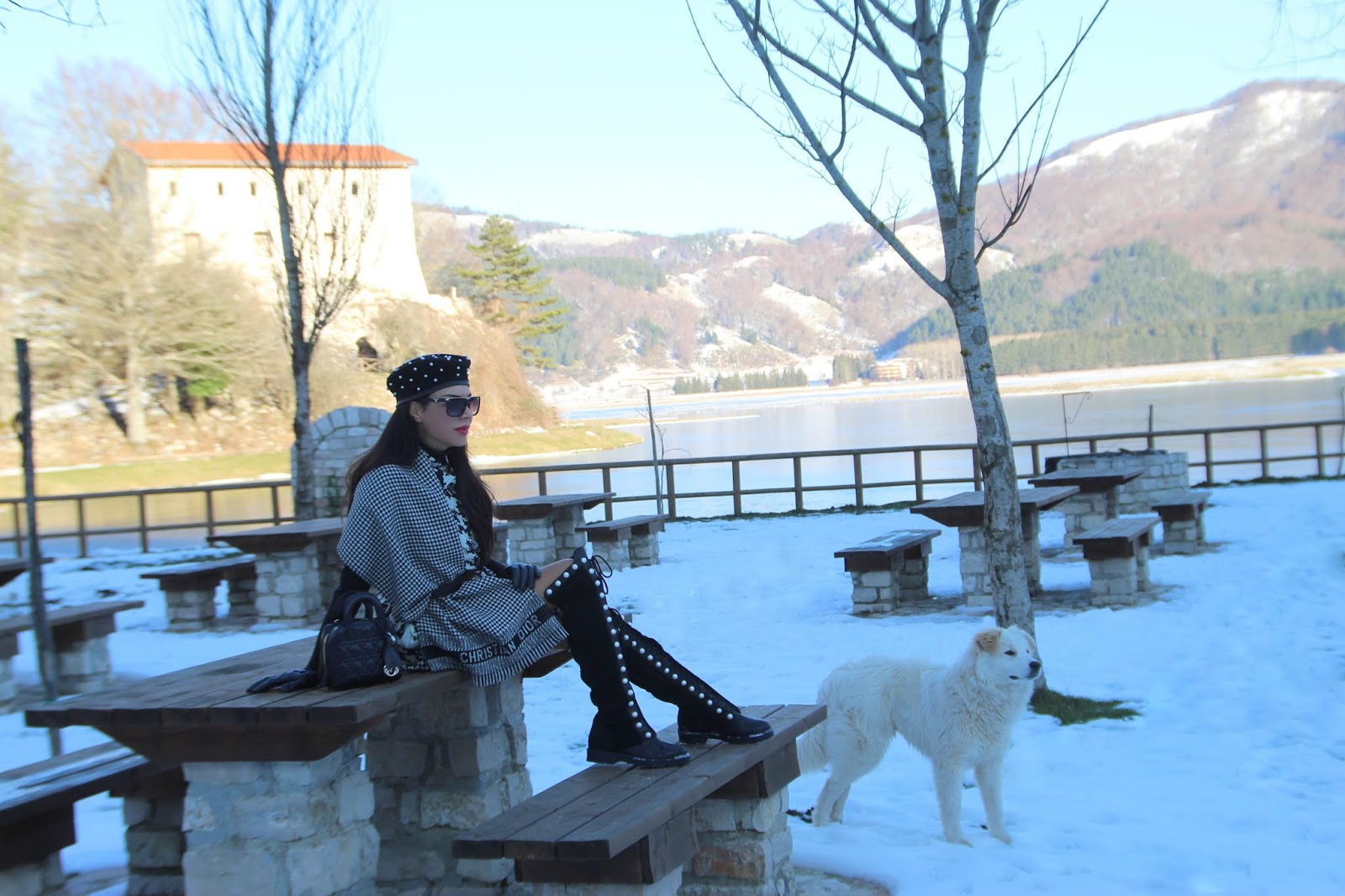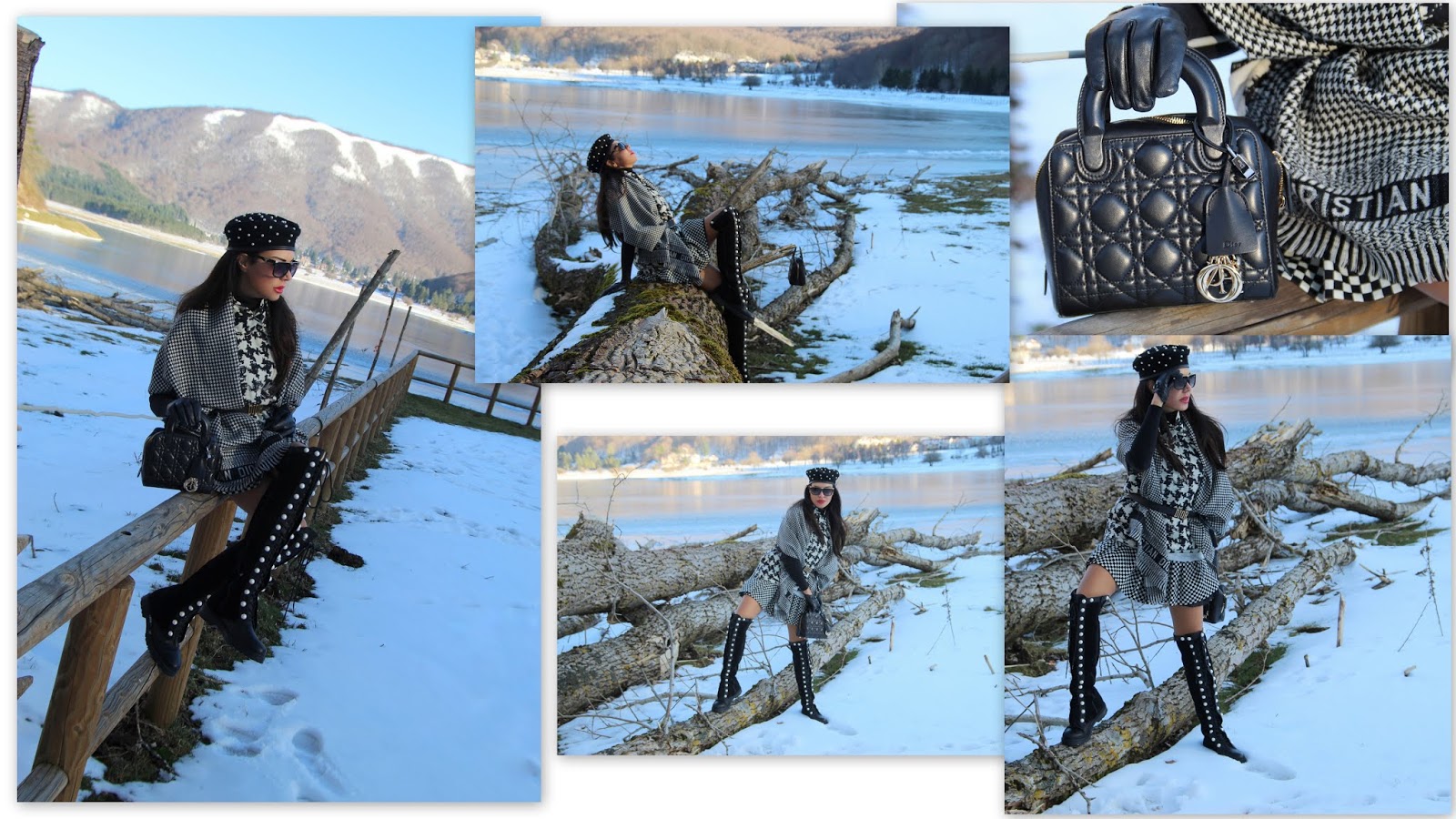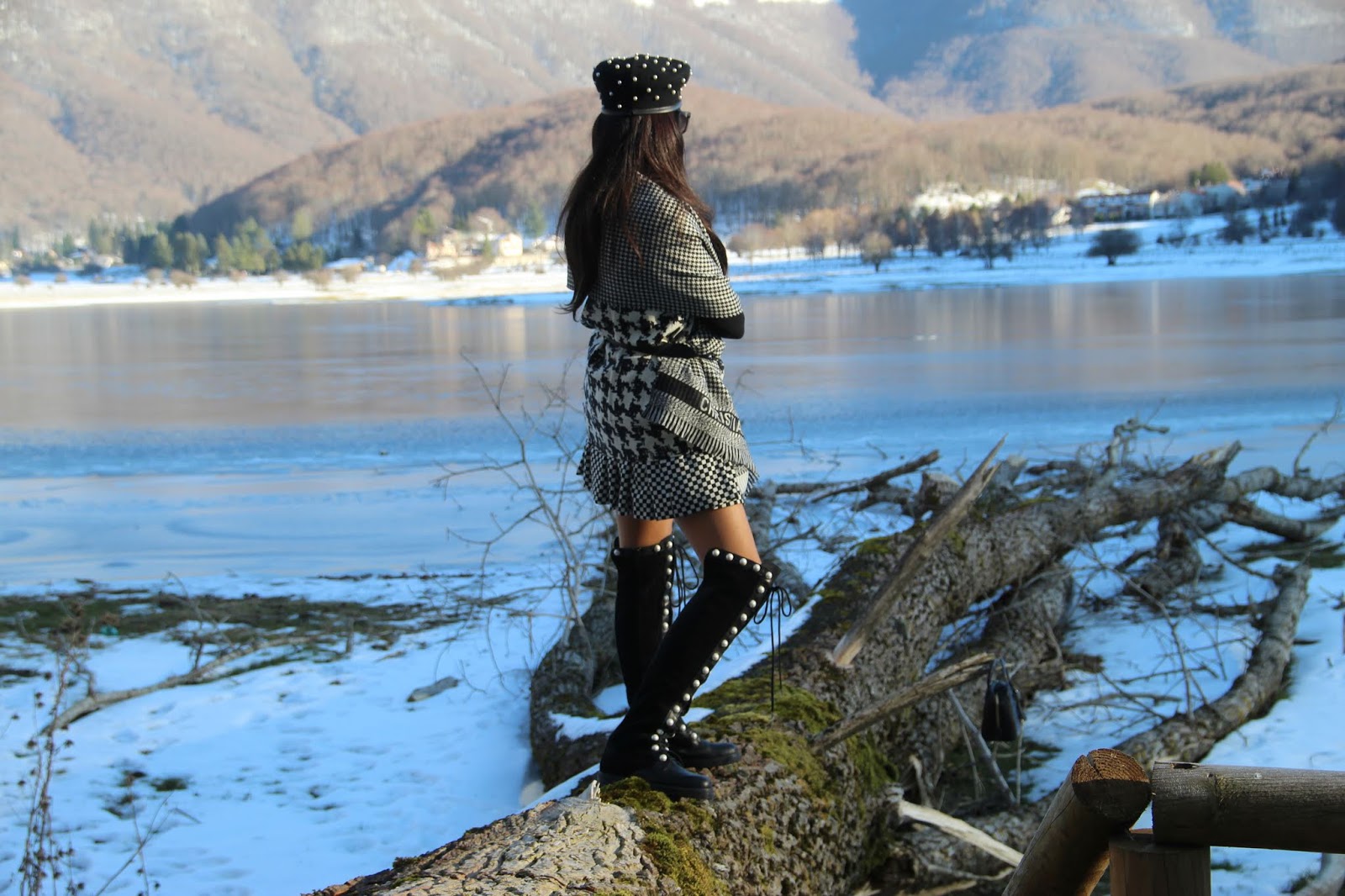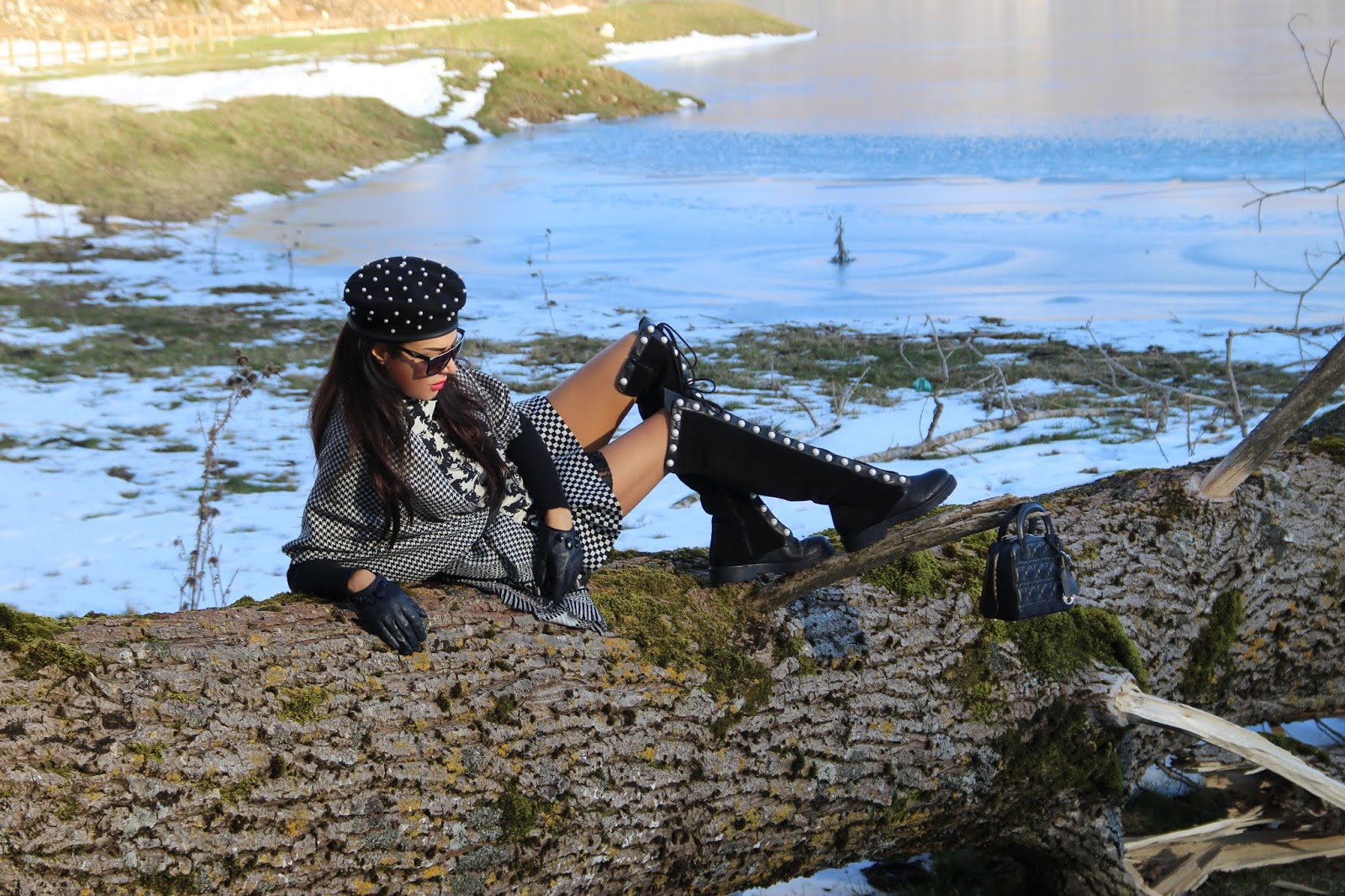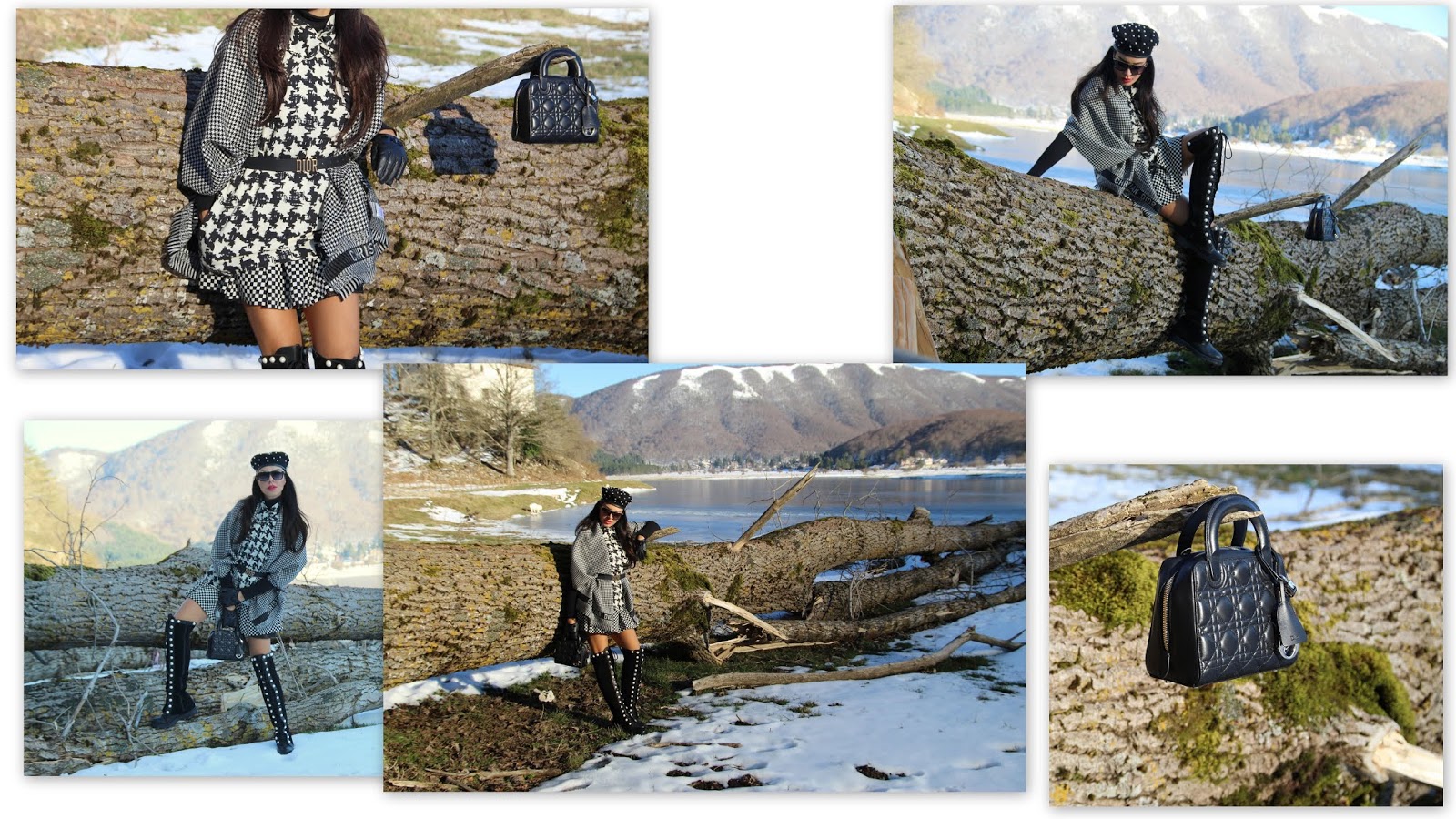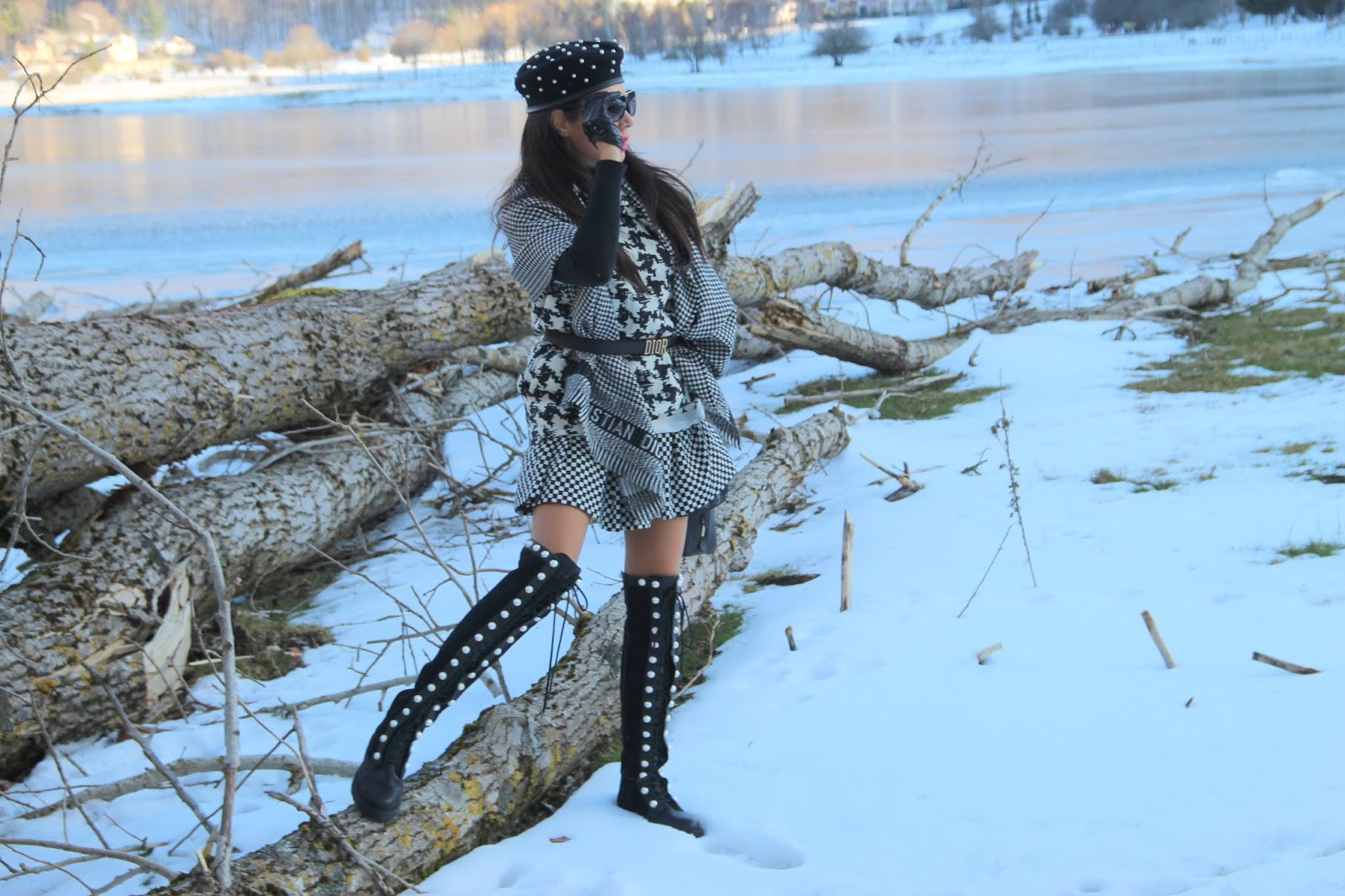 Photos: Mihaela Buiac
I was wearing:
Dior scarf, belt, and bag