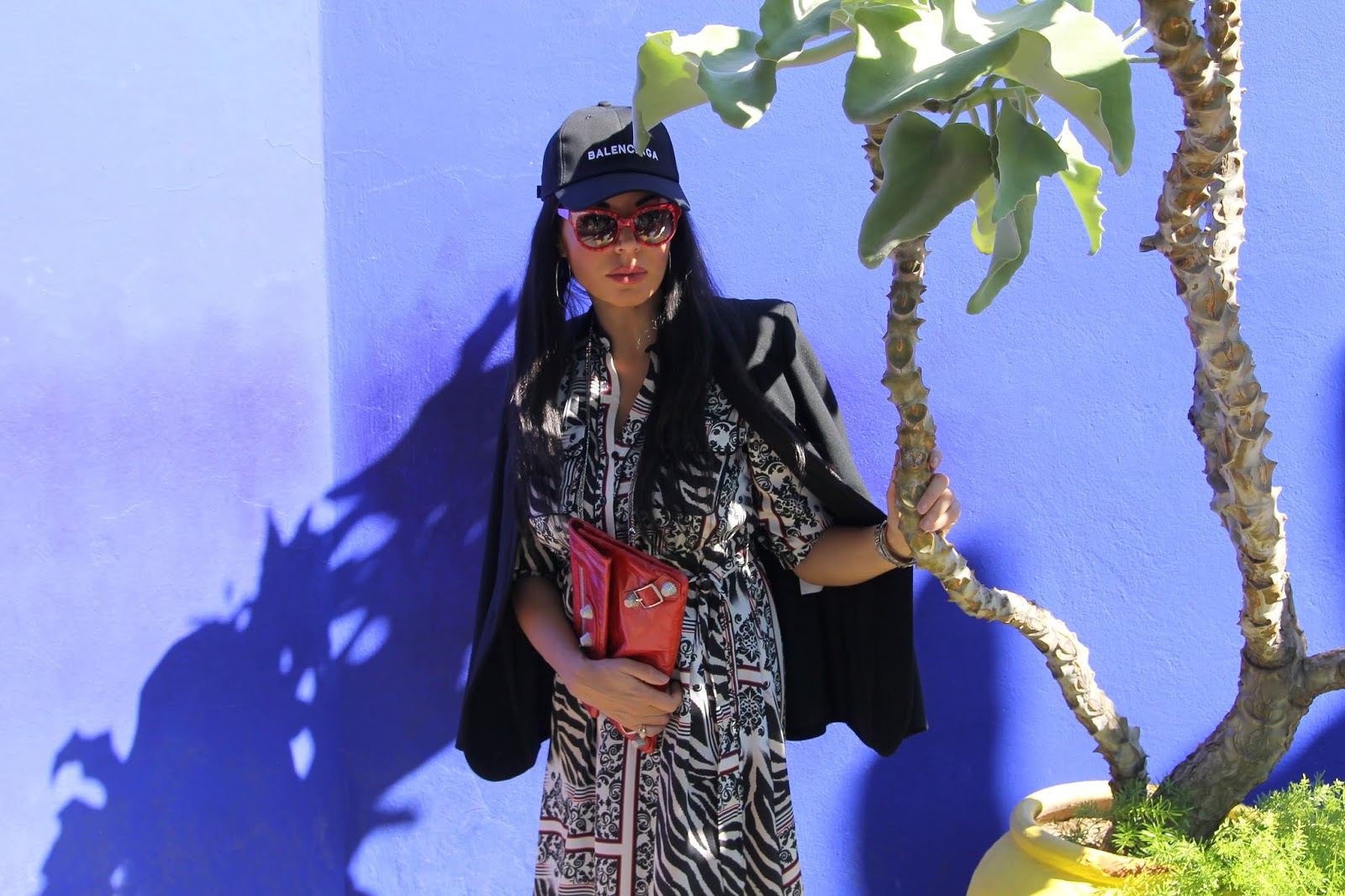 Sono nell'eden impressionista di Marrekech, qui dove una biodiversità generosa crea un dedalo di natura, progettato secondo la razionalità dell'arte botanica descritta nel Corano.
Un'oasi di pace in cui i colori di Matisse si mescolano a quelli del paesaggio dell'Africa sahariana.
La luce a queste latitudini esalta il colore trasformandolo in un'entità dalla vitalità prorompente e dalla nitidezza assoluta, è forse questa la magia che rende i giardini Majorelle un luogo di suggestione, un tassello di pace incastonato nel mosaico berbero della "città rossa".
Un
mondo agli antipodi rispetto al caos della vicina Medina dove il brusio del contrattare si impasta con i rumori dell'operosità artigiana, un angolo di tranquillità fatto di centinaia di piante provenienti da cinque continenti, dove passeggiare tra vialetti all'ombra, piccoli ruscelli e costruzioni in stile moresco e Art Déco.
I giardini Majorelle sono una meta che stimola la vista e accarezza l'udito, una location polisensoriale dove convivono in armonia la forza del colore e la dolcezza dei suoni.
E il suo blu che spicca in un caleidoscopio di verde
,
quel blu così unico da diventare il "bleu majorelle" è difficile da scordare, resta impresso nelle pupille: una
tonalità che è un abbraccio vivido e sfrenato di oltremare e cobalto, capace di accogliere e valorizzare i dettagli minuziosi dell'astrattismo dell'arte moresca e l'esuberanza di una natura sinuosa,

u
n tono acceso, vivace, in piacevole contrasto con la calma e la quiete trasmessa dallo scorrere dell'acqua, dai fior di loto galleggianti, dai mille profumi dispersi nell'aria e dal cinguettio degli uccelli.
Ci sono voluti quarant'anni di passione e dedizione del pittore francese Jacques Majorelle (1886-1962) per creare questo angolo di paradiso lussureggiante nel cuore della città.
E' come trovarsi, senza rendersene conto, all'interno di un meraviglioso dipinto a cielo aperto.
E mentre i miei occhi scoprono la splendidà tonalità del blu majorelle e riesco per qualche momento a dimenticare il mondo veloce che gira lì fuori, indosso un maxi dress con un paio di comode chunky sneakers,
perchè le scarpe da ginnastica dei Novanta sono diventate il lusso più estremo dei Duemila.
(Clicca qui per vedere un mio diverso abbinamento dress+sneakers).
The Jardin Majorelle in Marrakech is one of the most visited sites in Morocco.
It took French painter Jacques Majorelle (1886-1962) forty years of passion and dedication to create this enchanting garden in the heart of the "Ochre City".
Perhaps unsurprisingly as the garden was designed by a painter, the garden is composed and colored like a painting.
I'm soothed and enchanted by the harmony of this luxuriant and vivid imagery, which issues a delicate summons to the senses, offering me a calming retreat near, and yet so far from the bustling city, sheltered from time by high earthen walls.
The impressive gardens house a collection of exotic bamboo, cactuses, and palms from around the world and provide a haven for many local birds like storks, kestrels, and flycatchers.
The botanical garden also houses the Islamic Art Museum featuring North African textiles, jewelry, carpets, and other Islamic treasures.
The villa

'

s blue color was inspired by the water of an Atlas, which is the nomenclature now given to the specific color.
A unique and instantly recognizable color, for a rare and beautiful piece of architecture.
I'm wearing a maxi dress
with a pair of "Dad sneakers", because the sneakers of the Nineties have become the most extreme luxury of the 2000s,

while these luxurious, peaceful gardens arouse in me a sense of wonder with just a walk among the cacti, palm trees and fountains that play gentle music to any stroller in search of relaxation.
(Click here to see another outfit where I was wearing a dress with sneakers).
(Click here to read why you should visit the Majorelle Garden).
Location: Jardin Majorelle – Marrakech – Morocco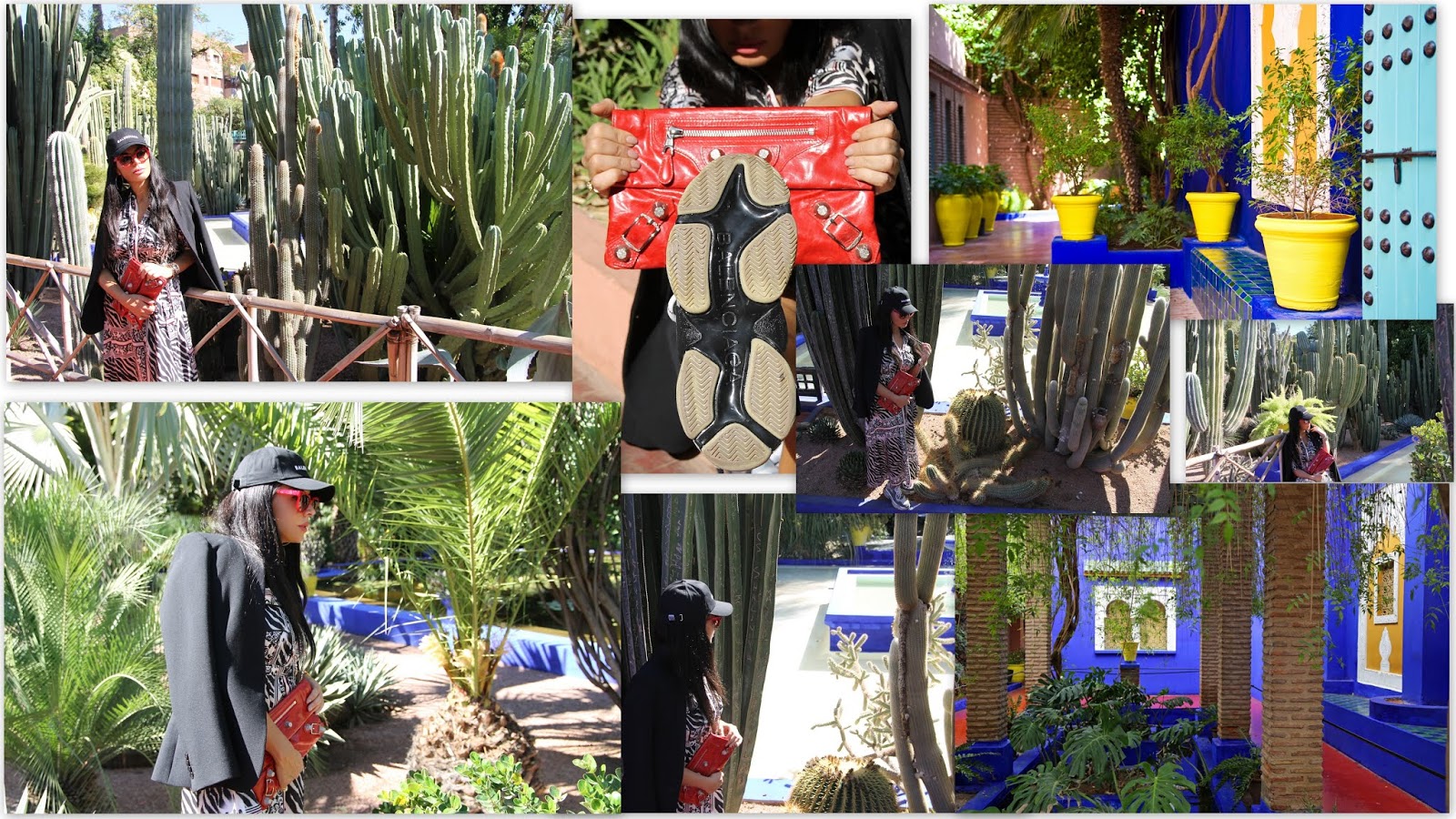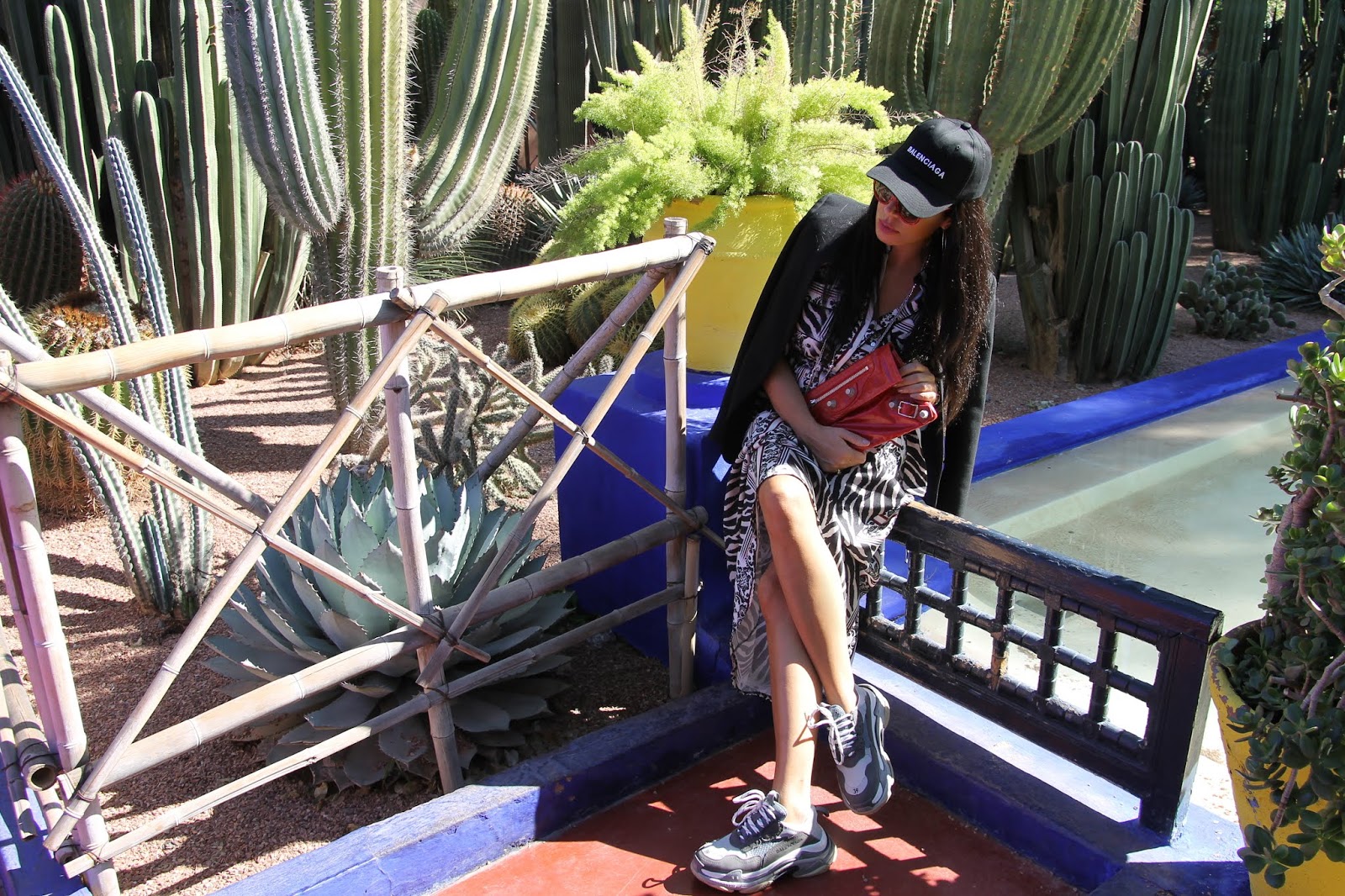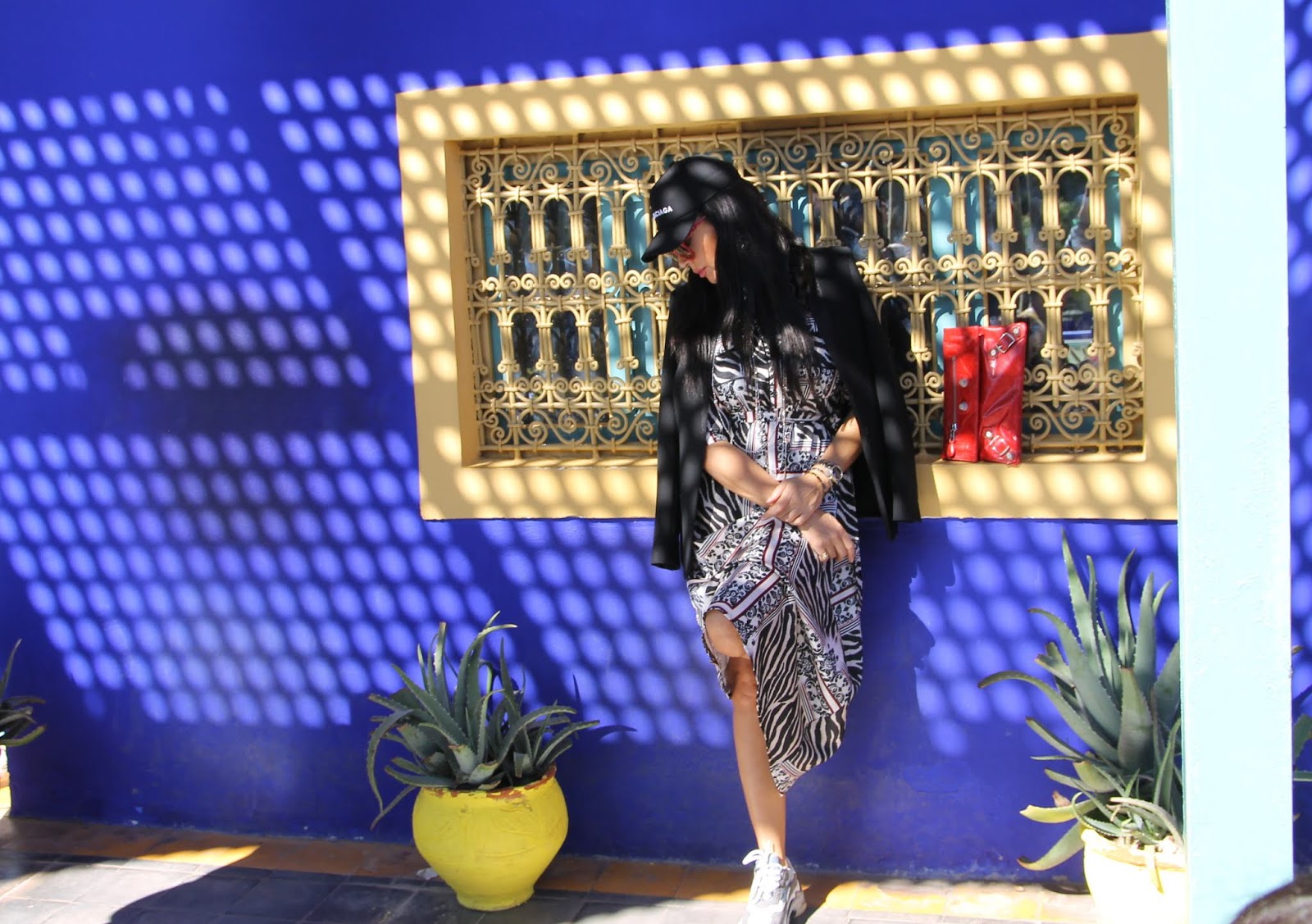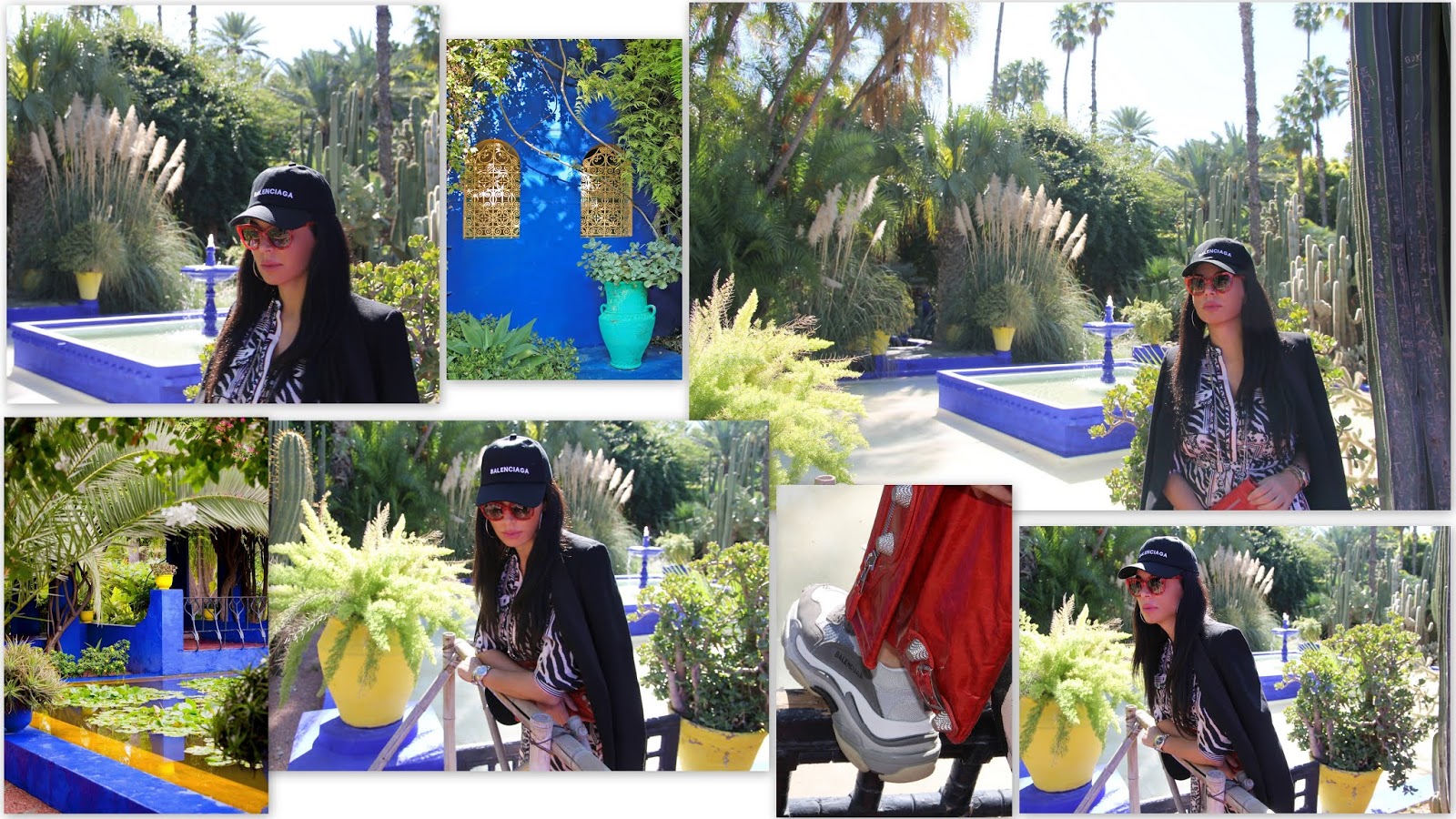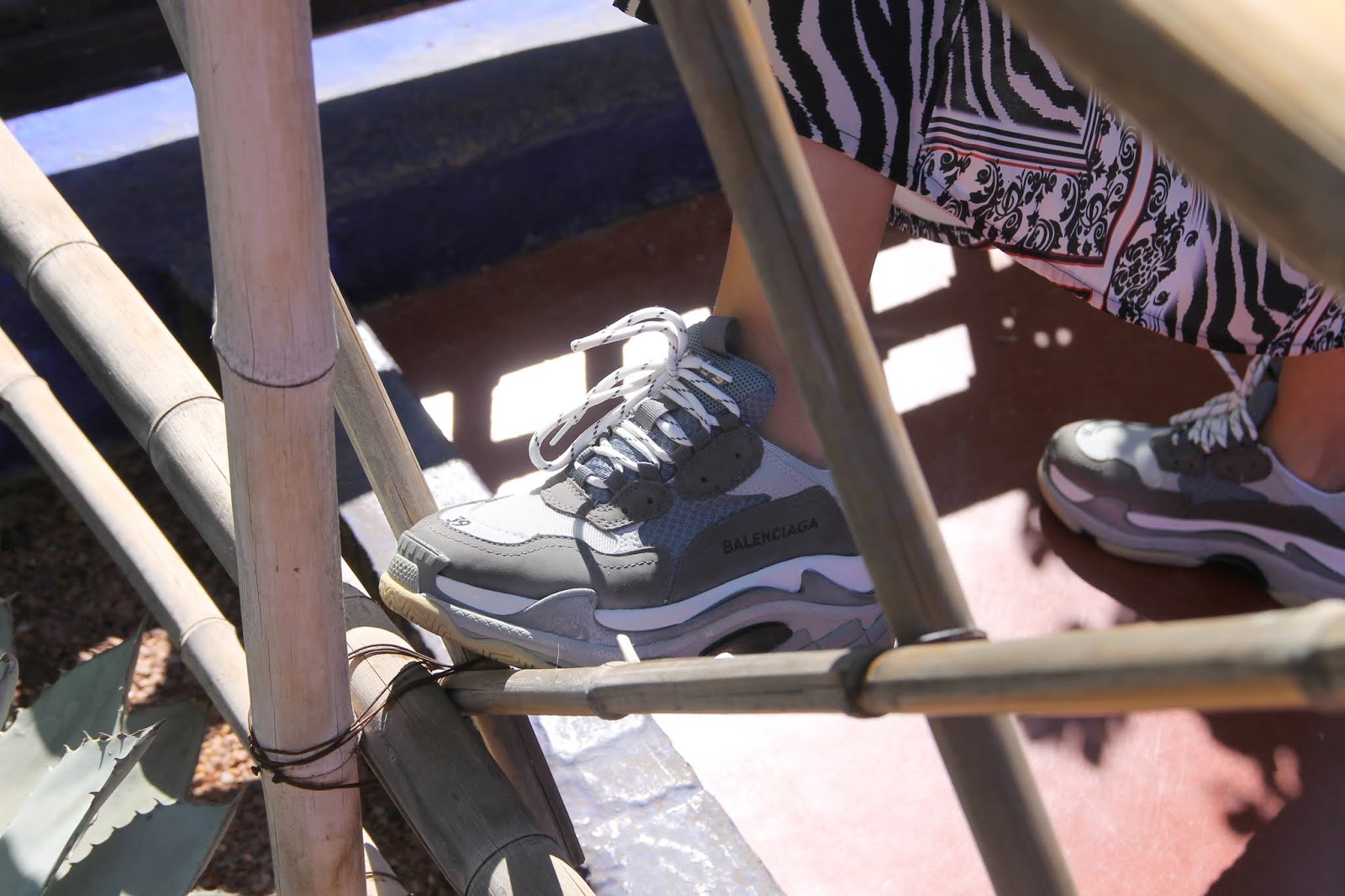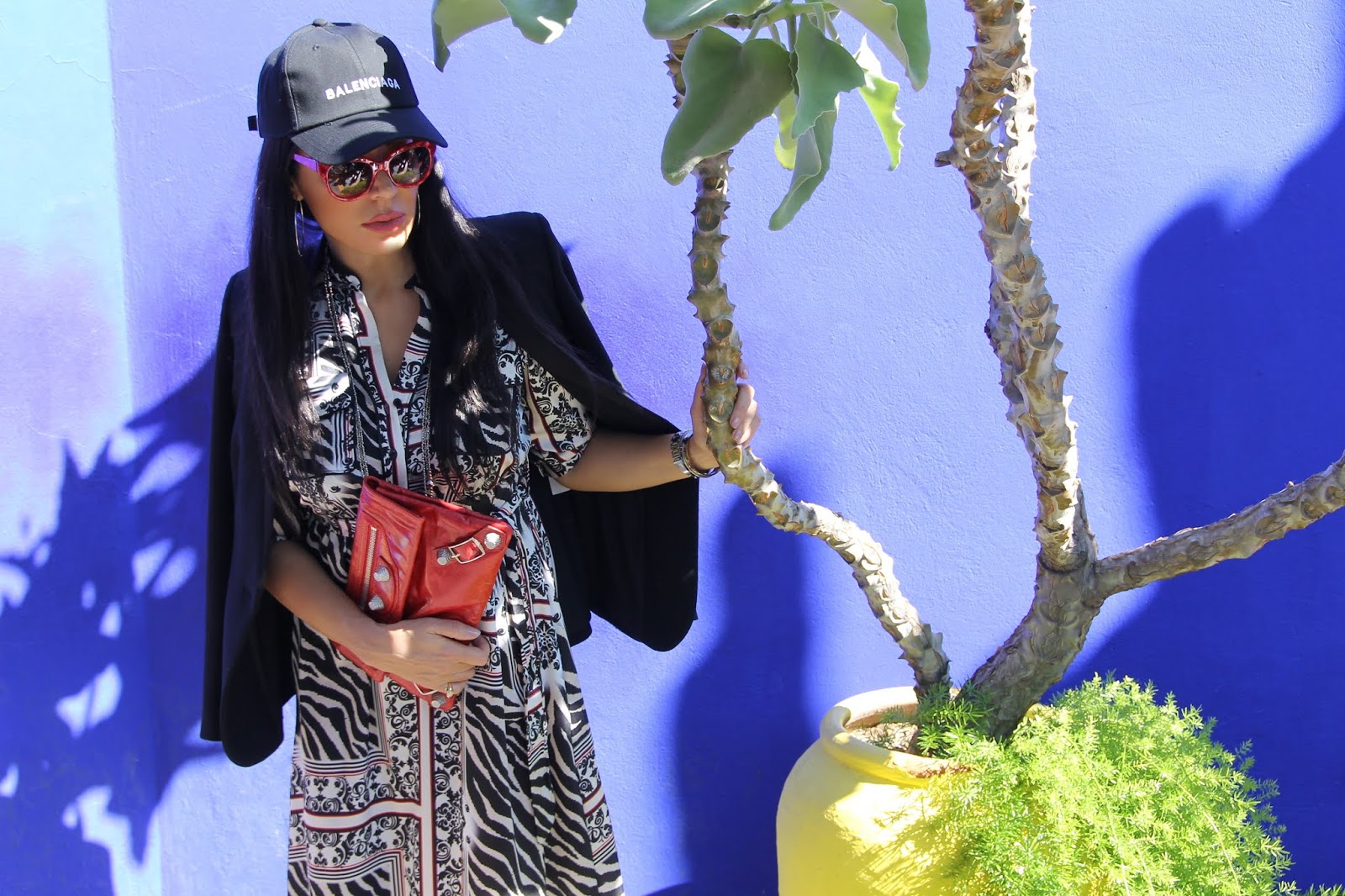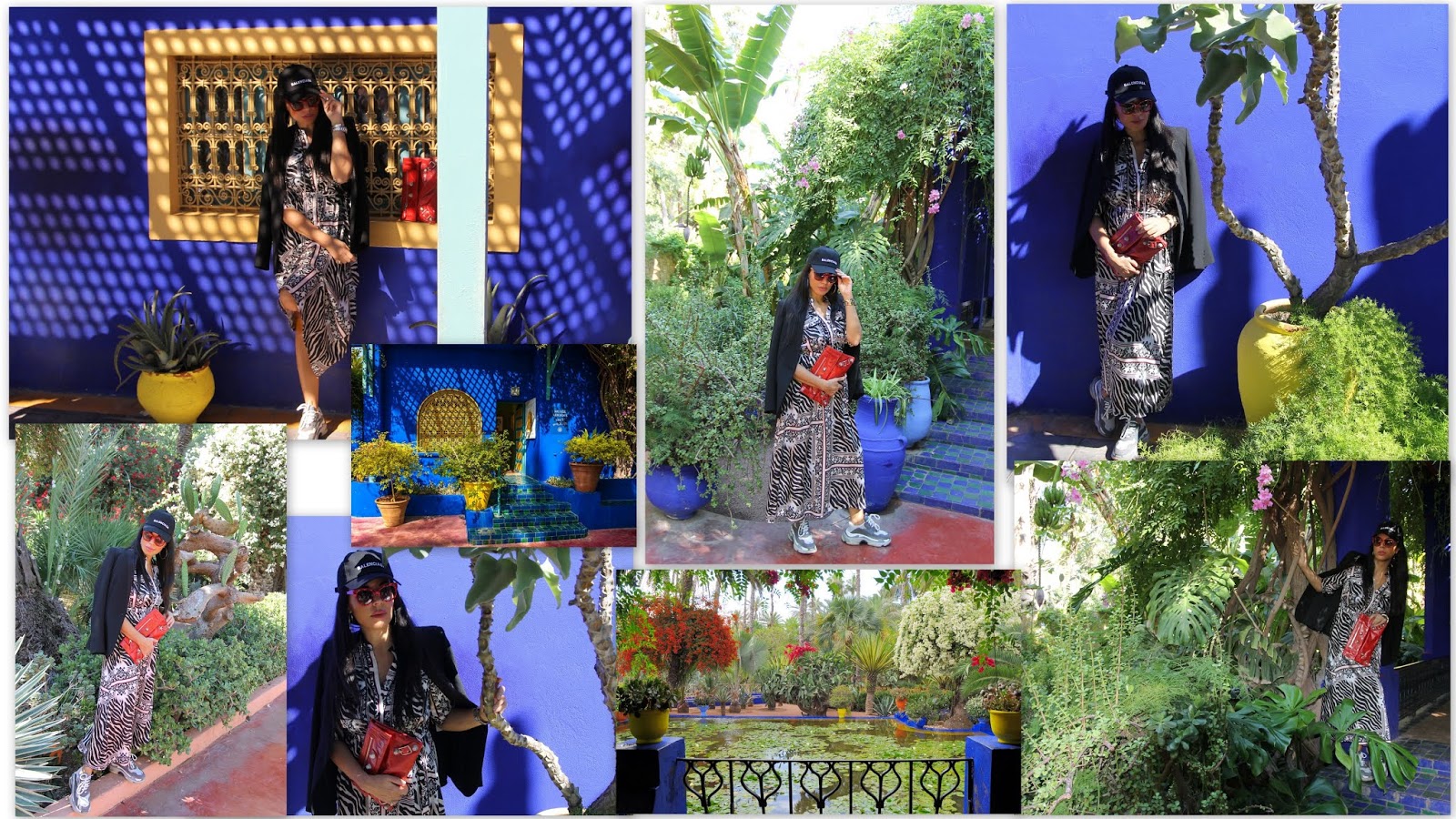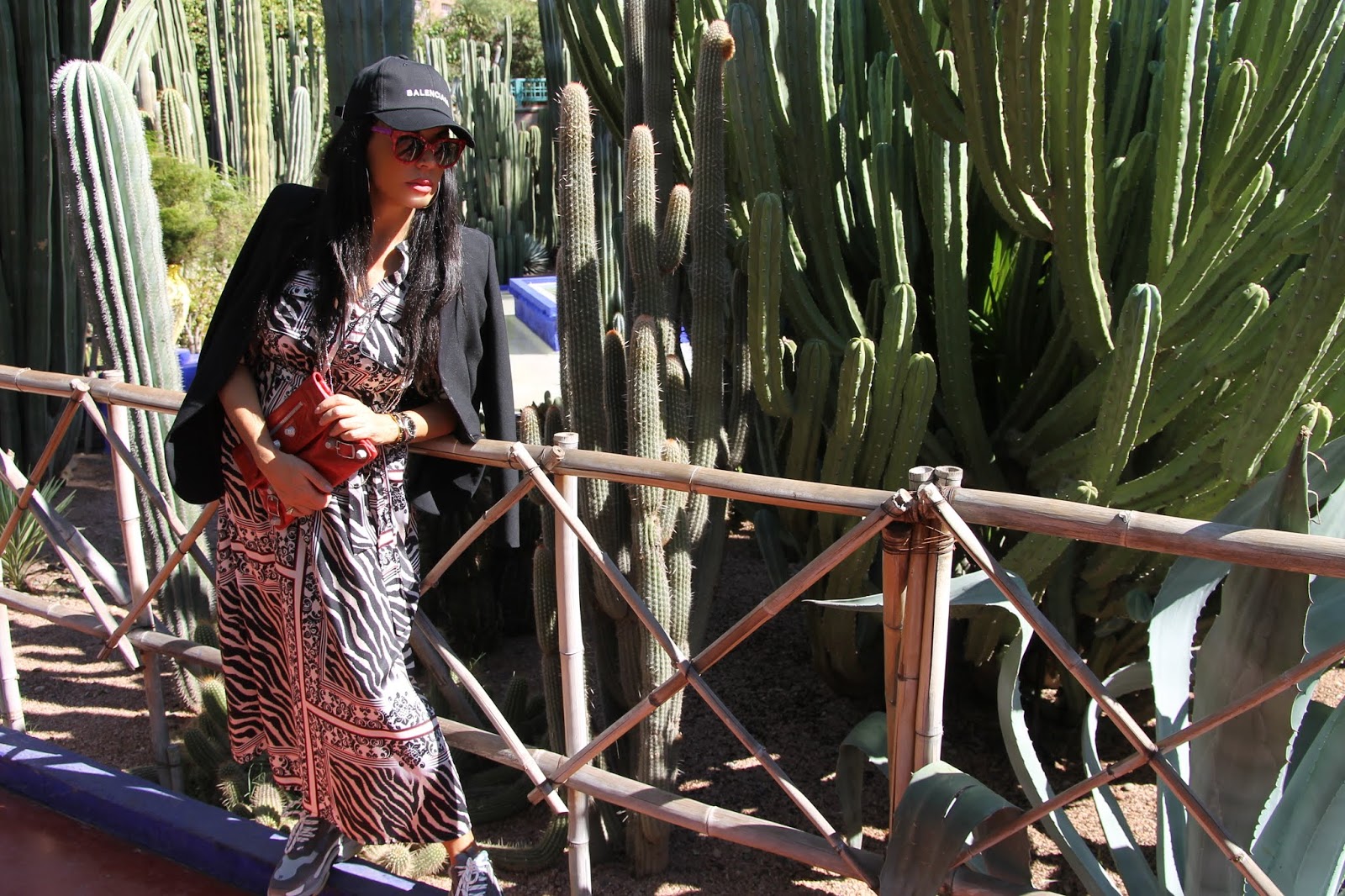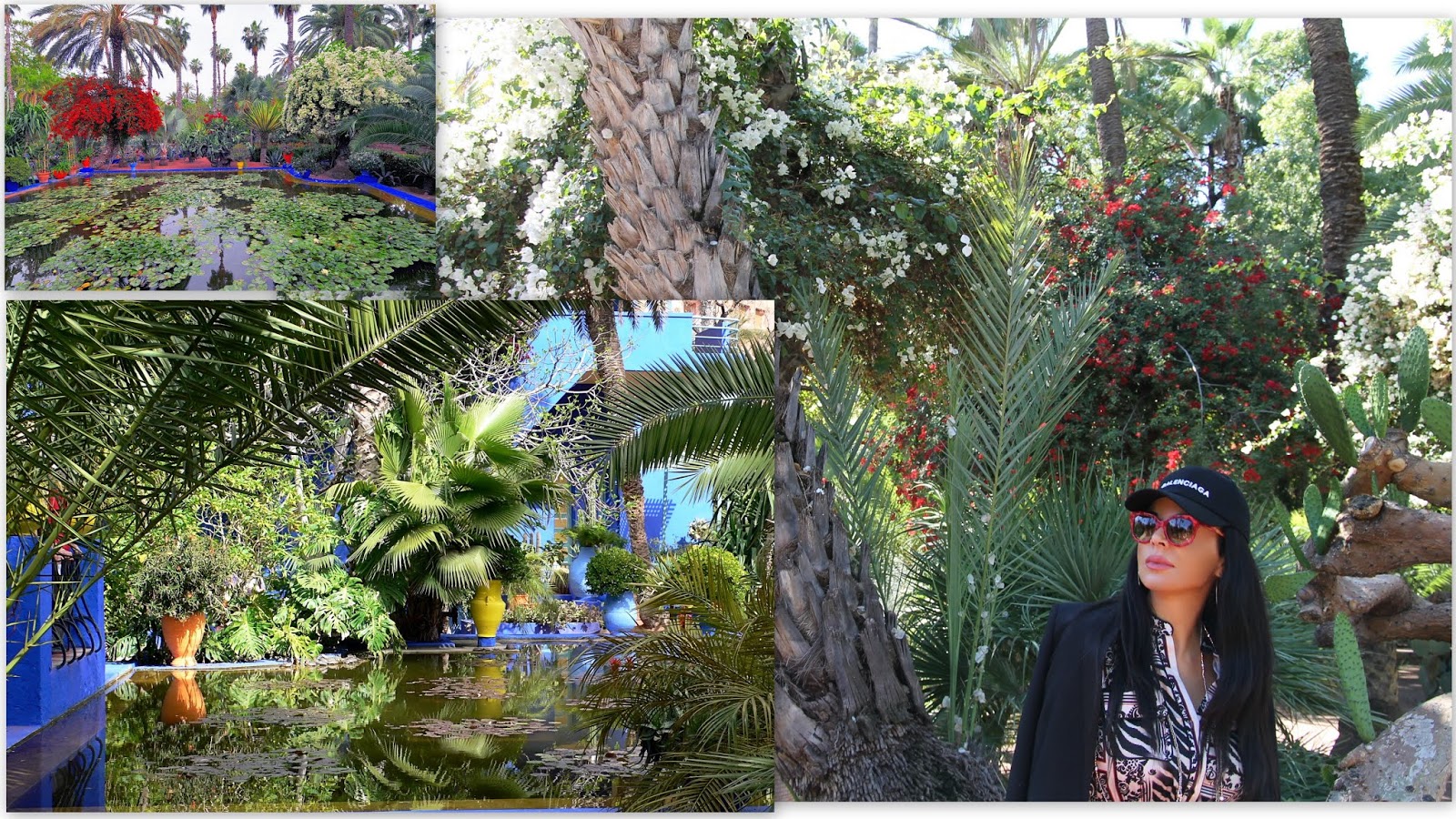 Photos: Oigres Elirab
I was wearing: